Pool fencing is an essential component of a house that has an open pool. There are various reasons for having a fence around your pool; the first and foremost being pool safety. Accidents may happen around a swimming pool area. Think the unthinkable of someone slipping and falling into the pool. A mishap that must be avoided at all costs.
Fencing becomes all the more critical if you have toddlers in your home waiting to explore this unchartered territory. Therefore, the importance of fencing cannot be ignored. And, must not be ignored!
While swimming pool fencing restrictions differ all over the United States, sometimes even within the same city, most jurisdictions follow the Building Officials and Code Administrators International, Inc. or the BOCA national codes. 
Generally, if you have a pool that's deeper than 18 inches, you must install a fence as a safety barrier around it. The pool fence should be at least 4 feet high and should not have more than a two-inch gap between the bottom of the fence and the ground. Installing door alarms on all pools doors is a desired feature.
Before you buy and install a swimming pool fence, it's best to find out about your local building codes as well as safety codes. You can contact your homeowners association or your insurance carrier regarding restrictions in your area.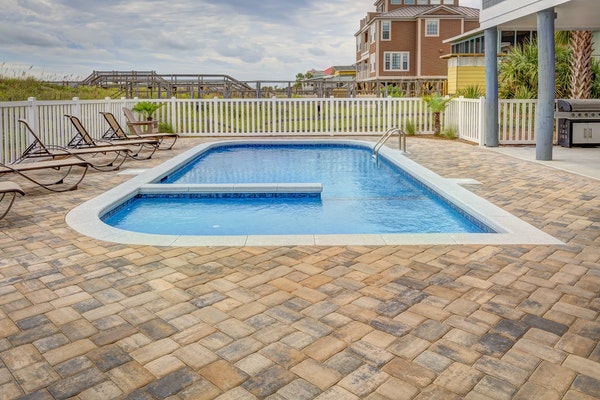 An installed pool fence costs approximately $1,500 to $10,000 (or higher depending upon the size and type of pool fencing). The average cost ranges from $15 to $25 per linear foot. While a chain-link and mesh fencing (one of the cheapest pool fences) will cost about $1,000 to $5,000, a wrought iron fence, vinyl fence, aluminum fence, or wood fence will be almost double at $2,000 to $12,000. A glass pool fencing costs between $ 88 and $196 per linear foot.
Getting the right fencing is equally important. There are a lot of things that need to be considered to ensure that you get the right pool fence. Here is a list of some of these factors:
1. Material
The first thing that needs to be considered when you are looking to fence your pool is the fence material. Some of the fence options are glass, aluminum, mesh, wrought iron, or wood. Out of all these options pool glass fencing systems are the most popular choice for most of the families.
If you're worried about a glass pool fence breaking, don't be. The chance of a glass fence shattering is 1 in 1000. But in an unlikely event that it does, it breaks into small cubes instead of sharp pieces — and therefore does not cause any cuts or serious injuries. Moreover, a glass fence can easily withstand a temperature of over 200ᵒC.
2. Aesthetics
In most of the home architecture plans, we try to accommodate a backyard pool. If you have a pool in your backyard, you would, of course, want a fence that would enhance the beauty of your backyard rather than having one that's an eyesore.
The most aesthetically pleasing fence is the pool glass fencing which brings out the best in your yard.
Read more: Attractive Pool Landscaping Ideas
3. Locking mechanisms
With kids who are smarter than Einstein these days, it becomes very important for us to also have kid-proof locks for the safety fence. There are various types of locks available in the market, ranging from normal locks and automatic closing/self latching locks to high-tech smart locks. The high-tech security locks would probably give us the best services.
Read more: How to Keep Your Kids and Pet Safe with Beautiful Fences
4. Removable fencing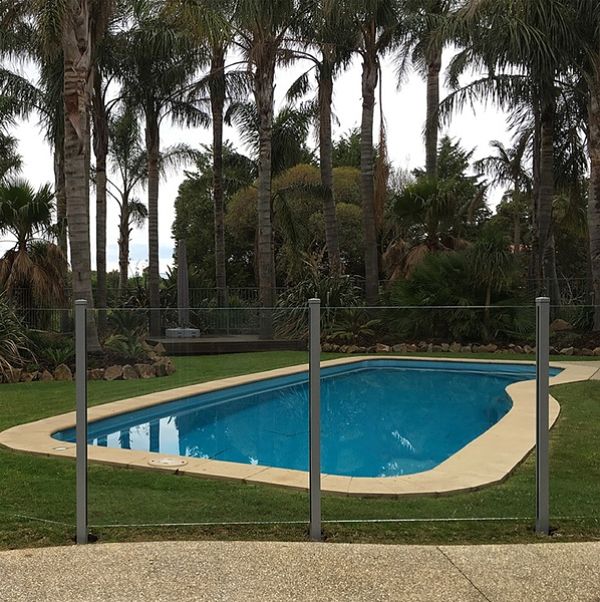 We all love a pool party. This season, if you're going to have an all-adult pool party at your house, you may want to temporarily remove your pool fencing. Hence, it's important to choose a fence design that can be easily removed whenever required. In this regard too, glass fencing can be a good choice. You can have it removed any time and then again have it installed hassle-free.
These are just a few important things that need to be considered before you finally decide on the fence that you want to be put up around the pool in the backyard to ensure great design and longevity.
Read more: 7 Swimming Pool Maintenance Tips For Your Home
Important Things to Consider Before Installing Pool Fencing
was last modified:
November 2nd, 2022
by
Recommended