Inspiring home gym setup by our expert architect
A home gym setup is no longer a luxury, it's the need of the hour for most homeowners. The Covid-19 pandemic has witnessed many gym closures for prolonged periods. Such a situation has led some people to start working out at home to meet their fitness goals.
As the situation is returning to some degree of normalcy, most of them want to continue with the at-home-exercise routine because it's convenient, available 24*7, and does not cost anything more than the upfront price of buying home gym equipment.
If you too are looking for a home gym setup, our expert architect will help you create a dedicated exercise room that will put any high-end gymnasium to shame.
Let's be honest, the cost of an expensive gym membership can really be a deterrent for some. Today, it's much cheaper and more advantageous to create your own exercise area. And the best part is you can make use of the right gym paraphernalia as well as online workouts from your favorite studios, and strive to build your endurance and strength from the comfort of your own home.
So, if you're really committed to an at-home fitness routine, you can peruse the beautiful home gym idea by our in-house architect and get inspired. And, it's not a boring gym plan, mind you. There's a spa bathroom and a sauna along with the home gym. Meeting your health goals was never this stylish!
The home gymnasium plan
Key features: Spacious gym of comfortable dimensions with spa bathroom and sauna
Capacity: 12 people.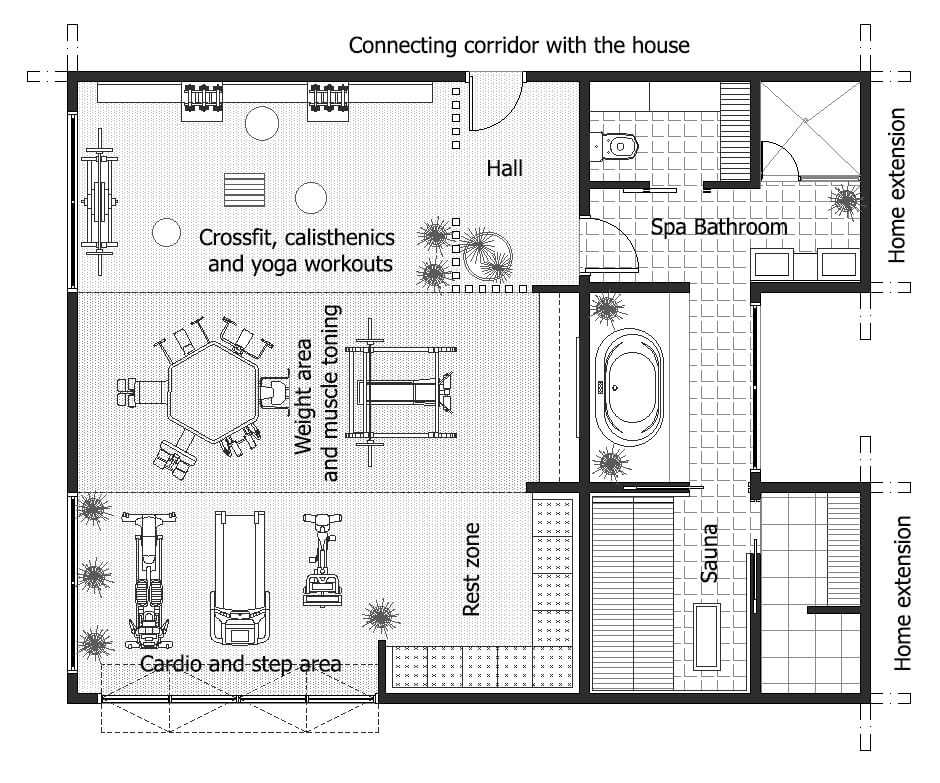 The ideal location for such a lavish gym can be the basement of a house, a separate room on the main floor, or a big renovated garage.
The workout space is large enough to accommodate much more than just gym equipment. It also has a good relaxation area along with a spa bath and a sauna.
The practical and stylish design suits both a fitness enthusiast who wants to create a large gym at home as well as a professional physical trainer who wants to use the space to offer their services.
Because of the generous square footage involved, you can add all the equipment you'd want in your dream home gym – be it adjustable dumbbells, a cable machine, a bench press, pull-up bars, power racks, jumping ropes, squat racks, squat stands, resistance bands, free weights, and weight plates.
Read more: Creating a garage gym
The home gym space
This exercise room can be accessed through a hall, connected to the house. It's designed in such a way that you have the spa bathroom on one side and a full-fledged gymnasium on the other.
The gym is made up of four areas: a training area (for CrossFit, calisthenics, and yoga), a central area (for weight training, storage, and entertainment), a space for cardio exercises and other large gym machines, and the last area a rest zone to help you unwind after an intensive workout.
Instantly estimate the cost of your remodel...
...or take your time to personalize dozens of choices to transform your house into your dream home.
The gym dimensions
Total dimensions : 38.39ft x 30.02ft
Varied heights: Ranging from 8.20ft to 13.12ft
Total area: 1096.22ft²
Access hall dimensions: 5.91ft x 10ft
Total Area: 58.09ft²
Gym dimensions: 24.61ft x 30.02ft
Total area: 738.67ft²
Strength training area dimensions (gymnastics, crossfit, calisthenics, and yoga): 18.37ft x 10.33ft
Total area: 189.86ft²
Weight training area and muscle toning area dimensions: 24.61ft x 9.84ft
Total area: 242.19ft²
Cardio and step area dimensions: 14.76ft x 9.84ft
Total area: 145.31ft²
Rest zone dimensions: 9.84ft x 9.84ft
Total area: 96.88ft²
Spa-sauna bath dimensions: 13.29ft x 30.02ft
Total area: 342.72ft²
Bath dimensions: 19.69ft x 13.29ft.
Total area: 189.86ft²
Washing area dimensions: 13.29ft x 4.59ft
Total area: 61.03m²
Shower area dimensions: 4.92ft x 5.25ft
Total area: 25.83ft²
WC and storage area dimensions: 7.87ft x 4.92ft
Total area: 31ft²
Bathtub area dimensions: 7.87ft x 9.35ft
Total area: 73.63ft²
Sauna dimensions: 13.29ft x 9.84ft
Total area: 130.78ft² (capacity: four people)
Open area to acclimatize after sauna: 4.92ft x 5.58ft
Total area: 27.45ft²
Sauna service area dimensions: 4.92ft x 3.94ft
Total area: 19.38ft²
Front facade views of the home gym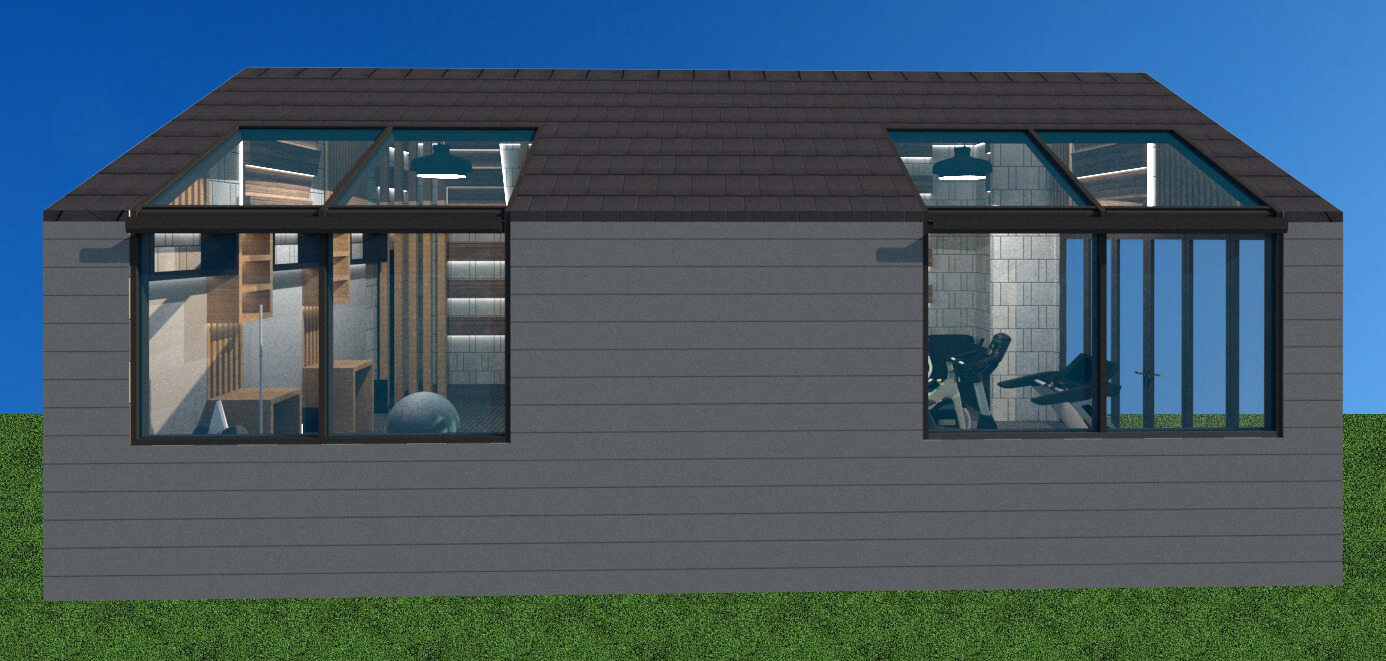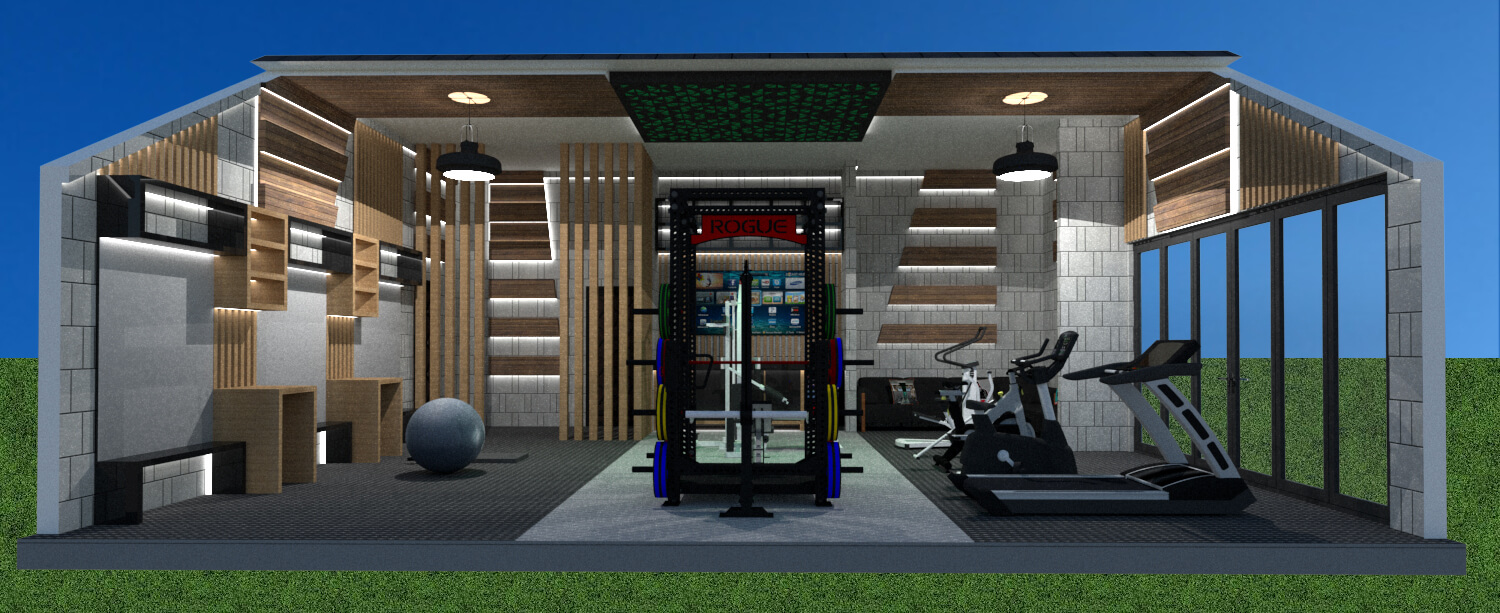 The architect recommends utilizing large glazed windows and doors (through a patio or a green area) to illuminate and ventilate the space. Moreover, the folding doors beautifully connect the exterior of the house with the interior.
The focal point in the room is the multi-plane wall in the center that visually divides the floor plan into different areas.
Rear facade views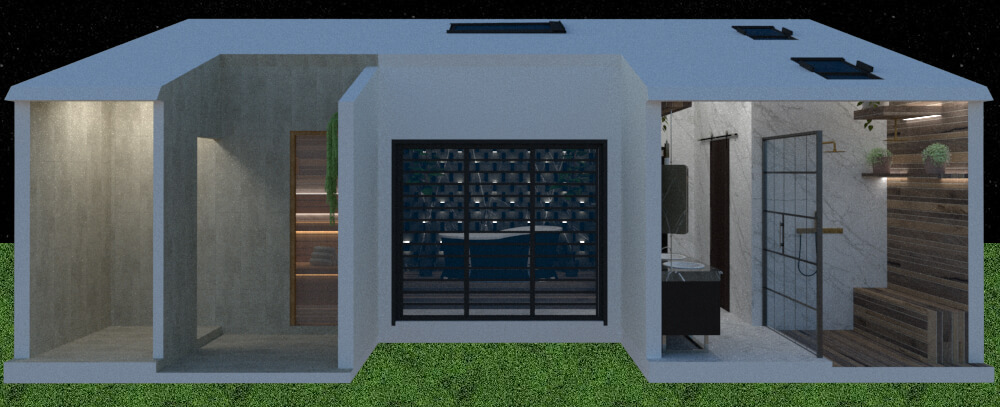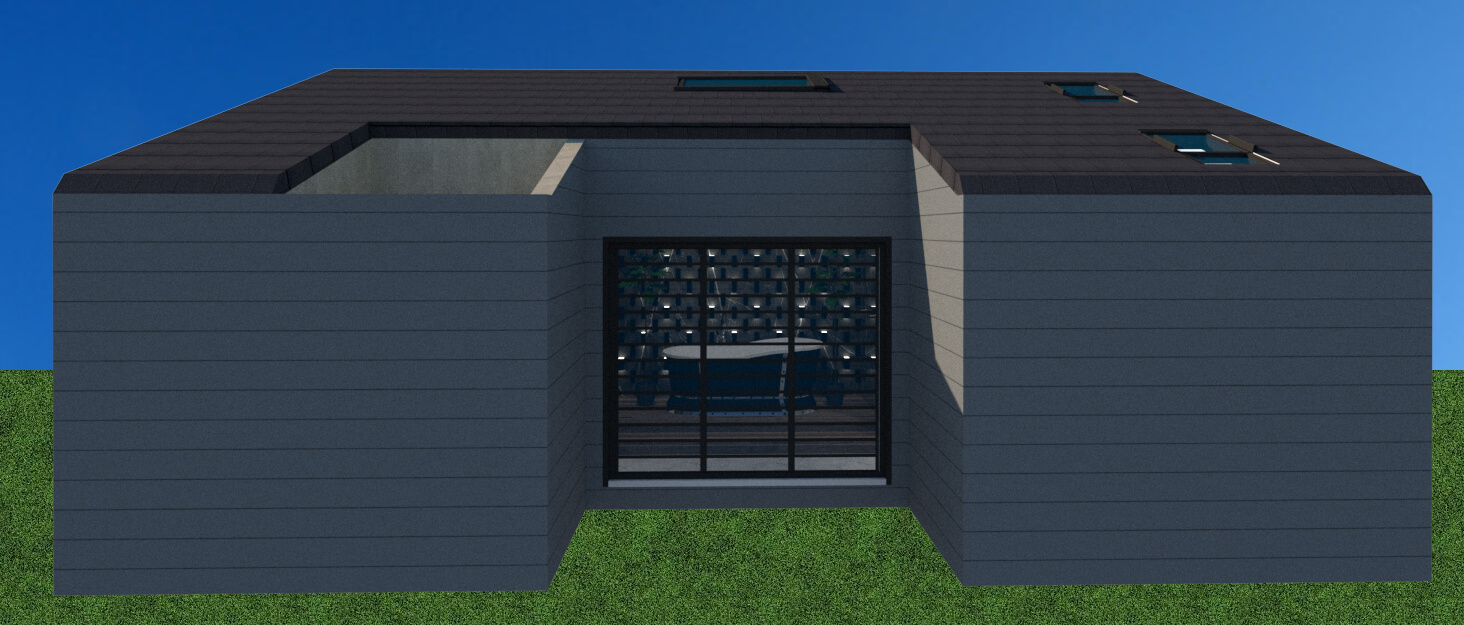 As you access the spa bathroom, there are three demarcated areas: the storage area, a place to change clothes, and a separate space for the toilet. At the back, there's a large shower in front of a double sink. And, it connects in the center with a separate space for the bathtub that's placed in front of a large window overlooking a patio or a green space.
The sauna has an open area in front that's meant to help you acclimatize after the heat treatment.
The facade of the structure is made predominantly of wood and gray stucco. To give it a distinct vibe, the architect has used metal trim for the windows.
The ventilation of the room and natural light is ensured through three skylights in the sloping ceiling – in the bathtub area, the WC area, and the shower area.
For artificial lighting, the architect has used ambient lighting with LED lights to emphasize the vertical elements, changes in planes, and functional gym furniture.
Thinking about home gym? Find the best cost for your installation.
Side views from the outside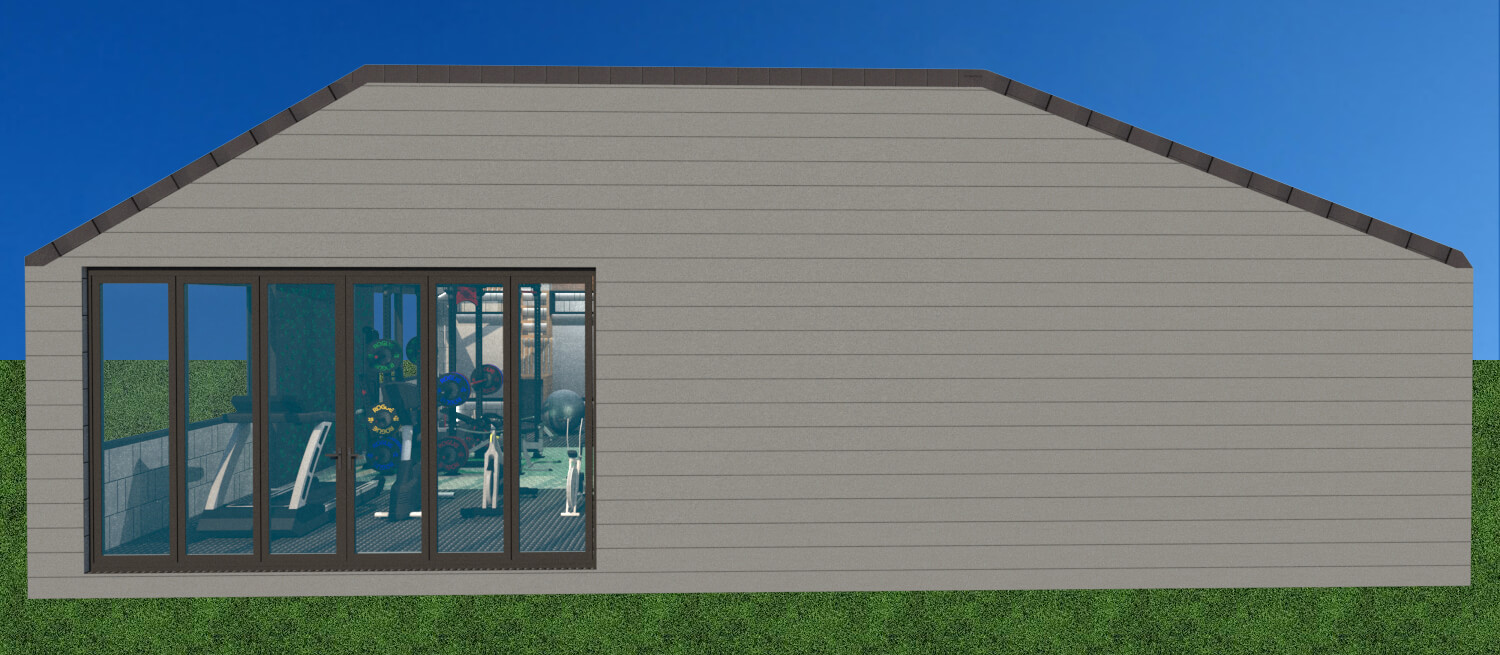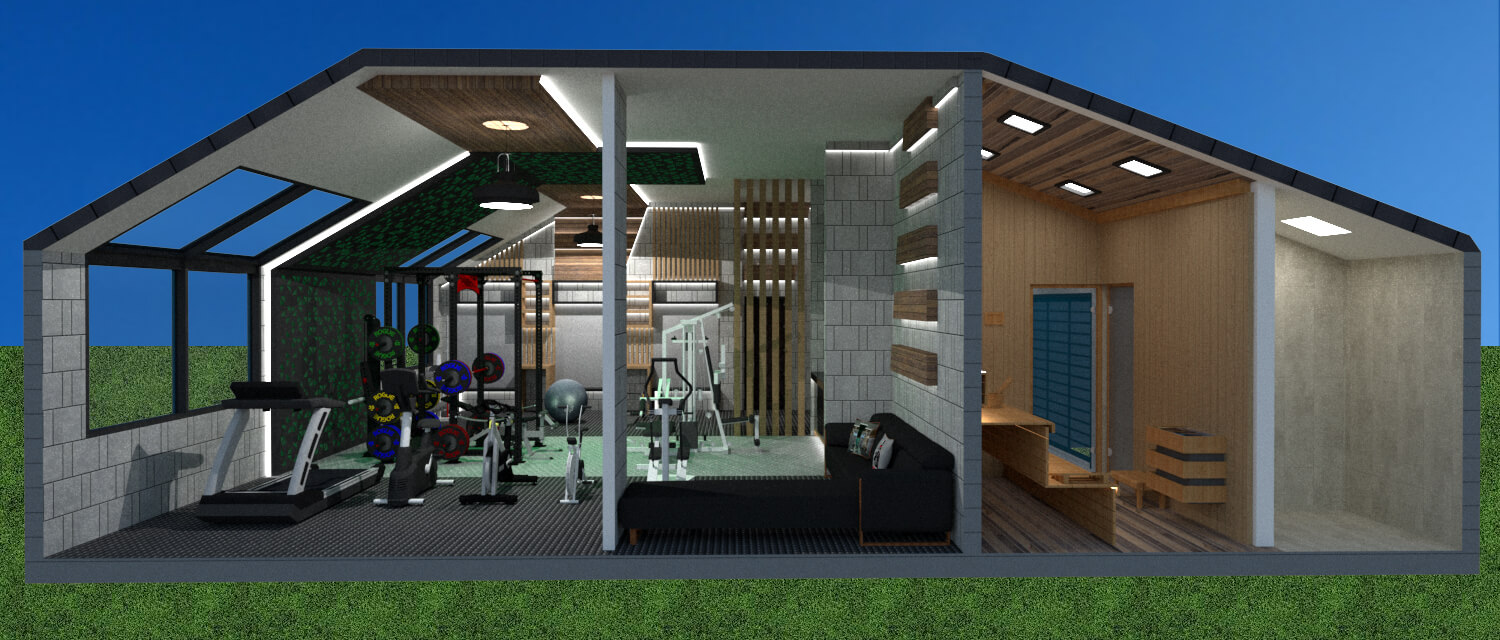 The bathroom has been divided into separate areas so that it can be used more efficiently. And, by at least two people at a time.
Read more: Luxury home blueprints
The decor
The home gym's design style is minimalist with industrial elements. Our architect recommends using neutral colors that do not clash or contrast with each other.
Keep in mind that the style of the spa bathroom is more avant-garde, with luxury materials and finishes. The goal is to create a great experience for homeowners – providing them with good relaxation post the hard exercises. And indeed, the space seems to exude a serene and tranquil vibe.
The color palette complements the medium and dark tones of the wood floors. The walls, as well as the ceiling, are black, gray, and white.
Our architect has beautifully added gray and white marble to the bathroom. And, the furniture is predominantly black and white. They have incorporated black metals in the windows, doors, and skylights for an industrial vibe. The faucets are a combination of silver and gold – adding an interesting design element to the space.
Read more: Luxury home design by architect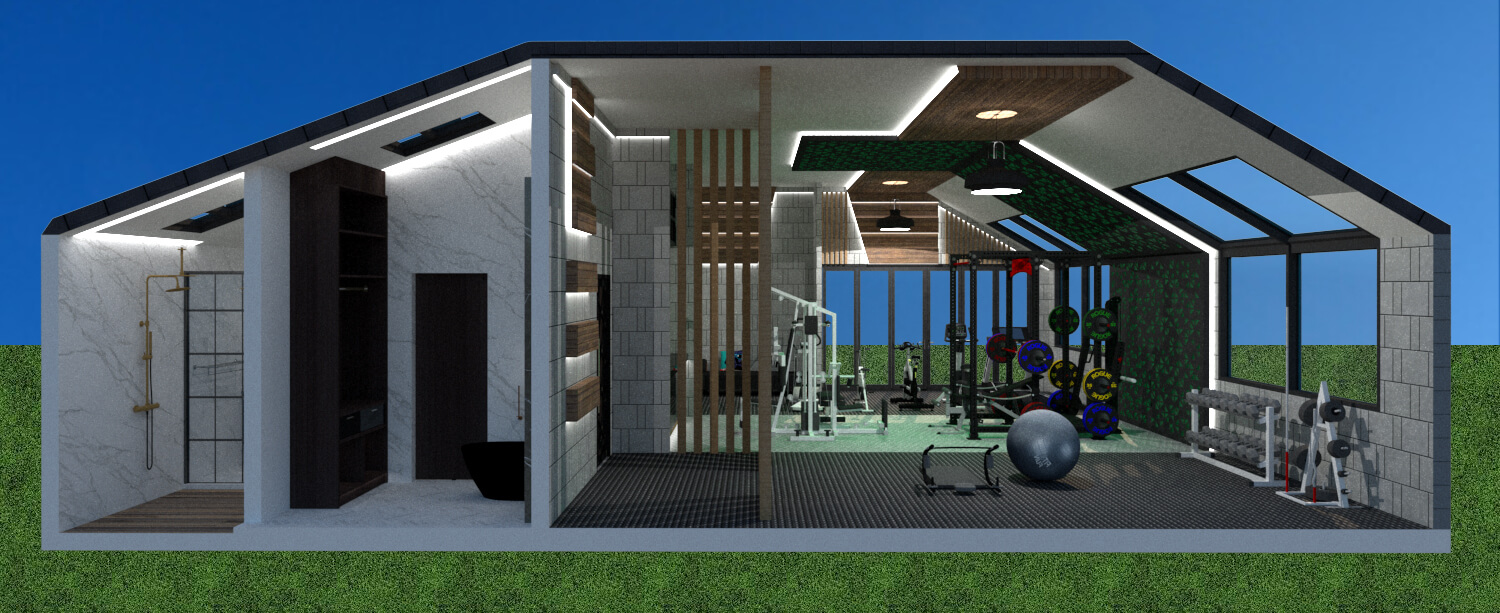 Last thoughts
Building a home gym setup comes with its own advantages. For starters, it doesn't take much effort if you have a good home gym design in place. Fortunately, our expert architect takes care of that angle.
Moreover, you can get a proper workout within the comfort of your home – any time of the day, any month of the year. And, most importantly, you don't have to share sweaty pieces of equipment with strangers.
Whether you're a professional weight lifter, a cardio enthusiast, or a dedicated yoga expert, it pays to have a good home gym setup to take care of all your exercising needs.
If you have the requisite square footage and the home improvement budget to create a separate space, you can easily replicate your favorite health club.
As the world tries to adapt itself to the uncertain times of Covid-19, home gym movements are on the rise. More and more people are preferring to work out at home instead of relying on their local gyms. If you too are looking for a beautiful gymming experience, our architect's gym design will inspire you, and how!
Read more: Small home gym ideas
Inspiring home gym setup by our expert architect
was last modified:
January 3rd, 2023
by
Recommended