How the Kukun iHomeReport™ is the perfect Carfax for homes
The concept of Carfax began with the purchase of used vehicles. A CARFAX® report provides a potential car buyer with the vehicle's ownership, title, and accident history before they buy it.
Importantly, it solves the essential problem of knowing the most important details that are often hidden when buying a car, as when cars are in bad accidents, their value goes down considerably. Before Carfax, unsuspecting buyers regularly paid far too much for many cars.
Is there something like Carfax for houses in the U.S?
Fortunately, yes. Like CarFax, you can get the most complete analysis of a property available with Kukun's iHomeReport.
The goal of Kukun iHomeReport™ is to provide home buyers, home sellers, real estate agents, and insurance providers with critical information about the physical health of a home.
It assists users in effectively managing all home-related data – right from the homebuying stage to home ownership and eventual sale. Additionally, it enables users to track the repair history of their homes.
So, yes, it wouldn't be wrong to call iHomeReport the "Carfax" for your home. The ultimate aim is to give homeowners as much relevant information as possible – and help them save money, enhance the living experience, and boost the value of their property throughout the entire real estate journey.
The idea is to avoid any potential for hidden high-cost problems but also provide the most essential home history, investment opportunity, and community information needed to make a confident and fully informed purchase decision. 
With the iHomeReport, many people even buy their homes sight-unseen – a practice becoming known as "iBuying."
Benefits of Kukun iHomeReport™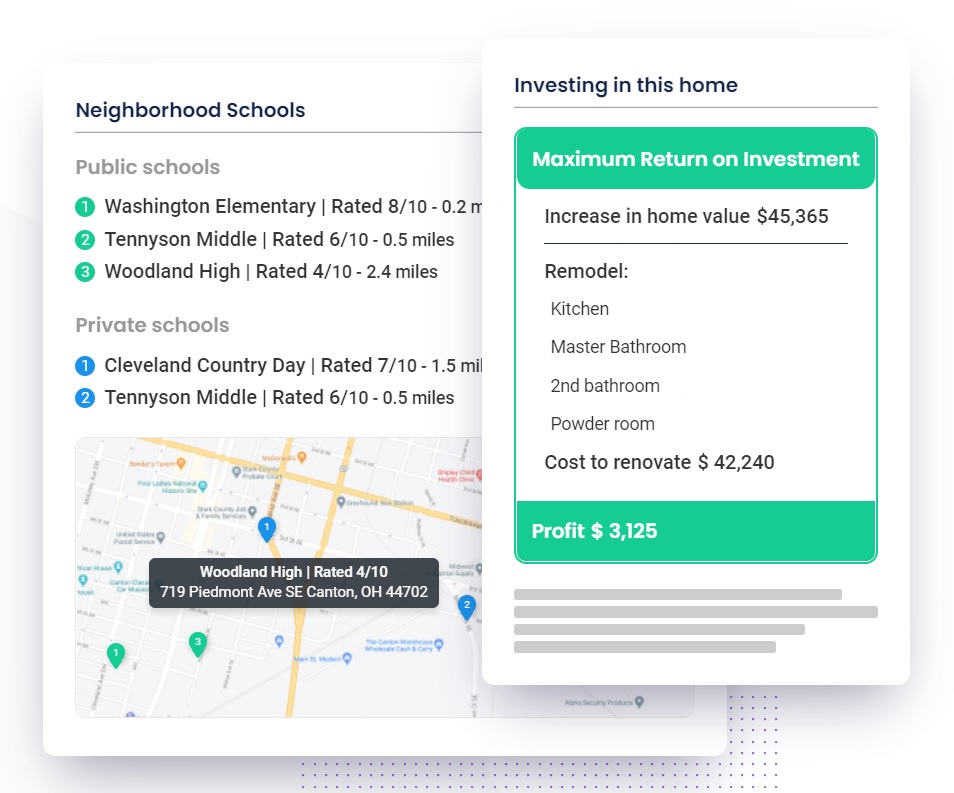 The iHomeReport solves the three most essential questions in home buying:
What is the real condition of a home? Many houses have had shoddy additions or unpermitted electrical work that can significantly lower the true value of a home. The iHomeReport provides the most comprehensive history available of the permitted work done on a house – protecting you from a very bad outcome. 
What is the financial upside of this house? Every home will appreciate at a different rate than others, and all homes have different levels of opportunity to profit from the renovation. Kukun provides investment opportunity insights to make it easy to make a smart, informed decision that meets your goals. 
How is the location of this home going to impact my lifestyle? The iHomeReport provides a range of highly curated maps that instantly give you a feeling for how this home fits into the community: Schools, hospitals, shopping, parks, sports…so many ways. You could spend a few hours searching Google to sort this out, but why? 
Whether you're a first-time homeowner or are into flipping houses, with iHomeReport™, you can easily optimize your outcome whether you are thinking of buying or selling.
It makes the home buying process a lot easier and informational — even when you have a reliable home inspector. including community safety information and maps (The Washington Post talks a bit more about this subject).
As a result, homebuyers can make a more informed decision about what may be the biggest investment of their lives — real estate.
How can you make the most out of iHomeReport?
The homeownership journey has different stages and different roles. iHomeReport benefits each player in the most impressive ways:
If you're a buyer
You get access to an overview of the house you're eyeing through pictures, maps, videos, documents, and other property details online.
You can save time, effort, and energy by finding your dream home online – one that matches your needs, financial goals, and wants.
Let Kukun's proprietary building permit history provide you with the most up-to-date status on a particular house's physical condition.
Get to know the neighborhood inside and out – the best schools in the vicinity, the location of nearby parks, trails, clubs, hospitals, shopping, and the town center.
Understand all about the local transit, walking and biking access, and even natural hazards.
Make an informed decision (both financial and emotional!) about buying a piece of property.
If you're a homeowner
You get to see how your home value is affected by the market forces through KIO (Kukun Investment Outlook) – proprietary predictive analytics for accurate home price forecasting.
Maintain the efficiency of your home by effectively monitoring and overseeing all your home improvement projects.
Find out about all the newer real estate developments in your area – all the commercial or residential construction projects planned for the near future. Keep in mind that any new office buildings, new stores, and major commercial renovations in the area can help up your property values. 
You can compare the long-term investment potential between homes and the future financial prospects of your home.
Know all about remodeling ROIs – which remodel projects will get you the best returns and which will not.
Get an estimate for the cost of renovating your home – with different budgets for different finishes. 
If you're a home seller
You get to know when to sell to maximize your financial outcomes.
You analyze where to buy your next property.
Share photos, documents, and other property details of the house you want to sell.
So, get your report today and get a complete picture of the past, present, and future of your home!
How the Kukun iHomeReport™ is the perfect Carfax for homes
was last modified:
June 29th, 2023
by
Recommended