Above ground pools have come a really long way. In fact, it is now safe to say that there are plenty of models that actually look stylish. They are also becoming an increasingly popular choice for homeowners as the average cost of installing an in-ground pool (in the state of Florida anyway) is on average between $30,000 to $50,000. In addition to becoming more stylish, above ground pools are also much more durable than before and a quality model can last decades. Finally, homeowners are willing to invest in the landscape around above ground pools in order to turn their backyards into a staycation worthy oasis.
Why Landscape Above Ground Pools
Installing a large, four-foot tall cylinder in your backyard can look a little out of place no matter how great the above ground pool looks.  Even by just adding a touch of landscaping, your above ground pool and yard can go from looking awkward to fabulous. Keep reading below for our 5 easy and budget friendly landscaping tips to try when installing your above ground pool.
Read more: Fixing leaks in above ground pool
Follow the Basics
Like landscaping around any other large object, it will look best if you take a symmetrical approach. Whether you are just simply adding a few rocks, some mulch, small trees or some decorative trim, plan for balance.
Read more: A Comprehensive Cost Guide On Above Ground Pool Prices
Using a Border
Start by creating a border all the way around your above ground pool. There are plenty of options to use including stone, concrete, mulch, decorative rocks or timber. Creating a border gives a look of transition and will also help enable proper drainage around the pool.
One point to remember when creating your border is that you want to be mindful of where your pool equipment is. While you can hide it with a shrub or decorative plant, you want to be able to have easy access should you need to perform any maintenance. Some people opt to build complete housing to cover their pool's equipment.
Check our easy guide to attractive pool landscaping
Planning a Walkway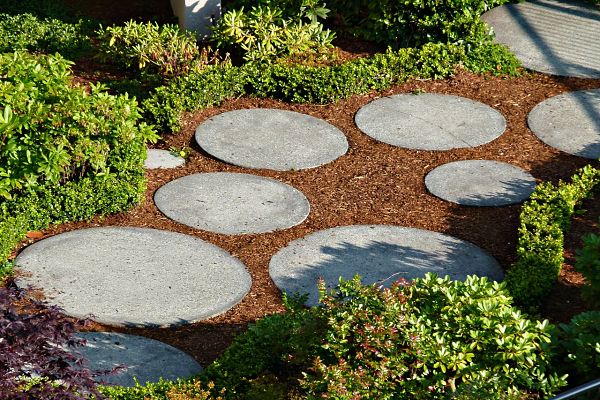 Even if your pool isn't that far away from your home, a walkway will help keep swimmers and your home cleaner. If people are walking on grass and dirt, it will be tracked into your home and can get quite messy quickly with the stream of kids and neighbors going from home to pool and back. Adding a landscaped walkway solves this problem and looks more inviting. Some great options are stones or mulch with either a timber or shrubs for a border.
Read more: Design Ideas For Your Desert Landscape
Deck Options
Furthermore, If you want to place your above ground pool on your deck, it will look better with a bit of landscaping around it. Plant some large potted plants and trees to surround the walls. Adding a lattice behind a wall with vine plants intertwined gives a nice tropical look.
Take a look at these small backyard pool ideas to beat the heat this coming summer
Lighting
Perhaps best listed as a splurge item, if you can afford to install some lighting, it can make the perfect finishing touch. Drape some LED lights along your walkway, hang bulbs along with shrubs or trees or add pod lights into the floor of your decking. For an economical option, you can always grab a few low-cost solar-powered lights that stick into the ground.
Read more: Cool Swimming Pool Design Ideas for Your Backyard
Tips on How to Landscape Around Above Ground Pools
was last modified:
July 5th, 2023
by
Recommended