If you happen to live in an arid region, chances are, your outdoor landscaping might not be as lush or boisterous as a tropical garden. Nevertheless, a great-looking desert landscape is very much possible if you know how to create one.
In fact, desert landscaping has an undeniable beauty and character. The fact that it looks amazing despite the tough surroundings adds to the charm.
It's easy to create a breathtaking desert landscape design plan if you keep the scale in mind. In contrast to a cottage garden, here, you will have limited resources. So, it's best to keep things simple and manageable.
Therefore, when considering desert landscaping ideas, you should choose low-maintenance materials and native plant life. These will work well in their natural surroundings. Keep in mind that the rocks, trees, shrubs, and plants should complement one another.
Want more tips and inspirations like these? Our 10 great landscape design ideas will help you create the most interesting desert landscape. So, whether you're going for cool minimalism or a cozy desert hideaway — these ideas will aid you.
1. Showcase Your Desert Landscape Plants
Did you know, there's a technical term for this kind of minimalist vegetation? It's called xeriscaping. This art usually makes use of a pebble foundation and lots of succulents and other drought-resistant desert landscape plants.
You can showcase your water-retaining cacti collection, flowering succulents such as aloe or ice plants, as well as Mexican poppies and other wildflowers. All these desert plants are easy to upkeep and come in various shades of green, reds, and oranges.
Highlight the diversity against the backdrop of colorful walls or fences and make a bold statement.
You can create soft edges with Bouteloua curtipendula, a grass variety that goes from green to tan with seasonal changes. Also, explore the option of quality artificial turf grass.
Are you searching for professional help on landscaping? Let's review this guide on how to find good residential landscaping companies
2. Create A Cozy Retreat
Here's a great hideaway idea to give you the feel of a resort in an arid land. Simple, comfortable recliners and chairs on a patio of concrete pavers and pebbles make this space a permanent picnic spot. Strategically place the boulders and succulents in order to make the area exclusive. We love the hammock under the trees. This is one desert landscape that is utilitarian too. 
Read more: Landscape curbing
3. Infuse Color With A Vibrant Accent Wall
Since the earth in such dry climates is usually rocky, sandy, brown, or gray — there's a chance of your landscaping looking a tad boring. Therefore, color is a vital element to any desert landscaping.
Introduce vibrancy with flowering plants or architectural structures. A free-standing colorful accent wall will do the trick easily. Coat it with bright paint such as rusty orange and use it as a backdrop for your succulents or ornamental grasses planted in the bed in front of it.
4. Bring In A Small Water Feature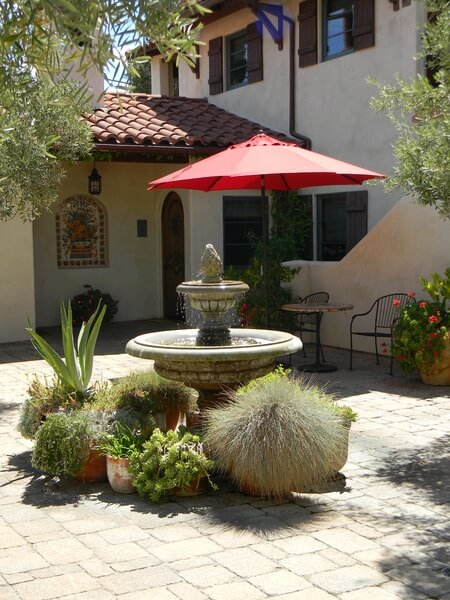 Photo by Pxhere CC0
When you live in a desert zone, you will definitely recognize water as a life-giving resource. Something that's ought to be savored and celebrated.
Large pools and artificial waterfalls might look attractive, but the water loss through evaporation and maintenance make them less sustainable.
A great idea to bring in this element into your garden is to get a small water fountain that allows the water to circulate without too much wastage. Such a fixture can be a beautiful and more eco-friendly option.
5. Opt For A Dry Creek
In an arid region, even the illusion of water can have a calm, soothing effect. So if a water feature is not a viable option, you can create a lovely dry creek bed. It will also be an efficient way to manage stormwater runoff.
So, how do you perfect the creek look? Simple. Create a subtle grade change with mounds of soil and low-lying areas. Use assorted stones, pebbles, and gravel to mimic a valley with a natural stream.
Plant some drought-tolerant shrubs and groundcovers on the edge and voila, your own mini creek is ready.
6. Create A Desert Bed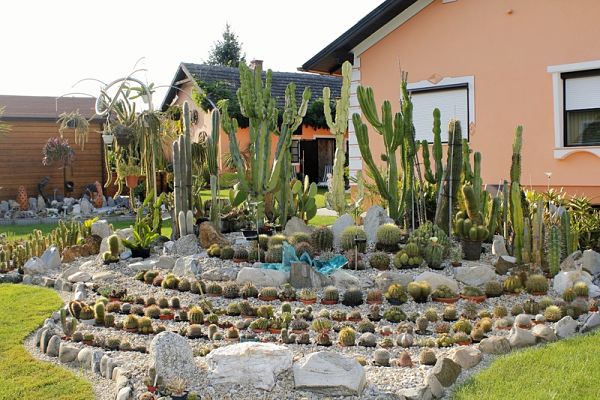 Photo by Pxhere CC0
If you have a large yard, a beautiful way to utilize the space is to have a huge garden bed. You can create landscaping in such a way that it embraces the concept of desert living.
Have a perfectly placed oasis of vegetation, rocks, and pebbles to provide a myriad of eclectic desert picks.
7. Beautify Your Garden With Pergolas
In a dry-climate area, the desert sun can be intense. The best way to provide some kind of shady respite is by installing wooden pergolas. A rustic arbor, for instance, will not just be a great place to rest, it will also beautify your front yard or its entryway.
You can even incorporate shade screens or garden umbrella. Make sure that you use durable outdoor fabric for the last two options.
8. Make Your Yard Inviting And Warm With A Fire Pit
A desert-dweller will vouch for the fact that twilight is one of the most alluring times to enjoy the garden. Most often than not, in such areas, the temperatures begin to drop as soon as the sun dips below the horizon. And the beauty of the colorful sky is to be seen to be believed.
Fire pits and outdoor fireplaces make this scenario even more perfect. They provide a welcome warmth and makes your yard a great rendezvous point for your friends and family.
Dig a rustic pit and cover it with natural stones and concrete for a simple yet enthralling fireplace. Light the fire, put in some marshmallows — and enjoy!
9. Go For An Entryway Desert Landscape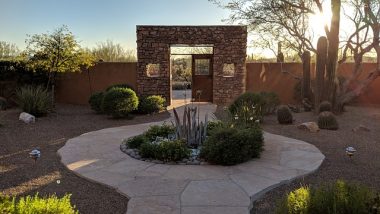 You can create the most interesting landscapes for your entryway with the right kind of material. It could either be natural or synthetic, but must work well with your plant life.
We recommend using a lot of rocks, stones, pebbles, sand or poured concrete. They do not require water, are almost maintenance-free, and are virtually indestructible.
We love this classic look. A stoned pathway surrounds a desert garden. It beautifully leads from the main gate to the house, with a bed of gravel all around. Do not forget to add varied sizes of cacti and shrubbery. Your desert landscape design will be striking, to say the least.
10. Build A Creative Corner
Minimal landscaping doesn't mean minimal creativity. You can design a beautiful corner with some eclectic pottery, rock formations, and xeriscaping. Let the artist in you go wild, and create the most stunning visual interest.
Turn your desert into a bright color-palette inspiration with warm sandstone, gray-greens of sage, wildflower bloom, and the desert sunset.
Conclusion
A desert garden might not be as lush green like a tropical garden. But contrary to what we think, the desert contains a wealth of plant and floral life. The correct landscaping can help to bring out its beauty in the most striking way. With proper know-how and a licensed landscape contractor, you can create the most beautiful haven in an arid land — and at not a very high home renovation cost.
Our 10 desert landscaping designs show you that you have a wealth of options when it comes to plotting your own desert landscape. Get inspired by these ideas and show the world that heaven comes in all colors, textures, and climates.
Read more: Factors To Consider Before Hiring Tree Planting Services
10 Design Ideas for Your Desert Landscape
was last modified:
August 26th, 2022
by
Recommended