Truth be told, we live for the Halloween and simply can't wait to try out new and unique Halloween home decor ideas — days and weeks in advance. Of course, there are some people who despite being passionate about Halloween, may lack the time to start with the decorations well in time or even have a substantial budget to dedicate to this holiday. 
This means that they might be on a tight schedule and an even tighter budget. 
Planning a home remodeling? Use our free home renovation estimator to have a fair idea of the total expenditure of your project. 
Nonetheless, it's completely possible to pull a perfectly haunting look off even if the odds are stacked against you. To help you have a great Halloween, we have eight last-minute Halloween home décor ideas for you. Why shouldn't the latecomers have fun too! 
So, let's start our hair-raising Halloween decoration ideas. 
1. Weave a web
Weave an eye-catching web with a faux spider! All you need is some creativity and an idea about how to weave an artificial web. You can use common household stuff such as a plastic wrap, a mesh, or a clothesline — and your masterpiece will be ready in a jiffy. 
Keep in mind that this cobweb doesn't have to be used just indoors, it will look great as a part of your front yard Halloween decorations too. Trust us, this is an ideal last-minute Halloween upgrade. It looks super cool while costing next-to-nothing. And, it can be wrapped up in under an hour.
2. Create a piñata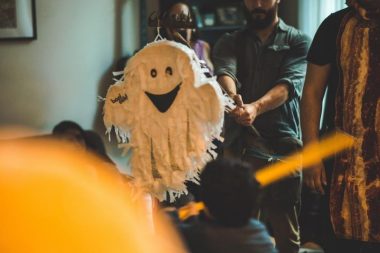 Photo by Pxhere CC0
A great idea to utilize the space in your home this Halloween is by making a piñata. You can give your room a new dimension with a colorful and creative design. As for the properties of this piñata, going spooky is the only logical course of action.
3. Hang cheesecloth ghosts
Making cheesecloth ghosts is a very easy DIY project. Even your kids can get involved in this craft — making it more personalized and memorable. You can hang the ghosties on your front yard trees or even indoors from your chandeliers or ceiling fans. 
Want to learn how to make these easy cheesecloth ghosts? We have your back. Design the most creepy looking monsters and let them give a very spooky effect to the house. The best part is that they don't take much time to make.
4. Decorate your wall with handmade bats
The next thing you might want to consider is doing something about your walls. Any accessory hanging there is bound to instantly attract attention from your visitors. We love this Halloween home decor idea of making tiny bats and mounting them on the wall. 
You can use a cardboard (paint it black) for the bat cutouts and some double-sided tape. Make as many bats as you want and show off your creativity. Children, especially, love this idea. 
Psst, psst, we love the skull cushions too!
5. Blacken your artificial plants
One of the creative ideas that you can pull off this Halloween is painting your plants black. Of course, we're not suggesting that you should go out and spray-paint your pot plants black, seeing as how this would be an incredibly wasteful tactic. 
Instead, you should go out and purchase several fake plants, which can be found for under $10 each and get yourself a black spray paint for as little as $4. This entire project doesn't take more than several minutes, yet, if placed in the right strategic locations, they stand to revolutionize your living space.
6. Go bananas with googly eyes
When it comes to decoration with googly eyes, you can allow yourself to go wild. There's really no limitation to what you can do with them. Some people put googly eyes on family photographs, doors or even house-plants with a wide enough trunk to take it. 
7. Arrange a spooky food layout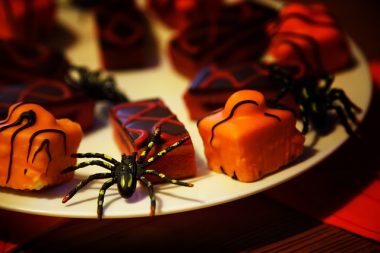 Now, here's a perfect Halloween home decor idea. After all, there's no reason why a Jack-o'-lantern should be the only decoration in your home. Arrange your dining table layout with the craziest of ideas. 
Get a spider web table cover, stick googly eyes on your cut fruit or food, and bring out the creepiest of toys your children own. Add a trick or treat poster in the background  — and your dining room will turn into a perfect Halloween element.
8. Add spidery elements to your Halloween home decor
We couldn't help falling in love with this spidery coaster. Enthusiastic DIYers can make it themselves while those pressed for time can buy this inexpensive coaster from their local store. Place a flower arrangement on it and strategically put plastic fake spiders. There's a chance your guests will freak out at the sight — mistaking your little creations for real spiders! 
Conclusion
As you can see, each of the above-listed ideas can be done in a matter of hours, sometimes even minutes. This means that you can easily pull this off, even if you've left all your Halloween home decor preparation for the last minute. 
Keep in mind that you might have to order some of these items online. Hence, it will be a smart idea to order them in time. This shouldn't be that hard. Once you get the Halloween decor items, these ideas will not take you more than a few minutes to execute.
Happy Halloween!
Read more: Fall Porch Decor
8 Last-Minute Halloween Home Decor Ideas
was last modified:
May 18th, 2022
by
Recommended