What Do I Need To Know About Subcontractors?
Subcontractors are exactly what the name implies – professionals hired to fulfill part of a general contractor's obligations. No matter the industry, even the most savvy jack-of-all-trades can't be a specialist at everything or even have time to do it all, so he or she will need some help. As a homeowner, it can be unnerving to have people you didn't interview or don't know in your home. Here's what you need to know about subcontractors.
Do I need a subcontractor?
Even if you are managing a permitted project as a homeowner (known as an owner/builder), some states and municipalities still require the use of licensed electricians, plumbers and/or roofers. It's important to make sure you comply, so check with your local municipality before beginning your project. You may not think this is important but your city or municipality is looking out for you. Codes change all the time in order to embrace new technologies and to ensure your safety. Licensed subcontractors for certain professions are must-haves, and the cost of not using them can be heavy. You can check Kukun's directory of referenced contractors and subcontractors to find what you need.
What should I know about hiring subcontractors?
Whether you are a contractor or a homeowner managing your permitted project, it is important to sign contracts, to check references and any previous permits (you can find them in Kukun's directory under each contractor's permits section), and to stipulate a "holdback" – typically 10 percent of the total job – until all terms of the contract are met. Typically, 10 percent is the bulk of the contractor's profit, and he or she will be motivated to make sure the terms are satisfied and the job is complete. This does not include requests for work that are outside the terms of the contract. Checking references is of the utmost importance, and you should actually look at subcontractors' work. When you talk to a reference, check that the work was done with a permit and also verify the permit in Kukun's directory. Ask the homeowners difficult but important questions such as:
about the way the work was done?




Did he or she stay within your budget?

How did you resolve conflicts? If you had to redo the job, what would you want him or her to change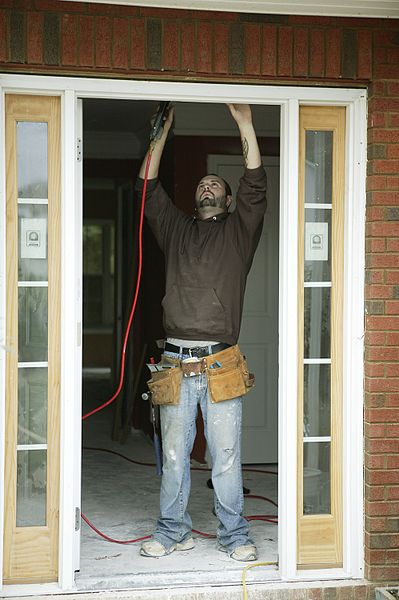 Photo by David Fine
What about down payments?
Check your state's laws regarding down payments. Some states allow the subcontractor to retain only 10 percent or $1,000, whichever is less. Never let the payments get ahead of the work: only pay for work that has been completed and materials that have been delivered to your home (there are exceptions such as special order items and any materials or things you particularly want). These should be stipulated in the contract and you should be billed by the subcontractor accordingly. This assures you always have what you've payed for, even if the subcontractor leaves the job. It is a good idea to set your payment schedule to coincide with milestones completed. You and the subcontractor should both agree on the terms (in writing!) before any work begins.
How should I get started with a subcontractor?
When discussing a job with a subcontractor, a specific start date should be specified, as well as an end date. Weather and the like can delay a job and give the subcontractor a reasonable excuse to not be on time. However, it is recommended that if the start date is not met by the contractor as specified (barring events such as extreme weather), the payments should be delayed by the same amount of days. In California, this is legally allowable and all licensed contractors are aware of this provision.
How can I find a good subcontractor?
Recommendations and/or referrals are often your best lead for quality work. However that can be limiting because that pool of resources is small, so you should proceed to Kukun's directory to find a vetted one. If your friends were happy, you can more than likely trust them, but expand the competition by finding others to compare to and don't get locked into your friends' small circle. Note that most people are delighted to tell you about negative experiences, but aren't so forthcoming with positive ones – when you do get a glowing review, you should follow up on the lead.
What Do I Need To Know About Subcontractors?
was last modified:
December 1st, 2022
by
Recommended