Rain, snow, hail, dust, dirt, mildew, and more. All of these elements combine together over time to destroy your deck's finish. If you don't restain your deck, you'll be left with an eyesore in your backyard. If your deck is getting weathered and worn, or if you notice the wood is no longer repelling water, it's time for staining your deck. Don't start the project without knowing these five important things about deck staining.
1. Choose the Right Deck Stain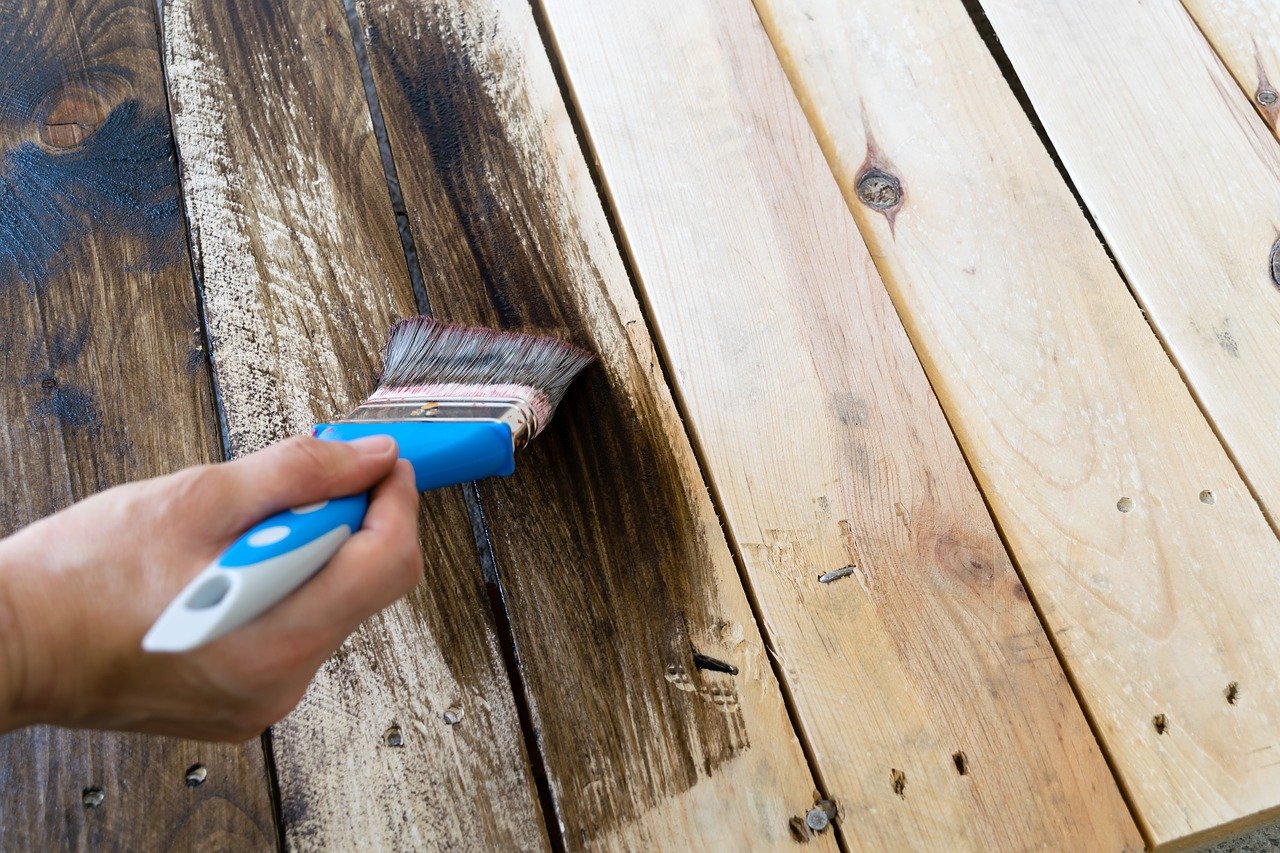 As with everything in this world, you get what you pay for. Don't go cheap on your stain, or you'll end up needing to restain your deck far too soon.
You'll get premium results from a premium product made of better ingredients.
Consider a water-based deck stain, as these types have improved over the years.
Water-based stains are easier to clean (just some soap and water will do), resist weathering better than oil-based stains, and dry faster than solvents.
Plus, if you choose a synthetic water-based stain, your deck will be more resistant to mold and mildew growth.
What type of finish should you choose? Typically, the more opaque stain you choose, the better it will handle wear and weathering. The only problem is they don't let as much of your wood's natural grain and beauty show through.
Semi-transparent wood stains do a better job at letting the wood breathe, and they let the natural grain of the wood show through, enhancing your deck's beauty. However, they do change the tone of your wood.
Clear and wood-toned finishes will enhance the beauty of your deck.
Before you choose a deck stain, be sure to identify the stain that is already on your deck.
If your deck is already stained with a solid stain, a semi-transparent stain simply won't work on top of it.
Remember: You can always apply a solid stain over any other stain, however.
2. Know the Ideal Conditions
You want it to be warm, but not too sunny. You want dry conditions, but those conditions had better last for several days. Picking a time to stain your deck is a bit tricky. Use these guidelines:
The temperature should be between 50 and 90 degrees Fahrenheit
To avoid drying out too quickly, avoid direct sunlight (where possible)
The wood should be dry; it shouldn't have rained for several days
There should be no rain in the forecast for at least two days (and remember, the temperature during those two days should be forecast between 50 and 90 degrees Fahrenheit)
How Much Does It Cost to Build a Deck?
3. Do the Prep Work
As with all projects, the prep work is critical to the success of your final outcome. Begin by removing splintered areas by sanding them down. Clean between the boards with a putty knife. Sweep the debris away.
You'll need to thoroughly clean the wood before it can be stained. This applies to decks that are brand new, as well as to older decks. If you don't remove the dust, dirt, mildew, and debris thoroughly, the wood stain may not properly penetrate into the wood pores. Stains that aren't removed also show through your new finish.
Use a sodium percarbonate wood cleaner (it also goes by the name of oxygen bleach wood cleaner). These types of cleaners are safe for your skin and your plants.
Some stains are harder to remove because of years of weathering. For these, use a stain stripper. You can also sand stains away once the deck is dry.
A word of caution: Decks that were built before 2004 were often made with lumber that had been treated with chromated copper arsenate. This helped to fight rot and insects, but it's dangerous to inhale. If you sand the lumber, you may release toxic arsenic into the air and soil. It's best to hire a professional who has the expertise in safely removing the finish.
Check this Guide on Composite Decking Materials and Prices
4. Choose the Right Brushes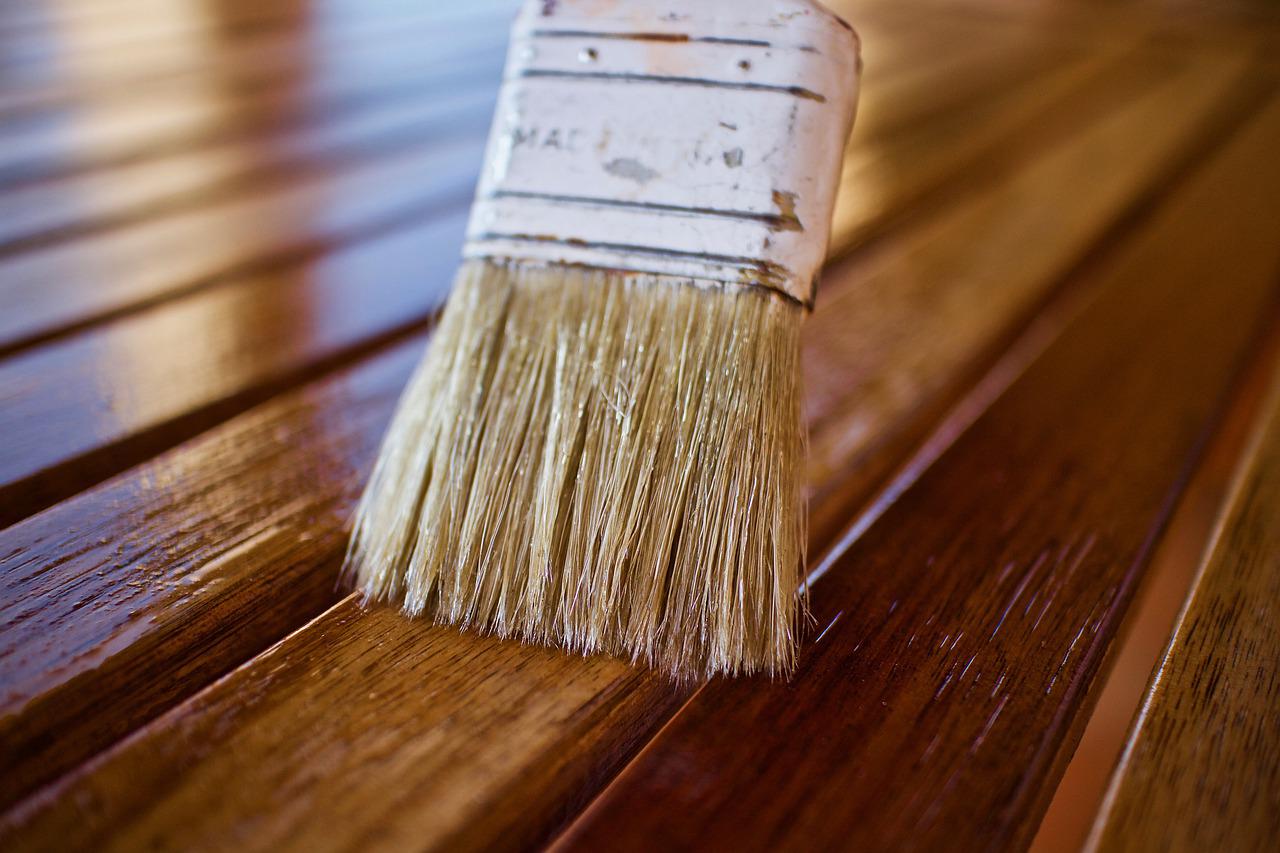 Using a natural bristle brush will force the stain into the wood's grain and pores, giving a more permanent and beautiful finish. However, if you're using a water-based stain, use a synthetic brush. You'll want to pay attention to the joints where the boards meet, and make sure the stain works its way into there.
You can also use a roller brush with a nap of ¼ inch or shorter. Thin application is best, and the short nap allows you to keep a thin layer.
Take a look at these great deck ideas that will make you stay outdoors.
Read more: What brush to use for staining wood
5. Think Thin
Thin is best in deck staining. If you apply a coat that's too thick, you'll end up with puddles. And puddles don't soak into the wood. This will leave you with flaking stain once everything is dry.
Using long, smooth strokes, stain two to three boards at once. Apply two coats for a beautiful finish and to make sure you don't miss any spots.
Bonus Tip: Maintain the Deck
Once you've completed the project, stay on top of maintenance. Make sure you occasionally wash down your deck. Use a wood brightener to fix deck finish that begins to gray or lose its color.
If you use quality products and carefully apply your stain, you should expect the stain to last three to five years. Refinish at the earliest sign of wear to keep your deck looking beautiful longer.
Read more: Ways To Maintain Your Wooden Deck Over Time
Staining Your Deck? Here Are 5 Things You Should Know
was last modified:
September 21st, 2022
by
Recommended