Are you planning to build a new deck? You'll want to know the cost to build a deck, from scratch and also understand the cost factors that affect the total deck installation cost. Right? Well, this blog will help you with just that.
Does a deck add value to a home?
Building a deck in your yard can expand your outdoor living space and provide you with the perfect place for get-togethers and socializing with friends. Especially on days of pleasant weather. It can make your home feel larger.
If you don't have a deck, it's a good idea to get one. Having a deck is a great way to add usable space to your home while enhancing its value –aesthetically as well as monetarily.
Real estate experts believe that a well-installed deck can add measurable home value, with most homeowners recouping about 70% of their deck building expense at the time of a house sale. Of course, building a deck isn't exactly cheap.
Apart from the price of decking materials, a homeowner has to pay the labor cost to build the deck. A deck installation cost varies according to the deck size you want, its overall design, and even where you live.
Furthermore, when you're calculating the total cost of building a deck, you also have to include the construction and protection elements, property taxes and insurance premiums (which increase with increased home value), and other extra miscellaneous work.
Keep in mind that the exact budget for the increment in the property tax will depend on the particular state and municipality.
FYI: Material and labor costs each contribute to roughly 50% of the total renovation budget. That translates to $15 to$30 per square foot.
How much does it cost to build a deck?
The average deck building cost runs to $7,800. Most homeowners can expect to pay between $4,081 and $11,350 for a standard outdoor deck. In terms of square footage, it takes between $30 and $60 per square foot to build a deck – including labor and material costs.
Labor cost to build a deck
The labor cost makes for almost half of the total deck installation cost. Deck builders charge anywhere from $15 to $35 per square foot. For example, if you're planning a 300 to 400 square foot deck, you can expect to pay approximately $4,500 to $14,000 as labor charges. Of course, the cost can go up depending on the deck design and the material used. Wood species such as ipe and tigerwood are considered tough-to-work-with woods – and thereby increase the deck cost.
Hiring a professional deck builder may cost you more but it will give you peace of mind. Plus, it will be done faster. Building a deck yourself can take 3 to 4 weekends.
Foundation and the decking price
The deck's foundation and accessibility will have a huge impact on its pricing. For example, a floating deck costs $20 to $60 per square foot. Such a structure is not attached to the main house and requires additional support posts underneath.
A deck on the ground level costs $10 to $20 per square foot – costing about half the price of a standard deck. The reason is that such a structure doesn't require deck stairs or deck railings.
A second story deck costs between $40 and $50 for the additional support posts and stairs. An elevated concrete deck costs between $30 to$75 per square foot depending on the dimensions of the slab and the finishing materials used.
Read more: Why protecting a deck foundation
Deck design and pattern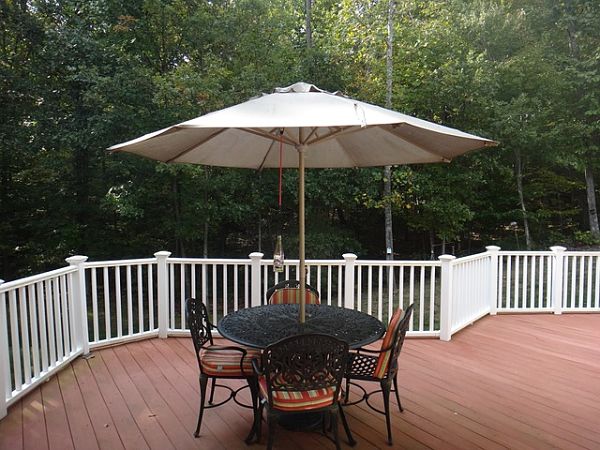 For homeowners on a tight home renovation budget, it's a good decision to keep the deck design simple and functional. One can spend more on accessories such as deck furnishings, a deck umbrella, or an outdoor heater.
Complex, multi-level, or wrap-around decks cost significantly more than a standard rectangular or L-shaped deck design. A difficult design can mean an additional cost of 50% to 100% of an existing budget. Such a deck will require more time for installation, planning, and preparation. And, will mean a higher amount of waste materials.
Building a basic rooftop deck can cost you at least $25,000. And, if you decide to include a luxury upgrade such as an outdoor kitchen, you can expect to pay upwards of $50,000. However, such upgrades get the best return on investment or ROI – sometimes recouping your entire investment.
Decking material average cost
The deck material impacts the deck installation costs significantly. For instance, a pressure-treated wood deck comes at an affordable price of $2 to $5 per square foot. That's one of the reasons it's a popular decking option for those on a budget. Another reason is that the material can easily resist moisture, rot, and insects in contrast to real wood decks.
A redwood deck is more expensive – costing anywhere between $5 and $30 per square foot depending on the grade. Of course, it looks beautiful and is durable too.
Another wood deck option is a mahogany deck. It costs about $8 to $11 per square foot. This type of deck takes on stains well.
An ipe deck costs$10 to $20 per square foot. The exotic hardwood deck is known for its durability and long lifespan.
A bamboo deck comes at $3 to $10 per square foot. It's one of the cheapest decking options and is environmentally friendly too.
A cedar deck costs anywhere between $3 and $7 per square foot. Its pricing is comparable to pressure-treated wood. This naturally insect- and UV-resistant wood is harvested sustainably – without any of the chemical treatments of a pressure-treated wooden deck.
The price of a composite decking ranges between $15 and $36 per square foot. This amount includes the deck railings, deck framework, and the rest of the decking hardware.
A basic decking board costs about $4 to$13 per square foot while an aluminum deck costs $15 to $20 per square foot. Both materials are waterproof and lightweight – helping create great outdoor spaces that can double as roofs for carports, outdoor patios, or outdoor kitchens.
Read more: Aluminum decking
COVID-19 and the surging deck material prices
Post the pandemic, there has been a growing demand for decks among homeowners as a part of their home improvement. As a result, manufacturers of decking materials are increasing materials costs too. Prices have gone up 5% to10%, with many parts of the country experiencing potential price fluctuations and long delivery times. If you too are planning a decking project, it's best to start as early as possible in order to give yourself extra time to order the materials.
Additional decking features
There are a few additional features or upgrades that you may require for your deck. These include deck lighting, deck furniture, deck waterproofing, deck staining, or deck refinishing. Keep in mind that the total cost may run anywhere from a hundred dollars to a few thousand dollars depending on the requirements, your zip code, decking budget, and preferences.
Deck lighting cost: $8 to $150 for a single light fixture
Basic deck furniture with four chairs and a table: $350
Yard landscaping cost: $1,500 to $5,300
Deck pressure washing cost: $200 to $400.
Deck staining cost: $550 to $1,050 (or $30 per gallon for DIYers)
Waterproofing or deck sealing cost: $550 to $1,300 ( or $30 to $40 per gallon for DIYers)
Average deck refinishing cost: $975
Deck stair cost: $15 to$25 per square foot
Adding a balcony to your deck can cost you $15 to$35 per square foot
A deck extension whereby you're adding onto your existing deck will set you back by $15 to$50 per square foot – depending on your location, type of material, and the complexity of the design.
How to estimate deck costs?
Before beginning a deck installation, you must always make a comprehensive plan and a budget. You may consider talking to an experienced deck contractor or engineer to understand the process and cost factors.
The next step is to get professional quotes and choose the best decking contractor after looking at their reviews and ratings. Make sure they're fully insured.
Planning a deck installation? Try our online deck installation cost estimator. It doesn't get easier and more convenient than this free tool!
Last thoughts
There are many factors to consider when determining the cost of your new deck. The more elaborate a deck design and its materials are, the more it will be the labor cost to build a deck per square foot.
We hope this guide helps you plan your deck installation to the last detail. So, go ahead and get that perfect deck worthy to feature as a centerfold of a house remodeling magazine.
Read more: Wooden deck maintenance tips
How much does it cost to build a deck today?
was last modified:
September 26th, 2022
by
Recommended