Any home with backyard space deserves a deck, where the homeowners can relax, enjoy some outdoor cooking and entertain their guests. While building decks can be a great DIY activity, knowing what deck railings to choose is important.
Not only are deck rails made of different materials that affect the cost and appearance of the entire deck, but there are also building codes that you will need to follow with regard to spacing, height, and other factors. In this short read, we will introduce you to the different types of deck railings, their costs as well as regulations you will need to keep in mind.
Deck railing types and costs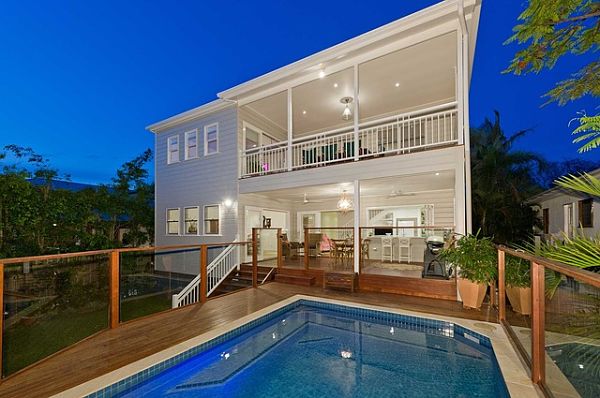 Let's take a look at the basic types of deck railings available.
Composite and vinyl
Composite and vinyl deck railings are a popular choice because they come in a variety of colors and styles and because they are maintenance-free. These deck railing systems come in rail kits that you can buy at your local home improvement stores.
These kits consist of connectors, posts, railing, and balusters. They are also easy to install, making them the ideal choice for DIY projects.
At their structural core, these systems have pressure-treated wood posts covered with a vinyl or composite sleeve. Some variants offer a mixture of steel and aluminum deck railing spindles as well as other baluster materials.
You can buy vinyl and composite railing sets for between $25 and $30 per linear foot.
Home Renovation Cost Estimator
Sorry, we currently don't have that project at our disposal.
---
You can take a look at our most popular ones:
Water Heater Installation
Exterior Door Replacement
Install Recessed Lighting
Exterior Door Installation
Interior Door Installation
Interior Door Replacement
Glass
Glass porch railings are a great choice when you have sweeping vistas you want to enjoy full visibility of. Even if you don't have those views, glass railings definitely add a touch of class to any deck they're a part of.
However, there are certain things you will need to consider before you buy these railings. For one, make sure your local building codes have no objections to decks with glass railings. Second, it is always advisable to buy tinted glass instead of clear glass. This is to prevent birds from flying into the railings.
It is also advisable to buy shatterproof and tempered safety glass railings. Expect to spend between $40 and $60 per linear foot.
Metal
Metal railings are made of one of two materials: either powder-coated aluminum or steel. Out of these two, only the aluminum ones are rustproof.
While metal railing systems are widely found in hardware stores, the biggest downside is that they are limited in colors and designs. You will need to spend between $30 and $40 per linear foot for a metal railing system.
Read more: Aluminum decking
Wood
Wood is a timeless classic when it comes to deck and porch rails. How much you spend depends on the wood you choose. While pressure-treated wood is the most budget-friendly option, at approximately $10 per linear foot, select hardwoods could cost up to five times more.
Read more: Residential teak decking
Cable railing systems
While cable railing systems look great and will offer your porch and deck a modern aesthetic, they are not the most affordable, costing between $125 to $150 a linear foot.
The cables themselves are made primarily of stainless steel, while the posts are made either of composite, aluminum, or wood.
The cables run through intermediate posts and are connected at the ends using turnbuckles. These turnbuckles create and maintain the correct tension on the cables. It is important to maintain correct tension since building codes dictate that the cables must be no more than four inches apart.
Which is the most affordable stair railing?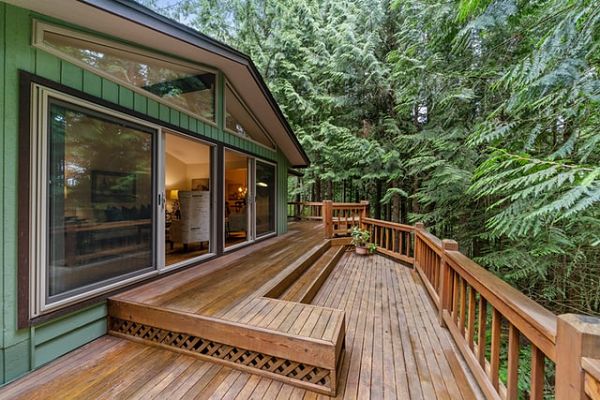 All things considered, wood is going to be the most affordable material for you to buy. While pressure-treated wood will cost you only $10 per linear foot, treated pine railing could cost as little as $15 per linear foot.
Which is the easiest deck railing to install?
For those of you looking at putting up your deck railings yourself, you can buy prefabricated kits made of composite and vinyl, aluminum, steel, glass, and cable railing systems. Purchasing them from a good manufacturer will ensure they come to you pre-assembled, meaning all you need to do is mount them.
A lot of these pre-assembled kits will also come with useful additional features, such as lighting options that fit into the railing post caps and ornamental top accent panels. Some manufacturers also give their railings an additional coating after welding to protect them against rust.
How high should deck railings be?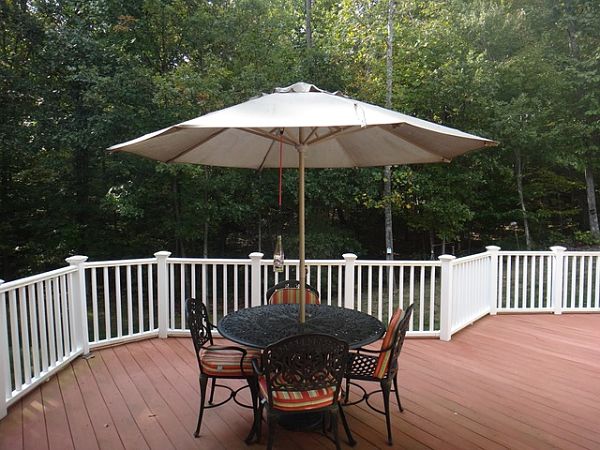 In most cases, the ideal railing height is determined by local municipality building codes. These codes dictate railing height based on the dimensions of the deck and the height of the platform. Therefore, it is always best to consult your local authorities before building your deck. That being said, here are certain guidelines that you can keep in mind.
A low platform deck may not require railings at all in order to meet code requirements.
For a straight railing, ensure that the guard rails are at least 36 inches high.
Most places follow building codes as advised by the IRC (International Residential Code). According to the IRC, any deck at a height of 30 inches or more above grade needs to have railings installed.
If your deck has stairs, you will need to consider guardrails as well as stair rails. Measuring vertically from the top of the rail to the nose of the stair tread, the stair rail ought to measure between at least 34 inches to 38 inches high.
Deck balusters refer to the vertical posts that run along guard rails and stair rails. They are put in place to prevent people and pets from falling through the gaps.
According to IRC building codes, stair and deck balusters should be placed in a way that does not exceed 4 inches apart. This is to make sure small children and pets cannot get their heads stuck in these spaces.
Deck railing types, costs, heights and more
was last modified:
September 26th, 2022
by
Recommended