A hardwood deck is much sought after by homeowners, largely because of its unquestionable visual appeal. And no wood is better suited for outdoor applications than teak wood is. Let's take a quick look at the pros and cons of teak wood as a choice for your home's outdoor decking.
Advantages of residential teak decking
Naturally tough
Teak has its origins in the tropical climes of Burma, India, Thailand, and Malaysia. These places experience torrential rains, humid temperatures, and more climate variations than we do back home. As a result, teak has naturally adapted to become one of the toughest flooring materials for living space.
For example, when solid teak is cut into planks, naturally occurring teak oil coats the surface, making it impervious to fungus and insects. What this means is that teak flooring can easily handle termites and any weather conditions North America can throw at it.
Easy maintenance
Teak decking is very easy to maintain. For one, it does not need sealants or preservatives. The wood is close-grained and naturally rich in natural oils and rubber, making it resistant to rotting.
In addition, even when left untreated, the color of teak as it ages turns into a majestic natural silver and gray. While the color and grain look great even when left to weather, you can also choose to treat it.
In addition, teak has a naturally non-slippery surface, making it an ideal decking material.
Easy installation
Teak can be cut into a variety of shapes and sizes for decking. You can choose to have planks with pre-drilled holes for screws or choose a tongue and groove pattern to hide the presence of screws.
Versatile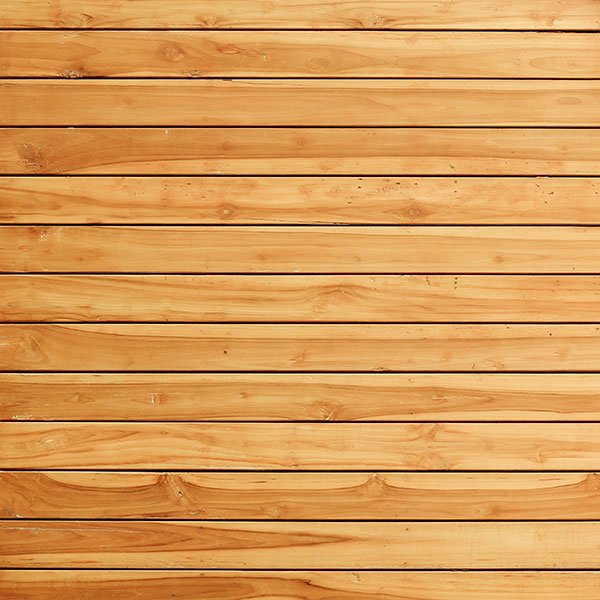 Because teak can be both hand-cut and machine cut easily, it finds use in a lot more applications than just outdoor decking. Indoor flooring, furniture, beams, posts, trellises, walkways, and more are all just as beautiful, appealing, and durable when made with teak wood.
Disadvantages residential teak decking
Not the best choice ecologically
Teak does not grow in the continental US. It is found in India, Burma, and Indonesia. It is a naturally slow-growing tree, taking between 80 to 120 years to reach maturity.
As a result, common teak, which is the only teak used commercially, is prematurely harvested when the trees are between 40 and 60 years old. This early harvesting means the wood is softer than timber from a fully mature tree would be, which in turn means anything made from the wood is likely to be less durable.
This has led to teak being harvested illegally from the forests of south-east Asia and started a vicious illegal trade cycle.
In addition, the carbon footprint of shipping teak from the countries of origin to the US is quite disturbing. This makes using reclaimed teak the greenest way of procuring a teak deck.
Reclaimed teak refers to teak wood recovered from old homes, ship decks, and other sources. The durable property that teak is famous for makes it an ideal upcycling material.
Expensive
In comparison to American hardwoods, teak can be almost twice as expensive. Most American hardwoods will cost you between $4 to $8 per square foot. Teak, on the other hand, can cost anywhere from a minimum of $7 per square foot to a staggering $41 a square foot.
Residential teak decking: Pros and cons
was last modified:
October 14th, 2022
by
Recommended