With the right screened in porch ideas, you can turn even the most boring porches and patios into attractive, livable and usable spaces.
A closed porch has multi-purpose usage. It can be your entertainment room, dining room, sunroom, and even a kitchen. All in all, it will not only help you relax but also protect you from the elements while letting you enjoy your time here, all-year-round.
So, if you're planning a home renovation to add more outdoor living space, it's a good idea to look around for some inspiring screened in porch ideas. Create the perfect relaxing room to gather with your friends and family.
Planning a renovation? Try our free home remodel cost estimator; it's easy and convenient to use!
If you're looking for a DIY project, you can easily turn a deck into a screened in porch. All you need are the correct measurements, framing materials and insect-proof screens. Keep in mind that ready-made screens are much easier to install.
A screened in porch costs about $760 to $1,070 for a 200 square feet space. That translates to about $4.48 per square foot. The porch screen installation cost ranges between $297 and $304. This amount includes labor costs.
Once you've installed the screen doors and windows, you can enjoy the space throughout the year. Do strive to keep the screens clean as they tend to get dirty over time. Especially if you live in an area that witnesses seasonal pollen blooms.
Simply, clean your porch screens with warm water and an all-purpose cleaner using a scrub or utility brush. Make sure you wash the mesh as well as the frame properly. An easy way to clean your porch screen is to rinse it thoroughly with a garden hose.
Well, coming back to the allure of a screened in porch, it can be the perfect gathering spot for your evenings or a relaxing place to have your meals while looking at the outside view.
Here are some of our favorite screened in porch ideas that are so serene and inviting that you'd love to get inspired by their design and decor.
1. Transform your porch into a sun room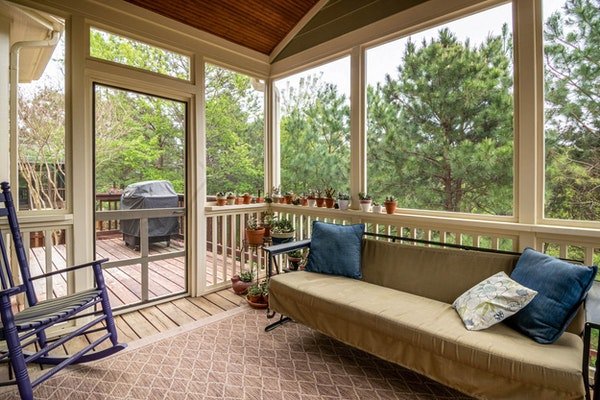 If you're lucky enough to live in an area that gets a lot of natural light, make the most of it. Give your screened porch a bright and airy look with large sunroom windows. Add comfortable seating, potted plants, and a lovely area rug to give the room a personality. The undeniably homey indoor-outdoor space will exude a welcoming vibe.
Read more: Sunroom Furniture Ideas
2. Add the warmth of a fireplace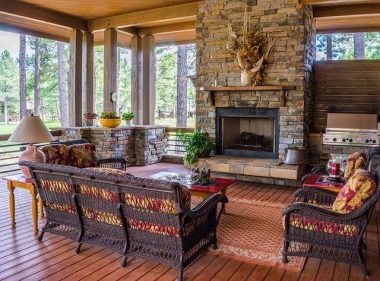 This farmhouse-style porch has a fireplace that offers warmth for chilly nights as well as a sight for sore eyes. The natural stone fireplace gives this Southern home a dreamy look. There's even a cooking range to help you create the perfect al fresco dining experience. The houseplants make the space feel one with the surrounding wilderness.
Read more: Heat screened porch advantages
3. Design the most relaxing family room
This front porch room is the ultimate if you're looking for a place to unwind, or just enjoy the outdoors while staying indoors. The large wooden chairs look so comfortable that you might want to snooze the afternoon away. We like the ornate round table that can double as a dining table or a card table. Spending family time in this cozy seating area is bound to be super fun.
Check these 6 Porch Railing Materials That Lend Style to Your House
4. Bring the outdoors in with woodsy elements
The floor-to-ceiling screened openings of this porch will allow you and your guests to enjoy the scenic views outside while keeping you safe from the mosquitoes and humidity. It's the perfect vantage point!
We love the way the wood ceiling and floor blend in with the porch's natural setting. The rattan patio furniture and vintage-inspired ceiling fan add their bit to the old-world charm of this lake house.
Rethink Your Porch With These Design Tips
5. Create a no-frills cozy nook
A beautiful porch requires minimal frills to look great. This porch design for instance, has tongue and groove ceiling boards, wood flooring and a color palette with calming earth tones. The porch, providing a direct view of a picturesque lake behind the house, is the perfect space to appreciate nature.
Read more: Winter porch decor
6. Get a hammock or a porch swing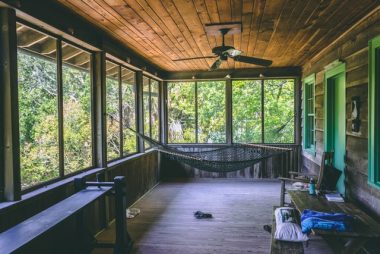 Photo by Zhanjiang Chen on Unsplash CC0
Can you imagine a more relaxing place than this no-fuss hammock in the middle of your screened porch? We can't. Simply settle in and read your favorite paperback or the latest magazine. It's as if this porch was made for afternoon siestas!
Read more: Why are porch ceilings painted blue
7. Grow an indoor garden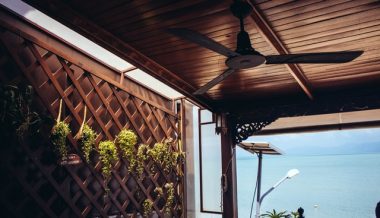 Photo by Logan Stone on Unsplash CC0
Interestingly enough, this porch comes with a temporary blind screen that can be lifted up to bask in the afternoon sun or pulled down for a night party with friends and family. The porch has an arbor instead of a screen door on one side to hang a lot of potted plants from. No wonder the area looks like an exotic oasis with an ocean for a background.
Read more: Indoor window herb garden tips
8. Give your living room an extension
Thanks to the sliding glass patio doors and the wooden flooring, this screened-in porch feels much more like an extension of your home's interior than an outdoor area. The comfy chairs and the accent pillows help unite the indoor and outdoor spaces.
Read more: Porch support posts
Last words
Screened in porch ideas and designs allow you to get the best of both worlds — the breezy outdoors as well as the safe indoors. You can sit out on your porch, enjoy the fresh air while the large screen windows will guard you from the pesky pests. Not to forget, the unforgiving glare and heat of the sun.
Take a look at these 10 DIY decor ideas to make your front porch fun and inviting
Screened in Porch Ideas to Create the Most Relaxing Ambiance
was last modified:
January 16th, 2023
by
Recommended