Want to know if it's a wise decision to have a shiplap bathroom wall? Or, for that matter, have shiplap on any other wall that's exposed to high amounts of humidity or moisture? Will it result in mildew, rot, or peeling paint? Well, that's exactly what we'll answer in this article. We understand that no homeowner wants to make a renovation mistake that can cost them dearly in the future.
About shiplap
There's an interesting history attached to the usage of shiplap. The construction style was initially used to waterproof boats as well as ships. And, hence the name! It was only later that shiplap siding gained popularity among homeowners as a trendy way to decorate their interior walls, basement walls, and ceilings.
Today, shiplap is an effective and inexpensive way to beautify and add texture to an otherwise boring wall. Simply put, the technique can brighten up any outdated space.
Can you use shiplap on bathroom walls?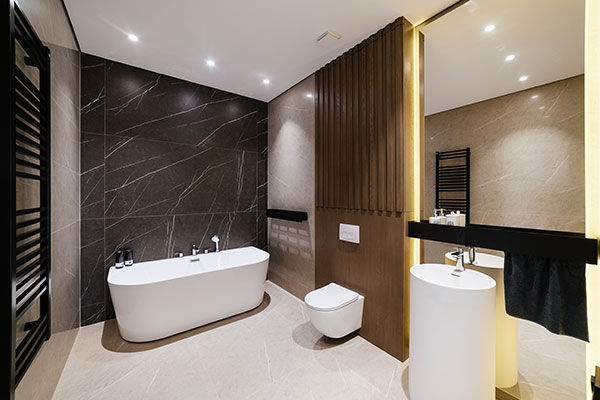 Shiplap is a fantastic feature to add to a room – even in a bathroom when it's applied as wainscoting. You can create a shiplap bathroom wall as a sink backsplash, behind bathroom vanities, as a shiplap accent wall, or in the ceiling. Since this type of siding needs a smaller area coverage, it ends up being a budget-friendly home improvement project.
Through a shiplap bathroom wall, you can add lovely textures, colors, and dimensions to your bathing area – with minimal funds, time, and effort. So, the next time you're thinking of a bathroom remodel, you can consider installing a bright-colored shiplap. The wood planks will help you create a variety of bathroom designs and styles – ranging from modern to farmhouse style! A shiplap project can be especially great for a master bathroom!
How to waterproof shiplap for bathroom walls?
When you're using shiplap in the bathroom, you do need to keep a few things in mind. Make sure the shiplap installation is done properly – with good sealing. Only then can you protect it and your walls from the moist environment of a bathroom. Since wood is susceptible to rot and warping over time in a moisture-laden area, you need to take adequate precautions and maintenance steps.
If you want to make the shiplap waterproof, using good-quality paint or a top coat will do the trick by helping seal the wood. Whichever type of wood you use for the shiplap – pine, plywood, or cedar – you need to protect it from getting wet.
Shiplap installation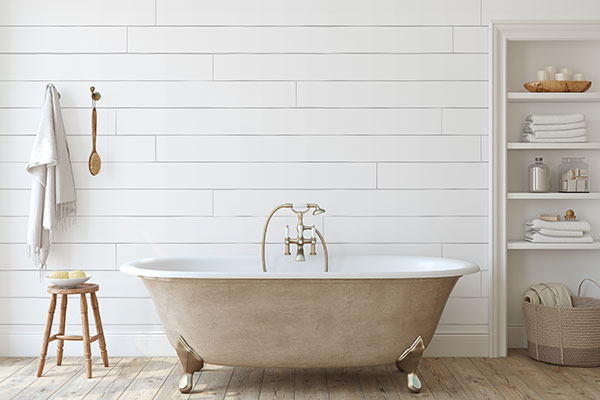 There's no rocket science behind shiplap installation; you can install it right over your existing drywall. The process of installing shiplap over drywall is the same as installing faux wood planks. All you have to do is attach the wooden planks to the wall with a nail gun. However, keep in mind that these wood planks can be heavy, so finding the studs and marking them need to be done beforehand.
If you're installing shiplap over a subway tile, always remember to wipe your tiled wall down to remove any grime, debris, or dust. Cut the shiplap to the size you want. Adhere the shiplap to the tile by using construction adhesive along the middle and the edges of the shiplap plank. Secure the shiplap on the top of the wall with nails if you're extending it beyond the tile wall. You may also have to nail shim pieces to make the shiplap flush with the wall. Next, you will need to caulk the gaps as well as the nail holes to get a smooth finish. And the last step is to paint the new shiplap in your favorite latex paint color.
How much does it cost to shiplap a wall?
On average, shiplap wood panels cost between $2.50 to $7 per square foot. This amount excludes any installation labor charges. The total cost varies depending on the wall coverage you need and the shiplap material. Installing shiplap boards in a standard-sized room may cost you anywhere from $1,200 to $1,700.
Last thoughts: Is a shiplap bathroom wall a good idea?
Installing shiplap boards in a bathroom is an inexpensive way to create a bright and visually appealing space. Moreover, since shiplap installation can be an easy DIY project, you can design your bathroom in the most creative way – without spending too much time or money.
If installed and sealed properly, a shiplap bathroom wall will hold up for a long time. But yes, do ensure regular inspection and a good maintenance schedule.
Is it a good idea to have a shiplap bathroom wall?
was last modified:
April 7th, 2023
by
Recommended