Understanding YIMBY meaning and its connotations
It is human nature for us to have conflicting thoughts about practically everything on the planet. You have those who are pro-plant-based diets only, while others believe getting their proteins from meat is the healthiest alternative. You have pro gentrification crowds, who believe the influx of new wealth into poorer neighborhoods will actually help improve the quality of life for everyone, while others believe neighborhoods are best left as is.
Whether you live in the suburbs of the Silicon Valley or in New York City, every development proposed by the city planning commission has two factions of citizens actively involved: the YIMBYs and the NIMBYs.
YIMBY meaning

To understand what these acronyms mean, we need to take a step back into the early 1980s.
In 1983, farmers in Colorado were not happy about a hazardous waste site being positioned in close proximity to their lands, and in protest, started saying "Not In My Backyard" (NIMBY). The term was first featured that year in a New York Times article reporting the farmers' protest.
The acronym YIMBY, meaning "Yes In My Backyard" was coined five years later when a waste disposal firm executive suggested making waste disposal mobile on the back of trucks as an answer to the farmers' agitation.
However, both those acronyms have now become synonymous with being anti or pro-development in residential areas.
Understanding the YIMBY movement
The YIMBY movement sees its roots in the pro-housing belief system that housing needs that affordable housing ought to be developed in all neighborhoods. Supporters claim that globally, they are being stifled by unaffordable rental prices and housing shortages.
YIMBYism, as the movement is called, has seen a lot of growth in recent years, especially in areas like New York, the Bay Area, and the Silicon Valley, all regions where a huge disparity exists between job opportunities and the rate of residential construction.
This disparity has obviously caused a housing crisis. Supporters of YIMBY groups argue that the only way to deal with this crisis is to allow the development of affordable housing in all neighborhoods.
However, this is not something a lot of old-time residents feel very positively about. And these are the people that form the NIMBY movement.
Let's take an example from California.
A NIMBY protestor in 2017 brought zucchini to the protest meeting, complaining that building high-rise affordable housing in her neighborhood in the City of Berkley would affect the direct natural sunlight her vegetable patch received. She expected public sympathy, considering she was a long-time resident and her needs were small but relatable.
However, she was not prepared for the backlash from the YIMBY supporters. They argued that the vegetable patch was of no consequence when so many of them could not afford to live in those neighborhoods, with the limited rental real estate available pushing upmarket rates.
In fact, in the Bay Area alone, rising housing costs make it more and more difficult to either buy or even rent a home. Between 2010 and 2020, only one housing unit or apartment was built for every 6 jobs created. Ideally, that ratio ought to be one home for every two jobs created at least.
YIMBY groups, such as San Francisco-based YIMBY Action, have since grown in numbers and now gather en masse at planning meetings to demand that cities build housing units that even middle and small-income people who work locally can afford. A "sue the suburbs" campaign has been started against cities that oppose constructing affordable housing units.
Read more: Best neighborhoods in Sacramento
Characteristics of YIMBYism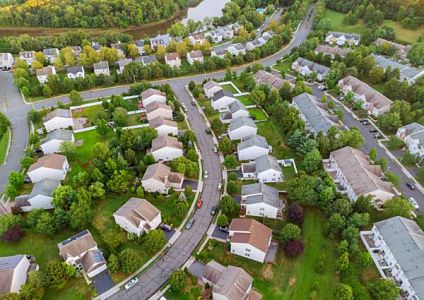 It is local
While the movement may be present across the country, active organization and participation are always spearheaded by the local community who are interested in making their neighborhoods more accessible, affordable and acceptable to newcomers by encouraging new development activities.
It is young
The YIMBY movement is mainly made up of young people who want to be an active part of bringing about what they believe is the change needed in employment and housing policies instead of sitting around waiting for policymakers to decide what ought to be done.
It also draws participation from varied backgrounds: from attorneys to urbanists and mobility specialists, people from all walks of life support the movement.
It is a response
The movement itself is a response to trends in both employment and housing needs. For example, it was recognized in 2013 that Boston needed as many as 53,000 new housing units by 2030 to accommodate the projected increase in population due to job opportunities.
Considering that Boston is a walking-friendly city that is transit-rich, YIMBY activists argue that ignoring these statistics and not promoting affordable housing development starting now would be detrimental in the near future.
It is anti NIMBY
The whole premise of YIMBY activism is to oppose NIMBYs. NIMBY activism opposed changing the social and real estate construct of a neighborhood to promote high-rise or affordable housing solutions. Therefore, it is not uncommon to see a lot of old-time residents actively opposing any of these planned developments at council meetings.
YIMBY activists show up to oppose these beliefs and to argue in favor of the development.
That being said, the purpose of YIMBY activism is not strictly to oppose everything NIMBY. It is primarily to conduct an amicable dialogue between both parties to arrive at a solution.
Understanding YIMBY meaning and its connotations
was last modified:
October 10th, 2022
by
Recommended