The heart and soul of your home is undoubtedly your kitchen. This is where your family members gather to eat, entertain, and connect with each other. Needless to say, your cooking space needs to be functional, beautiful, and clean. And, a lovely walk-in pantry makes the kitchen space more so.
Having an accessible and convenient walk-in pantry will give your kitchen an additional, separate space for food and appliance storage — making your kitchen design a dream come true. So, let's begin by listing a few important tips and expert advice before you start designing your perfect walk-in pantry.
A walk-in pantry is a real luxury but also a necessity. It beautifully improves your kitchen's overall flow. You can not only add valuable storage space, but also a high-end element to your kitchen. Don't forget that if you use your kitchen space to entertain your friends and family, even a large kitchen can get congested.
A walk-in pantry or a butler's pantry can be the perfect designated pantry room (typically between the kitchen and dining room) for storing all your groceries, dry goods, kitchen appliances as well as any other kitchen supply or provisions.
A butler's pantry is essentially a bigger version of a walk-in pantry. It typically features cabinets and countertops — allowing you to expand your kitchen storage space tremendously. You can effectively store your kitchen appliances, including toaster, kettle, microwave, etc. That way, you can keep your kitchen neat and organized. No wonder, a butler's pantry is high on most homeowner's kitchen renovation list. On average, adding a walk-in pantry costs you between $3,000 and $5,000. However, it gives you immense value for your money.
Here are some things to consider when planning a walk-in pantry.
Hire a kitchen expert
Most successful renovation projects need an expert hand — from start to finish. Make sure you work with an expert design-build team that helps you create your ideal pantry. On-time and on a budget!
Looking for a licensed professional? Let Kukun help you hire the best.
An expert kitchen contractor will consider your specific needs and identify your available space. The ideal walk-in pantry should be a natural extension of your kitchen. It should be of the right size and layout. A well-designed pantry will allow you to instantly see everything you have — making your food prep quick and effortless.
Visualize and plan your pantry design
Before beginning the kitchen remodel, ask yourself some important questions. Will you be storing just food and household staples or appliances, cleaning products as well as pet supplies? Will you need countertop space for your meal prep? How much square feet area can you allot to your walk-in pantry, without harming your kitchen space? Answers to these questions will help you and your contractor define the pantry design and its layout for optimal functionality.
If you're remodeling your existing home and adding a pantry, chances are, your walk-in pantry will be accommodated by breaking a wall or two. Keep in mind that any structural change will require you to get the necessary building permits before you begin the home improvement project.
Get organized
Professionals will help you divide up your walk-in pantry space into specialized areas. In other words, they'll assign separate zones depending on your storage needs. After all, storing things like canned food, snacks or cleaning supplies can be quite different from storing appliances. The latter needs to be strategically placed for use and convenience.
If your pantry space and remodeling budget allow, you can even consider embedding appliances, such as your refrigerator, microwave, or dishwasher.
Know your walk-in pantry size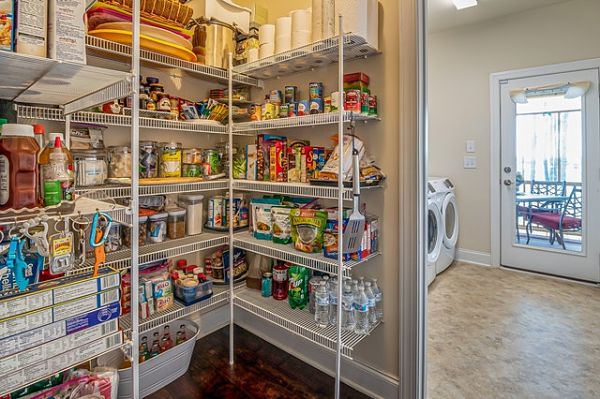 The best pantry layout will typically be about 5 by 5 feet at the minimum. Most walk-in pantries can be lined with U-shaped, adjustable, open shelves or pantry cabinets. You can choose to finish them with or without a countertop, depending on the type of kitchen storage you require. Moreover, the shelves and cabinets should seamlessly match your kitchen design. Floor to ceiling built-in shelves are the best storage option.
The ideal distance between your pantry shelving should be at least 12". It's always best to keep all of your shelving adjustable to your specific needs. If you're adding countertops for meal prep, then give at least 18" space for headroom. Of course, large appliances such as refrigerators or microwaves will require more space and a separate electrical circuit too.
Keep in mind that your pantry shelves should be strong enough to hold even the heaviest kitchen items. Shelves should be ¾" thick — running no longer than 36 inches wide without additional support. Also, remember that narrower shelves are much more accessible than really deep ones. Experts recommend 16" deep shelves at your feet level, 14" at eye level, and 10" if it's higher.
Get your shelves and cabinet design right
It's best to keep your storage shelves of various sizes to keep things organized.
You can choose from open, pull-out, or closed cabinets. It's a good idea to explore all your options and choose the one that gives you functional and creative flexibility. Keep in mind that open shelves offer greater visibility and access, pull-outs are good to store your cookware collections and small appliances while closed cabinets are ideal for your cleaning supplies as well as pet supplies.
Choose the most suitable material
Although your walk-in pantry is an extension of your main kitchen, you don't have to use the same kitchen cabinet material. Instead, you can use inexpensive laminates in your favorite colors. When it comes to pantry countertops, experts recommend butcher block as a great choice as it's both economical and convenient.
Pantry decor and lighting
Once you get the design and layout in place, it's time to choose the best pantry lighting and decor. A good paint, wallpaper, or ceramic tile can turn your otherwise boring walk-in pantry into a beautiful extension to your kitchen.
When it comes to lighting, any interior design expert will tell you that lighting can make or break a good design or a home decor. Therefore, you must choose light fixtures that fit your kitchen's style and provide you the best illumination. The best and the most economical choice is to add LED lighting — especially motion sensor LEDs that automatically turn on when you open your walk-in pantry door. For a large walk-in pantry, you can even consider adding dimmable task lighting. Ideally, a skylight that lets in natural light would be perfect.
Last words
According to the National Association of Home Builders, 85 percent of home buyers, today, consider a kitchen pantry an essential part of their cooking space. Even in existing homes, more and more homeowners are thinking of adding or improving their pantries.
A walk-in (whether big or small) pantry can really be a life-changer. It makes your food prep, cleanup, and food storage so much easier. Plus, a beautiful pantry can add a lovely touch to your kitchen. We hope these tips and pantry ideas help you in creating your perfect walk-in pantry!
Read more: Kitchen Remodel Financing & Loan Options
Important Points to Know Before Designing a Walk-in Pantry
was last modified:
May 30th, 2022
by
Recommended