Why auction a house instead of selling? Is it a good idea?
Most home sellers resort to conventional real estate deals to get their property sold. However, in the past few years, auction platforms have suddenly become popular as an alternative. But, why auction a house instead of selling it?
No longer seen as a desperate attempt by a seller or just for bank-owned properties, auction sales are now growing in number. In fact, according to many real estate companies that handle auctions, there has been a surge in online real estate auction sales by about 25% year over year. Property auctions are being seen as an alternative to a traditional real estate listing. But our question remains, why auction a house instead of selling it?
Here, we'll explore the most common reasons sellers are looking at auctions to get their property – whether a commercial property, a residential property, or a plot of vacant land – off the market.
As we list out the pros and cons of selling at auction, you can decide whether to work with a conventional real estate agent, sell the property yourself through a private sale (by owner), or auction it off.
The ultimate goal is to choose the best strategy to sell your home – one that will help you get the best sale price possible.
What are real estate auctions?
Real estate auctions may happen online or at the physical property itself. The seller, like in a conventional real estate sale, creates a listing for the house with the help of the auction company – allowing potential buyers to view the property ahead of time. The bidders then need to register in advance to attend the live auction.
The property could be listed with reserve (the predetermined lowest bid that a seller will accept) or absolute.
In the case of a reserve auction, if the highest bidder bids below the reserve, the seller decides whether to accept or reject the offer. But in an absolute auction, the property will sell to the highest bid. This generally results in a higher selling price.
Keep in mind that in an auction sale, the winning bidder – now the potential homebuyer – will have to accept the property as is. They can't ask sellers to do home improvement work on the property. Moreover, there's no home appraisal, mortgage, home inspection, or any home sale contingency involved.
Why auction a house instead of selling it?
There are several reasons a home seller may resort to auctioning off their house instead of selling it. We've listed some of them for you below.
Auctions help attract more buyers
As compared to a real estate agent bringing in buyers, an auction garners more interest among people. Generally speaking, when people register themselves for a home auction, they are more geared toward buying than someone who looks at a property at an open house. Keep in mind that such people have to pre-qualify for financing before registering. So, the chances of them being serious buyers are high. Moreover, an auction also sees serious real estate investors in attendance.
An auction helps you get more value for a house
Potential buyers have a good idea of the type of real estate they are looking for and what to pay for it.
Plus, the intense competition and the multiple bidders vying for that property result in raising its value in an auction. Moreover, it increases the chances of an efficient sale. Finally, the highest bidder gets the house.
Auctions help sell real estate quickly
The amount of time it takes to sell a house is often lesser than a traditional home sale process – unless it's an extremely hot market or it's a straightforward deal with minimum paperwork. Usually, an auction promotes a quick sale – set up in under 45 days. You can add another 30 days to complete the post-auction settlement period. Altogether, this is usually a quicker way to sell a house vs listing it on the market. Therefore, an auction generally takes less than two months from start to finish.
You can know your exact sale date through an auction
You can determine the precise date of your house's sale when you auction it off. This allows you to plan your budget, mortgage payments, taxes, and home maintenance costs accordingly.
A conventional listing with a realtor on the other hand doesn't give you this kind of certainty. Generally, it can take anywhere between 47 and 148 days to complete a real estate deal – depending on the market conditions, location, property condition, and square footage.
An auction helps you set a minimum pricing
Selling your home through an auction will ensure a minimum reserve price. You wouldn't get an amount lesser than that – regardless of whether it's an online or a live auction.
An absolute auction may not have a minimum price, but it attracts more buyers and often results in higher bids than anticipated.
Pros of selling a house through an auction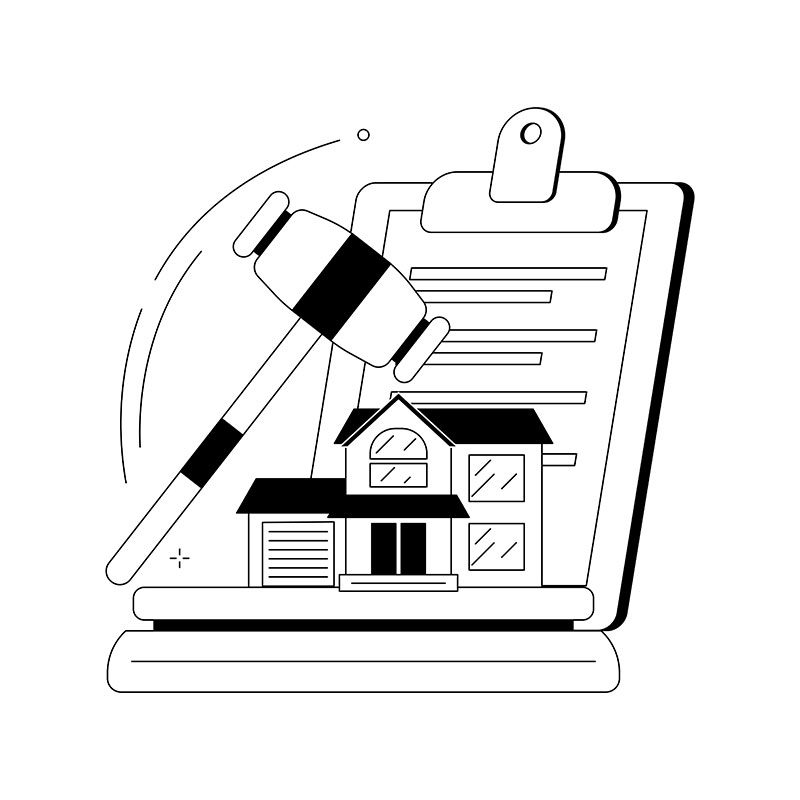 Helps in cost savings as the new buyer has to pay the real estate commissions and a non-refundable deposit.
The auction timeline is shorter.
There's no need to negotiate the pricing or conduct a home inspection or appraisal.
All the marketing and promotions are taken care of by the auction house.
Cons of selling your home at an auction
There's no sale guarantee. For example, if none of the bids reach the reserve price, the auction will not result in a successful sale.
There could be restrictions on the number of bidders by the auctioneer, resulting in a smaller buyer pool and a lower chance of getting a high bid.
How to sell a home at an auction
An auction requires careful preparation before the auction day. This includes promoting the property through various platforms and buyer selection. Here are some of the other steps to make a house auction successful.
Choose an auctioneer
This is perhaps the most crucial step since it affects your chances of getting the best deal. You can select the auctioneer and go through online reviews at the National Auctioneer Association website.
Make sure the one you choose has good knowledge of the real estate market, has a solid marketing plan, and has good reviews from previous clients.
Set a timeline
Set a date with your auction house. Ensure you finish your mortgage payments and other dues before the main auction day.
Read more: Can I sell my house after one year?
Set your reserve price if it's a reserve auction
Your reserve price will depend on factors such as the state of the market, your house's condition, its geographical location, neighborhood comp, a market research by the auction house, and more.
Prepare your house
Make sure your house is in top shape. Be prepared for open houses. You may get visits from some prospective buyers who'll want to view your house. This will increase your chances of getting good bids. Plus, you can use this opportunity to pique buyers' interest and competitive bidding.
Aid in promoting the property
Your auctioneer will need your help in executing a successful marketing campaign. Be available to promote your property, along with your auction house, at least a month before your auction date. Think of promotion strategies across channels, including social media and auction websites. Direct marketing through signage, brochures, and print media will also help you advertise your property.
Auction off your property
You can collect bids in person, online, or both on the day of the auction. Before the auction day, bidders register online. While online auctions can go on for weeks, on-site auctions are quick whereby the winning bidder is chosen immediately after the event.
The bidder will then submit a non-refundable deposit and sign papers right away to complete the transaction.
Last thoughts
Every home seller wants two things: a quick sale and a high price. Unfortunately, that's easier said than done, especially if you're only considering the conventional method of selling a home through a realtor. Often, it takes a lot of time to draw in serious purchasers and convince them to make a down payment. In such a case, a real estate auction comes across as a good alternative.
We hope, we've cleared your doubt – why auction a house instead of selling it? No wonder many home sellers are now going for auctions instead of selling their property the old-fashioned way.
Why auction a house instead of selling? Is it a good idea?
was last modified:
August 16th, 2023
by
Recommended