A bathroom is like a sanctuary where you're most at peace with yourself. A place where you ready yourself to face the world, or get refreshed after a hard day's work. It must comfort you with its layout and offer you maximum convenience.
Designing your own bathroom can be a dream if you know how to. But if you don't, it can be the biggest bane of your life. There's nothing worse than an uninviting bathroom that bothers your senses the minute you walk in. 
Impractical planning, dysfunctional spacing, and jarring bathroom design mistakes can be a nightmare.   
However, you don't have to live with your missteps forever. Often, with just a few small tweaks, these errors are easily fixed and your interiors feel more fabulous and functional than ever. 
We've crafted this list of the 10 most common bathroom design mistakes for you to avoid at all costs! So, let's begin.
 1. Not Having Clarity Of Needs And Space
As elementary as it sounds, it is one of the common bathroom design mistakes. We end up with a lot on our plate, well in this case bathroom. Make a list of things you would actually like to include in your bathroom and sort them by order of priority. 
For instance, if your priority is to have more natural light – then why have a boxed bathroom with, perhaps more storage space, but less windows? Carry out this basic exercise to determine your must-haves and then plan a renovation accordingly. It will make you happier.
2. Not Planning Proper Layout
Each bathroom has its own measurements and characteristics. Therefore, you need to sort out the best possible distribution and layout so you don't leave out any essentials. 
It might sound like a simple job, but bathroom distribution is a constant challenge for architects and interior designers — especially if you don't have square meters to spare in a small bathroom. 
You will need to devote time to check all the items on your list. Never assume that your architect or designer will know what is most important to you. 
They are the experts, but you are the one who knows your priorities. This is very easily overlooked and accounts as a primary cause of bathroom design mistakes in remodeling projects.
Read more: Remodeling mistakes to avoid
Home Renovation Cost Estimator
Sorry, we currently don't have that project at our disposal.
---
You can take a look at our most popular ones:
Water Heater Installation
Exterior Door Replacement
Install Recessed Lighting
Exterior Door Installation
Interior Door Installation
Interior Door Replacement
3. Prioritizing Trends Over Practical Issues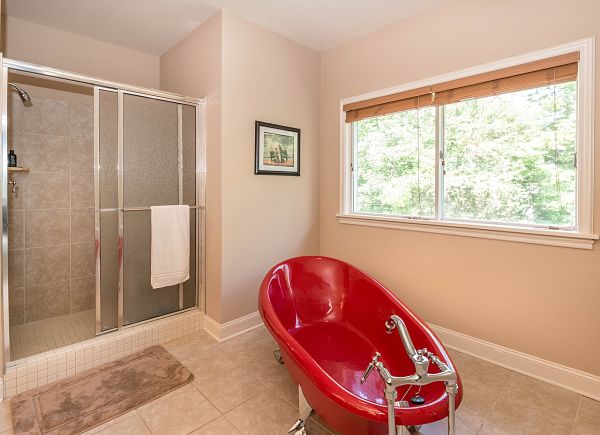 Let's be clear, we don't mean that following bathroom trends or fad is wrong. Not at all. It's just that you cannot follow them blindly. When you decide on a purely aesthetic layout, consider how your daily life will be. For one person, a colorful art mural in the bathroom can be a source of never-ending inspiration and for others, it can just be plain disaster.
Also, take the time to consider if you intend to live in your house forever. Of course, the bathroom is a space that should bring you harmony and wellbeing, and to achieve this, you must feel comfortable with your choice. 
But perhaps you are planning on selling the house in a few years. Will the trend you enjoy now affect the ability to sell the house later on? Will it be a good investment down the road? We think, function over trends is a good rule of thumb when trying to avoid bathroom design mistakes. 
4. Choosing The Wrong Material For Each Zone
The bathroom is a space that has its own idiosyncrasies; it's an area where there will normally be humidity, and also where we use special and stronger cleaning products. This means that not any and every material is suitable for this room. 
Rethink a pretty wallpaper, for example. Nowadays there are many options in type, quality, and price. So there is no point in using products that will deteriorate in the long term. 
Be sure to research the material's expected longevity and if there are special instructions on usage — so that you can avoid this bathroom design faux-pas in the future.
Want to know how much that bathroom remodel cost would be? Try our free estimator tool!
5. Not Giving A Comfortable Access To Your Shower
This is one of the most common rookie bathroom design mistakes. And it is due to poor planning. Granted that some bathrooms have limited space, but if this is the case, you should research and find a solution around that, rather than trying to squeeze yourself in the shower every day. 
You will never forgive yourself if you let this happen because the uncomfortable squeeze will be part of your everyday routine. Pay close attention to this. We've seen many such bathroom remodeling mistakes. Big planning fail!
6. Not Leaving Enough Space Between The Toilet And The Bidet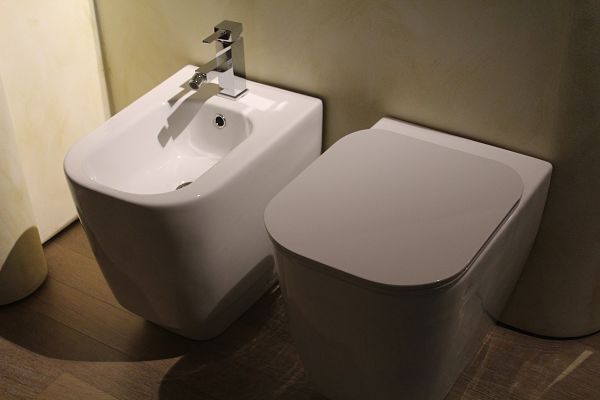 This is yet another bathroom design mistake. When it comes to the toilet and bidet, we struggle to include these two pieces even though we lack the space to comfortably fit them both. And, more often than not, the problem even persists despite having enough space, because we insist on placing them too close together. The result: it feels cramped and uncomfortable. 
Have an expert give you a clear idea on what your space really allows. Make sure to ask if it will be a comfortable fit or a forced one. You can even draft the dimensions on the floor with tape so that you get a real feel of what it will look like.
The centerline of the toilet should be at least 18 inches from the edge of the bidet, according to the National Kitchen and Bath Association's planning guidelines. The centerlines of both fixtures should be at least 18 inches from their respective walls. That is, if they share an enclosure, minimum width will be 62.5 inches. 
The bidet itself typically occupies 14 inches of width and 24 to 26 inches of length. While a round bowl toilet will be around 18×27 inches long, an elongated bowl toilet will be 18 x 30 inches long.
Read more: 10 Bathroom Design Faux-Pas (And How To Avoid Them)
7. Disregarding Lighting And Ventilation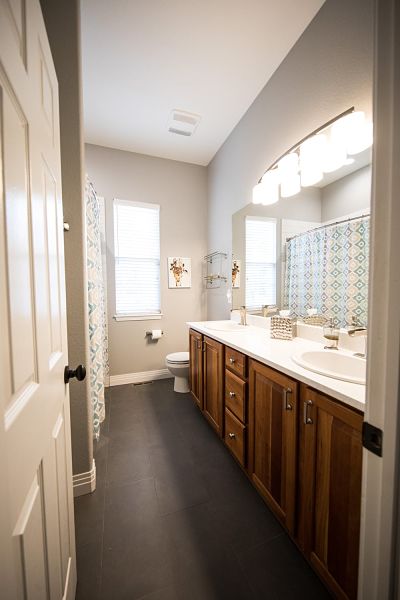 Bathroom lighting is a complex issue. We tend to leave its detailing for last. But in a bathroom, as in the case of kitchen, lighting is fundamental because of the tasks you perform within these spaces. It does not matter if you are putting on makeup from MAC, if the lighting in your bathroom is off, you will never get it right.
If you place overhead lighting above the mirror, you will most likely get shadows over your face. Recessed lighting above the sink can also cause these unwanted shadows. So you need to think this through with strategically placed ceiling or wall-mounted light fixtures. 
Whether its ambient, accent, or task lighting — it is also advisable that you strengthen the general light in the bathroom. This is especially important when you do not have natural light coming in or when the bathroom is quite big. 
We would recommend layered lighting to brighten up every corner of your bathroom. Avoid this bathroom design mistake by reading more on bathroom lighting here.
As for ventilation, it also gets regarded as a secondary priority. A big mistake. Natural ventilation is always recommended because it keeps excess moisture at bay. If you can't place a window in your bathroom, then pay close attention to artificial ventilation, its performance, and online reviews — so you don't have to address this issue later on.
8. Not Having Enough Storage Space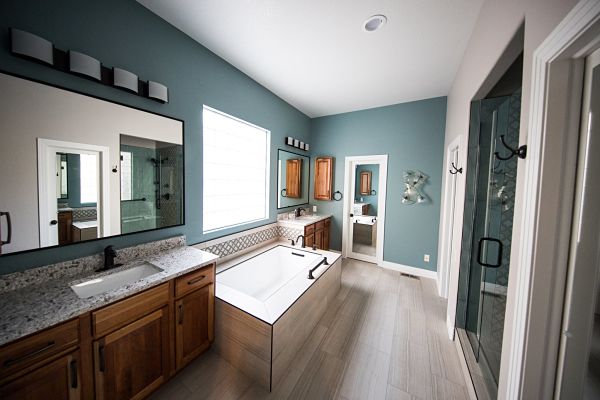 There's a mantra for bathrooms and kitchens and most people find it to be true: there is no such thing as too much storage. The first thing you need to consider is: on a scale of one to ten, how orderly are you? If you're not an eleven, my friend, your new obsession should be smart storage solutions.
The second thing to consider is how many people are going to use the bathroom? There might be enough storage for one person, but perhaps it won't be enough for two. A word from the wise — people don't really like to share food and they don't really like to share storage space. So plan accordingly. 
The thing is, if you don't consider this from the beginning you'll end up buying every storage solution from Ikea, cramming the space with extra furniture and ultimately damaging the harmony and aesthetics of the room.
Try making a list of the items that will need to be stored. Have a teenage girl? (in which case, maybe you'll need another bathroom altogether!) Also, consider if other things or people will be added down the road. For example, a baby in the offing. Will the storage you've selected be enough as the baby grows? Or will you be faced with this bathroom design mistake a few years from now? Plan ahead. Have foresight.
Read more: Bathroom Storage Solutions
9. Choosing Mismatched Bathroom Features
One of the biggest bathroom design mistakes you can make is not matching bathroom features and finishes. A rule of thumb is that they should create a cohesive look. 
Mismatching features and finishes when it comes to door knobs and handles, faucets, and even lighting fixtures is a bad idea. So whether it's polished silver, brushed nickel, or bronze — you need to decide on the look you want and keep it consistent for all fixtures. This will give the bathroom a balanced flow.
10. Exposing Your Plumbing
Even if you're going for an industrial-style bathroom, exposed plumbing is a big no-no. There's no doubt that exposed piping is a major eyesore for new home buyers. Not to forget that it can be hazardous for children. 
For a clean and safe bathroom, consider having all your plumbing work covered. Not everyone loves the look of metal and other industrial elements in a bathroom. So, it's always a good idea to hide the ugly piping in all the nooks and crannies. We assure you, it will be worth it in the end if you plan to sell your home or have kids in the future.
Conclusion
When it comes to renovating your bathroom, proper planning is a must. Having said that, you may want to prepare yourself for having made a mistake or two. 
The good news is that there is no need to panic. There are a lot of commonly made bathroom design mistakes, but most of them are easily remedied.
Apart from avoiding these bathroom design mistakes, you also need to set a realistic budget for your bathroom renovation. What you should do is to get a quote for the entire work, with the specific measurements of the bathroom. Based on this quote, choose the products that you like and analyze how much you would actually spend for this room in the house. 
Logically, this involves a little more effort, but the result is much more satisfying. We always say that the home renovation road will always be as smooth as your preparation for it. So, plan well. 
MORE: Floor Plans From an Architect to Design Perfect Bathroom Layouts. 
10 Rookie Bathroom Design Mistakes to Avoid
was last modified:
April 21st, 2022
by
Recommended