Bathrooms can get unseemly pretty fast, so if you're looking to give your restroom a top-down makeover, check out these 10 tips on how to design a bathroom.
Your bathroom is a place where you'll spend a lot of time. At least 30 to 60 minutes per day, in fact.
Wouldn't you rather make your bathroom a place where you enjoy spending time?
Plus, bathroom remodels can get expensive–almost $10,000 on average. So if you're going to redo your bathroom for your own pleasure or for future sale, you want to make sure to get it right the first time.
Here, we've compiled 10 of the best tips for designing a bathroom from tile to ceiling. Whether you've got a shoebox bathroom or enough space to host a ball, you can still design a bathroom that looks fresh off the pages of Vogue (with enough space for everyone to get ready in the morning).
Bathrooms can have a huge ROI if you're planning on flipping a house or selling a house, so let's dive into the latest design tips.
1. Plan an Efficient Layout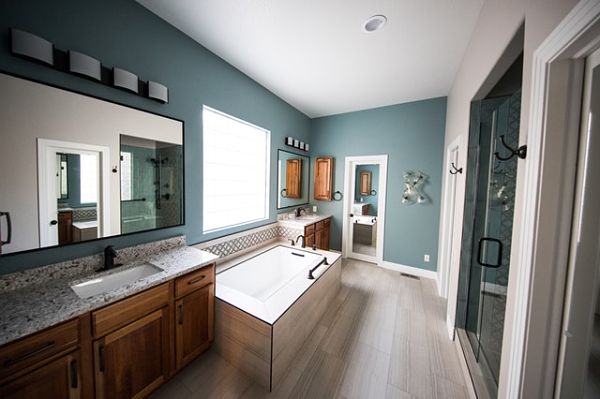 The key to a great bathroom starts with an efficient layout.
No matter how airy your bathroom is, every bathroom has the same basic components to deal with: sink, toilet, shower or bath, plumbing drains, water lines, and vent stacks.
In translation, the bathroom needs plumbing to work.
This means there's at least one wet wall. The most cost-effective layout is one wet-wall (the sink, shower, and toilet are all on the same wall). It's also the easiest way to do plumbing.
However, it's also the most limiting for design. If you're gutting your bathroom, consider a layout that creates the most effective flow of traffic. This does, however, come with a disclaimer.
2. Don't Make the Toilet the First Thing You See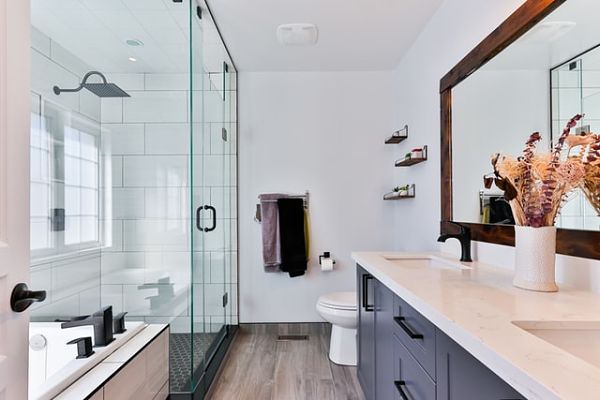 Ask any bathroom designer the one tried and true tip that never lets them down and they'll all tell you the same thing: don't let the toilet be the first thing you see.
Why? The logic is pretty simple.
As a rule, bathroom doors get left open. That way you know it's unoccupied. If the toilet is in a direct line of sight from the door, then the first thing guests see when they walk through the door is your toilet.
It doesn't matter how great your spa aesthetic is. If the commode is the first thing you see, it ruins the effect. Not the prettiest psychological associations.
Make something else the focal point. Anything else. Just not the toilet.
Home Renovation Cost Estimator
Sorry, we currently don't have that project at our disposal.
---
You can take a look at our most popular ones:
Water Heater Installation
Exterior Door Replacement
Install Recessed Lighting
Exterior Door Installation
Interior Door Installation
Interior Door Replacement
3. Be Smart with Your Sink
Despite the fact that the toilet is central to the show, you can't neglect other aspects of the room. The sink, for example.
Bathroom sinks usually serve a double purpose: a sink and a countertop in one. They're also the second largest space consumer (after the bathtub and shower), which means they're one of the biggest disruptors of traffic flow.
One easy way to fix this problem, especially in a small bathroom, is to install a corner sink. If you're worried about cleanliness, consider an integral sink (the sink and counter are one piece) or an undermount sink.
Read more: How to spruce up a bathroom with no windows
4. Don't Hide Your Tub and Shower
While the out of sight, out of mind philosophy works with the toilet, the same logic does not apply to your shower and bathtub.
This is for a pretty simple reason. If your bathroom is laid out like most people, then the shower and tub take up a significant chunk of the room. If you block it off with an opaque shower curtain or an opaque glass door, you're creating a barrier that leaves the space looking confined.
You can remedy this by keeping the shower and tub in clear view at all times–replace an opaque curtain with a clear one, or wash glass doors regularly to keep them clear.
5. Consider Leaving Vintage Furnishes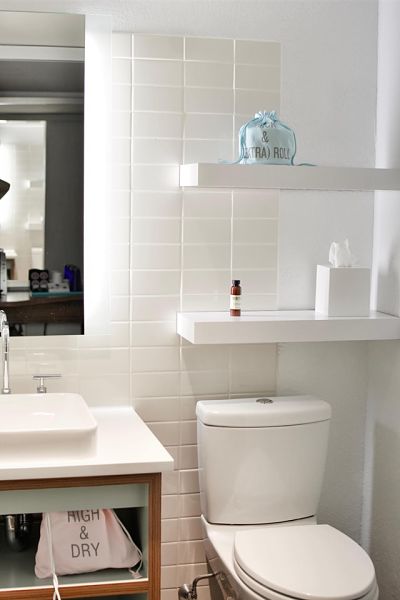 While you may be strongly tempted to do away with the accents from the 70s, some things are more practical to replace than others.
Take bathroom tile, for example. Maybe your bathroom walls have some tiles that are showing their age (and it's about three decades past time for an update).
Here's the thing: many older homes have wall tiles that are laid with several layers of concrete and even (if you're especially lucky) wire lath. This alone can shoot up the price tag for your project.
With this in mind, talk to a tile specialist before you start your remodel. Better yet, if you can live with them, leave them alone. Give them a polish and fresh grout.
6. Use Cabinets to Express Your Style
Cabinetry takes up a good amount of visual space in your bathroom. Why not merge form and function to convey a sense of style?
For example, if you're decorating a beach house and you like an ocean theme, you could go for navy cabinets with tasteful nautical accents. If you're decorating a kids' bathroom on an ocean theme, you could make it more playful and bright.
Either way, cabinets are one of the easiest places to slip in color, so use them as another aspect to tie the room together.
7. Choose the Right Flooring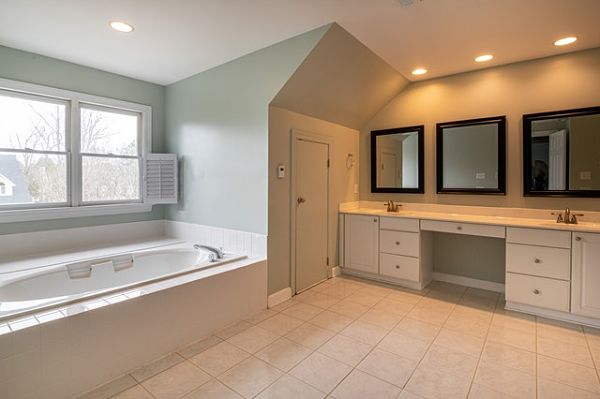 Bathroom floors work harder than any floor in the house.
Think about it: they're wet at least once a day, they need to be slip-resistant without being unpleasant, and somehow, between those two factors, they also need to be stylish.
If you want something that looks good, your best bet is stone or ceramic tile, which are also pretty water-resistant. That said, you need to be careful because these materials get slippery in a hurry.
In general, a light or dark floor in a neutral color is a good choice to amp up your design elsewhere in the bathroom–let it be a backdrop instead of the main show.
8. Make Use of Natural Light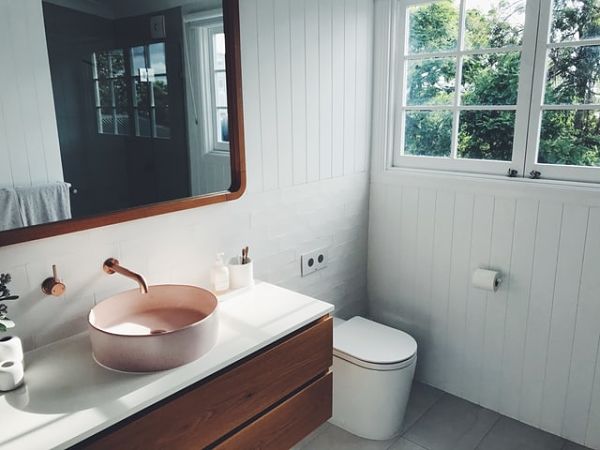 Great lighting is one of the easiest ways to make your house look expensive on a budget, and that applies to the bathroom too. It's also a major spatial bonus.
When you have a small or particularly cramped bathroom, it's tempting to leave it in the dark. This is actually a big mistake because it can leave your bathroom looking cave-like.
Instead, use natural light as an easy way to make your bathroom look spacious. This is easier in master bathrooms, which are usually located on the side of the house (plus, the sides of a house usually face a wall or trees, so you won't have to worry about your privacy).
With this in mind, don't be shy about windows–make them as big as you can reasonably get away with.
9. Choose Universal Bathroom Features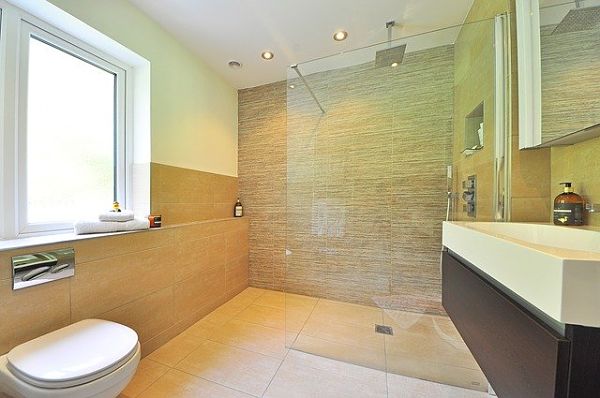 If you're buying a house, you're probably planning to spend a few decades there at least. Same for the people who buy it after you.
With that in mind, you want to design a bathroom with features that will age gracefully alongside you.
For example, if you can manage it, it's a good idea to design a bathroom with ample space for a wheelchair (this is also a good idea if older parents or grandparents who have mobility issues come to stay with you).
You can also do a Roman shower, which doesn't have a curb to step over. This makes it accessible for everyone, including people in wheelchairs or those who use walkers. At a minimum, a shower with grab bars is a good investment.
If nothing else, you cannot live without slip-resistant floors. This is true whether you've got young kids or elderly relatives–you don't want anyone to lose their footing and hurt themselves.
10. Ask Yourself the Right Questions
It seems pretty basic, doesn't it?
But asking yourself the right questions from the very beginning is the single best way to create the bathroom you want.
If you're not sure where to start, use this question as your premise: what matters most to you in a bathroom?
For example, do you want a functional space for your kids to get ready for school every morning? Do you want a space you can use as your in-home spa retreat when you need a mini-escape?
These questions will inform the bathroom you design and the features you choose to create for it.
Designing a Bathroom to Sell
Of course, designing a bathroom isn't just about creating the space you want now. It's about creating a space that will eventually prove to be a good return on investment. Use a rental or home selling calculator to make sure the numbers make sense when you're planning your next bathroom renovation (or any renovation for that matter)!
The part 2 of this article will center on tips for a perfect decorative bathroom decor!
Read more: Great 3/4 bathroom floor plan ideas by an architect
10 Expert Tips on How to Design a Bathroom
was last modified:
May 30th, 2022
by
Recommended