Want to make your friends and family feel at home when they visit you? Giving them a fresh and clean bathroom of their own will not just help you make a stylish impression, but also make them feel comfortable and their visit enjoyable. So, what are the most crucial guest bathroom essentials?
Before your overnight guests arrive, take a look at your guest bathroom — making sure no details are overlooked. A good host ensures that their visitors are treated to an experience that's akin to staying in a spa-like retreat.
This comprehensive guide explores 14 guest bathroom essentials that you MUST have. So, let's begin with our guest bathroom checklist.
1. Good storage space
The first step is to give your visitors as much space as possible for their belongings. Make sure the bathroom has enough hooks and shelves where your guests can conveniently hang their clothes and store their toiletries.
Use a simple over-the-door hook bar for towel hanging or a space-saver shelf that goes over the toilet tank. It's best to invest in a wall-mounted cabinet for storing clothes, linen, or those indispensable toilet rolls. Such storage solutions are low-cost, hassle-free, and help organize your bathroom.
Instantly estimate the cost of your remodel...
...or take your time to personalize dozens of choices to transform your house into your dream home.
2. Kit with basic amenities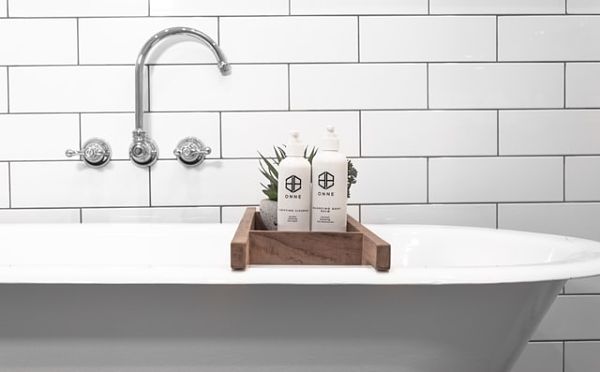 Stock your bathroom with items of basic necessities that your guests may have forgotten to pack. Keep in mind that even the most organized travelers can sometimes forget things. Ensure that your bathroom has such items readily on-hand.
Prepare a little kit with guest bathroom essentials such as a toothbrush, toothpaste, a travel-sized soap, moisturizing cream, lotion, shampoo, conditioner, disposable razors, cotton balls, or anything else that your guests might find useful.
Pack them in a lovely fabric pouch, tie it with a colorful ribbon, and place it on the vanity or a small basket.
3. High-quality towels
You MUST have a stack of new, fresh, luxury towels for your guests. Whether you're getting bath towels, hand towels, or just a washcloth — make sure you buy the best. Get rid of old, threadbare towels and get fresh towels to provide your guests. Think luxurious, thick, soft, and 100 percent cotton.
A great tip is to buy pretty guest towels in a color different from your regular ones. Keep in mind that neutral colors blend in with almost any bathroom décor scheme and look chic.
4. Well-absorbing foot mat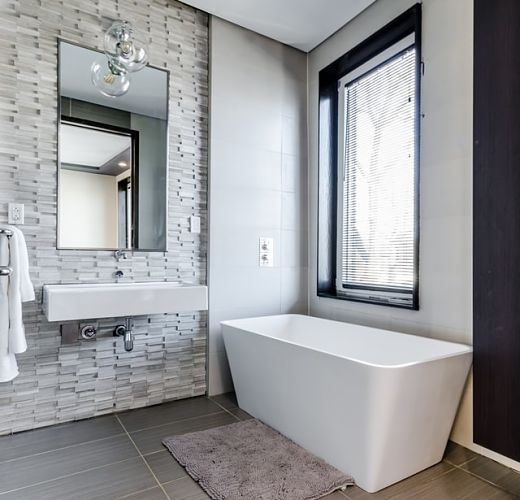 Want a quick and low-cost way to spruce up your guest bathroom? Get a colorful, plush, and soft bath mat. Apart from the fact that it looks great, it also offers immense comfort.
Nobody likes walking on a cold floor in the middle of the night. A floor mat right outside the shower will keep your guest's feet warm. It'll also absorb any puddles.
Here's a great tip. Invest in a simple, non-slip microfiber mat that matches your bathroom. The microfiber will dry quickly, keeping moldy odors in check.
5. Bright-colored drapes
Most often than not, dark bathrooms can seem dull and depressing. Opt for bright, clean drapes that will add a refreshing and relaxing vibe to your bathroom. If there's a window in your guest bathroom, it's best to add light-colored drapes and let as much natural light in as possible.
In case your guest bathroom is in the basement, ensure there's plenty of bathroom lighting. Before the arrival of your visitors, make sure you clean the light fixtures and change the bulbs if necessary.
6. Basic medicines
A guest bathroom needs to be well-stocked with some basic medicines such as aspirin, ibuprofen, antihistamine, and heartburn meds. You never know when a headache or allergy attack might strike. Keep the meds where your guests can easily find them. And yes, keep a drinking cup handy too.
Read more: Bathroom Medicine Cabinets
7. Diffusers and scented candles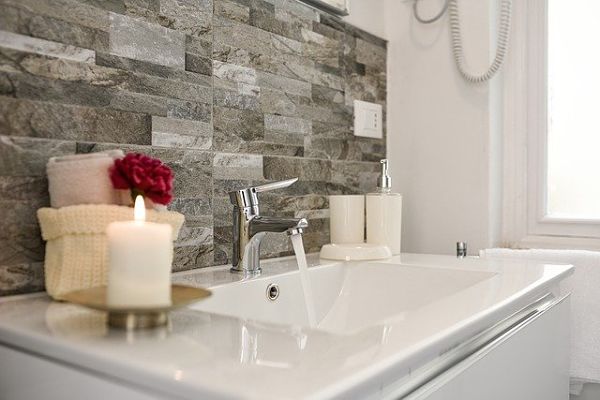 Nobody likes a smelly bathroom. Make sure that you air the room before your guests arrive, and also provide air fresheners, diffusers, and scented candles. These will give your bathroom a spa-like feel.
Place scented candles, a few sticks of incense (with an incense holder), and reed diffusers. All of these will enhance the room's smell in a subtle manner while being completely natural. Something your guests will really appreciate.
Read more: Bathroom air conditioner
8. Laundry hamper
Most guests are clueless about what to do with their towels after a shower. And, why wouldn't they? It's your job to put the wondering to rest. Place a hamper or a basket in a corner so that they can throw in their soiled clothes, towels, and linen.
Also, this way, the bathroom remains neat and organized during the guest's stay. Such a thoughtful bathroom idea will make things easy for both you and your guest.
9. Well-placed trash can
Another guest bathroom essential is a trash can. Every guest bathroom should have a dustbin. While it certainly isn't the most attractive addition, it's a handy one. Make sure you choose a bin that's not an eyesore and matches the style or color of your bathroom's decor. Place it slightly away from plain sight. Don't forget to line it with a trash bag for easy and frequent disposal.
10. Fresh flowers and plants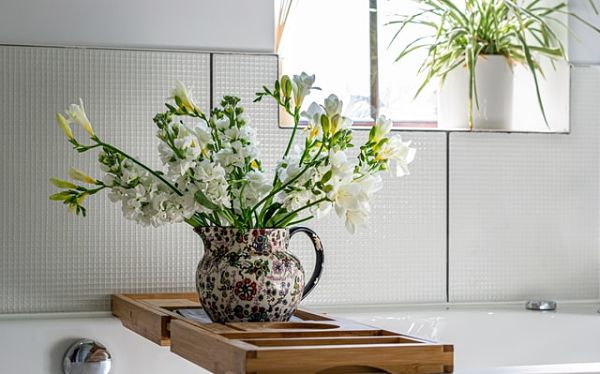 Nothing brightens up a bathroom more than plants and flowers. Place a vase of fresh flowers just before your guests arrive. Fresh flowers will leave your guest's bathroom smelling nice. If procuring freshly cut flowers is a little difficult for you, consider keeping creative pots with indoor plants. It will make your guests feel special. Not to forget that the additions will give the bathroom a style boost and a subtle fragrance. 
Read more: Best plants for bathroom
11. Eye-catching wall art
A guest bathroom might not have much room for décor. But, you can always introduce some personal style with unique wall art. Opt for one large statement piece or choose smaller framed works depending on the size of your bathroom. The wall hangings will add a bright spark to your space — making it look picture perfect (pun unintended!).
12. Utilitarian vanity with mirror
Make sure that the bathroom vanity looks great and comes with in-built storage space. It will make it a little less difficult for your guests to live out of a suitcase. We love the illuminated or magnifying vanity mirror. The thoughtful addition is really helpful for older visitors or guests.
13. Bathroom decorative items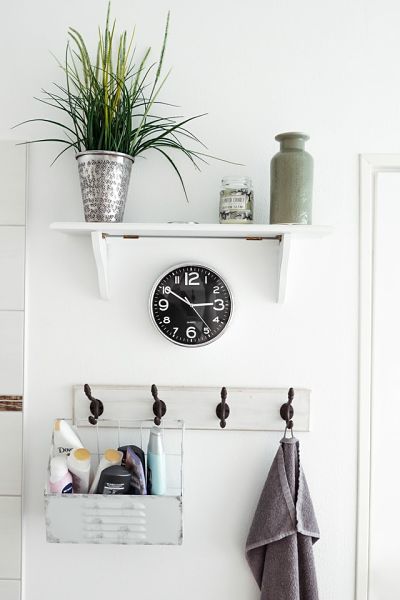 If you want to create a warm, welcoming space — execute a few decorating ideas before your guests arrive. These could be adding beautiful ceramic trays, candles, or bottles for a pretty display on your guest bathroom counter. Don't forget to leave a matchbook nearby should they want to light the candle. A beautiful shower curtain will also do the trick.
Want to treat your guests to a spa-like experience? Put in a guest bathroom basket next to the tub or shower and keep sponges, bath salts, loofahs, or bath brushes.
14. Good supply of toilet paper and a tissue box
Make sure there's always extra toilet paper. There's nothing worse than running out of toilet paper at someone's house and unable to find a spare roll! Keep a good supply within easy reach.
Another good idea is to keep a sleek tissue box with lots of tissues. It will be a handy addition, especially if your guests put on makeup in the bathroom.
Conclusion
A good host goes above and beyond their duties to make their house guests feel comfortable. We hope these guest bathroom essentials will prepare your bathroom for visiting guests.
This guest bathroom checklist will ensure that your guests feel welcome and have everything they need while staying at your home. Give them a vacation they'll not easily forget.
Read more: Guest bathroom floor plans architect
What Are the Most Important Guest Bathroom Essentials?
was last modified:
June 28th, 2023
by
Recommended