What are the first things that flash through your mind when you say the word 'bathroom'? Shiny and new faucets, a spacious showering area, a beautiful bathtub, white towels, and a sparkling, clean floor. Now, when we say 'floor' have you ever considered the many bathroom flooring options? Apart from style and personal choice, there are various other factors that you need to consider when choosing the perfect floor for this area.

Bathrooms are subjected to frequent spills, moisture, and humidity. Moreover, its floor should not be slippery when wet. Considering these major factors and some more, we have come up with a list of the 9 best and worst flooring options for bathrooms. We shall start with the best and move on towards the worst — according to the pros and cons of each type — in this catalog.
Porcelain Tile Flooring
If you ask what's our number one choice, then porcelain takes the first place among all bathroom flooring options. It is not only water-resistant and cost-friendly, but it also looks stylish. Your bathroom appears elegant and the floor is guaranteed to be strong plus durable. Porcelain comes in a variety of patterns — sometimes even mimicking wood and stone. It also arrives in several sizes and shapes — offering you a gamut of alternatives to choose from. Porcelain dries up quickly, leaving your bathroom dry and clean

As you must already know, porcelain floors are a subset of ceramic tile floors. Porcelain is a type of tile that has a water absorption rate of 0.5% or less. So, if your showering space is not prone to frequent water spillage, you can maybe ditch this idea. Moreover, this type of flooring is cold for your bare feet. However, you can tackle this with radiant or heated tiles. Additionally, wet bathroom tiles are slippery. But even this can be avoided with the use of texturing — such as grout which ensures a slip-resistant surface.
Read more: Porcelain vs ceramic tile pros cons
Vinyl Flooring
Vinyl tiles are another popular choice for bathroom flooring options. They look good, are available in plenty of styles, and are pretty easy to install. Sheet vinyl flooring is perfect if your bathroom is subjected to regular spills in large amounts. This is because they have minimal seams in between the joints. Luxury vinyl plank flooring is also another option — where the planks come in narrow widths and long lengths.

Do note that if your vinyl floor has gaps in the seams, the arrangement can really put you in difficulty. So get its installation done by an experienced professional.
Read more: Vinyl plank flooring
Natural Stone Flooring
Do you have a huge budget? Then natural stone is the way to go! However, be careful of the type of stone you choose. Certain stones such as marble, granite, and limestone can lead to a few moisture related issues. This material is sturdy, long-lasting, and looks splendid. You are bound to get a good return on investment (ROI) if you choose this option.

Stone floors are cold — an issue that can be solved with the help of radiant heating. They are also slippery — a problem which can be tackled by a process called sandblasting which gives anti-slip properties to your bathroom. You can also go for a naturally textured stone – e.g. slate. Last of course is the cost. Natural stone is costly when compared to most bathroom flooring options.
Read more: Everything to consider when installing stone flooring
Engineered Wood Flooring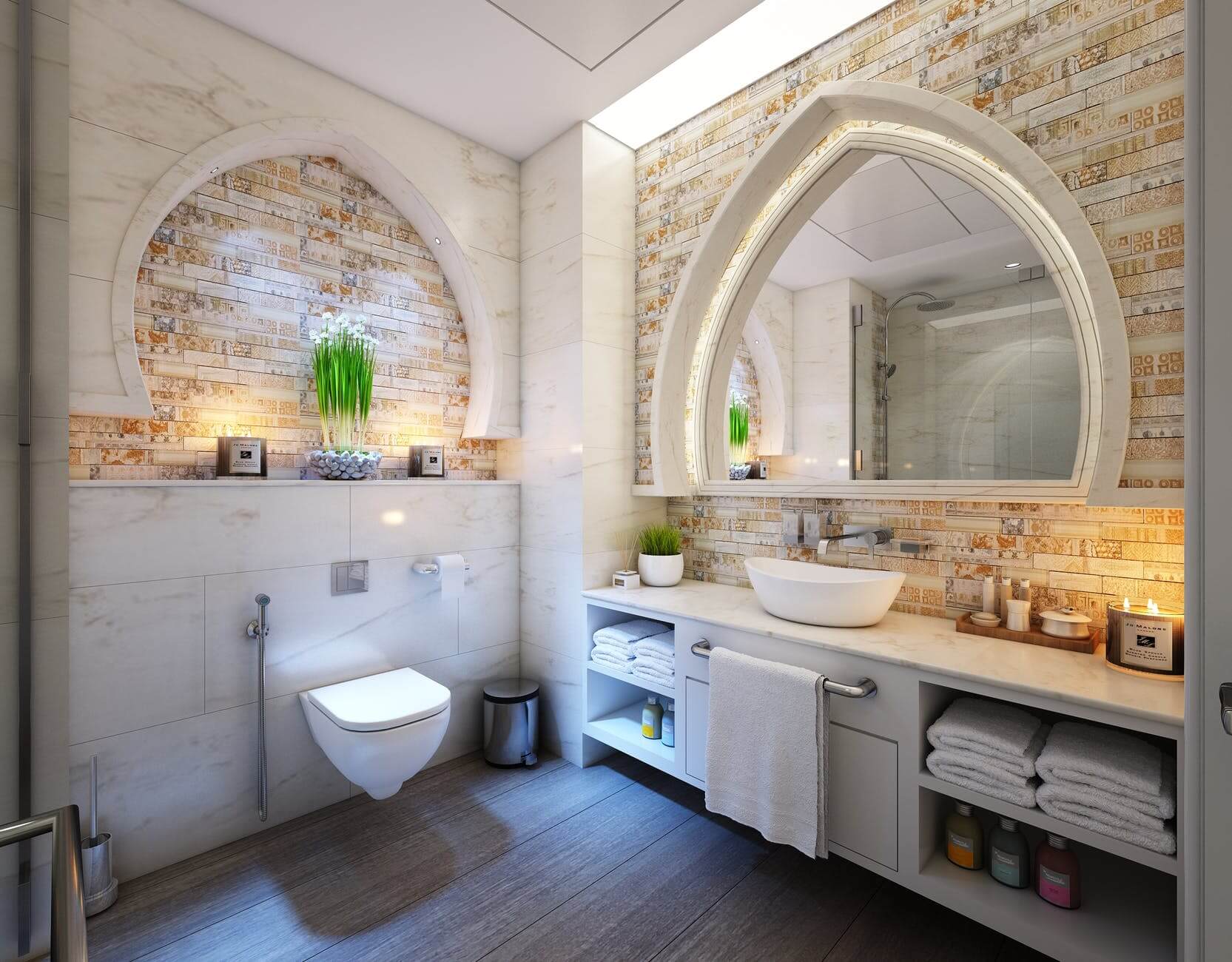 If you are a fan of wood, then you can go for engineered wood to cover your bathroom floor. This material sits on a plywood base and has good moisture absorbing capacity. Your surface looks like it is made of actual wood.

However, be prepared to regularly maintain and take care of engineered wood flooring. Because wood — no matter how well protected — will always cause some amount of seepage.
Laminate Flooring
Laminate flooring is another wise choice for a bathroom. This is a type of resin-impregnated paper which is then fixed over a base made of wood. It greatly resembles a wooden or stone surface and comprises a transparent outer coat (wear layer) —  which is quite durable and strong.
The only point you should consider when you use this floor is to protect the bottom wooden base from moisture. Since there are tight seams between the planks, moisture barely seeps in. You can also clean laminates in a matter of minutes. However, if water does go in, your floor will expand. Professionals would need to remove the entire floor to fix this problem.
Read more: Cost to install laminate flooring
Concrete Flooring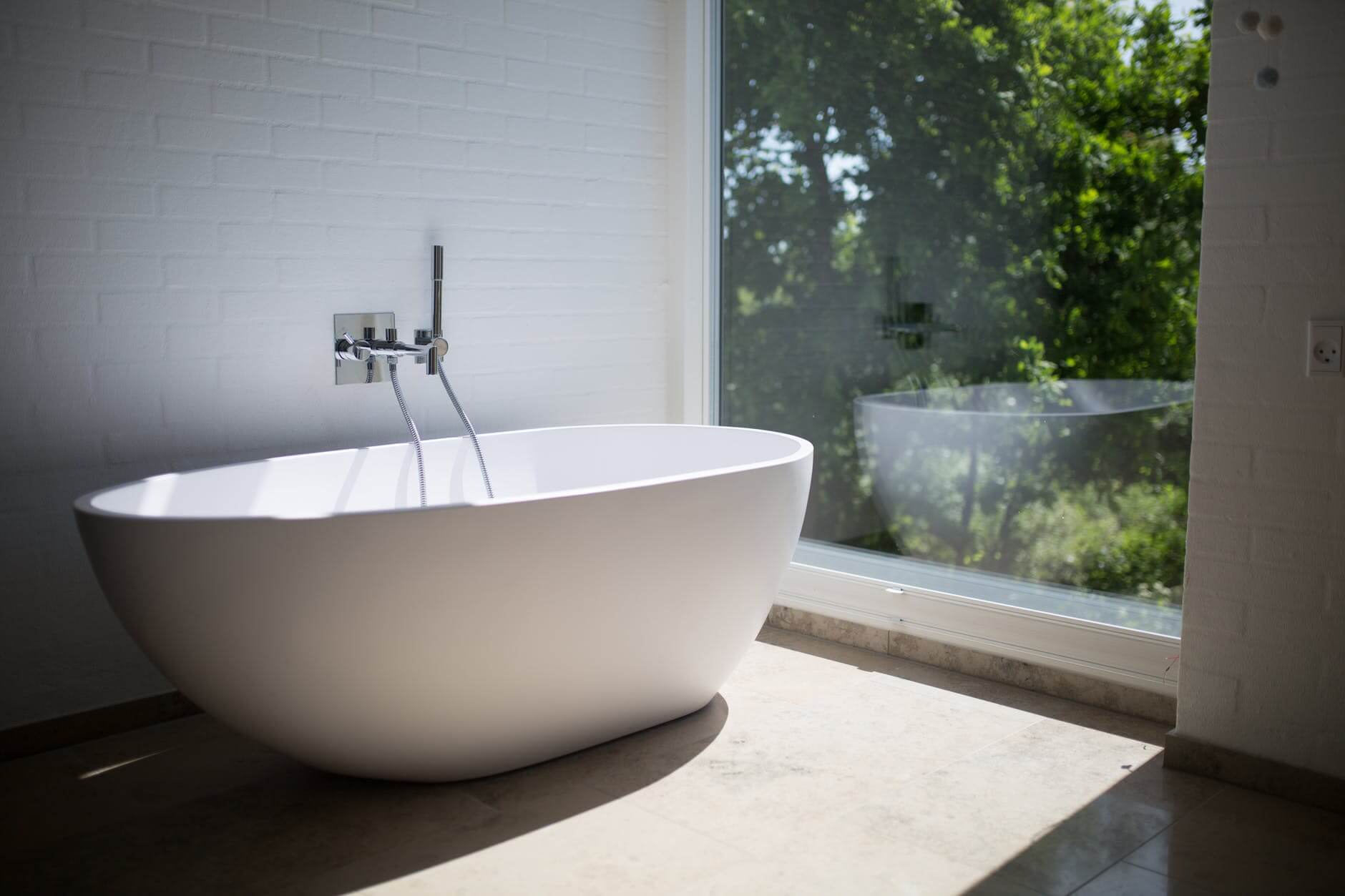 Old is gold. Is it not? And staying true to this saying, concrete is another evergreen bathroom flooring material. It is stain resistant, durable — lasting up to years and cannot be damaged by water. Today, concrete is available in so many shades and designs, making it another preferred alternative for homeowners.
Linoleum Tile Flooring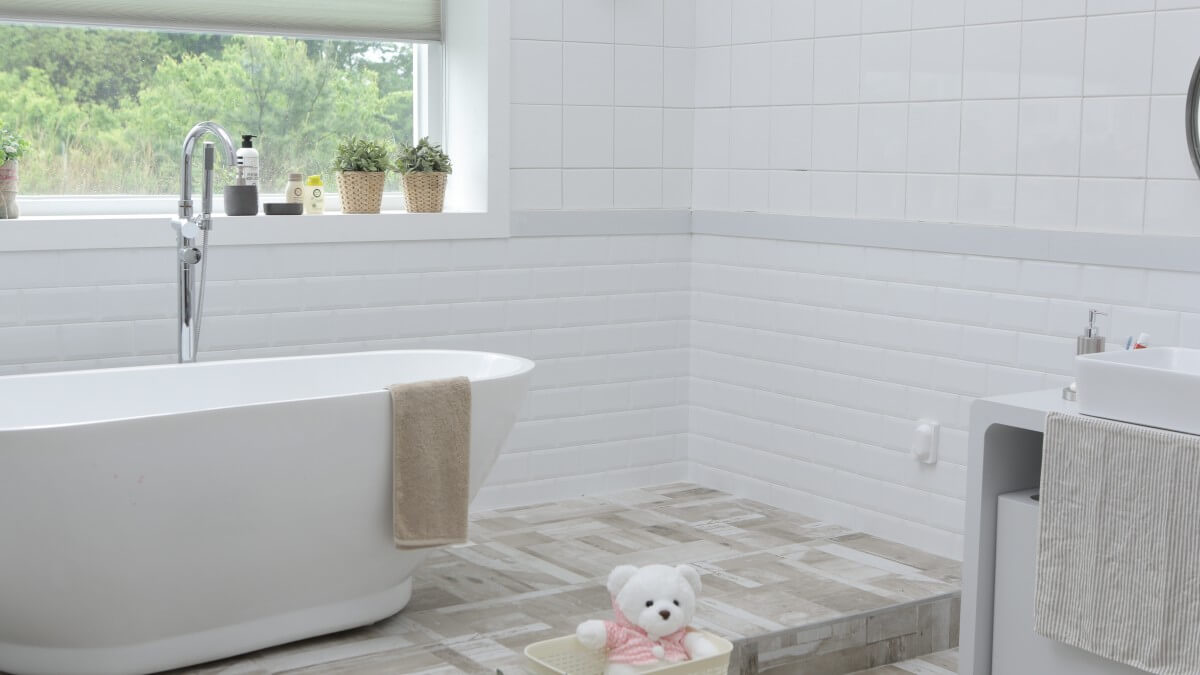 Image source: by Pxhere
Oil-based linoleum is a good flooring option as it repels water. However, linoleum tiles come with seams through which moisture can seep in and result in separation of the joints. Sheet linoleum can be used as a replacement in this case. It does not have individual tiles and offers better protection from water-related damage.
Solid Hardwood Flooring
Only the top coat of real wood offers protection against moisture. Water seepage will lead to rotting of your floor pretty quickly. The only plus is the excellent visual factor of solid hardwood and the warmth it provides to your bare feet. So if you do want it, get the flooring installed by the best professionals, ensuring that there are no gaps in between.
Carpet Flooring
Obviously, you must know why the carpet holds the last place in this list. It retains moisture for long periods and hence will dry very slowly. Now, if you really want a carpeted floor, keep in mind that the material is not very thick. It is also better if you use 100% inorganic carpeting material such as nylon or olefin.

In the last few years, residential flooring has come a long way in terms of style, quality, variety, and functionality. Choose the type of floor which best meets the humidity, moisture, and safety requirements in your home. Also, go for an option that actually complements the rest of the house and your own personal taste.
Read more: Laminate vs hardwood flooring better option
9 Best and Worst Bathroom Flooring Options
was last modified:
May 18th, 2022
by
Recommended