A kitchen floor serves an important functional and decorative purpose. The right flooring material can bring together and enhance the most beautiful elements in your kitchen.
Whether you have a lot of spills from cooking, pets scratching the floor, or heavy foot traffic from kids and guests, there are many high-quality options that can match your needs, aesthetic taste and budget.
Material and installation prices vary greatly, but the majority of homeowners spend about $8-16 per sq.ft. installed on a new kitchen floor.
Here is an expert guide to the top 6 kitchen flooring trends. Not only are they popular today, any one of these floors will remain in style for many years to come.
1. Timeless Classic – Hardwood Floors
Hardwood flooring can add a sense of class to any style kitchen. This is an ideal material if you are planning to live in your house for a long time. Even if you decide to renovate your cabinets, countertops, or anything else, hardwoods will still make a great match.
It is also a highly durable and practical choice for busy kitchens that see a lot of action. Hardwoods are easy to clean and will continue to look beautiful even with heavy usage. Just make sure to get a high-quality polyurethane coating on your new floor, for long-lasting protection. Solid hardwoods can last well over thirty years, and add great value to your home. Prospective buyers typically prefer hardwoods, so they are a smart investment.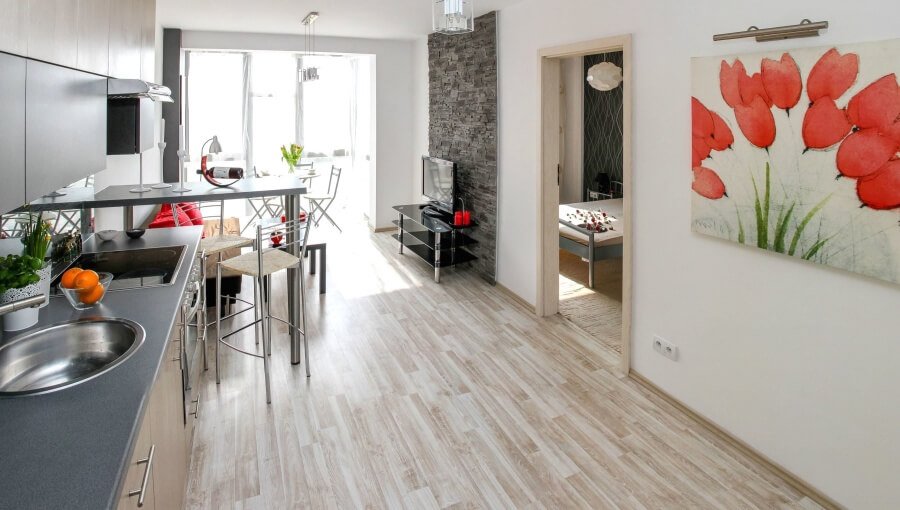 Maple flooring is the most popular and affordable option, costing an average of $5-8.5 / sq.ft., while oak and cherry woods are more pricey, ranging from $6-12/sq.ft. Exotic woods can put a dent in your budget, costing anywhere from $9-20/sq.ft. depending on the species. If you are interested in calculating the costs of your entire flooring project, check out this hardwood flooring cost calculator.
While many people associate hardwoods with traditional kitchen styles, this floor can fit right into a more modern aesthetic. In fact, hardwood floors installed in modern kitchens can add a unique sense of warmth, often missing in contemporary decor.
The latest trend is to use wide plank hardwoods, which can cost about 15-25% more than regular size planks. Another hot trend is to use reclaimed wood, either authentic or engineered to look like the real deal.
2. High-End – Natural Stone Flooring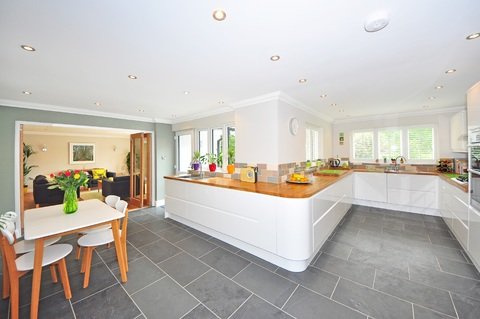 If your kitchen calls for a luxury look, there is no better way to achieve it than with natural stone flooring. For thousands of years, marble, slate, and travertine have graced the floors of palaces, government buildings, and upscale residences all over the world.
Marble tile is most often installed in all-white or black kitchens. This stone never fails to deliver a breath-taking effect. Note, that marble can be slippery, and is susceptible to staining from wine and other acidic foods.
Grey or brown slate works well in classic, rustic, and industrial style kitchens. Generally, it works well in busy kitchens, as slate's textured surface provides good slip resistance, and dark colors offer a great cover up for dirt.
If you want to create a lot of visual interest, consider multi-tone slate.
Travertine is a wonderful choice if you are looking for a floor with warm, earthy tones that will unify the space, without drawing too much attention. You should keep in mind that travertine is a porous material, and will be less moisture resistant than other stone or porcelain tile.
Any stone tile will be highly durable, easy to clean, and will require no maintenance or replacement for decades. Today, larger size tiles are more popular but are also 10-15% more expensive. Overall, marble is the most costly material, followed by slate, and travertine.
The most basic stone tile starts at about $5-7/sq.ft. and can go up to as much as $30/sq.ft. depending on its quality, source, color, and size. Total cost installed ranges from $14-40/sq.ft. depending on the complexity of labor, any special patterns, number of corners in the room, etc.
Read more: Trendy Vs. Timeless Kitchen Styles
3. Luxury Looks For Less – Porcelain Tile
 If you don't want to splurge on natural wood or stone flooring, you can have the same look for a lot less, using porcelain tile replicas. As you can see in the photo above, porcelain marble tile looks so real, most people would not know the difference.
Thanks to advancements in modern printing technology, porcelain tile is manufactured to look like a wide range of wood species (North American and exotic), as well as marble, slate, granite, and travertine. In addition to saving 40-60% off the cost of real wood or stone, you get a highly durable, low maintenance and easy to clean surface.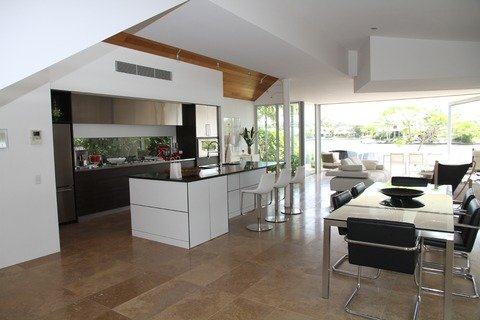 Faux wood porcelain tile is most popular. This is because many people want to combine the practical benefits of tile with the visual appeal of wood. As a result, there are many brands to choose from, at prices as low as $2/sq.ft.
High-end tile with premium quality imaging can cost as much as $8-10/sq.ft. On average, homeowners spend about $7-12 sq.ft. installed on porcelain tile replicas.
4. Rustic Charm – Terracotta Tile
If you have a Spanish or rustic-style kitchen, it will be best complemented by clay terracotta tile flooring. This is one of the oldest flooring materials that has been in wide use since ancient times, particularly in the Mediterranean. Essentially, terracotta is a type of ceramic tile, made from red or brown clay, and fired in the oven. Premium terracotta tile is considered one of the longest lasting, most durable floor coverings.
One of the best features of this material is design versatility. It comes in a variety of shapes and sizes: from squares and rectangles to beautiful hexagonal, cross, star, and arabesque shapes. It is also possible to combine terracotta with encaustic ceramic tiles to create a more colorful, unique look.
Today, one of the biggest issues with this material is variations in quality. It is very hard to decipher a good product, even for flooring and interior design professionals. Thus, it is best to purchase your tile from a well-established manufacturer, with strong reviews.
Keep in mind that its very important to properly seal terracotta tile, especially if you want to use it in the kitchen. Otherwise, it will be susceptible to moisture, staining, and will simply not last.
Average quality tile costs around $3-6/sq.ft, while better products can cost at least double the price. It is possible to purchase high-end terracotta tile that is hand-made. The total cost that includes installation ranges from $7-15/sq.ft. or more.
Read more: Flooring Materials: How To Pick The Best For Your New Home?
5. Modern and Trendy – High Gloss Tile
If you have a contemporary style kitchen, you may enjoy high-gloss tile. It can be either ceramic or porcelain, with the latter offering better quality and durability.
Large sizes are very popular, as they create a seamless, glossy surface that makes the space appear bigger. It is also possible to choose how shiny you want the tile to be; products range from being only slightly glossy, to having almost a mirror-like look.
The trend is to go with white, black or grey colors, as they complement the modern aesthetic very well. Often the color is chosen to be in stark contrast to the color of the cabinets and countertops. Very bright colors, such as blues and reds are also available. However, you need to be careful with this choice, as it may look dated in a few short years.
The biggest downside to these tiles is that they can be very slippery and show dirt easily. So they may not be the best fit for homes with small children, elderly individuals, and pets.
This is a budget-friendly flooring option, and prices range from $5-10/sq.ft. installed.
6. Creative DIY Flooring Ideas
If you have a knack for creativity and enjoy doing things yourself, you can come up with your very own design for a kitchen floor, using a wide range of unique materials. As you can see above, even pennies can become the new walkable surface in your kitchen. Another option is to use paint, stain and special wood grain rollers to create a faux wood look on a plane linoleum floor.
Other salvaged materials that can be put to good use are old metal or cork bottle caps, as well as recycled pieces of glass, stone or tile. Not only will you have a one-of-a-kind floor, you can also save thousands of dollars off the cost of traditional materials and professional installation.
6 Kitchen Flooring Trends For Every Style and Budget
was last modified:
May 17th, 2022
by
Recommended