Want to update your kitchen cabinets? There's no doubt that cabinets alone can give your cooking space a fresh new look. And cabinet replacement doesn't even burn your finances — unlike a complete kitchen renovation. And while you're looking at all your options and finishes, you may want to consider acrylic kitchen cabinets.
There's a reason the high gloss cabinets have become increasingly popular among homeowners over the years. These cabinets have an elegant, sleek finish that is best suited for a modern, contemporary-style kitchen space.
Acrylic kitchen cabinets instantly add style, aesthetic appeal, and functionality to a modular kitchen — giving it a unique personality.
But before you decide to install acrylic kitchen cabinets, we'd want you to understand their features, identify the types of cabinets, their pros and cons, and whether they'll complement your house style or not.
What are acrylic kitchen cabinets?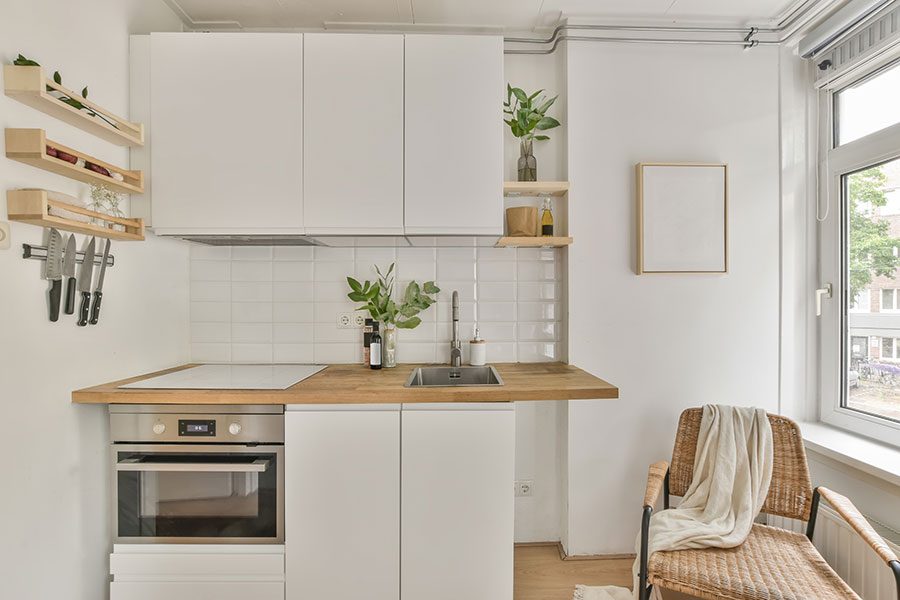 Acrylic cabinets have a non-toxic high gloss finish. The synthetic material comes with a mirror-like, reflective finish. What's more, your cabinets get a smooth texture, are shatter-resistant, and do not chip or crack easily. The best feature about acrylic finish is that it's available in different colors and shades. So you can choose whichever design suits your sensibilities and home décor.
Types of acrylic kitchen cabinets
Solid acrylic doors and acrylic facing doors are the two most common varieties of acrylic kitchen cabinet doors. The former is a more expensive option as it's manufactured entirely of acrylic, and has a richer and more even appearance.
The less expensive option is the acrylic-faced door whereby an acrylic sheet is applied to existing kitchen cabinet doors — whether MDF board, metal, or wood. It's then covered with a protective layer and sealed at the edges.
Acrylic kitchen cabinet cost
The materials and installation costs for acrylic kitchen cabinets range from $5,000 to $20,000. The total cabinet cost varies depending on the kitchen cabinet's base material and the number of cabinets.
Typically, acrylic kitchen cabinets that are applied to an MDF substrate are much cheaper than cabinets with a solid wood base.
Keep in mind that although such a premium finish is more expensive than wood veneers and laminates, it's less expensive than real wood cabinets or stainless steel kitchen cabinets.
Pros and cons of acrylic kitchen cabinets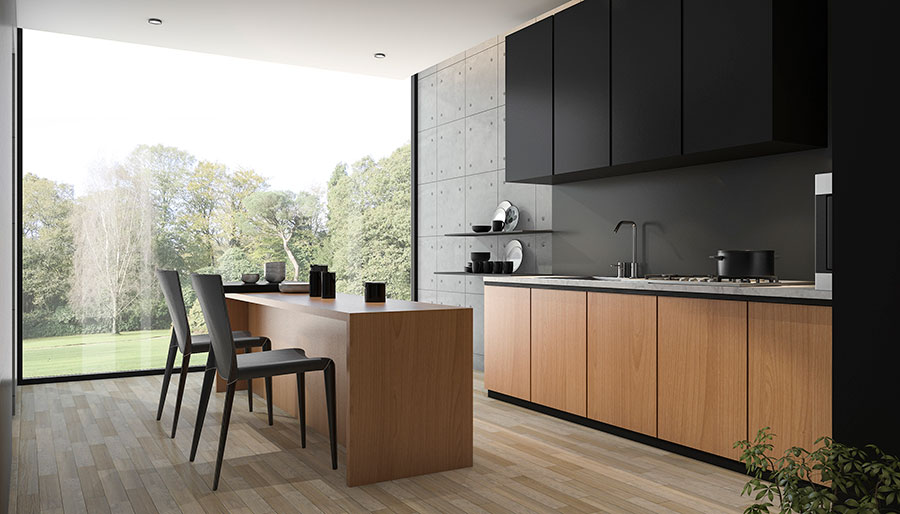 These types of cabinets are taking over contemporary kitchens by storm. However, the acrylic finish comes with its own set of pros and cons. Let's explore some of them.
Pros:
Has great aesthetic value. This ultra-glossy, nontoxic finish has an inviting appearance as compared to a laminate or membrane finish.
It goes well with most kitchen designs, a variety of backsplash materials, and color schemes.
Offers durability. An acrylic kitchen cabinet can stand wear and tear because of its durable nature.
It's moisture resistant, UV light resistant, and scratch-resistant.
Comes in a wide variety of colors and is easily customizable.
Has longevity, and retains its brightness for many years.
Easy to clean and maintain. You can clean the cabinet surface with mild soap and water.
Cons:
Easily shows any fingerprints, marks, dirt, or stains. Therefore, it requires regular cleaning.
The premium finish is more expensive than a laminate finish or a membrane finish with polyvinyl chloride (PVC).
There may be differences in shading after years of use. Finding the exact shade for replacement may be difficult.
Acrylic vs laminate kitchen cabinets
While you can choose a high-gloss laminate cabinet, keep in mind that it will not be as reflective as an acrylic one. It's more muted in style. A laminate finish — made in factories by pressing together layers of paper and high-quality plastic resins — comes in a larger variety in terms of colors and textures. You can choose laminate finishes such as glossy, matte, and ultra-high gloss. Moreover, laminates cost much less than acrylic finishes.
Last thoughts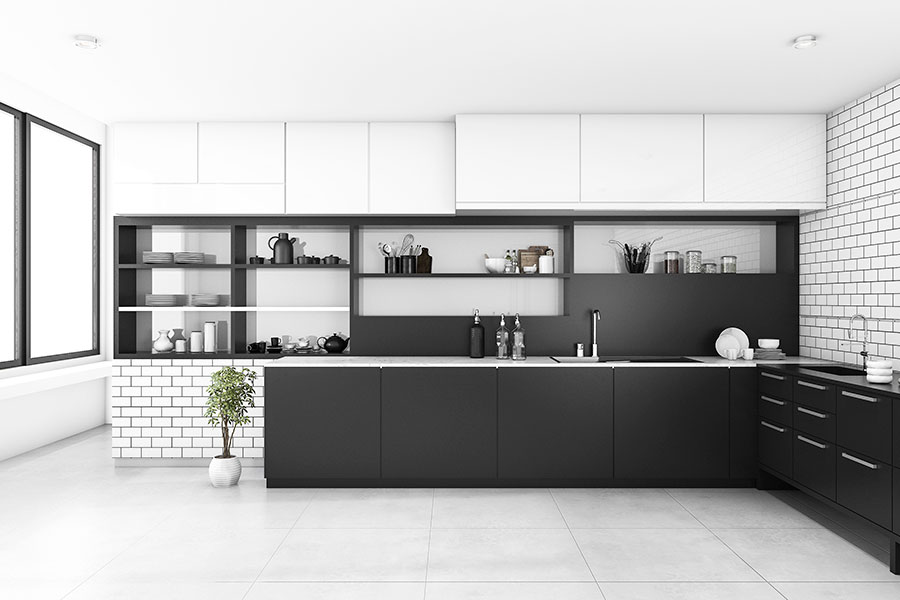 If you're looking for a kitchen update, the first thing you can replace is your cabinetry. If you want to instantly brighten up your kitchen space and give it a facelift to make it visually appealing — acrylic cabinets will do just that. The premium high gloss finish will make your cooking area appear more open, bigger, vibrant, and stunning.
Most importantly, acrylic kitchen cabinets are durable, easy to clean, and long-lasting. Of course, you need to remember to keep your cabinets clean and well-maintained at all times.
Read more: Home remodel financing options
Pros and cons of acrylic kitchen cabinets
was last modified:
September 27th, 2023
by
Recommended