White cabinets are the most common in all types of kitchens: classic, modern, and country, among others. It is a color that can give a traditional touch to the spaces but, at the same time, it is flexible. So, if you want a renovation but also want to keep the whiteness of your furniture, you may be thinking: What color should I paint my kitchen with white cabinets?
Today, Kukun brings you this practical and creative guide with 4 kitchen color ideas adaptable to all tastes. So, you can review them all and decide which is the best option for your lifestyle and for the environment you want to build.
You no longer have to wonder: what color should I paint my kitchen with white cabinets?. You just need to plan your remodeling, get a reliable work team, and all the materials, and start giving your home a new look.
What color should I paint my kitchen with white cabinets? Find it out!
The first aspect is that we must be clear when we ask ourselves what color should paint the kitchen with white cabinets in what kind of place and environment the kitchen is. This will depend on the choice of the type of paint.
Broadly speaking, there could be two types of spaces: with a lot of natural light or with little light. So the coats of paint you apply can either enhance the lighting or help to regulate it.
Some of the decisions you will have to make will be:
Whether you prefer a single color or are willing to explore multi-color alternatives
Whether you want a warm color palette or a cool color palette
If you are going to purchase matte, metallic, or polished paints
Pastel colors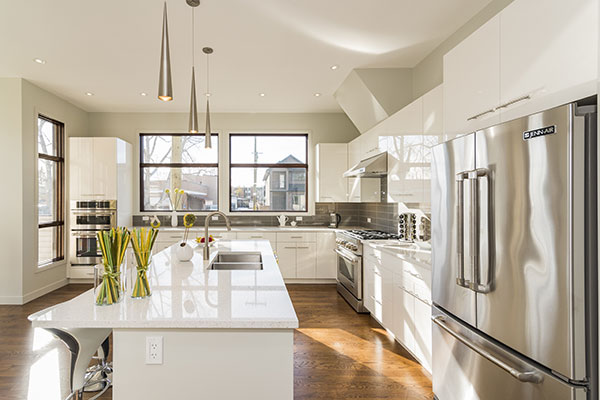 When you asked yourself about the color of your kitchen, did some pastel colors cross your mind? This is an excellent option that will give your kitchen a cozy and elegant touch at the same time.
Pastel colors usually give the feeling of freshness and softness. Usually, this type of paint is also used to give a vintage touch to wooden furniture. So it is ideal if you have any accessories in this style and want to complement the environment.
Any shade will go well with your white armor. However, you may be interested to know that the trends tend to be green, mustard, blue, and pink. As we told you, you can also be encouraged to find perfect combinations to give it a personalized touch.
Grayscale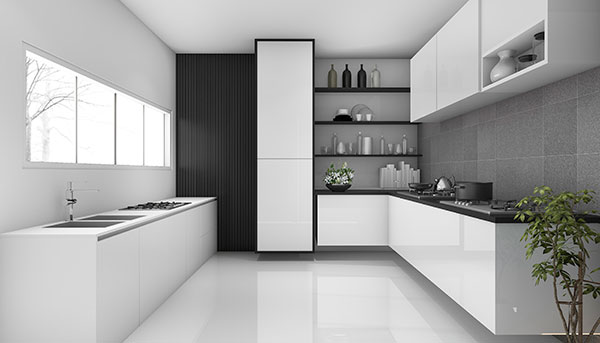 Gray colors also tend to be very present in kitchens. For example, in a modern apartment, modern house, or modern kitchen, appliances are often no longer white but metallic gray.
One advantage of deciding on gray after wondering about the right color for your kitchen is that you will prevent the walls from getting dirty easily. Also, it is one of the best combinations to harmonize the style if you are thinking about backsplash ideas for white cabinets and granite countertops.
Depending on the lighting in your kitchen, you can choose a light gray or a dark gray. You could even add some texture to one of your walls. Stone and brick, which can easily be achieved with gray tones, are creative alternatives that can give your home a modern or country feel, depending on what you are looking for.
Multicolor figures
Since white cabinets are neutral, you can take the opportunity to be a little risky with the paint on your walls. The above options that we suggest are closer to more relaxed and elegant styles.
But if they do not convince you and you keep questioning yourself and thinking "what color should I paint my kitchen with white cabinets? ", you should know that there is also the option of giving it a multicolored and fun touch. It can be in the whole kitchen only in a section that you want to vary.
For this idea, you can choose a pattern of geometric shapes and paint them following a color palette you like, for example, different shades of blue, different shades of red, or different shades of green.
If you want to be even more creative, we encourage you to paint figures related to space. On a white or beige background, you can draw and paint kitchen instruments such as forks, spoons, cups, fruits, etc.
Black or white paint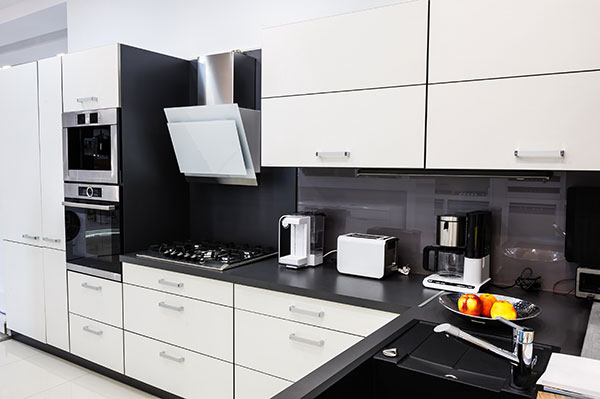 It is not very common that the answer to the question of the best color for your kitchen can be black. But the truth is that if all the furniture is in a light tone, it will look great. This will give it a sophisticated touch.
On the other hand, this idea provides a balance of colors. The final details will already depend on how you visualize your renovation. You can decide on matte paint, in case the light in your space is already sufficient. Or also a black but glossy tone, which will follow the line we propose but will also bring a much more modernized essence.
Although you may have already thought about it, keeping the entire kitchen white is also a good idea. It's a very traditional look but will brighten up this area of your home, no doubt. Plus, one advantage is that when it comes to touching up the paint, it will be easier.
In any case, remember that the moment to choose the right color for your kitchen is a time to let all the ideas you have fly and also listen to other people's proposals. This can broaden your perspective.
If you want to read more ideas, feel free to access our blog and learn about trends in home design!
What color should I paint my kitchen with white cabinets?
was last modified:
November 18th, 2022
by
Recommended