13 Stunning Modern Apartment Decor Ideas for You
When it comes to decorating and furnishing your apartment, any home improvement project can seem a tad overwhelming — what with so many interior designs and ideas floating around. We believe styling your space should be fun and allow you to reflect your personality and preferences in innovative ways. Here, we've gathered some functional yet sophisticated modern apartment decor ideas to help motivate your own apartment refresh.
1. Invest in beautiful window treatments
Curtains, drapes, or blinds — your window treatments can make or break the look of your home. If you're planning a modern apartment decor, the best solution is to opt for lighter hues to create a sense of airiness in your living space. Think billowy fabrics and white walls.
2. Paint the walls neutral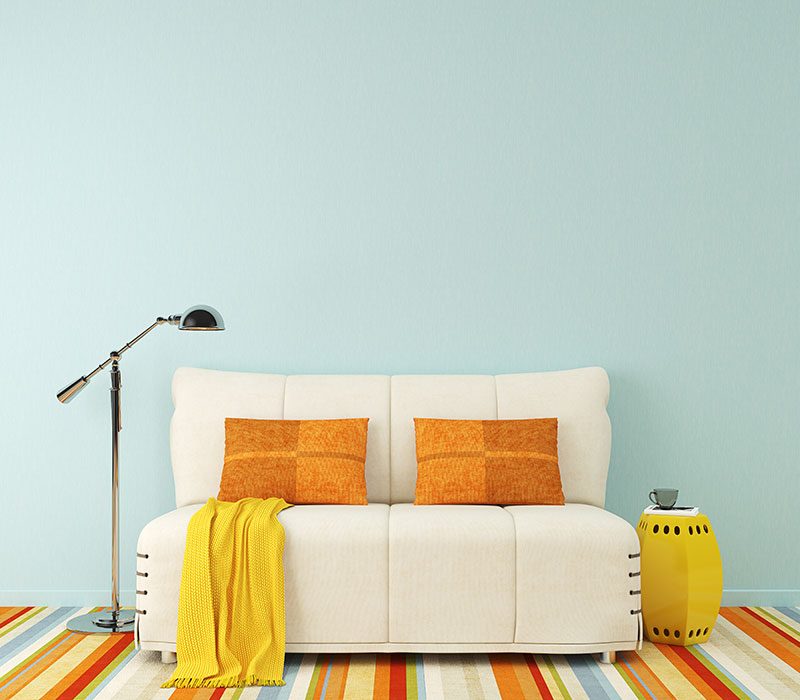 Painting your walls with a neutral color or a black and white color palette are both easy and inexpensive ways to give warmth and personality to your living space. The soothing wall colors will make your home look uber stylish. You can even give your modern apartment a uniqueness by giving the rooms their own distinctive color schemes.
3. Design a smart home office
Nothing screams modern louder than a well-designed home office to take care of your work from home routine. You can use this dedicated space to go through your emails, files, and documents.
And while you're at it, make use of wall-mounted storage space to organize your books and folders vertically. That way, you can create a modern home office even in a small apartment.
4. Bring in sensible, multifunctional furniture
If you live in a small space, this modern apartment decor idea is perfect for you. Invest in multi-functional furniture pieces that will help save you a good amount of space while being incredibly utilitarian. Invest in furniture that can be used in different ways or that can combine with other pieces easily.
5. Decorate with plants, more plants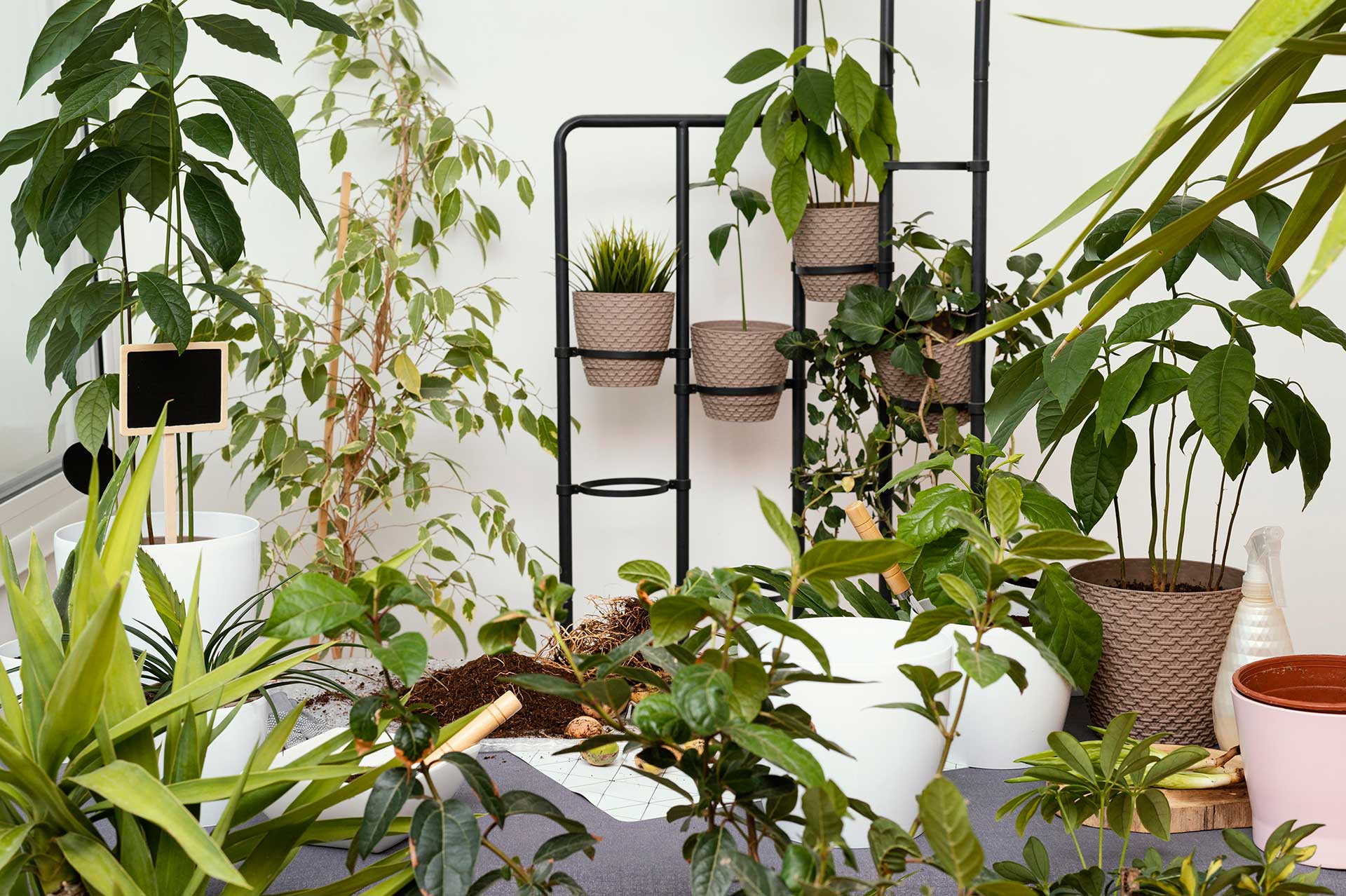 Potted plants and flowers connect the home with its natural surroundings and bring color and life to interiors. They also provide a great way to create a sense of home — an especially good idea if you live in a rented apartment.
The greenery will give the space a warm, welcoming vibe while keeping you feeling calm and cheerful.
6. Get new bathroom or kitchen cabinets
New cabinetry in the bathroom or kitchen will completely change the way you look at your home. The new additions, if installed well with quality materials, will not only enhance your home's aesthetic value but also its resale value, should you ever decide to sell your apartment. And, don't forget that the cabinets will provide you with good storage space and help keep the space clutter-free and organized.
Planning a kitchen renovation? Try our free remodel cost estimator!
7. Get new knobs and handles
If replacing the cabinetry is not on the cards for you, you can change the knobs and handles on your furniture, doors, or cabinets to help spruce up your place and make your home decor look modern and stylish. While replacing cabinet hardware may be a small way to change the look of your home, it does add a lot to its aesthetic appeal.
8. Go crazy with textiles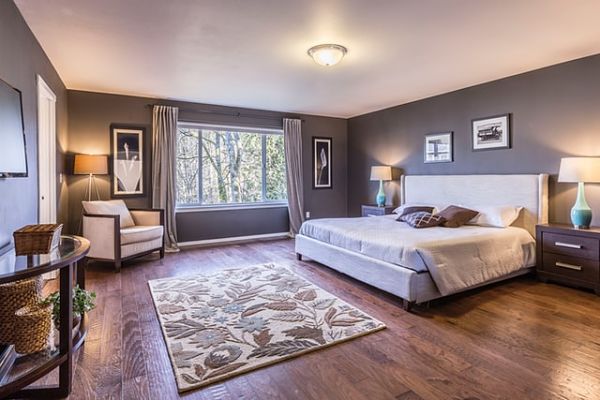 One of the best modern apartment decor ideas is to add color and prints — and cover imperfections or worn surfaces — using textiles. Think elegant curtains, a soft rug, lovely pillows and cushions, delicate duvets. All these will inject warmth, comfort, and personality into any home.
When it comes to your bedroom decor, you can layer the soft rugs, blankets, and bedding in a specific shade to create a cohesive look.
9. Create a picture gallery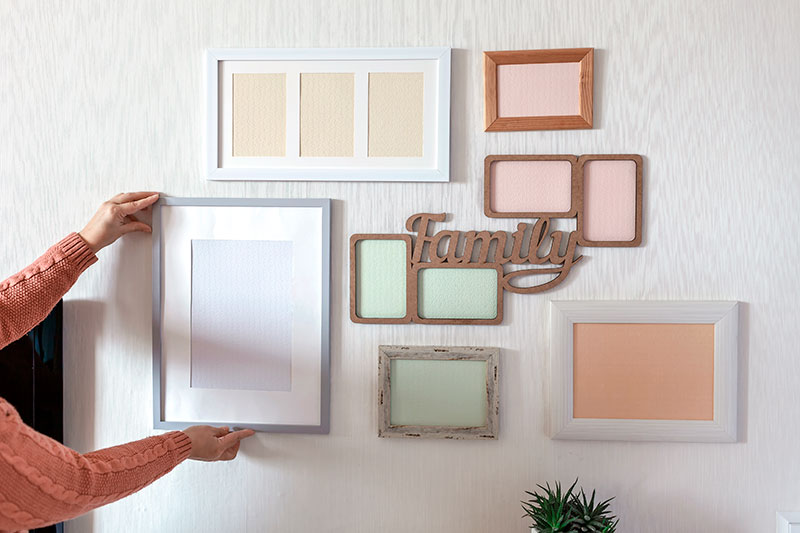 Decorating your apartment with photos of loved ones — or pictures of anything you love and identify with — will help you associate positive emotions with your space. You can create a wall gallery or display the memorabilia on top of furniture and open shelves.
10. Take advantage of frame-less mirrors
A modern apartment decor is incomplete without smart mirrors around the house. Whether it's your console in the entryway or the floor to ceiling mirror on your bedroom wall or a bathroom mirror, if you use them cleverly, you can make any space appear brighter and bigger. You can strategically place the frame-less mirrors to reflect the natural light that your apartment gets.
11. Install the right lighting
Whether we're talking about your living room, dining room, or master bedroom — the idea behind good lighting is to illuminate your living space as much as possible while accentuating its best features.
Your apartment too will need good ambient lighting with overhead lights, task lighting with pendant lights, table lamps as well as floor lamps and accent lighting with wall sconces, recessed lights, or ceiling lights. The layered lighting will ensure that there are no shadows or dark corners in the room.
12. Take the DIY apartment decor route
If you do not have a very big home renovation budget, you can try out simple DIY apartment decor ideas to minimize the remodeling costs. Think reclaimed furniture with storage, wooden boxes as side tables or coffee tables, a futon made using wood pallets or stacked old boxes, a ladder for an open wardrobe. Spray paint them in colors of your choice or let them keep their raw appeal. The possibilities are plenty.
13. Use decorative vinyl or decals on the apartment walls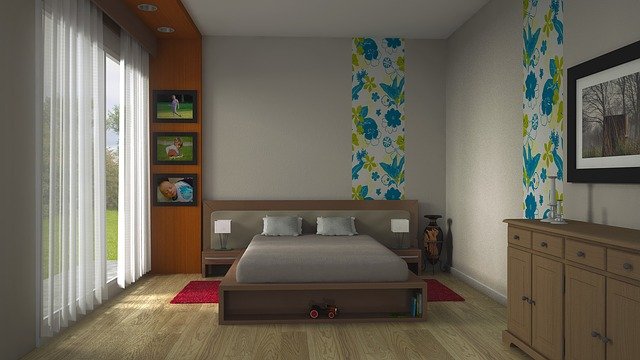 If you don't want to or cannot paint the walls, you may choose to use decorative vinyl or stickers, which are very trendy right now. The stick-ons give a different look to a room and leave no marks when removed. We love the decorative washi tapes made of hemp and bamboo. The inexpensive tape comes in hundreds of colors and patterns and is easy to stick on many surfaces. You can try out your own modern patterns on the walls.
Last words
Once you've used some of the modern apartment decor ideas we've shared, you can stand back and take pride in your apartment, which now reflects your own tastes and personality.
Whatever decor and designs you choose, make sure your apartment, regardless of its size, looks and feels bigger and brighter. This can be achieved with a minimal color palette, zero clutter, good storage space, clever window treatments, and multipurpose furniture. Happy renovating!
13 Stunning Modern Apartment Decor Ideas for You
was last modified:
April 25th, 2022
by
Recommended