Crown molding is a fairly popular way of finishing living spaces. People use ornate crown molding as a finishing touch to their family rooms, bedrooms, kitchen cabinets, TV cabinets, and even their bedposts. Let's have a quick look to see if crown molding in bathrooms is a good idea.
What is crown molding?
Crown molding is a decorative finish that is often used to embellish areas where walls meet ceilings inside homes. The word "crown" indicates the fact that this finish is used on the top of the home.
Can bathrooms have crown molding?
Aesthetically, yes. Crown moldings are a great way to make your bathrooms look better. While some interior designers prefer to have crown moldings in all the bathrooms in a home, others advise their clients to finish only their master bathrooms and other larger bathrooms with crown moldings, leaving the smaller ones bare.
Others tend to use crowns everywhere in their bathrooms except the shower areas. Design experts, however, tend to frown upon this, as it makes the bathroom look incomplete.
People who intend to use tiles on their bathroom walls are generally advised to tile the wall only until the height they want the crown to start from, allowing for the crown molding to be easily installed.
Small bathroom? Take a look at these Small Bathroom Layout Ideas From an Architect
Ceiling heights and crown sizes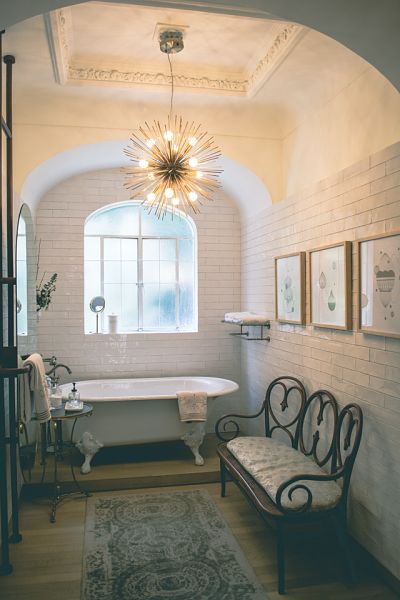 While crown moldings come in a variety of designs, it is always prudent to keep the design and size of the crown consistent with the theme of the house, the size of your bathroom, and the height of the bathroom ceiling. A lot of bathroom designers and experts are of the opinion that too large a crown for a low ceiling looks distasteful.
For example, if your ceiling height is 8 feet, your crown should be between 2.5 inches to 6 inches.
Since the ceiling height is considerably low, it would be better to use a simpler design.
If your bathroom ceiling is 9 feet high, your crown ought to be between 3 inches and 7 inches. More elaborate designs may be used in these cases. These larger crowns are often made of two or more pieces and are called cornices.
Bathroom ceilings that are 10 feet high or more can use elaborate crowns that should be a minimum of 4 inches and may go up to 24 inches depending on the size of the bathroom.
Further info about bathroom ceiling? Take a look at these ceiling materials for your bathroom
Best materials for crown molding in bathrooms
While crown moldings are made out of multiple materials, here are some of the best choices for your bathroom.
1. PVC crown moldings are a very popular choice for bathrooms, mainly because PVC is rot resistant and can withstand high amounts of moisture without getting damaged. This makes PVS crowns your ideal choice, especially for your shower region. The kind of design choices available, however, are limited to PVC. At $2 to $4 per linear foot, it's not a very expensive choice.
2. If money is not a problem, you could choose treated hardwoods as your crown molding material. The amount you spend will depend on the density of the wood and the intricacy of the design. You could end up spending between $10 to $45 per linear foot. Pine, ash, oak, and walnut are some of the popular woods used to make crown moldings. Wood, however, may not always be the best choice, especially for extremely wet areas like showers. This is because even treated hardwoods can rot with prolonged exposure to moisture. Wood is also likely to warp with changes in weather.
3. If you're not looking at spending a bundle on your bathroom crown molding, you could consider using MDF, or Medium Density Fibreboard instead of wood. However, MDF is not known to be very water-resistant. So, if you're going to be using MDF crowns for your bathrooms, make sure it helps to make sure they are primed, painted, and caulked before using them. At a cost of between $1 and $3 per linear foot, MDF is definitely not going to put a major dent into your bank balance.
Read more: How to Convert Your Bathroom Into an Eco-Friendly Bathroom
What about polyurethane?
4. Another affordable and reliable crown molding material for wet areas like bathrooms is polyurethane. Polyurethane is more affordable, more water-resistant, and more stable than wood as a crown molding material. Polyurethane crowns also come in a number of intricate molds and designs, making sure you're not starved for variety. If you choose to use these for your bathrooms during your next home renovation, you could end up spending between $2 to $6 per linear foot.
5. If you're looking for lots of elaborate and highly intricate designs to adorn your bathroom ceiling, then plaster crown moldings are the way to go for you. While plaster crowns are hard to beat when it comes to elegance, they can be hard to maintain as they are heavy and can chip easily. Plaster is also not particularly easy on the pockets, costing between $6 to $12 per linear foot.
Want to know how much to budget for your next bathroom remodel? Click here for a quote from our free cost estimator.
Topping things off
If you're about to embark on a home improvement mission and you're wondering if crown molding for your bathroom is required or not, the answer ought to be a resounding yes. Especially if you intend to have ornate crown moldings over the rest of your house. Just ensure you keep the same theme throughout your house.
It is also very important to make sure you choose the size of your crowns based on your ceiling height. You don't want your crowns to be overly gaudy or too simple.
While a few people are of the opinion that crown molding is an old fashioned thing, most design experts will tell you it's a timeless way to make your home more beautiful.
Tastefully crafted crown moldings will not only increase the overall valuation of your home, but they're also a great way to make rooms look more spacious.
So go right ahead and choose the best crown molding design, material, and finish for your new bathrooms.
Read more: Types of Molding and Architectural Elements for Kitchen Makeovers
A Quick Look at Crown Molding in Bathrooms
was last modified:
December 12th, 2022
by
Recommended