Pro house window cleaning tips for homeowners
Many of us tend to make mistakes with seemingly simple chores such as house window cleaning. Sometimes, even seasoned spring cleaners can benefit from useful tips on how to properly clean windows.
Sure we spray glass cleaners and wipe them ever so often to remove water spots or dirt, but we hardly ever get that streak-free shine that professional window cleaners do. So, should we just hire a professional to clean our windows? Or is this a home improvement we can handle by ourselves?
Actually, it's not that difficult. Cleaning house windows can be a relatively straightforward task. However, the ease of the task can vary depending on factors such as the size of your house, the number of windows, their accessibility, and the level of dirt and grime accumulated on them. If you have standard-sized windows, reasonable accessibility, and don't mind putting in some effort, cleaning house windows can be a manageable DIY project.
What will you need to clean glass windows?
A 10-12 inch squeegee with a stable rubber blade. Keep a few extra blades handy so you can change them when they get worn out
A sponge or a scrubber
A 5-gallon plastic bucket
A spray bottle (optional)
Lint free cleaning cloth or microfiber cloth. You could also use paper towels
Dish soap. Some people recommend using vinegar and warm water instead
A large bath towel
Dry cloth to wipe the squeegee periodically
How to prepare a window cleaning solution?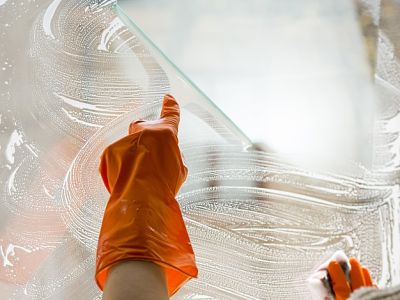 Cleaning windows is a simple process. In most cases, you don't even need any industrial window cleaning products for it. All you need to do is prepare a homemade cleaning solution to take care of all your problems. For this homemade window cleaner, mix approximately a teaspoon of dish soap in two gallons of water in your plastic bucket. If you're using white vinegar and water, your vinegar-water ratio should be 1:2. Fill this solution into a spray bottle.
If you're cleaning your windows during the winter months, and if you live in below-freezing climes, add a little windshield washing solution to prevent the excess water from freezing over on the windows.
What is the best way to go about interior window cleaning?
We'll first discuss the process of washing windows from the inside of the house to make the glass clean.
Place a large bath towel under the windows to catch any spillage.
Use a sponge or a microfiber cloth to wipe down the window and the frame thoroughly.
Apply the cleaning solution thoroughly to the window pane. If you're using a sponge, squeeze out as much water as possible before applying the solution. If you're using a spray bottle, spray an even layer of the cleaning solution across the pane.
Use the lint free cloth or paper towels to wipe the windows starting from the top and working your way downwards in a Z-shaped motion. Then, let the window dry.
Repeat the process if needed. Most windows need this to be done at least twice for them to be completely clean of all stains.
Another approach is to use the squeegee after the cleaning solution has been applied and work the pane from the top to bottom. Just remember to keep a rag handy to wipe the squeegee and the window frame of excess water.
Once you are done, use a dry microfiber cloth or paper towels to wipe the perimeter of the window dry.
Read more: Why are japanese homes so clean
What is the exterior window cleaning process?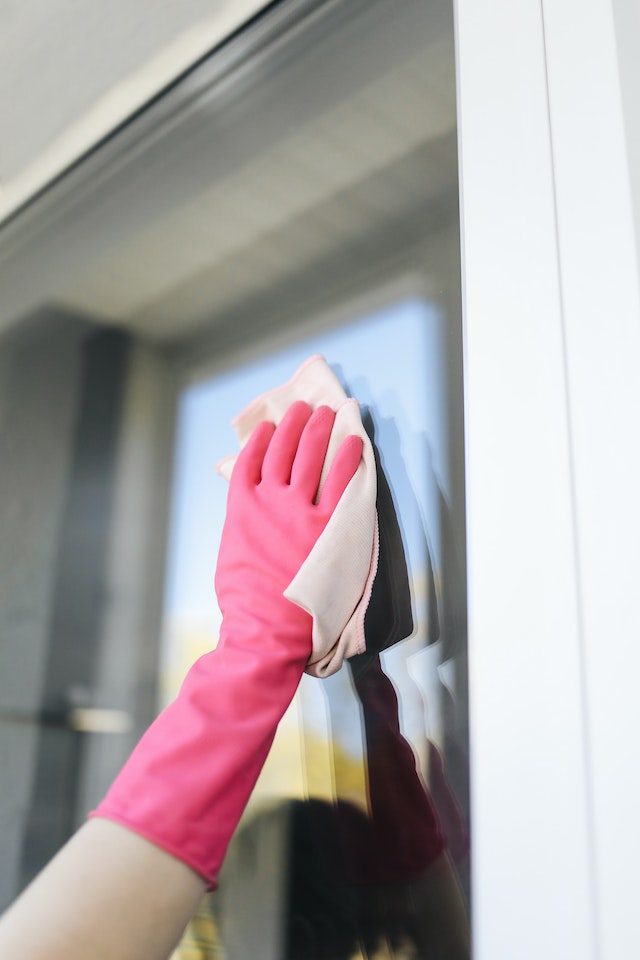 Let's now take a look at how to clean windows from the outside.
Remove your window screens.
Outside windows obviously will have a lot more dirt, stains, and grime. So, a good way to begin would be by hosing the windows down.
Then, use a clean microfiber or lint free cloth and wipe the window down thoroughly, especially at the corners, where dirt accumulates.
Next, wet your sponge with the cleaning solution and apply it thoroughly over the window pane. 
Place your squeegee at the top of the window angled downwards and work from the top downwards. Be sure to wipe the squeegee with a dry cloth with every pass. Do this until the window is dry.
If the pane has stubborn stains such as bird droppings, saturate the panes with vinegar and water solution. Let the solution stand for a few minutes before drying it with the squeegee or with a sponge. 
Hose the window screens down with plain water and spray the vinegar and water solution. Rinse them off with plain water again and let them dry out completely before replacing them.
Want help with your house window cleaning?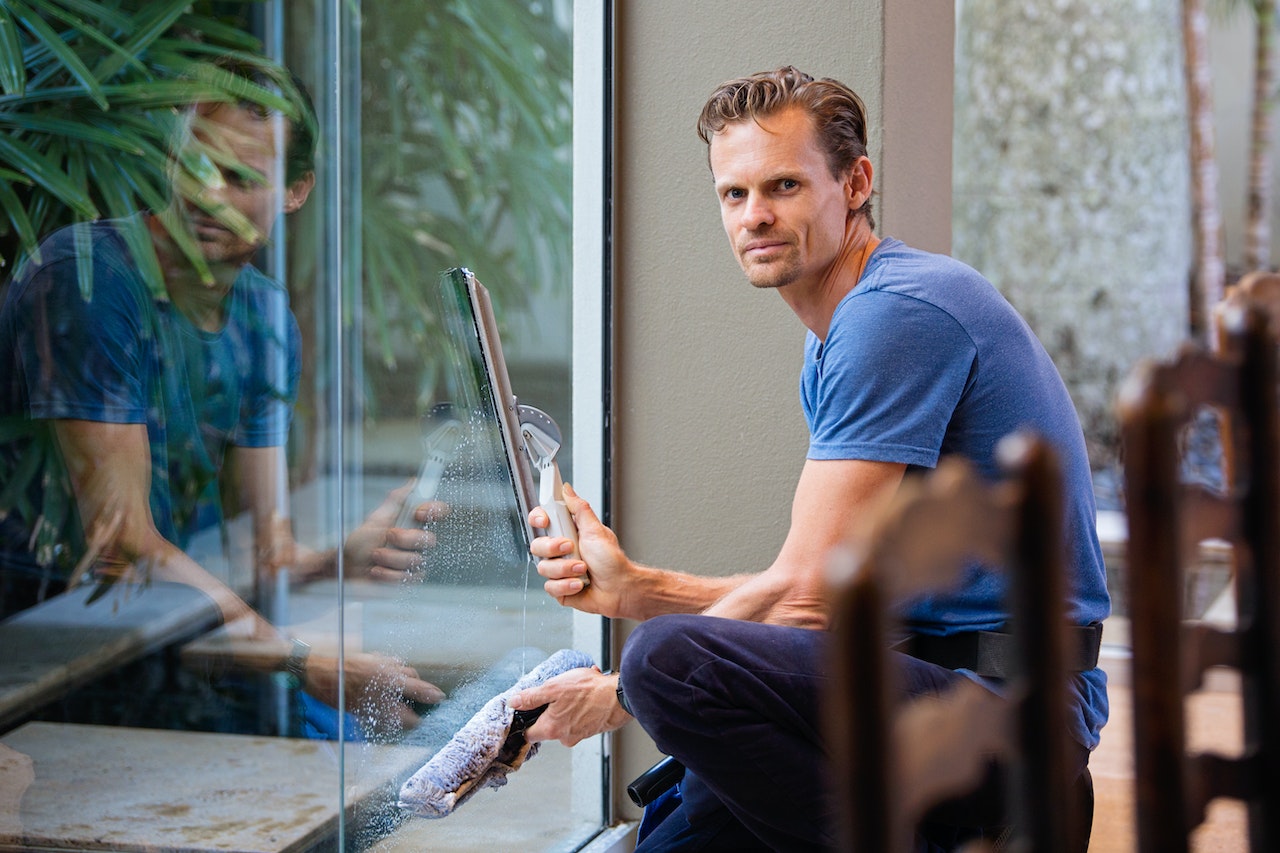 Sometimes, homeownership responsibilities and tasks can be made simpler with a few smart ideas. All you have to do is schedule home maintenance tasks such as cleaning all house windows through Kukun My Maintenance. Keep in mind that regular home window cleaning will help you keep your windows looking their best. Moreover, it will help to improve the home's energy efficiency by allowing more natural light to enter.
You can systematically organize more such tasks, add new ones, and get timely reminders to complete them through this useful app. And there's more. You'll even get home improvement recommendations for comfortable and convenient living.
What are some common mistakes to avoid when cleaning your windows?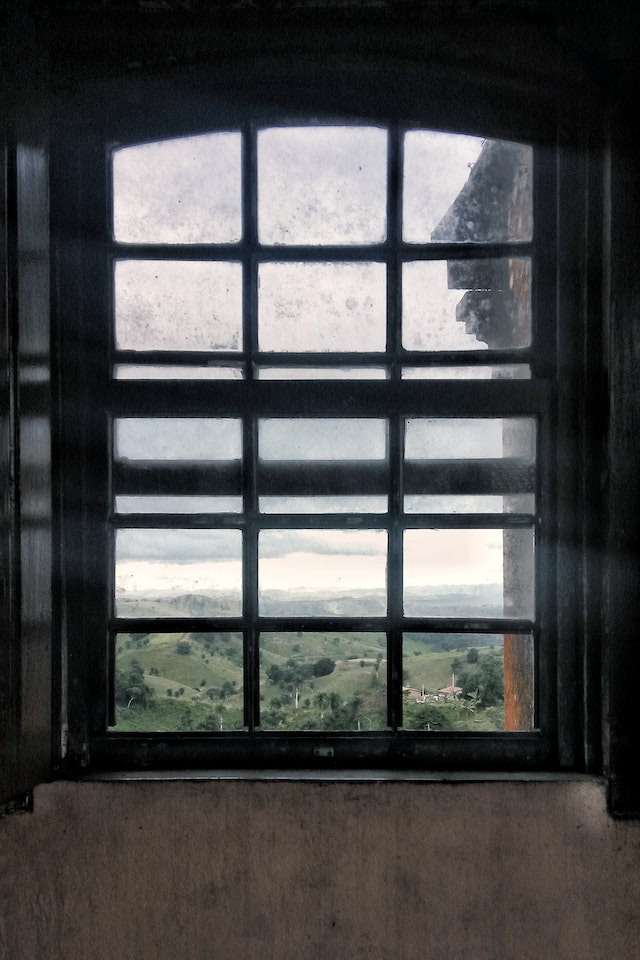 Choosing a sunny day. Instead, try to work on a cloudy day. That way, the soapy water and window cleaning solution will not dry too soon on the house windows.
Spraying cleaner on dirt. You must sweep dirt away first to avoid creating a muddy mess. And, wash grimy screens separately.
Skimping on window cleaner. You should use enough cleaner to dissolve and remove dirt effectively.
Using an old cotton rag. Instead, opt for reusable microfiber cloths for streak-free and shiny results.
Cleaning all windows in one day. Try to divide the task and clean room by room for more manageable and efficient cleaning. Kukun My Maintenance will help you schedule your window cleaning systematically.
How much do window cleaning professionals charge?
If you have safety concerns, exceptionally dirty windows, or simply prefer to have a professional handle it, hiring a window cleaning service might be a better option. Professionals have the expertise, tools, and equipment to clean windows efficiently and safely.
The national average cost to get a one-story home's windows professionally cleaned is around $250. Many homeowners spend between $166 and $360. It's best to get your windows cleaned thoroughly at least twice a year. But, if you live in a high-traffic area, make that three times a year. That's between $500 to $1,000 a year. Remember that the cost of cleaning window screens, glass sliding doors, tracks, sills, French doors, and cleaning windows on multi-story residential buildings are all extras.
Read more: How to clean exterior light fixtures
Last thoughts
Over the course of time, your home windows gather grime, impeding your views and hindering the flow of precious sunlight – both on the inside and outside. The situation worsens when improper window cleaning leaves thick streaks and watermarks. To achieve flawlessly clear and streak-free results, you should know the right techniques. And, this blog will help you with just that.
Pro house window cleaning tips for homeowners
was last modified:
August 1st, 2023
by
Recommended