If you own a home, it's more than likely you have a homeowner's insurance policy to protect it in case something should happen. Though we always hope for the best, being prepared for the worst-case scenario is never bad. Even if you make every possible effort to keep your house safe, such as securing your home before traveling, things can still go wrong.
One of the scariest thoughts as a homeowner can be the idea of a house fire starting in your home and leaving a wave of destruction in its path. Of course, house fires can form for various reasons, but they all share a commonality: leaving your home and belongings destroyed.
You can take steps to prevent fires, but sometimes they are inevitable. If a fire occurs, you will likely be thinking about the next steps to start rebuilding your life and your home. You may also have many questions about what your insurance will cover and if you will be stuck paying for any portion of the damage out of pocket.
What are the most common causes of home insurance fire claims?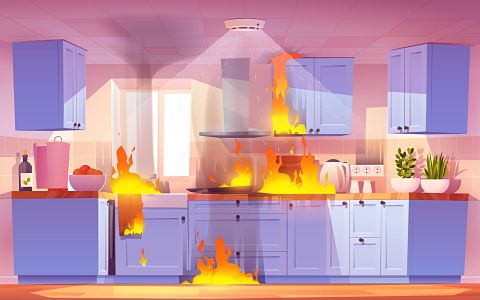 Fires can happen for a variety of reasons. Some are caused by human error, and others are simply just accidents waiting to happen.
Cooking fires
Fires stemming from cooking are the most commonly seen, accounting for about 49% of residential fires. Most commonly, grease is the culprit at fault. If grease is left unattended for too long, it will become overheated. Since it is so flammable, this can create spontaneous combustion.
Fires from a backyard grill are also commonly seen and contribute to the percentage mentioned above. If a grill is positioned too close to a deck or exterior of the home, it can cause a fire. It's essential always to be attentive when cooking, inside or outside, and be sure your equipment is cleaned well.
Heater fires
Winters can be brutal, and almost everyone heats their home in one form or another during the season. Unfortunately, however, heaters can be the source of many house fires. These fires often occur due to flammable objects being left too close and igniting.
Electrical fires
Faulty wiring is another common reason for fires in the home, and they are also one of the most deadly. The reason being is that they will often start when the resident is sleeping or without their knowledge. This allows the fire to build to an extremely high point before they are detected.
Having home inspections done by professionals to check your wiring is a great way to ensure electrical fires don't occur. New wiring has a much slimmer chance of causing a fire.
Smoking fires
Smoking may be a fading habit, but it is one of the top causes of home fires each year. A fire can ignite from single cigarette ash and turn into a full-blown house fire quickly. These fires often happen when the resident falls asleep, leaving a high death count in their wake.
Candle fires
Many people love the smell of a good candle burning in their home. Between the pleasant scents and relaxation of the flame, they are extremely popular. However, candles are high on the list of house fire sources.
Leaving a candle unattended can be a cause for disaster. They may be reached by a curious child or left too close to something flammable, resulting in a house fire.
Read more: Making claims on your home insurance
Will my insurance cover a house fire?
Standard home insurance is the policy most people probably sign up for when owning a house. But in the event of a fire, you will want to know if this standard insurance is enough. Fires cause a lot of damage, and it may seem like it's all too much for your insurance to cover.
The good news? Fire is covered under a standard homeowners policy. There are exceptions to this, as with anything. But most people will breathe a sigh of relief to know they will not have to pay for their home to be repaired or rebuilt, or for their belongings to be replaced.
The exception to this coverage will be if you live in an area at high risk for fire. Though it's not always the case, some policies will not include fire coverage in their standard package in these locations. It's always best to check with your agent and see what your policy includes ahead of time so you can be sure to purchase extra protection if needed.
What will my insurance cover from a fire?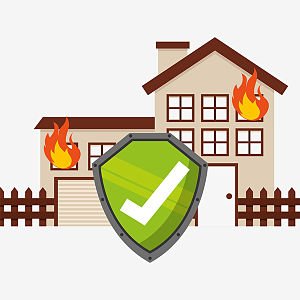 When a fire occurs, it will often leave a wake of destruction in its path. Homeowners may take a look at all the damage and think there's no way they'll be covered for it all. But, fire protection goes a lot further than many might think.
Dwelling coverage
This portion of your fire protection covers the cost to repair any portions of your home that have been burned by the fire or damaged by smoke. If the fire results in your home being unsalvageable, you will receive a lump sum for the value of your home.
Personal property coverage
The damage caused by fire doesn't just end with your home. You likely had many personal belongings in your house such as furniture and clothing. Personal property will help pay to replace the items you lost.
The exception to this may be extremely valuable items such as fine jewelry. Be sure to have separate coverage for each of these items.
Liability protection
Fires aren't always manageable. Sometimes they may spread past your property line and onto your neighbor's. If this happens, liability protection comes in. It will help cover the costs of damage to neighbor's homes or properties and keep you protected from potential lawsuits.
Additional or temporary living expenses
It's likely after a fire that you won't be able to stay in your own home for a while. This is where your temporary living expenses will be helpful. Your insurance company will compensate you for lodging while your home is getting repaired. Coverage limits will differ, however, and it's important to check with your agent to see how much you will receive.
Read more: How to protect your home from fires?
Home insurance for fire damage
As devastating as a fire is, there is the relief of knowing your insurance will provide you coverage through the process. From repairs and replacements to accommodations, you will receive help every step of the way.
Nothing will truly bring back what was lost, but with the help of your insurance company, you can build something new from the ashes.
Read more: Home insurance inspection
Does my home insurance cover fires?
was last modified:
March 28th, 2023
by
Recommended