Replacing your existing doors lends an entirely new look to your home. Whether you seek to transform the original looks of your house or enhance its curb appeal, either way, an entry door replacement or an interior door installation can help you upgrade your property. But before executing this project, you need to consider one important factor — estimating your door installation cost — so that you can stick to your budget.
Hence, today, let's guide you through this home improvement project by breaking down door installation cost and analyzing its various cost factors.
What is the average cost to install a door?
Door installation costs can range from $500 to $1,500, averaging to a unit price of $1000 per door. This data can, however, vary, depending on a lot of factors.
For example, if you already have an existing frame, you will spend less. However, if you need to install a new frame, you might have to pay around $500 extra. Again, the prices will differ depending on the size of the opening and structural changes in load-bearing walls.
One important cost factor is the material type. Other factors which influence final prices are your location and zip code, door type, labor charges, and framing requirements.

Get the best estimate to install interior doors with our estimator tool.
Instantly estimate the cost of your remodel...
...or take your time to personalize dozens of choices to transform your house into your dream home.
Door installation cost: Interior vs exterior doors
The price of setting up a new door depends on its end purpose as well. While the cost to install exterior doors can range from $500 to $2,000, interior door installation costs vary between $80 and $130. Sometimes, exterior entry and front doors can even be more than $10,000.
The difference is prices comes from their difference in function. For example, exterior doors need to be robust and hardy since they need to look good and also provide protection against harsh weather conditions. Hence, they need to be made from durable materials and require special frames. As a result, their upfront and installation costs are higher.
Planning for exterior door installation? Get the best estimate with us.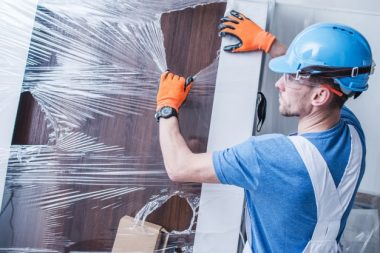 Construction photo created by welcomia – www.freepik.com
Read more: Interior door installation cost
Door frames
Replacing a door also requires installing new framing if you don't have one already. Brand new frames can cost between $200 and $650. This again varies according to several factors. For example, will you be placing the frame on a load-bearing wall? Does the plumbing or electrical wiring require changes? Additional labor charges will contribute toward the final price.
Labor charges
Any licensed contractor or a professional installer will charge you $40 to $90 per hour as labor costs. If you avoid pros and wish to go for a handyman instead, you might end up spending a bit less in comparison. However, the total charges will widely vary according to your zip code. For example, if you reside in an area where costs of living are high, obviously, you will be incurring higher costs.
Door installation cost according to material type
As we already mentioned, the type of material plays an important part in your total door installation cost. These materials are available in various styles as well, including flushed, paneled, arched, pocket, bifold, bypass or sliding, and decorative designs. Now, let's take a look at the various types of materials and their individual prices.

Plan your interior door installation just right with our estimator tool.
Wood doors
Wood is one of the classic and most common types of door materials. While an interior wooden door can cost you between $50 to $200, engineered solid wood may range from $150 to $500, and exterior solid may be priced between $500 to $3,000.
Steel doors
One of the cheapest and most durable options, steel doors cost between $500 and $1,300 for installation. Standard steel doors are priced around $150 and $300. The cost will increase if you add glass and go for double models or sets with sidelights.
Weather-resistant and secured, steel is however prone to dents and scratches. Hence, you must commit to regular maintenance if you choose this material.
Wrought iron doors
Wrought iron doors are expensive. They can cost you anywhere between $1,500 to $7,000.
Fiberglass doors
Fiberglass doors are available in a gamut of variants — with a price range of $200 to $5,000. You can get them in either smooth or rough, wood grain textures. They are quite energy efficient and demand minimal maintenance.
Aluminum doors
A popular material choice for both interior and exterior doors, aluminum doors can cost between $100 to $2,000. You can buy them as either screen, entry, or sliding doors.
Thinking about exterior door installation? Find the best cost for your installation.
Door installation cost by type
Door installation costs are also determined by the type. Here are the most common types of doors used in homes along with their installation prices.
French doors: $600 – $6,000
Entry doors with sidelights: $2,000 – $7,000
Fire-rated doors: $400 – $1,300
Sliding patio doors: $500 – $5,000
Bi fold doors: $150 to $500
Double door: $750 – $5,000
Cellar doors: $1,200 – $6,000
Standard entry doors: $500 – $2,000
Want further information on french doors? From costs to installation
Solid vs hollow doors
Doors arrive in two types of construction — solid and hollow. Doors with solid cores are priced at an additional $50 to $200 above hollow models. Labor costs remain essentially the same for both categories.
Conclusion
Whenever you install a door, never think of carrying out its execution as a DIY project. Even the most simple doors require experienced professionals to do the job correctly.
When you hire a professional, he will arrive with all the required materials and supplies. He shall measure every angle and check every corner to ensure that your door fits exactly into the designated opening. And obviously, for exterior unit installation, you need to summon an expert. Because incorrect installation will not only compromise your safety but shall also expose your house to weather-related damages.
We hope the avoid guide will prove helpful when you embark on your next door replacement project. If you have any further tips, do not forget to let us know in the comment section below.
Read more: Pocket door replacement
Door Installation Cost: What Are Its Various Cost Factors?
was last modified:
September 9th, 2022
by
Recommended