Evoking the simple and rustic lifestyle of pioneers who built this country, the farmhouse style is experiencing a revival in this busy age. Back then, when technology and synthetic materials weren't invading our everyday lives yet, a bath used to be a luxury, often enjoyed with a good book and a glass of red wine. The farmhouse bathroom, however, can be surprisingly functional. Using today's wide choice of retro-looking but high-performing hardware, tubs, toilets, and vanities, designers are reinventing the farmhouse style with all the conveniences of the modern age. Check out some of these farmhouse bathroom ideas for inspiration.
A farmhouse element
You don't have to venture far from a typical modern bathroom to give it a farmhouse charm. Sometimes even a single touch, such as a rustic desk with a drawer turned into a vanity can give your bathroom a lot of old country charm. Its dark varnish provides a dramatic background for a white vessel sink, a single bowl shade sconce, and a French mirror. In case you want something with a stronger impact, a heavy-brown cabinet-style vanity with a large vintage farm sink will definitely become the focal point in a bathroom that has pigeon blue walls and hardwood floor.
White farmhouse – yes, ma'am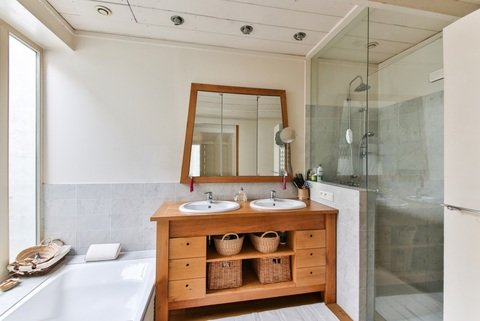 A country style bathroom doesn't have to rely solely on brown and rustic elements. If you want a farmhouse bathroom that still leans toward modern, go with white by all means. A cast iron tub and an artisan-made stool of natural wood will provide the farmhouse element. Avoid the sterile look by hanging a lush green ivy plant which not only looks magnificent but also purifies the bathroom air.
Bright and airy
If you associate farmhouse style with dark and gloomy candle-lit places, think again. By resorting to a pair of skylights that combine exceptionally well with exposed rafters, you can create a farmhouse bathroom that is both lively and spacious. Natural wood floor and a chest of drawers contrast beautifully with the white walls, while a darker, natural brick accent wall reveals the 'farmhouse' structure underneath. A modern freestanding tub and a geometric stool are the only intruders from the future.
Check these creative narrow bathroom ideas and design tips
Sliding barn door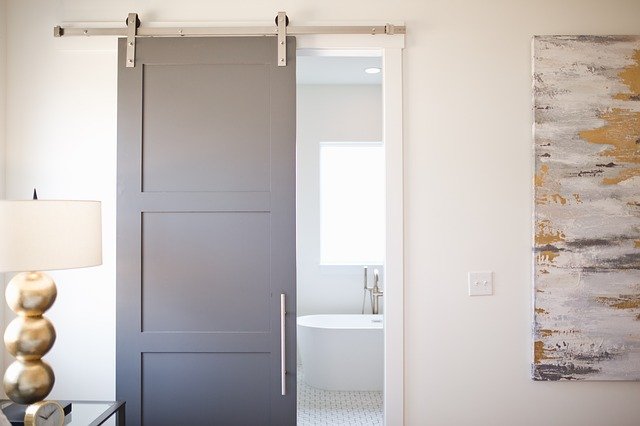 Not many elements can be more rustic and farm-inspired than bathroom barn doors. A large sliding door separating your master bedroom from a small farmhouse bathroom saves a lot of space, while its rough, unfinished wood works well with exposed brick walls. A much needed touch of elegance in this outfit is provided by marble vanity tops. An abundance of wood makes this bathroom style feel very connected to the land. In case the attic is not an option, the same style sliding door can conceal an efficient electric hot water system that even a farmhouse bathroom can't go without.
Bold patterned tiles
It is often the details like a rough wood cabinet with open storage and beautiful black and white patterned tile that make a farmhouse bathroom stand out among many others that share the theme. Such a setup is a perfect backdrop for brass light fixtures and fittings. A pair of simple white countertop sinks rounds up the unusual country look.
Blue meets grey
Another essential farmhouse element is the beadboard – painted cornflower-blue. Create a beautiful farmhouse-inspired space that exceeds all expectations by painting traditional hardware elements such as frugal vanity cabinets and a chest of drawers in the same cornflower color, so they balance out the goose grey of the walls. This somewhat austere look can easily be humanized with a few pieces of framed artwork hung up on the walls.
Shiplap
Even if you have to make do with a small bathroom, you can still apply some elements of the charming farmhouse style. A floating, wooden box vanity leaves plenty of room for wicker linen baskets underneath, while the vessel sink and the wall-mounted hardware conceal all the plumbing. Shiplap paneling is the perfect wall option for such a small powder room.
Read more: Shiplap bathroom wall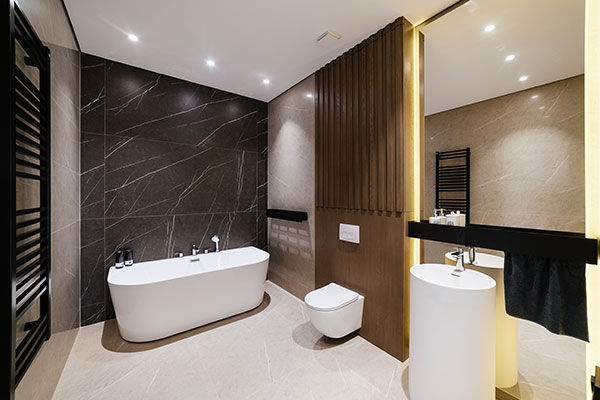 This warm, rustic theme can be applied to any bathroom. Whether you are a country dweller or a city resident, remodeling your bathroom in a simple but charming farmhouse style lets you enjoy precious moments detached from everyday worries.
Read more: An introduction to shiplap basement walls and ceilings
Farmhouse Bathroom Ideas For Your Next Remodel
was last modified:
April 10th, 2023
by
Recommended