Bathroom towel racks can be extremely handy when it comes to completely drying towels or hanging decorative hand towels while making the best use of available space. If used correctly, these racks can also give your bathroom a renovated look and feel. This article will be your perfect guide when it comes to bathroom towel racks.
How do you hang a bathroom towel rack?
Hanging a bathroom towel rack is a simple and easy home improvement exercise. You may choose to do it yourself. However, please remember the following points should you choose to treat this as a DIY exercise.
1. Choose the correct position
This is a very important step. You will need to select a wall in your bathroom that is free to use. You will also need to consider the swing of the bathroom door to ensure that the position is the best available one for the towel holder. Once you have identified the wall, determine the right height. The rack should not be too high to reach and at the same time not too low so that the towels do not touch anything below it. You will need to ensure that the bars are at a height of 48 inches from the floor. You can also hang bars on the side of your bathroom cabinet if there is enough space for it. Mark the position of the rack before you start installing it.
Check these 10 Tips to Buy a Heated Towel Rail for Your Bathroom
2. Fix the towel bar
Fixing the towel bar is easy once you have the proper pre-marking done. Try screwing in the first bracket using an anchor. Before you fit in the second bracket, ensure that the positioning of the bar is in a straight line. You may want to use a level to confirm this. Next, tighten both brackets and fit in the bar and attach the caps. Test the rack by hanging a bath towel to ensure that you have the desired result.
How much does a towel rack cost?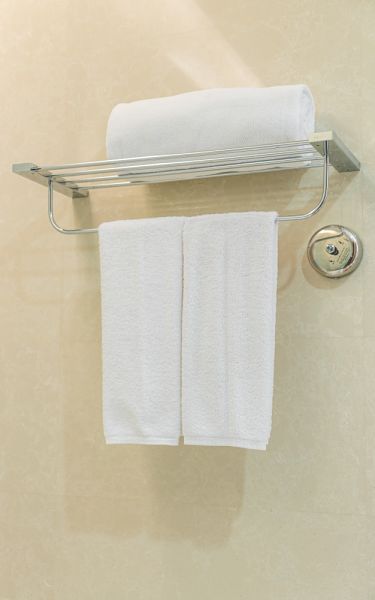 Beauty photo created by jannoon028 – www.freepik.com CC0
There is a wide variety of towel racks available in the market. An average towel rack can cost you between $89 and $252 per bar. However, the total cost depends a lot on the nature, complexity and finish options of the project that you have in mind. You may want to check our cost estimator to get an idea of your total project cost.
How many towel bars do you need in a bathroom?
The number of towel bars you need will depend on the number of people who would be using the bathroom. It is a good idea to at least have two bars installed if there is enough space to cover the requirement of your family and guests. You can hang two bars side by side in a large bathroom wall. This will help you to accommodate two different sets of guest towels. However, remember to leave a gap of 1 inch between the bars.
What would be the best place for towel bars in a small bathroom?
Placing a towel bar in a small bathroom is always a challenge. Usually, the best solution is to place the bar on the bathroom door to make the best use of available space. You may also try to place it on any of the free walls, but ensure there aren't any electrical outlets. If you are forced to place it around an electrical outlet, fix the wall mount towel rack at least 4 inches below the opening. This will help you prevent short circuit risks.
Check out our blog on Five great storage solutions for small bathrooms.
So, what are you waiting for? Pick the bathroom towel rack that you like best and get it installed today!
Read more: How to remove towel bars
A Short Guide on Bathroom Towel Racks
was last modified:
April 30th, 2022
by
Recommended