What is an ensuite bathroom?
An ensuite bathroom is simply a bathroom that is directly connected to a bedroom. This adds to the privacy and comfort of the real estate. In most cases, the master bedroom of a property has an ensuite bathroom. Building these attached bathrooms also help to improve the overall property valuation.
Design ideas to make your bathroom special
If you have an ensuite bathroom with any of your master bedrooms, the biggest challenge that you may face is to try and fit all necessary things in it. You will still need that shower, the toilet, the sink, and other essentials, but the space constraint can make it look very cramped. This blog will try to make it simpler for you with designing ideas for a small bathroom. When space is a problem, the following tips can do the trick.
Planning a full bathroom remodel? See our ultimate guide and get started!
1. Corner sink
A corner sink can help you save a lot of real estate. Install it in a vacant corner across the toilet for optimal utilization of the available area. There are various types of fashionable corner sinks available in the market. All you need to do is to pick the one that suits you best. This will also add to the look and feel of your bathroom.
How to Choose Your Bathroom Door? Let's find out!
2. Mirrors are your friend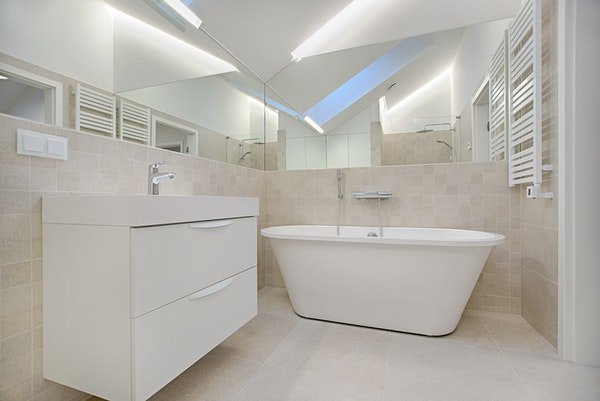 Mirrors play an important role in giving a small room a bigger feel. While it won't have any effect on the actual space, it will make your bathroom look bigger and less cramped.
3. Keep your ideas simple
Designing an ensuite bathroom comes with the pain of having to strike-off several things from the wish list. While you may wish to have all the modern amenities in your bathroom, your plan must be based on the practical availability of space. A well-designed small bathroom can look extremely elegant when decorated correctly. Use lighter colors on the walls and smart bathroom decors for the wow effect.
4. Keep the color scheme continuous
Your ensuite bathroom is a continuation of your bedroom. Try to maintain this flow with the color scheme and interior decoration. Using completely different colors for the bathroom can look off in more ways than one. Choose the color of your toilet, bathroom walls and sink keeping the color combination of the attached bedroom in mind.
5. Use wallpapers
Adding a nice wallpaper can significantly enhance the look and feel of the bathroom. Choose a colorful one that goes best with the general color scheme.
Read more: Can you put wallpaper in bathroom? 
6. Use glass to separate your bathroom and bedroom
If you want to give your bedroom and ensuite bathroom a stylish modern feel, you can use a glass partition instead of a traditional door to separate the two. Apart from the added elegance, this will also give your master bedroom a different touch of romance.
7. Optimal utilization of space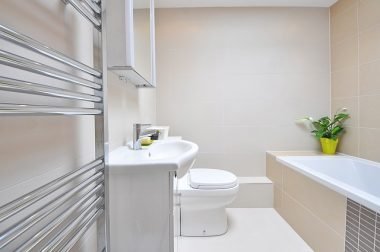 Shower curtains instead of doors
Using shower curtains instead of shower doors can help you save space in an en suite bathroom. For small bathrooms, get a fashionable shower-tub combo. This will meet your daily requirements without eating much of the bathroom space.
Place the towel bar on the door to make the best use of the available space. This will let you keep the walls free. While this won't save a lot of space, in a cramped en suite bath every inch will count.
Have built-in storage units
Built-in storage units can help you save a lot of space without affecting the storage capacity. However, overdoing this can give an unwanted boxy feel to your ensuite bathroom.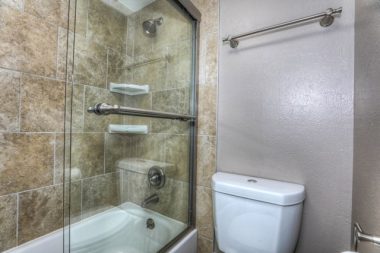 Tiles that compliment the color scheme can make your bathroom look elegant and attractive. When designing a small bathroom, tiles play an important role in dictating the final look and feel.
Choose a vanity with only one shelf. This will save a lot of space without drastically affecting the storage capacity. Modern manufacturers offer single shelf vanities with enough storage space for an ensuite bathroom.
Read more: Bathroom shelf ideas
Get a faucet that can be mounted on the wall. This will free a lot of floor area. When dealing with a small bathroom, a wall-mounted faucet can prove to be a great addition. This needs to be an important part of your bathroom design if you are looking to avoid the cramped feeling.
Another popular bathroom is the Jack and Jill bathroom, but what it is exactly? and who are Jack and Jill?
Read more: Why big houses have more bathrooms than bedrooms
Get professional help
You can also get in touch with a top bathroom renovation contractor to do the designing for you. The professionals with experience in designing ensuite bathrooms are more likely to come up with better layouts that make optimal utilization of the available space. To be on the safer side, take quotes from multiple contractors before finalizing the deal.
So, what are you waiting for? Get your ensuite bathroom design done by an expert today!
Read more: Factors to Consider for the Right Modern Bathroom Vanity
How to Design an Ensuite Bathroom
was last modified:
May 8th, 2023
by
Recommended