If you can't afford to buy new cabinets to freshen the look of your kitchen, you can choose between two things: either build the cabinets yourself or even simpler and less frustrating, paint the current to give them a more modern touch. Here we explain step by step how to paint kitchen cabinets:
Paint your kitchen cabinets in 5 easy steps:
One of the most expensive rooms to equip is the kitchen. In addition to the appliances, carpentry on-measurement for furniture and cabinets is a big investment. If you're looking to upgrade your home, why not paint the cabinets yourself? It is a project in which you can control expenses and is not as complicated as you imagine.
To carry it out you need: screwdriver, pliers, tape, sandpaper of medium thickness, brushes, paints (primer, color and sealant), cloths, gloves, a mask and protective eyewear.
1. The first thing you get to do is the heavy lifting, that is, removing all doors and pull out the drawers. Use the screwdriver to loosen the screws and hinges. As far as possible, take the material out to the balcony, patio or parking area to avoid the chaos of this type of work inside your home.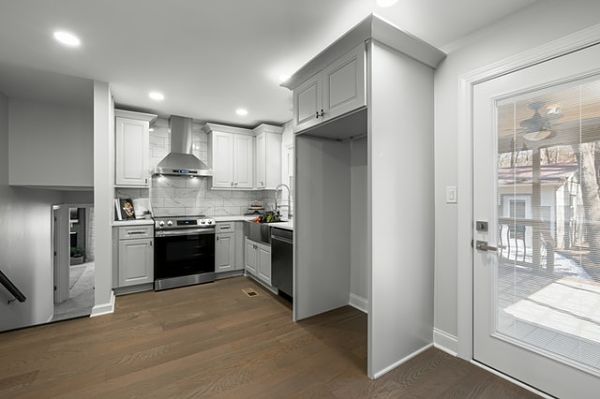 2. Then, it is time to sand the surfaces and edges. If they are not made of wood and have some laminate, it is important that you clean them with a special solvent to remove all traces of grease and stains.
3. Painting the cabinets is made in three stages. In the first you should apply a primer and let it dry for at least 12 hours. The second is where the color changes -whether it's matte or satin finish – and the third is applying the sealant. Remember to use three different synthetic brushes and do it always in the same direction so as not to leave marks.
Read more: Kitchen cabinet colors for small kitchens
Home Renovation Cost Estimator
Sorry, we currently don't have that project at our disposal.
---
You can take a look at our most popular ones:
Water Heater Installation
Exterior Door Replacement
Install Recessed Lighting
Exterior Door Installation
Interior Door Installation
Interior Door Replacement
4. After painting the cabinets and letting them dry, you can finish their appearance renewal by installing modern fittings and handles, in acrylic or chrome.
5. The last step is to put the doors in place. If you find it easier, use electric tools. With a clean and dry towel remove dust and presto!

MORE : The Complete Guide: Kitchen Cabinet Trends and Maintenance
When changing the color of the kitchen, the first aspect to consider is that this is an area of the house in which special activities are performed, where smells impregnate walls and furniture, where smoke is produced and the dirt appears more easily than in any other area of the home, mainly in the form of grease. Nowadays, strong and powerful colors are used, not only on the walls, but also in furniture design. Everything depends on the effect you want to create, if light and clarity is what you search for, the application of light colors is the best choice. The pastel shades give freshness to the environment and any combination whose base is white will result in a large and bright kitchen with great visual impacts.
Read more: Cost to replace kitchen cabinets
How to Paint Kitchen Cabinets in 5 Easy Steps
was last modified:
April 22nd, 2022
by
Recommended