Bedrooms are among the most important rooms in any home, along with kitchens and living rooms. They are areas of privacy, sanctuaries of solitude, and refuges to rest in and recuperate. It is now common knowledge that ideally, bedrooms, and in fact, most other rooms in any home need a healthy mix of task and ambient lighting. But what can you do if your bedroom has no ceiling lights? You could invest in new lighting fixtures. However, if you don't want to spend a lot, here are some no ceiling light in bedroom solutions and lighting ideas that aren't too expensive for you to work with.
Rooms without overhead lighting do not need to be dark or poorly lit rooms. In fact, a lot of homes built before 1980 did not feature any overhead lighting at all. Utilize the opportunity to illuminate your room with no ceiling lights by trying out these simple but innovative lighting solutions.
1. Let the sun in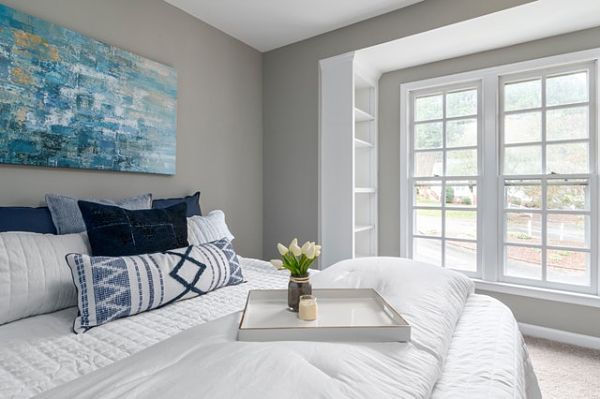 The first and most basic of lighting ideas for rooms is to maximize the usage of natural light.
While you may not be able to change the size of your windows, using light and breezy curtains is a great way to let the sunlight pour into the room.
Leaving your windows and balcony doors open is a great way to let in both fresh air and natural light.
One key element to making all of this happen is to have clear windowpanes and to keep them clean at all times.
2. String 'em up
String lights have become a very popular and inexpensive lighting option, especially in bedrooms.
A wave of string lights, or fairy lights, as they're called, behind your bed will cast a warm glow around your bedroom, creating the perfect ambiance.
For those of you who want to create a young, bohemian vibe in your bedrooms, string lights are your best bedroom lighting option.
3. Old school classics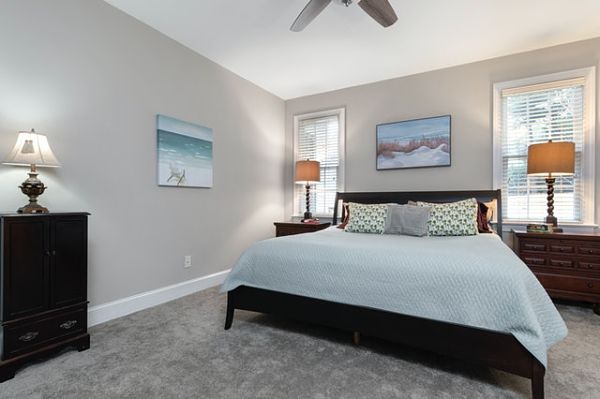 Floor lamps are a timeless classic that can be both ambient lighting and functional lighting.
Whether you choose oversized arc floor lamps or more streamlined designs, floor lamps are a sure-shot way to add class to your bedroom.
Prop a reading chair underneath a large floor lamp at a corner of your room, and you have created a beautiful reading nook.
Table lamps are another old-school classic that will never go out of fashion. Whether you put inside tables on either side of your couches as decorative lighting options or put one on your work table as a reading light, table lamps are icons of form and function.
4. Plug them in
Just because you have a room with no ceiling fixtures doesn't mean it has to remain that way.
Just by nailing in a couple of hooks into your bedroom ceiling, you can install plug-in pendant lights.
Plug-in pendant lights offer you all the class and visual appeal that are synonymous with pendant lights. All you need to do is plug their cord into a wall socket and turn them on. Your only concern may be how you are going to smartly conceal the cord.
Another classy and extremely easy to use lighting solution is plug-in wall sconces.
Plug-in sconces look exactly like their permanent fixture counterparts. The only difference is that you can plug one of these directly into a wall socket, turn on the switch and you're good to go.
5. Turn up the romance quotient
While this option may not work as an exclusive way to light a room without ceiling lights, it is a great way to add lighting to your bedroom and give it a romantic vibe.
Electric flameless candles are great replacements for regular wax candles, especially if you live in an apartment complex with restrictions.
Place them on your dresser, fireplace mantle, and maybe even a couple on your bedside tables and bask in their warm glow.
6. Shine on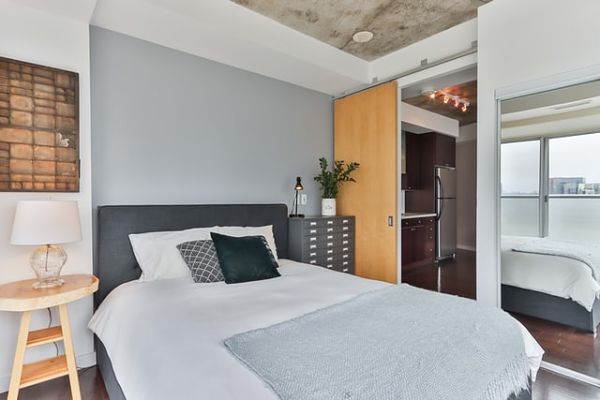 Mirrors and other reflective surfaces are a great way to disperse light in your bedroom.
For example, if you direct the light off of a corner floor lamp against a mirror, the light from the lamp will reflect off the glass and disperse over a larger area.
Another great idea is to place a mirror opposite a window. Open your curtains during the day, and the mirror will disperse plenty of natural light in your bedroom.
Crystals, glass bowls, and shiny metal surfaces are other options you could use to achieve the same effect.
Read more: Install ceiling light without existing wiring
Pro tip
No matter what type of lighting fixture you choose to illuminate your room with no overhead lights, always buy LED bulbs instead of incandescent ones. Not only do they last a lot longer, they also consume a lot less energy in comparison. You'll see a dip in your energy bills, and you will be making an ecologically friendly decision. Go green whenever and wherever you can.
Read more: Master bedroom floor plans by expert architect
No ceiling light in bedroom: Solutions and lighting ideas
was last modified:
October 14th, 2022
by
Recommended