Your master suite is like a safe haven where you get to spend your day in comfort — reading, watching television or listening to your favorite music. If you're contemplating renovating your master bedroom or looking at new house plans, here are some great master bedroom floor plans from our expert architect. You can choose the one that fits your needs and lifestyle.
With the right master bedroom floor plans, you can create a comfortable, private retreat that is much more than just a bedroom with an en suite bathroom. These bedroom designs are varied — most of them with elaborate walk-in closet or dressing rooms, spa bathrooms, a home office, attached terraces or sitting areas with beautiful window designs.
So, let's explore some of these layouts of bedroom suites and enable you to choose the best one for your dream home.
Master bedroom floor plan 1
Inclusions and dimensions
Master bed area + home office: 9.84ft x 16.076ft
Spa bathroom: 11.81ft x 10.17ft
Dressing room/Walk-in closet: 11.81ft x 8.86ft
Terrace: 10.50ft x 5.91ft
Total area: 421.13ft²
Overall dimension: 22.80ft x 22.64ft, 22.80f x 20.34ft
Room height: 9.186ft
Room circulation space: 1.97ft to 2.95ft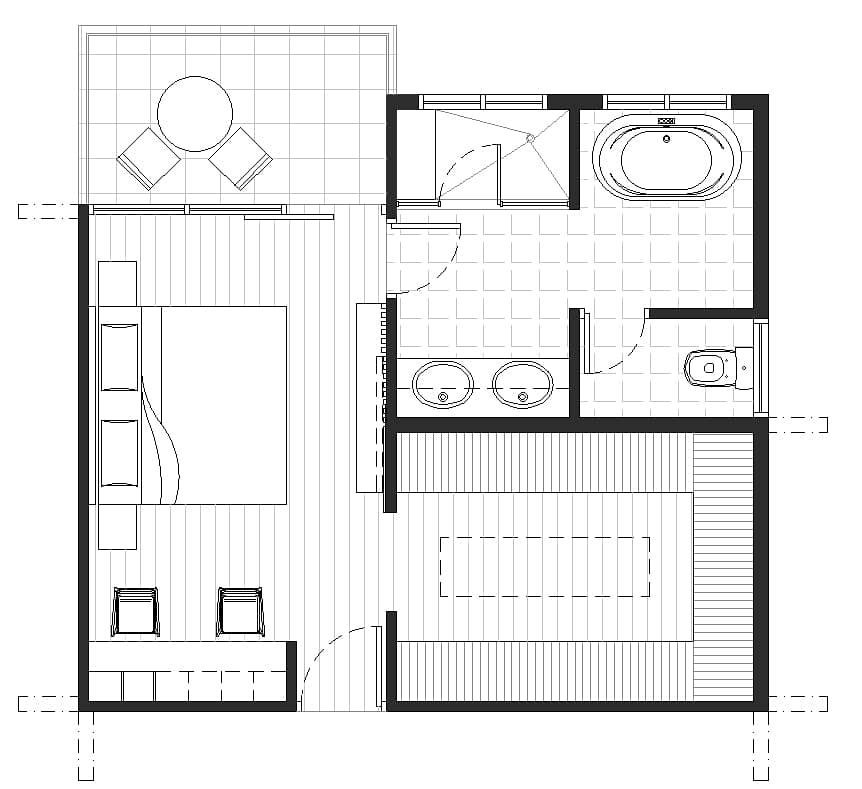 This medium-sized room consists of a home office, equipped with good space-saving furniture and closed and open shelving. The area also doubles as a sitting room to entertain informal guests. There is an expansive dressing room/walk-in bedroom closet to provide adequate bedroom storage. The large bed faces a wall with a decorative cabinet that houses the television, audio system, and other smart gadgets.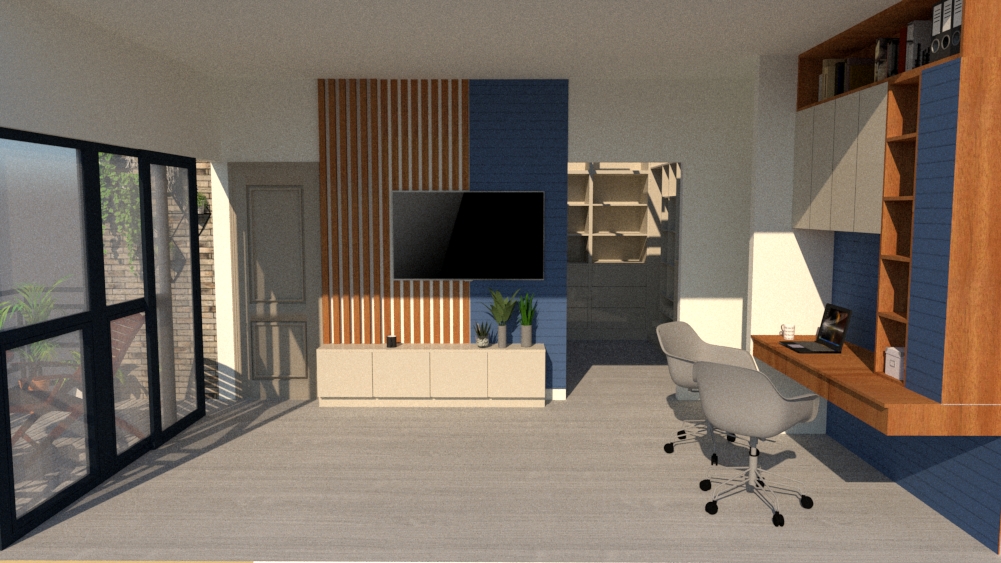 Instantly estimate the cost of your remodel...
...or take your time to personalize dozens of choices to transform your house into your dream home.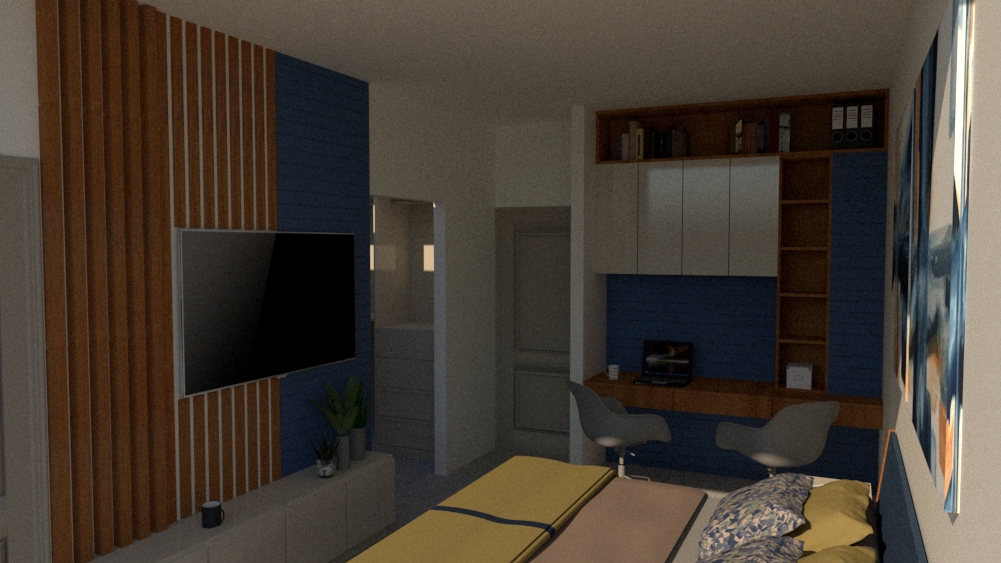 The attached master bath comes with modern amenities such as a soaking tub, a shower panel, his-and-her bathroom sinks, and smart bathroom storage ideas. There's a beautiful terrace, through sliding doors, with a panoramic view of the facade of the room.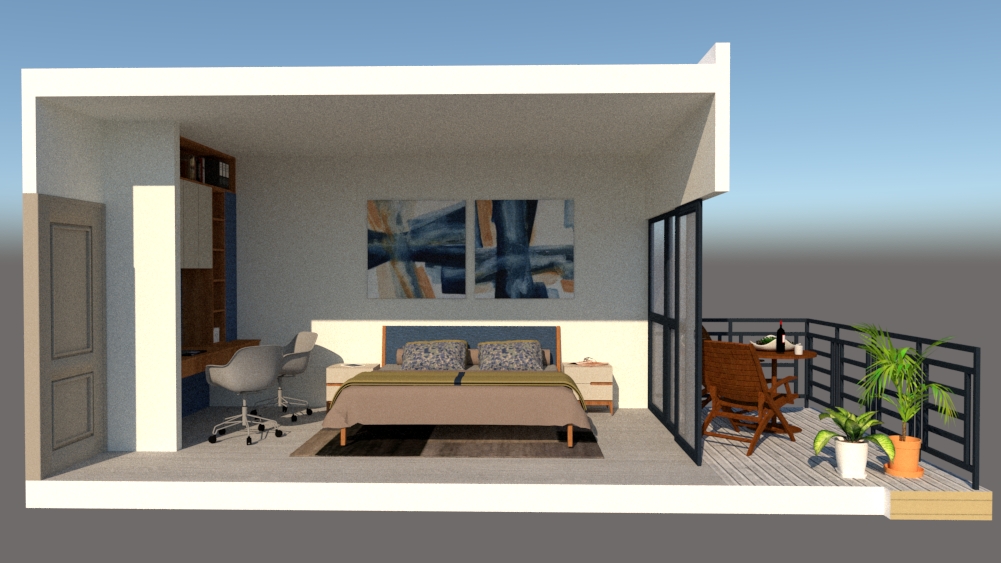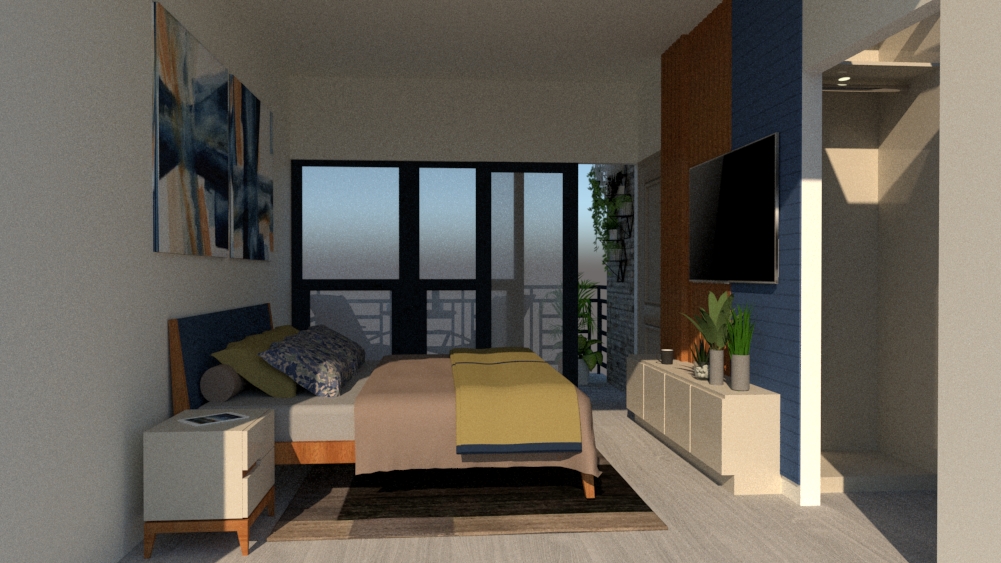 The home office has a desk counter in medium tone wood, that's 1.97ft x 6.56ft, and has three massive drawers. The open shelves come with a depth, height, and width of about 0.98ft. And, the cream-colored closed cabinets rest on a blue wall.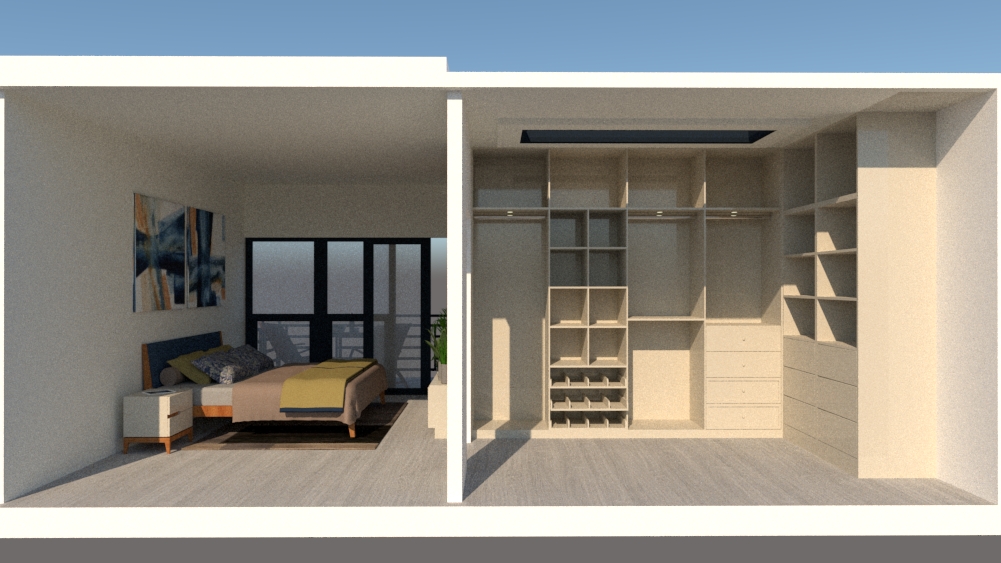 The main living area has a spacious bed with wooden bed frame and a leather headboard, bedside tables, TV cabinet, and wall art to complete the color palette.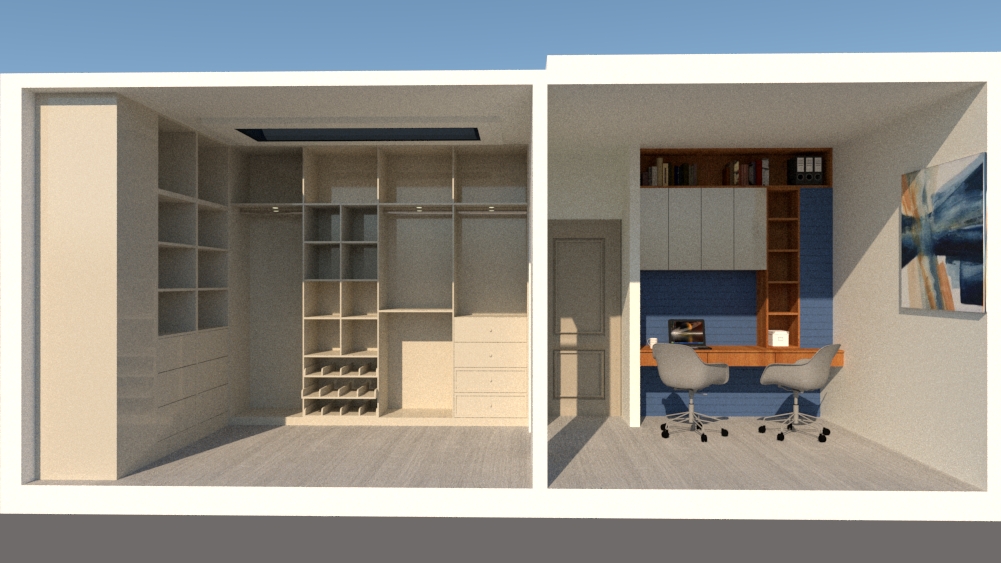 White walls, white ceiling, along with light gray doors and flooring, beautifully balance and contrast the design. The soothing color scheme as well as a skylight in the dressing room help to maintain adequate natural lighting in the master bedroom.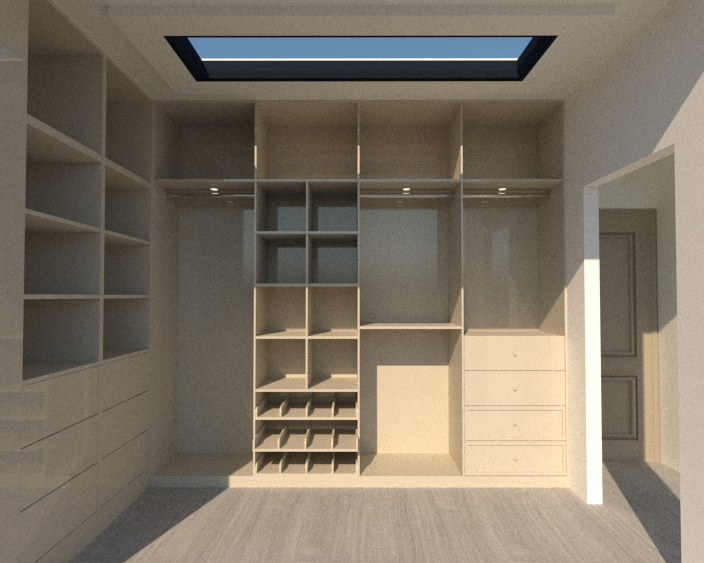 The "U" shaped walk-in closet comprises wooden boards and drawers to create floor-to-ceiling storage in varying dimensions to accommodate the different types of wardrobe items. The area is kept well-lit through recessed lighting and a centralized 6.89ft x 1.97ft skylight to let natural light, without losing useful wall space for storage.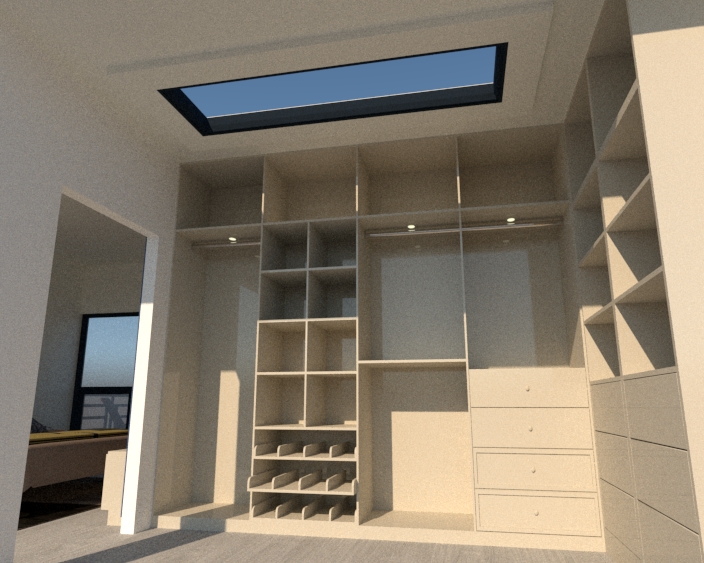 The small terrace at the back of the room allows you sufficient space to have a seating area with two chairs, a table, and potted as well as hanging plants.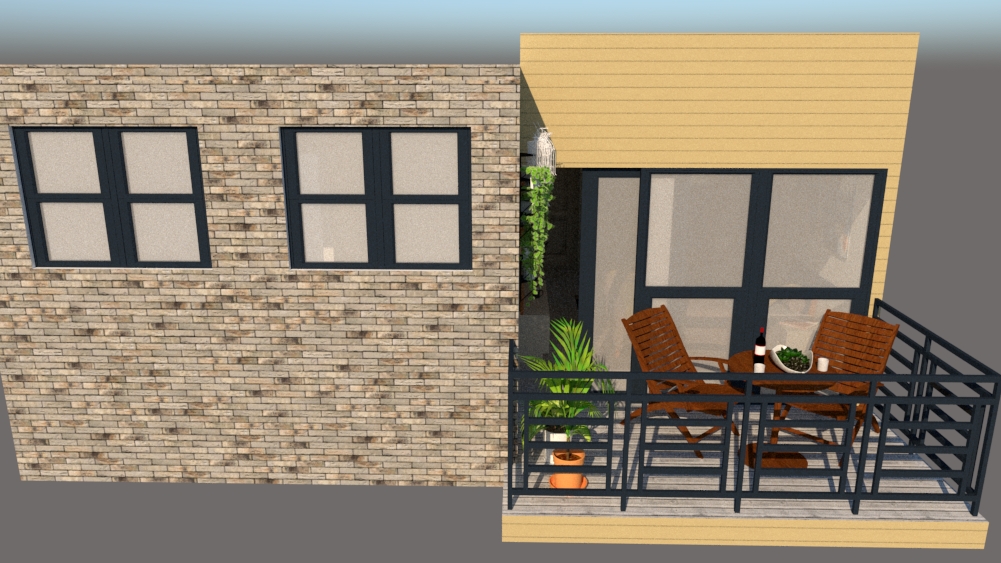 The terrace flooring has light wood planks to add to the continuity of the room. There's a 3.28ft high metal railing with a modern, minimalist design that complements the sliding glass doors. The walls have been kept yellow in a light tone of wood to contrast the rustic appearance of the brick facade.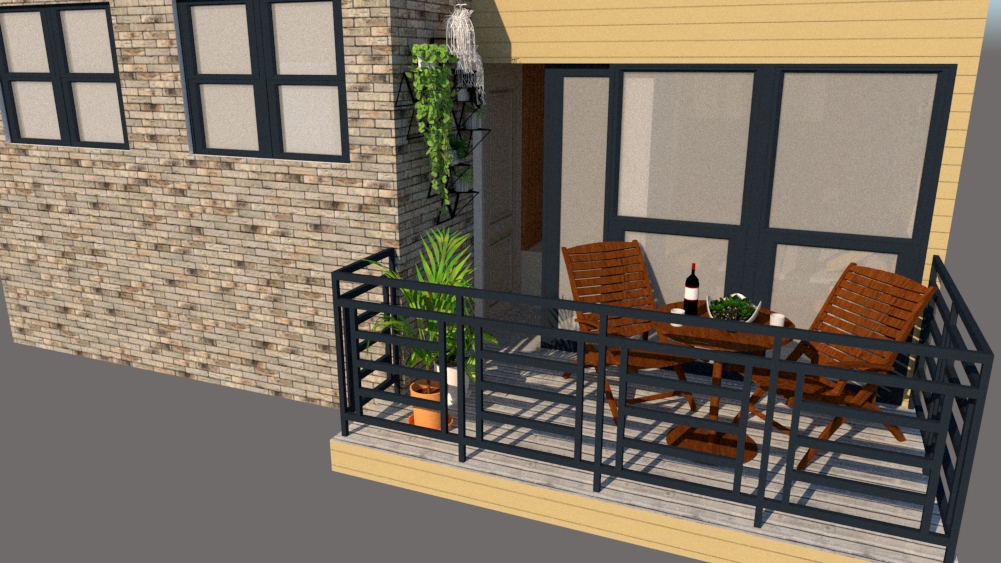 Let's come to the spa bathroom which has a shower, bathtub, toilet, white quartz countertop, and bathroom vanity with double sinks.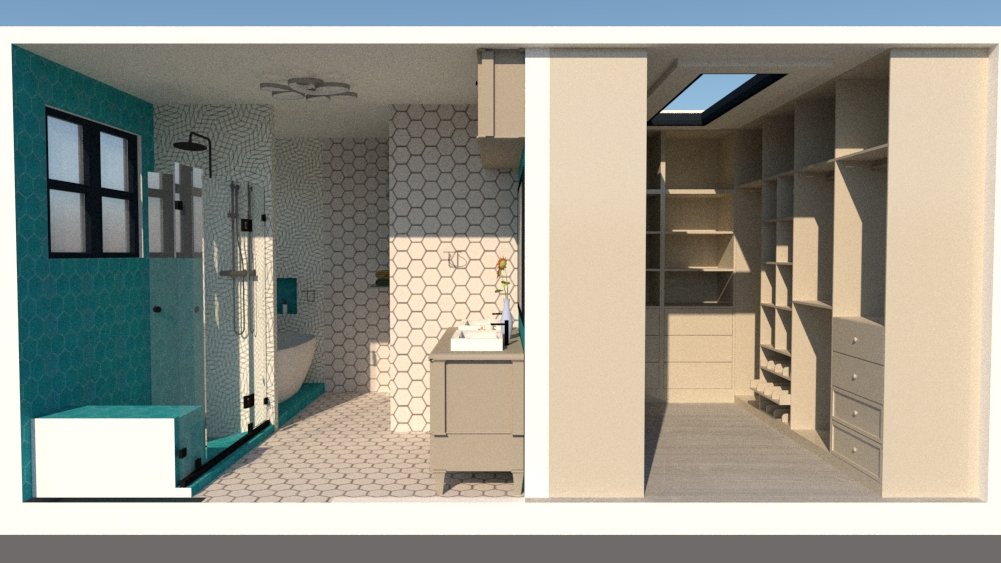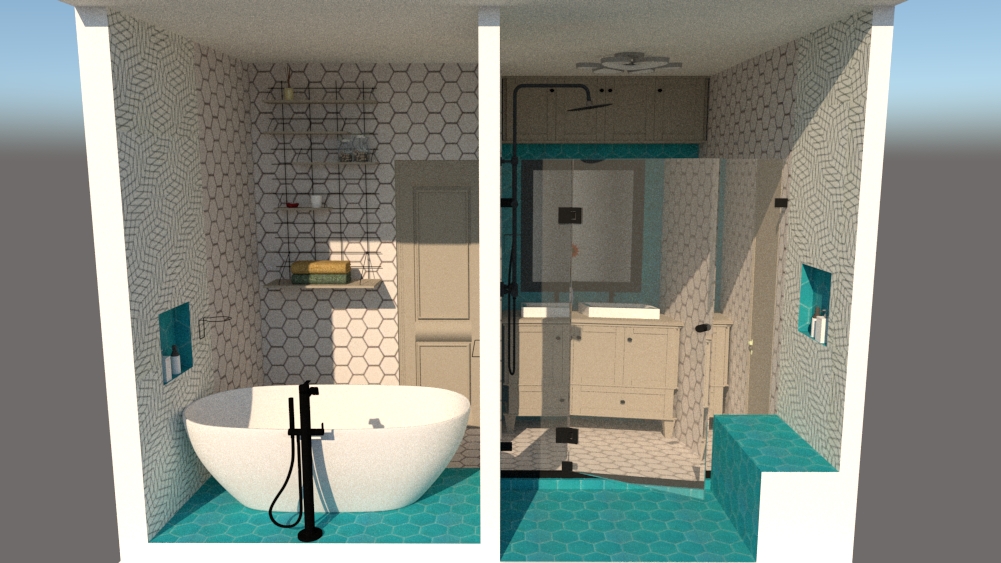 The other features of the master bathroom include storage with four cabinets and two drawers, at a height of 2.95ft and a width of 5.74ft, floor-to-ceiling tiled walls, wood frame mirror (4.72ft x 3.44ft), and black hardware such as the sink faucets and cabinet handles. Even the metal window frames are black.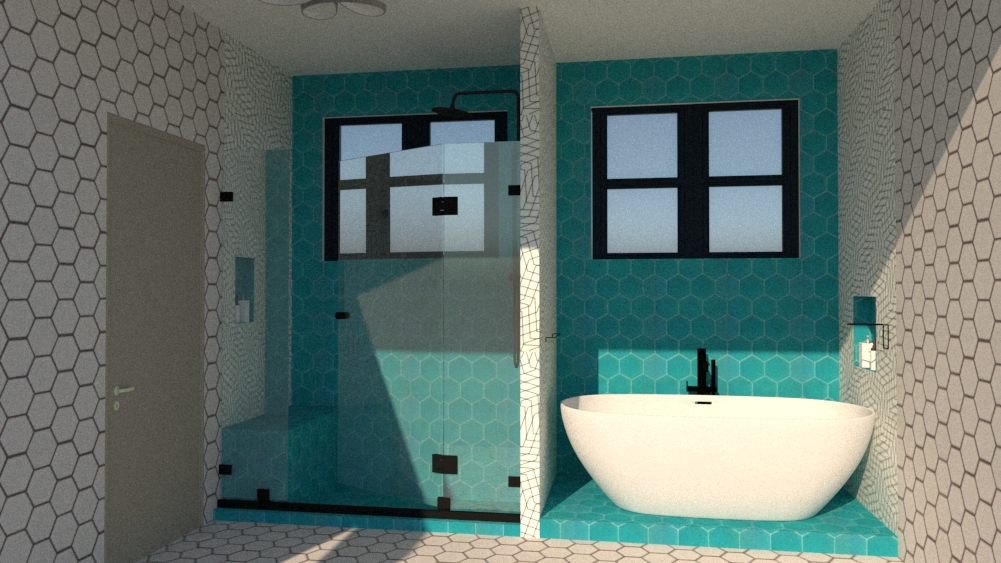 In each sanitary piece, the architect has created a lovely contrast (yet a continuity) by using turquoise and cream tiles in a hexagonal shape.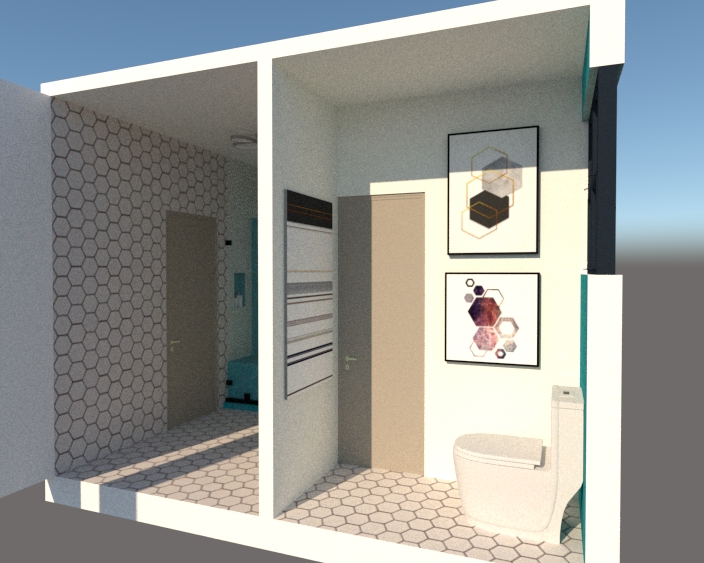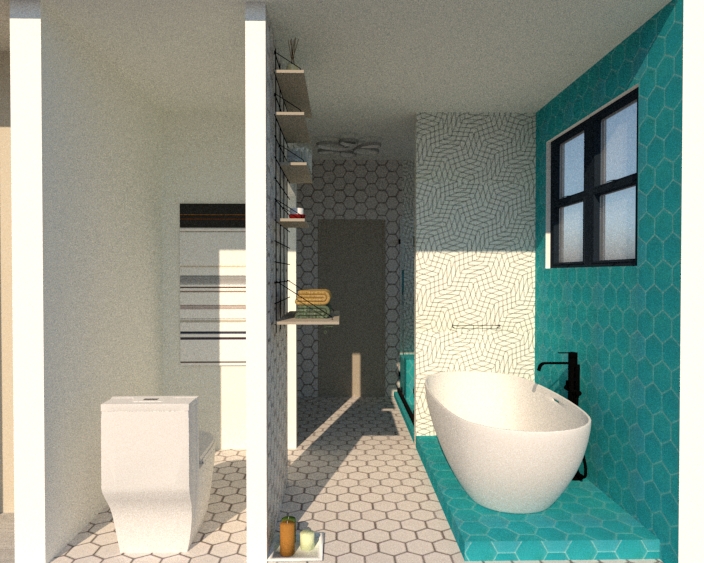 The shower area is 1.31ft deep, 1.64ft high, and 2.95ft wide. It has glazed doors to complement the spa-style design. There are sufficient shelves to keep towels and other accessories.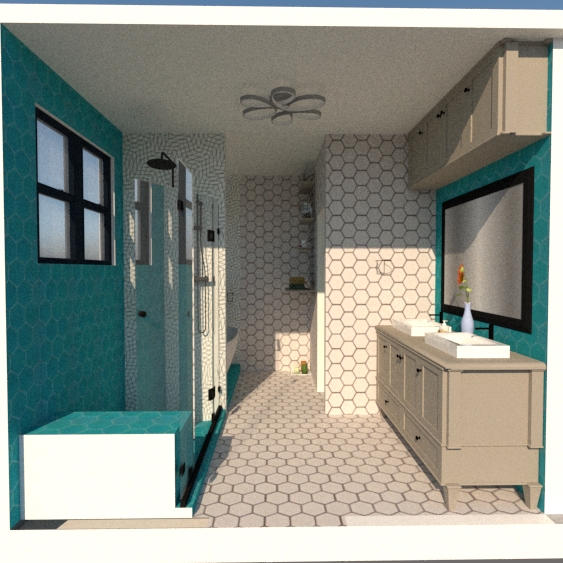 The architect recommends a good number of windows for natural lighting and ventilation. And, heated bathroom floors.
Master bedroom floor plan 2
Inclusions and dimensions
Master bed area: 9.51ft x 19.02ft
Reading and desk area: 6.23ft x 1.64ft
Fully-equipped bathroom
Two dressing rooms: 6.23ft x 6.23ft
Room dimensions: 19.02ft x 20.51ft
Total area: 336.87ft²
Circulation: 1.97ft to 3.94ft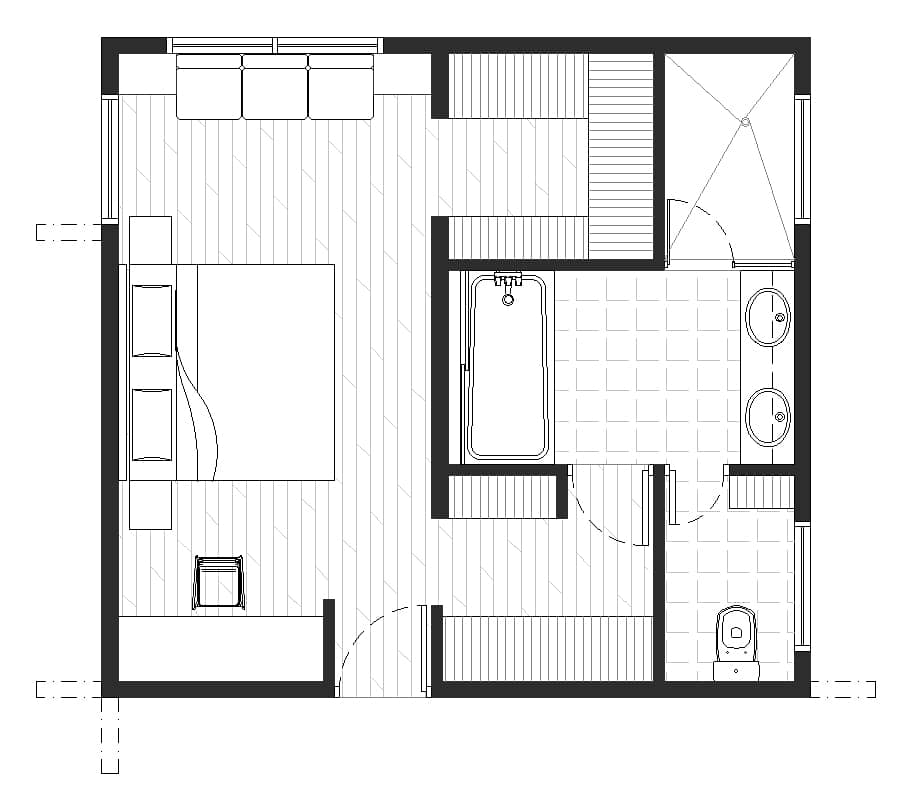 The master bedroom floor plan features a king-size bed with nightstands on each side (1.48ft x 1.31ft), a reading area with a 3-seater sofa, and two tables on each side. The large windows help illuminate and ventilate the room.
The dressing rooms have good storage solutions for clothes, shoes, and other items. You can access the modern bathroom through one of the dressing rooms. Keep in mind that the distance between the two locker room entrances is covered by a 9.18ft long wall that also houses a TV in front of the bed.
The bathroom design accommodates a bathtub (3.28ft x 5.91ft), a vanity with double sinks (1.64ft x 5.91ft), a glass shower, WC, and a 3.94ft window.
Master bedroom floor plan 3
Inclusions and dimensions
Master bed area: 12.96ft x 9.51ft
¾ bathroom: 7.55ft x 5.91ft
Balcony: 9.51ft x 5.91ft
Dimensions:17.22ft x 9.51ft, 10.76ft x 6.23ft
Total area: 202.25ft²
Circulation 1.97ft to 2.95ft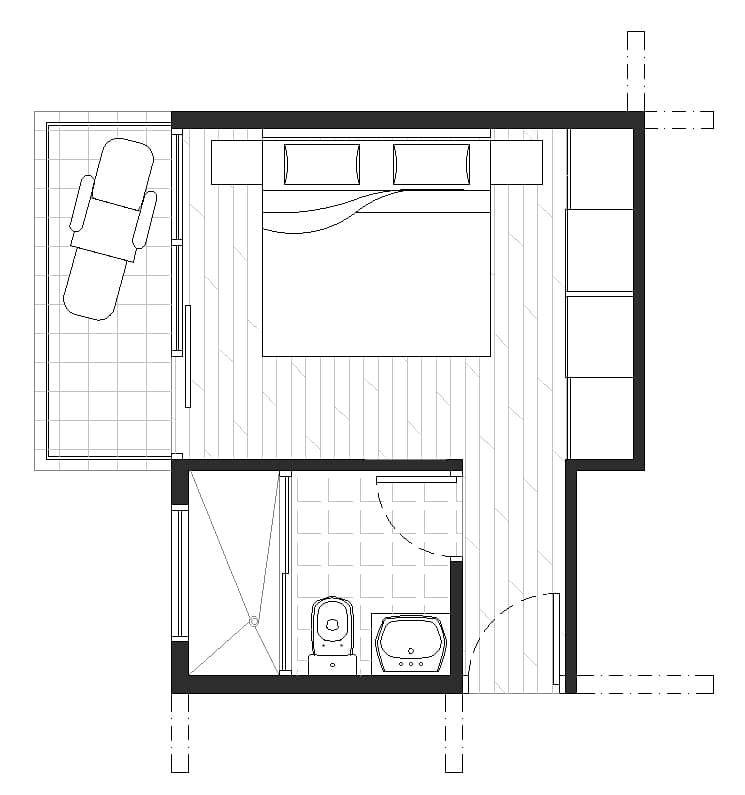 This master bedroom may be on a higher level than the main floor, with adjoining rooms — its access from the right side of the hallway. On entering the room, the bathroom is on the left, then is the bedroom which opens onto a small balcony.
The ¾ bath features a small vanity with a single sink, a toilet, a 2.95ft x 5.91ft shower, and a 3.94ft window in the center.
The bedroom has a king-size bed and 1.48ft x 1.31ft nightstands on each side of the bed. There's a 9.51ft x 1.97ft floor-to-ceiling closet for maximum storage.
The small but utilitarian balcony has metal railings, glass doors, and windows with metal frames. The bathroom doors and windows provide ample natural light and ventilation.
Master bedroom floor plan 4
Inclusions and dimensions
Main bedroom area: 12.47ft x 16.40ft
Fireplace area
Dressing room for two: 16.40ft x 7.87ft
Spa bathroom with makeup area: 10.17ft x 16.40ft
Terrace: 5.91ft x 17.39ft
Dimensions 37.73ft x 16.40ft
Total area: 536.70ft²
Circulation: 1.97ft to 2.95ft
This type of master suite layout is perfect for an upper-floor bedroom.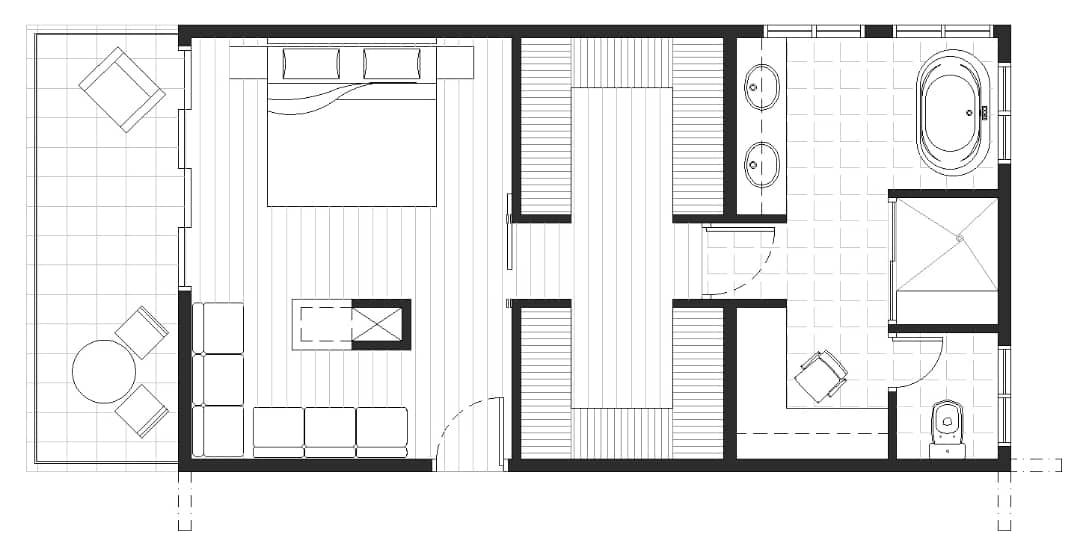 The room has a neat seating area with sofas arranged in an "L" shape. Interestingly, there's a two-sided fireplace, measuring 4.59ft x 1.97ft, that serves as a beautiful focal point in the room. The room opens onto a terrace through sliding glass doors. The large glass doors help in opening up the bedroom space visually. The dressing room has a sliding barn-style door that adds a rustic, French country touch to the area. And, the terrace is big enough for comfortable outdoor furniture, including chairs, a table, a one-seater sofa, and some space for potted plants.
The two dressing rooms are of equal sizes, in a "U" shape (7.87ft x 6.89ft with 1.97ft depth), and offer a practical design for a couple. The bathroom has a shower, with a 1.31ft deep seat, a 6.89ft x 1.97ft double bathroom sink, a bathtub, wall storage with a depth of 0.98ft, two windows, a bathroom mirror, and an "L" shaped cabinet with countertop (5.91ft x 5.91ft x 1.97ft) for a small makeup area.
Master bedroom floor plan 5
Inclusions and dimensions
Master bedroom living area: 20.34ft x 10.99ft
Spa bathroom: 10.24ft x 11.81ft
Dressing room with makeup area: 9.61ft x 11.81ft
Terrace: 8.20ft x 11.81ft
Dimensions: 28.87ft x 11.48ft, 20.18ft x 11.81ft
Total area: 481.98ft²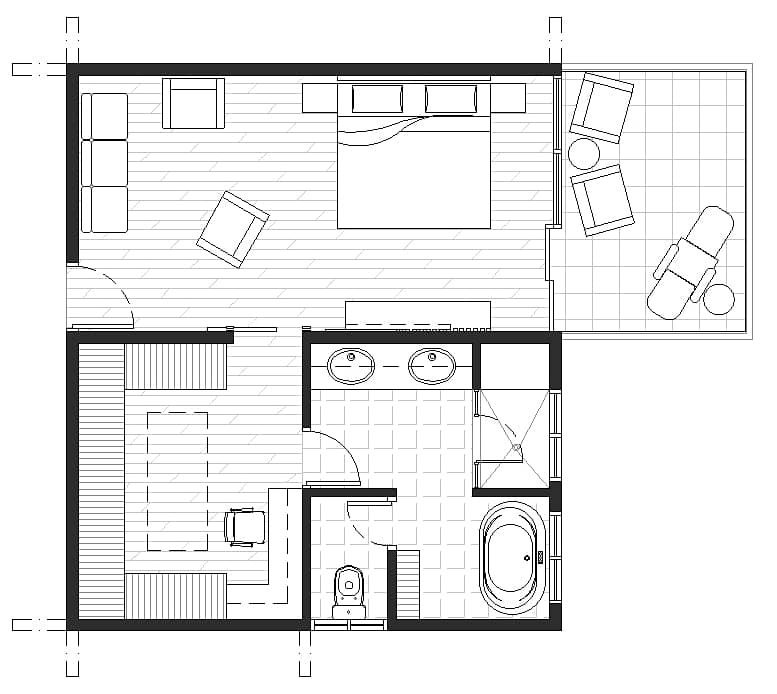 This master bedroom floor plan is a complete space in itself with a large bed, a small, informal living room with three sofas, a dressing room with a make-up area, and a spa-style bathroom. Glass sliding doors lead to the terrace — illuminating the space nicely. If this room is on the upper story, you can sit in the terrace area and enjoy the view of the patio or garden.
There's an "L" shaped cabinet for makeup and other needs, with space for mirrors and shelving up to the ceiling. Interestingly, a 5.91ft x 2.56ft skylight in the ceiling lets in ample natural light into the living area. A barn-type door gives access to the spa bathroom.
The bath has a 1.97ft x 6.96ft double sink, an oval bathtub in a 3.28ft x 5.25ft space, a shower, a toilet, and good storage.
Master bedroom floor plan 6
Inclusions and dimensions
Master bedroom living and desk area
Fully-equipped bathroom: 9.51ft x 10.99ft
Dressing room with makeup area: 9.51ft x 11.15ft
Balcony: 3.98ft x 10.83ft
Dimensions: 23.46ft x 10.83ft, 19.02ft x 11.15ft
Total area: 410.17ft²
Circulation: 1.97ft to 3.28ft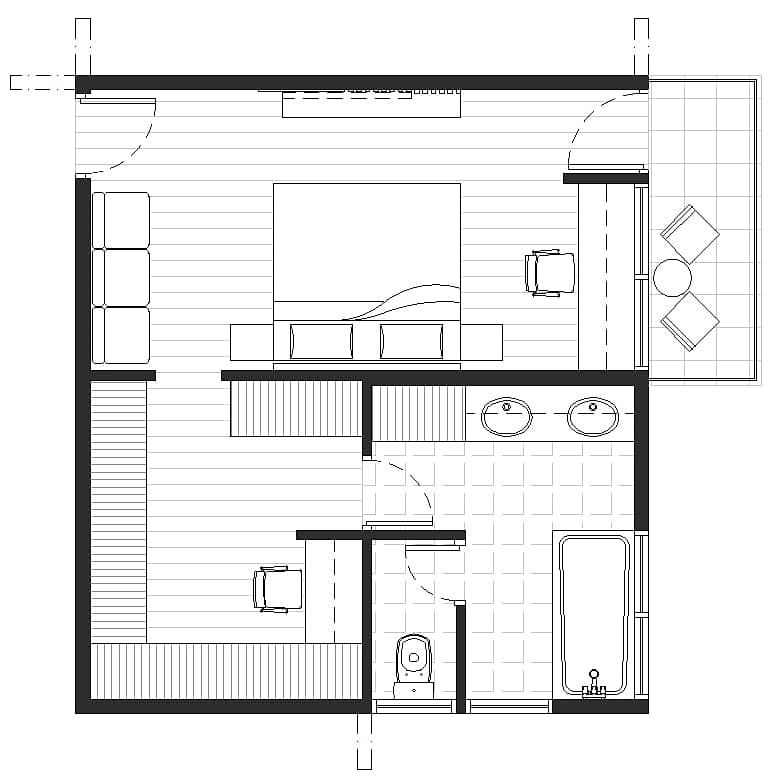 The room has a rest area, a king bed, a shelf with TV, a work desk, a sitting area with a three-seater sofa, a balcony, a dressing room with a makeup area, lots of storage, and a full bath with a tub and shower. Glazed metal windows and the door to the balcony ensure natural lighting and ventilation of the room.
Our architect recommends livening up the balcony with plants in pots or containers, palms or perennials that are low maintenance, and remain in good condition all year round.
The walk-in closet features floor-to-ceiling "L" shaped storage with a width of 1.97ft. A 3.61ft x 1.97ft makeup cabinet with drawers keeps the space clutter-free and organized.
The full bath has a 3.28ft x 1.97ft built-in storage unit, toilet, bathtub with shower, and windows for bathroom lighting and ventilation.
While you can use this design at any level of the house, you will need to adjust it accordingly to open onto a patio or a terrace.
Last thoughts
We hope these master bedroom floor plans will inspire you to create year-round luxury and comfort in your primary bedroom in any style home. Using these beautiful and practical designs, you can add a spacious suite with a fully loaded bathroom and tons of closet space in your home plan, and enjoy your bedroom for years to come!
Read more: Luxury home plans by architect
Inspiring master bedroom floor plans by an expert architect
was last modified:
December 15th, 2022
by
Recommended