Whether you want to choose the best bathroom vanities with tops for a complete bathroom remodel, or are looking for a way to glam up your existing space — there are numerous beautiful, functional choices today.
Planning a renovation for your bathroom? Try our free bathroom remodel cost estimator; it's easy and convenient to use!
You just need to narrow down your search for the ideal bathroom vanities with tops to your requirements — in material, looks, style, and price range.
So, if your existing bathroom vanity looks a tad dated, maybe too big or too small, you can change it easily. Fortunately, changing a bathroom countertop is not as complex as changing a kitchen countertop. If you're a handy DIYer, you can do it yourself or else can always hire a professional contractor or home decorator for the job.
Generally speaking, the price for replacing bathroom vanities with tops range from $5 to $135 per square foot depending on the type of vanity top.
Fortunately, most surfaces that work in the kitchen, will also work in the bath. The reason is that bathroom vanity tops see less wear and tear than kitchens. However, choosing the right one is crucial.
So, let's endeavor to explore the different types of bathroom vanities so that you'll have an easy time choosing the best for your house. For your convenience, we have divided the types in terms of materials, style, bowl-type, and size.
Instantly estimate the cost of your remodel...
...or take your time to personalize dozens of choices to transform your house into your dream home.
Popular bathroom vanity materials
Like kitchen countertops, bathroom vanity tops can be made from a variety of countertop materials. Almost all of them come in a variety of colors, textures, and prices. Here's a quick look at the five most popular bathroom vanity surfaces.
A granite countertop is quite popular with homeowners. The surface comes in a wide variety of colors with each slab looking unique and durable. You can choose patterns ranging from subtle to bold.
Granite is hard, scratch-resistant, and requires minimal upkeep. Most importantly, the material adds to the resale value of your home!
A granite bathroom vanity will cost you about $50 to $100 per square foot. Although it's at the high end of the price spectrum, it's a good investment as it really lasts long.
Take a look at these tips on how to decorate a modern master bathroom
Marble has been synonymous with luxury and good taste for the longest time. And, for good reason; this long-lasting, strong material looks stunning. It can be either polished to a bright shine or honed for a more causal matte finish.
Interestingly, a marble countertop is a crystalline form of limestone. It looks great whether in an all-white avatar, light gray, black, or colored. However, it's a high-maintenance surface. It requires periodic re-sealing as it's porous. This is also the reason it's prone to stains, scratching and etching.
And, marble comes at a high price. Typically, it costs $125 to $150 per square foot. Just for your info: if you're looking for something trendy and less expensive, you may opt for a white Carrara marble top or cultured marble top vanity set.
Quartz is a man-made material that uses 95% natural quartz dust and chips which are bonded together with resins and pigments. For this reason, quartz is perhaps the most durable surface. The stone is then colored and shaped into bathroom vanity tops or kitchen countertops. Popular brand names include Caesarstone, Silestone, and Cambria.
A quartz countertop is tougher than granite and fortunately is naturally resistant to moisture, stains, and bacteria. Moreover, it does not even require sealing. The only downside to such a surface is that it needs to be cleaned regularly lest you want your fingerprints and dirt to show.
The cost of a quartz vanity top ranges from $60 to $100 per square foot.
A durable mix of crushed stone and acrylic resin, solid surfaces are perfect for a contemporary décor. They look as great as natural stone and are virtually seamless. Such a surface is naturally resistant to water, bacteria, and stains. And, is available in a myriad of patterns.
However, keep in mind that darker solid surfaces may show scratches over time. Also, this surface is prone to be damaged by intense heat or if heavy objects are dropped on them.
If you're looking for top brands, Corian, Gibraltar, and Formica are some good manufacturers. As far as cost is concerned, most solid surfaces range from $40 to $100 per linear foot.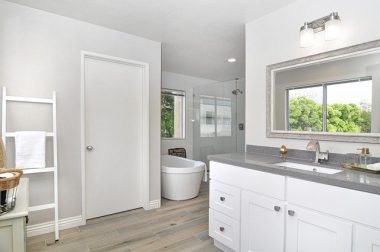 The appeal for a concrete countertop comes from its organic look. It can almost mimic natural stone and yet comes in a variety of colors, textures with decorative inlay work. Generally, such a surface is a little difficult to install and has been known to crack. It's usually cast on-site, keeping the exact dimensions, edge style, and shape in mind.
Needless to say, it's a durable surface and eco-friendly. But again, since it's porous it demands a lot of maintenance. You'll have to wax and seal your vanity top regularly.
The cost of a concrete top ranges from $65 to $135 per square foot, excluding installation.
Popular vanity styles
Bathroom vanity tops come in three basic categories: integrated vanity top, cut-out vanity top, and vessel sinks that sit atop the counter. Each style is available in both single-sink bathroom vanities as well as double-sink bathroom vanities.
As the name suggests, the bathroom sink basin is incorporated into the vanity top. It's either molded into the countertop itself like a fused sink, or is attached below the vanity top. Remember the older style of sinks like the cultured marble top? Here, the sink basin was molded as a single unit with the same material as the vanity top. Today, the same principle is used in modern bathroom vanities with almost no visible seams.
The advantage of an integrated sink is that you do not need to buy a separate sink basin. It's already a part of the vanity top. Moreover, there's no raised rim or lip on the sink. This feature increases countertop space, even if slightly.
These vanity tops have large cutout openings for separate sink basin(s). The sink is either designed for a drop-in installation aka self-rimming or is caulked into place like an under-mount sink.
The advantage of a cut-out vanity top is that there are many choices available on the market. Whether you want a natural Carrara, white single slab of marble, a white double sink bathroom vanity, or a stone top — the choices are endless.
Already picked a favorite? Take a look at these Factors to Consider for the Right Modern Bathroom Vanity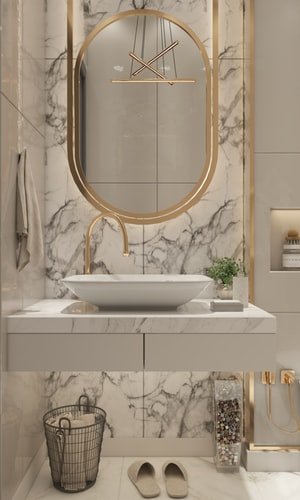 If you're looking for a stylish and trendy bathroom sink, a vessel sink with its elevated basin resting on top of the vanity top is your go-to option. Usually, there's a small hole for the sink basin's drain fitting. Other times, you'll have to drill out the drain opening yourself.
Take a look at our ultimate guide on everything to know about bathroom faucets.
Popular sinks based on the number of bowls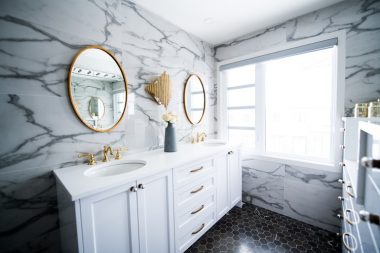 As mentioned earlier, all the above bathroom vanities with tops can be either single-basin or double-basin types. For instance, you can have a single-bowl or double-bowl integrated vanity top (with two basins).
Both types of fused sinks have the advantage of having a uniform appearance and do not require any caulking.
But on the downside, a crack in the sink basin will mean that the entire vanity top will need replacement.
You can also have a single basin or double basin cut-out vanity top — offering you design flexibility as you can choose your own sink. You can opt for either a top-mount self-rimming sink or an under mount one.
A double-basin cut-out vanity (stretching as long as 88 inches) will be ideal for a longer bathroom vanity. Apart from the two cut-outs for sink basins, it'll also offer you generous counter space. You can even customize your bathroom cabinets, bathroom mirror included.
Vanity sizes
A bathroom vanity top is sized to match your bathroom vanity cabinets, plus have a slight overhang at the front and sides. Most bathroom vanity base cabinets range from 24 inches to 60 inches in size. The typical depths range from 17 inches (for a small bathroom) to 23 inches (for a standard-sized bathroom). so, you can choose your bathroom vanity accordingly.
Last words
We hope these different types of bathroom vanities with tops will help you sift through the options for your home improvement project. Whether you're looking for a marble vanity in white or a quartz top in shocking pink — the world (in this case your local hardware store!) is your oyster. Choose well!
Further bathroom tips? Look at our Short Guide on Bathroom Towel Racks!
Know the Different Types of Bathroom Vanities With Tops?
was last modified:
September 28th, 2022
by
Recommended