An important part of any bathroom remodel is changing the faucets — one of its most visible crown jewels. Thankfully now, bathroom faucets are no longer the traditional, low-profile fixtures that were there just for utility.
Today, homeowners have many bathroom faucet choices thanks to the array of types, shapes, finishes, and even costs. Be it a bathroom sink faucet with drain, a vanity sink faucet, a tub and shower faucet, or a bidet faucet — the modern bathroom faucets offer a world of possibilities including, convenience of usage and water conservation.
So, if you're thinking of replacing your outdated bathroom faucets, this buyer's guide will tell you everything there's to know about bathroom faucets.
Planning a renovation for your bathroom? Try our free bathroom remodel cost estimator; it's easy and convenient to use!
FYI: Painting your old bathroom faucets to give them a new look is certainly possible, but it's not an easy job. Generally speaking, the painting work is not the problem. It's the prep work, taping, papering, and the covering of all nearby things that's a lot of work.
It's best to change your leaky or outdated faucet altogether. Replacing the bathroom faucet is not a difficult task. A handy DIYer can tackle the project with common tools such as a basin wrench. The work generally takes no more than about an hour. However, if you have no prior experience of installing a new faucet, it's best to hire a professional contractor for a seamless job.
Whether you change the faucets yourself or have someone else do it for you, the first thing to know is that bathroom sink faucets and tub faucets (or any other faucet for that matter) are not interchangeable. They have different water flow rates, installation types, and features such as thermostatic controls or hand showers.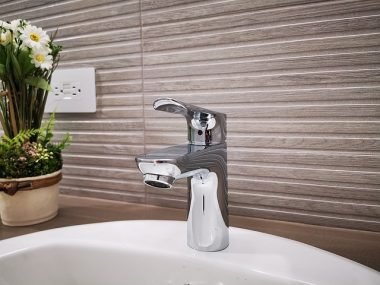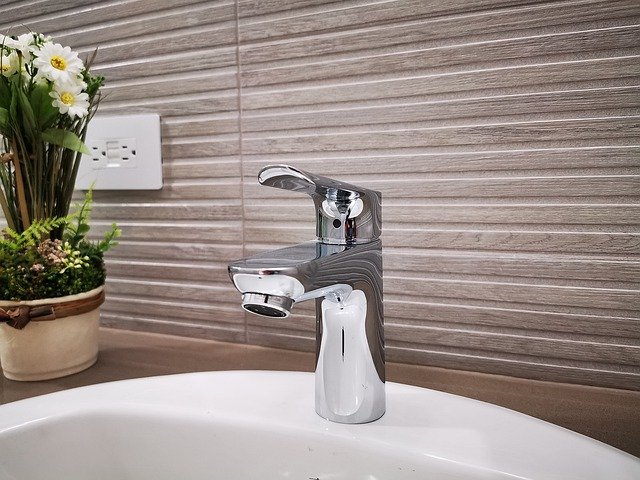 No wonder, choosing the right bathroom faucet can be a tricky affair. You need to consider factors such as the specific function, faucet opening, features, size and design of your bathroom, how many faucets you require, and your budget.
No matter what your preference is, know that the cost to install a bathroom faucet is usually between $150 and $550. It averages around $240.
So, coming back to our point, there are many different types of bathroom faucets available. Needless to say, there's no one answer to which bathroom faucets are the best. Your selection depends on the most suitable type of faucets for your bathroom, the right color, finish, style, other bathroom fixtures, bathroom size, and the overall feel and theme of the room.
Here are the most popular types of bathroom faucet types and designs to help you make an informed decision during your bathroom renovation.
Bathroom faucet type
Whether you're retrofitting a new faucet to an existing sink or buying a new one, be sure to match the type of faucet to the sinkhole openings.
Single-hole faucets
These faucets have a spout and mixing handles — usually in a single lever. So, you require only one drilled sinkhole. Single-hole faucets are perfect for smaller sinks, like in the case of a powder room or a half bathroom. They are simple yet modern.
Take a look at these factors to consider during a Half Bath Remodel
Center-set faucets
These faucets work well on basins with three holes for the handles. These are usually drilled 4 inches apart. They can either have a single lever or two handles — mounted on a 6-inch plate. Such a faucet design is ideal for most bathroom sinks.
Widespread mount faucets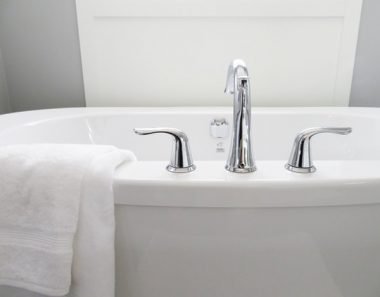 These faucets have three separate pieces: two handles and one spout. Quite obviously, the three pieces together are larger than other types of bath faucets. Fortunately, you can choose their smaller versions, rightfully called mini spreads. While the distance between the handles in a standard widespread mount faucet is at least 8 inches, mini spreads have holes drilled 4 inches apart.
Wall mount faucets
As the name indicates, these faucets are attached to the wall, instead of being attached to the sink or to the counter. Their longer spouts extend well over the top of the sink bowl. And, they are available in a wide variety of styles, sizes, colors, and finishes.
Vessel faucets
Perfect for vessel sinks, these faucets sit higher than other sink types. The tall faucets typically come as a single handle.
Whichever kind of faucet you choose, keep in mind that not all faucet types work with every sink. There is no single standard size for all bathroom faucets. For instance, a center set faucet unit will measure 4 inches on center while a wide set faucet will measure between 8 and 16 inches on center.
Therefore, it's crucial that you ensure that your faucet fits your bathroom sink or basin perfectly.
Faucet finishes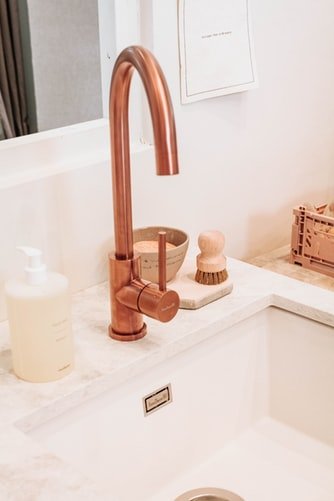 Photo by Micheile Henderson on Unsplash CC0
Today, most faucet manufacturers can boast of lifetime warranties for their faucets and finishes. Thanks to the technology of protective clear-coat sealers.
The only downside is that there are too many options to choose from! You could select polished, matte, or brushed chrome faucets (the most popular choice), polished, hammered, or brushed nickel faucets, stainless steel faucets, bronze faucets, brushed bronze faucets, oil-rubbed bronze faucets, polished or antique brass faucets, copper faucets, iron faucets, ceramic faucets, or even real gold faucets. Phew!
Plus, you can have a combination of finishes. And, don't get us started on the numerous faucet colors available!
Whichever finish and color you choose, keep the following points in mind:
Match your faucet color and finish with your bathroom fixtures and accessories.

Coordinate all your finishes with your

towel racks

,

bathroom lighting

fixtures, and door hardware.

While polished finishes look elegant, they require constant upkeep.

Brushed finishes hide water spots and fingerprints well. For example, the spot-resist brushed nickel faucet is a good choice.
Bathroom faucets based on construction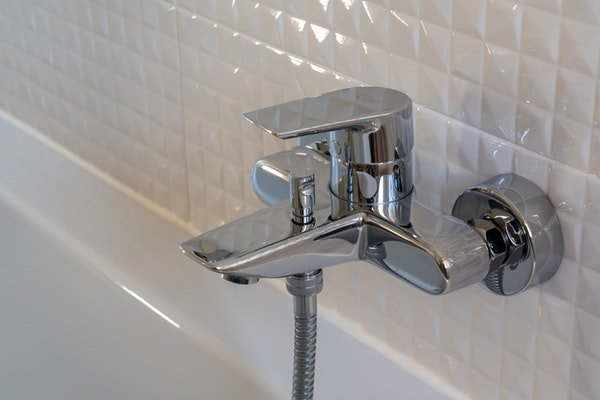 Needless to say, every kind of faucet comes with an inner valve that controls the flow of water through the spout. The valve quality and whether the faucet is with or without a washer affects the reliability and durability of the faucet.
Faucets with a washer
Compression-valve faucets:

These faucets work through a stem that rises and falls to open and close the water's passageway.
Read more: Bathroom faucet removal problems
Washer-less faucets
Ball faucets:

These faucets come with a rotating metal or plastic ball that regulates the incoming water. Since they have only one moving part, they work well and last really long — especially with a metal ball.

Cartridge faucets:

These faucets use rubber O-rings (inside a cylindrical cartridge) to control the flow of water. Such faucets are reliable, especially if they have a brass cartridge.

Ceramic disc faucets:

The faucets have two ceramic discs — moving against each other in a shearing action to block water or allow it to pass through. The best part is that the seal is watertight as the discs are almost flat. For this reason, such faucets are nearly maintenance-free.
Further bathroom tips? Look at our Short Guide on Bathroom Towel Racks!
Bathroom faucet types based on water control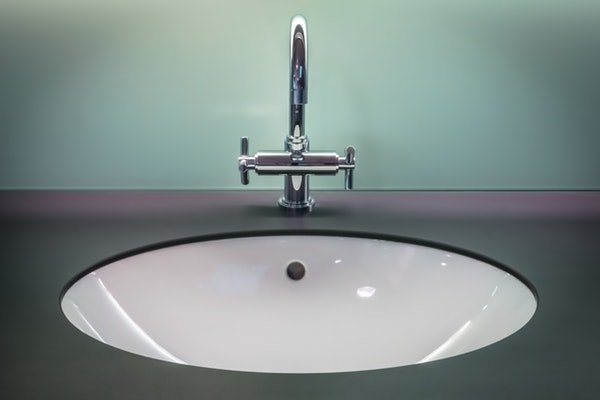 Do not underestimate the simple act of turning a bathroom faucet on or off. Even here, you will have a variety of options to choose from. Here are some ways you can turn your faucet on or off:
Cross handles

Joystick

Knobs

Lever handles

Push buttons

Touch-less or motion-activated faucets

Touch-activated faucets
Water-efficient faucet designs
Today, there's a need to conserve water like never before. In fact, the Federal Energy Management Act of 1992 has made it mandatory for new faucet fixtures made in the United States to have a maximum flow rate of 2.5 gallons per minute (GPM).
This American standard is a great effort for water conservation. In 2008, the Environmental Protection Agency (EPA) put forward a program called WaterSense®. It asserts that by installing any WaterSense faucet, a householder can save more than 500 gallons of water a year on average! Newer faucets use this technology to achieve the frugal flow. It's either built into the faucet or applied to the aerator — the tiny screw-on tip that fits the faucet.
Since energy-efficient faucets use less water, they generate lower utility bills. So, it's a win-win situation for every homeowner.
Read more: How to Hire the Best Bathroom Remodeling Contractors?
Want to Learn Everything About Bathroom Faucets?
was last modified:
May 20th, 2022
by
Recommended