Buying a new mattress can be slightly overwhelming due to the many options available on the market. More so if you suffer from back or neck pain. A comfortable mattress can induce a good night's sleep – making your day ahead stress-free. After all, you spend more time in bed than on any other piece of furniture in your home.
When it's time for buying a new mattress, knowing what to look for will help you make the best choice. Spending a little time researching your mattress options can pay off big time by improving your comfort and well-being for years to come.
In this article, we'll give you handy tips on how to select the best mattress to suit your lifestyle and comfort level. Remember that buying a mattress is an investment that can affect your spine health and sleep quality. Before buying a new mattress, always try to keep the following tips in mind.
Understand the different types of mattresses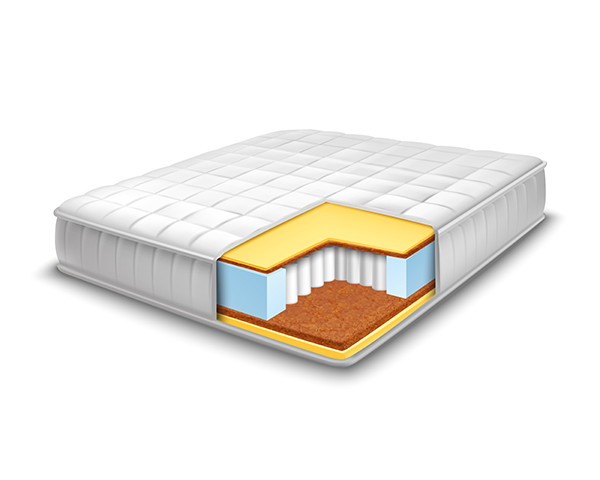 Mattresses are constructed with varying firmness. However, keep in mind that a mattress that's too soft or too hard may not support your spine properly so it's important to choose comfort over style or trend. Here are some of the most common mattress types, and how they're designed.
Innerspring mattress: It is one of the most popular mattresses. Made using coils and layers of padding, it provides a strong support and a bouncy feel. The level of support is determined by the number of coils and the padding layers.
Latex mattress: Made from latex material, it provides better bounce and responsiveness than innerspring mattresses. And is conducive to a cool, comfortable sleep.
Memory foam mattress: This mattress has a firm inner core of memory foam that contours to the body and adjusts to the body temperature. Apart from providing good support, it may also help in pressure relief.
Hybrid mattress: This mattress type is a combination of memory foam or latex layers and innerspring mattress – providing a good mix of support and softness.
Air bed or air mattress: This type of bed provides core support using the concept of air chambers. You can use an air pump to inflate the mattress to the firmness level you want.
Adjustable bed: Here, you can raise or lower certain parts of the bed. It's ideal for those who sleep better at a slightly inclined position or those with certain back conditions.
Know what your doctor recommends
If you're suffering from a long-standing back or neck condition, or an old injury, it's best to talk to your doctor or physical therapist for recommendations. After all, they know your medical history inside out and will give you the best advice. They would have a good idea of how you can better your spinal alignment. A mattress that helps you be in a neutral position while lying down will do you a lot of good.
Physically visit mattress stores and try out options
Go to a mattress shop and browse through all the choices. And when we say browse, we mean you should lie down on different mattresses for a minimum of 10 minutes each. So what if people stare at you? Let them. Buying a new mattress is an important investment — financially and health-wise. Therefore, it's important to take your time and choose the most comfortable option.
Don't fall for marketing gimmicks
While mattress manufacturers may call their products "orthopedic" or "medically-approved", there's generally no evidence or validation for such a claim from a certified medical organization. You should test the orthopedic-friendly qualities yourself.
Don't opt for a very hard mattress
Research has indicated that buying a medium-firm mattress is a better idea than buying a hard mattress. Especially for those with a lower back problem. Keep in mind that there's a difference between firm support that's comfortable and firm feel that's not so much.
Browse through customer reviews
Any mattress company will obviously want to market its products in the best way. That's why you should go a step further and seek out an unbiased review from past users of that particular mattress and its company. Go through all the online reviews – whether positive, negative, or mixed. 
Use social media to ask for recommendations
You can utilize social media to ask your online friends and family for the best recommendations. Make sure you mention details about your health conditions so that the suggestions are indeed helpful for you.
Check for trial periods, warranties, and return policies
It's important to read the fine print and understand all the details before buying a new mattress. Most mattress companies worth their salt offer a trial period to their customers. This kind of scheme guarantees free returns within a certain time frame if the user is unsatisfied with the specific product. Also, you must verify that there's a warranty in case the mattress has a manufacturing defect.
Don't equate high price with high quality
A costly item may not always be the best. Don't assume that a higher price tag will always get you a better mattress. And it certainly does not guarantee you maximum comfort. Always go for quality. And, there's no shortcut to good research. Read up on the model you're planning to buy before finalizing it.
Buy a good mattress cover
Once you've zeroed in on the best mattress for yourself, it's time to take good care of your investment by buying a mattress protector or a waterproof cover. Remember that if you get stains on your new mattress, it will void the warranty. Moreover, you don't want anything to happen to your expensive purchase, right?
How long do mattresses generally last?
Most quality mattresses usually last anywhere between seven and 10 years. Of course, there can be a lot of factors influencing your mattress's lifespan. These include the quality of the mattress, the mattress material, its weight, and even your sleeping style.
Read more: Ways to make your bedroom mattress last long
What are some signs of a bad mattress?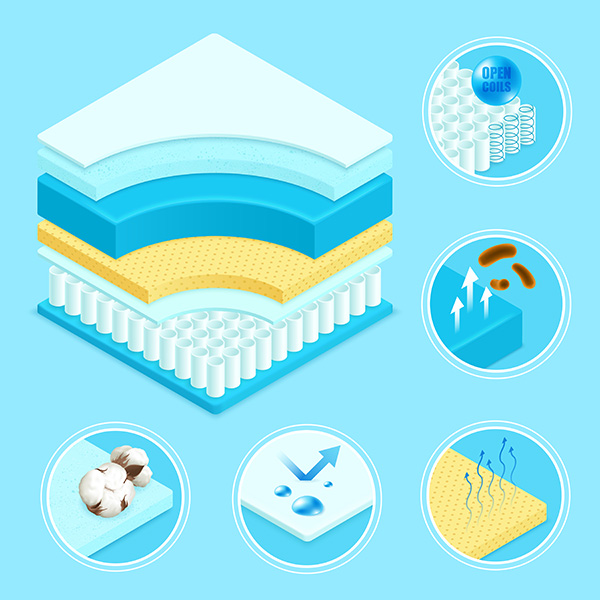 If you've been sleeping on the same mattress for over 10 years, it may be time to replace it. Here are a few things that will indicate that you need a new mattress:
You wake up tired or can't seem to fall asleep comfortably.
You often experience body aches and pains.
The mattress looks and feels lumpy as well as uneven.
Any movement while sleeping lets out creaks and squeaks.
Read more: How to deep clean a mattress at home
How much does a mattress cost?
A good mattress does not come in a one-size-fits-all price range. You can spend as little as $250 or as much as $3,500 for a new mattress depending on the brand, mattress size, material, and location.
Read more: Best time to go mattress shopping
Last thoughts
There's no denying that a good night's sleep can help you feel refreshed and re-energized. And nothing gets you better sleep than a comfortable mattress. No wonder doing your research and choosing the best mattress is a vital part of the mattress buying process. We hope the above tips will help you find the most suitable one.
Read more: How your mattress affects your sleep and health
A handy guide for buying a new mattress
was last modified:
June 19th, 2023
by
Recommended