The bedroom should be the most peaceful place in a home, we spend about a third of our lives in it. For this reason, elements should be chosen that contribute to the search for that tranquility. This includes choosing a calming color for a bedroom.
The most relaxing colors for a bedroom should not be overwhelming but distracting as a focal point, adding serenity and peace. Usually, the colors that have these characteristics are pastels, whatever the color. As well as going for the classic white.
What is the most calming color for a bedroom?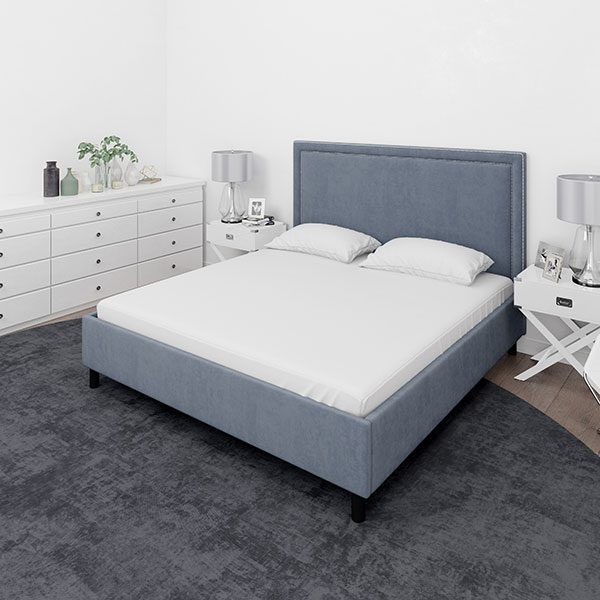 According to Dominic Myland. Blues will always be a great choice as they evoke the sea, and the sky and convey tranquility and serenity. You have different shades of blue such as sky blue, baby blue, light blue, bluish-gray, deep blue, sea blue, Indian blue, and infinite shades to play with this color.
You can also combine it with green and obtain a teal color.
They often bring tranquility to spaces because of their soft tones and can be combined very well with other colors and elements.
Colors in general can be used alone or combined with others to achieve harmonious and sophisticated spaces.
Soothing colors for a bedroom
Color choices can mean looking for a needle in a haystack, the best thing you can do is to look for ideas and project how you would like your bedroom to look. Just as here are some ideas to inspire you, you can also do it with an interior designer.
Sue Wadden, director of color marketing for Sherwin-Williams, suggests looking inward before choosing a color. "Color can help shape our everyday environment and influence our mood," she says. So when choosing colors, people should think about how they want the space to make them feel and let their emotions guide their decisions."
What color is calming for a bedroom?
Here is a great quantity and variety of colors but we leave you our favorites.
Shades of blue
There are different shades of blue. All of them with wide combinations of colors and decorative elements. There is sea blue, which is vibrant and refreshing. Baby blue and light blue, which are pastel shades and can mix with white or gray, giving it character while still relaxing. Deep blue is an intense pigment that makes it a distracting focal point.
Baby blue combined with a soft green gives the teal hue. It makes one of the colors that most evoke tranquility and calmness. The founder of Clare Paint, Nicole Gibbons, also turns to blues and neutrals to create a relaxing atmosphere. "I love using serene, understated blue and neutral shades to create a sense of instant calm in a space," she says. "Blue greens and soft grays can feel especially tranquil and instantly put you at ease."
Green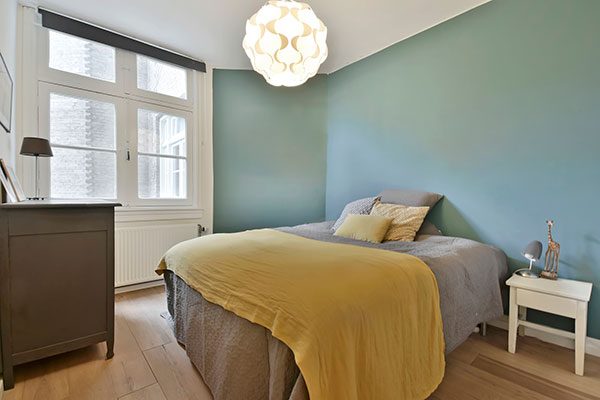 There are pastels and darks. Lean towards pastels to give the feeling of spaciousness and calmness and use the darks as focal points, i.e. a single painted wall, which draws the user's attention to it. You can combine them with gold, white, gray, etc. elements.
Pink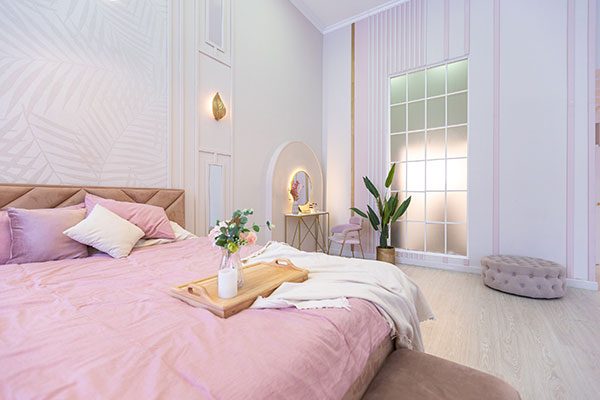 One of the most interesting and rarely used colors. They can mix with brown tones to achieve vintage environments or with oranges to achieve environments full of life. They are easy to combine and mix.
Warm beige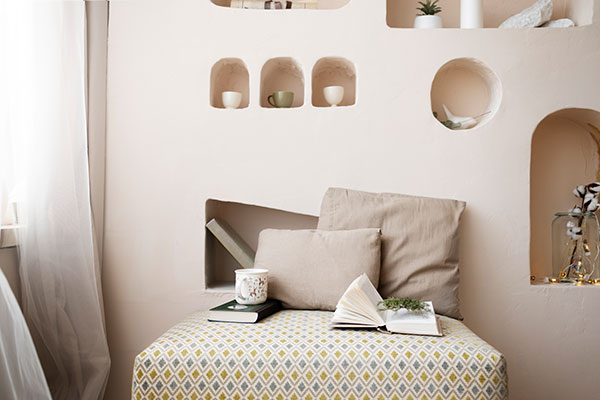 Classic like white. A palette of beige tones never disappoints and achieves its purpose. To create a sober, calm, and elegant ambiance. It can combine with white, brown, and golden elements.
Earthy tones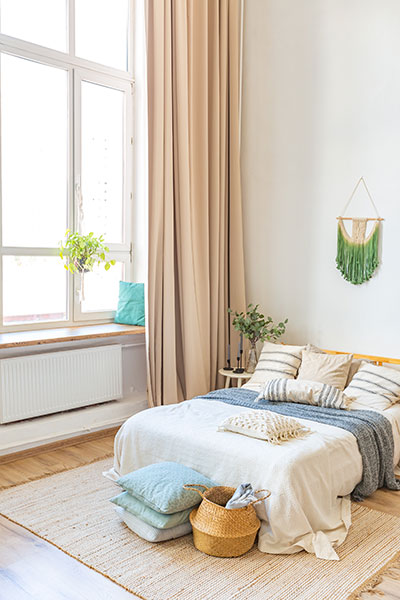 It seems crazy that talking about pastel tones, this palette must to included. Well, it is one of the classic combinations par excellence, including greens, oranges, blues, and yellows, which achieve a balance between painting, decoration, and structure of the room to achieve a relaxing and pleasant atmosphere, where you want to be a while.
Pretty peaches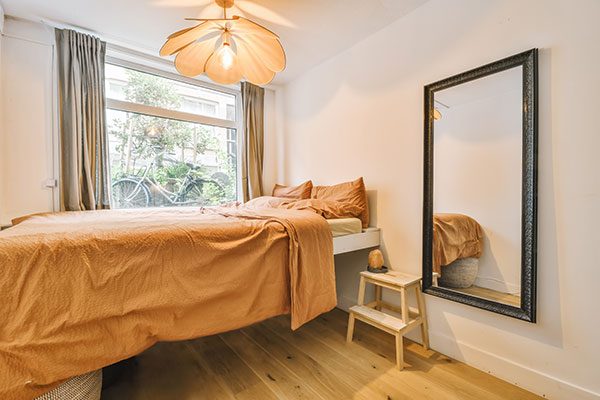 Like pink, peach is an underused color. It is striking and vibrant and can be combined with white, earth tones, beige, pinks, and yellows along with gold or blue elements for contrast.
Sage gray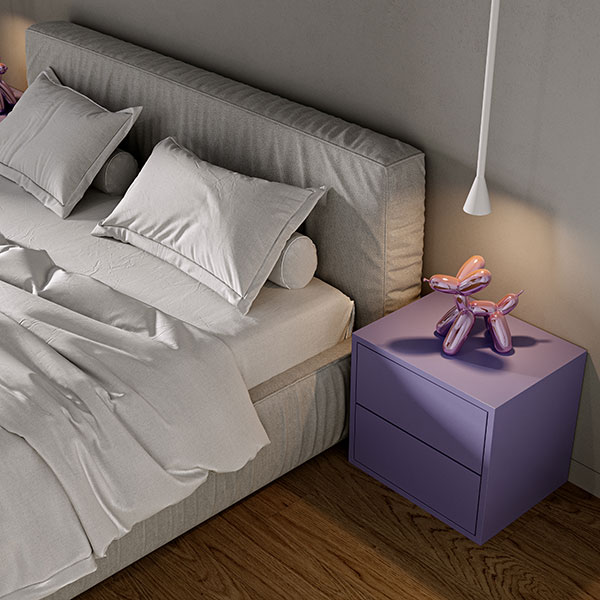 There are an infinite number of shades and, like white and beige, they provide sobriety and elegance, as well as the versatility of being able to combine them with other colors and tones to create new ones or to complement them. Opt for the light ones.
Lilac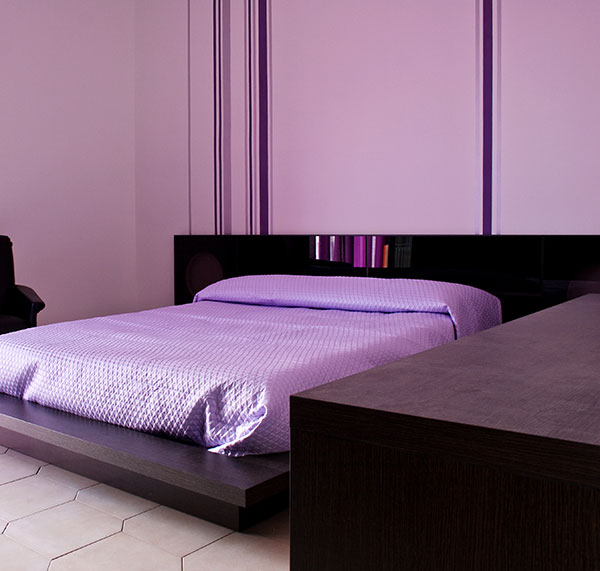 If there is a color of the season, it is lilac. Since 2020 it became a trend in social networks, wardrobe, and also decoration, being one of the most combined colors for its versatility, from emerald green to purple are perfect for this tone.
Always use the necessary tools to choose the right colors for your bedroom, don't take it easy. You have at your disposal a chromatic circle to create your own color palette.
How to choose calming colors for a bedroom?
was last modified:
December 23rd, 2022
by
Recommended