Bedroom walls always need to be special. Here special doesn't necessarily mean fancy extravagant interior decoration or expensive accent wall colors. Bedroom decorating can start with choosing the right bedroom paint colors. The bedroom is where a person normally recharges his/her body, mind and soul. It is thus crucial to choose the best color for bedroom walls correctly. The most interesting fact in this regard is that the color that works best for you may not be suitable for someone else. There is no right or wrong when it comes to choosing your favorite color for the master bedroom walls. If it feels right, it is right for you. Here's our list of top 11 bedroom wall colors for you check out!
1. White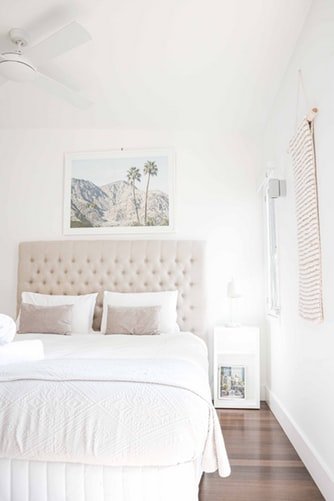 Photo by Kim Schouten on Unsplash CC0
White universally stands for peace and purity. Give your bedroom the pure touch of white for a happy sleep, every night. Match it up with suitable decor to make things more romantic. It is all about setting the tone right.
If you want to know the cost of your new bedroom, try our free estimator tool to see how much your bedroom remodel cost would be!
2. Lilac
What can be prettier than a romantic evening dinner with your loved one? Maybe a good night's sleep in an awesome bedroom with lilac walls? If you have an artistic bent of mind, you can never say no to this exquisite color combination. If you are looking for colors to create magic, lilac is surely one of them.
Top Guest Bedroom Ideas For a Perfect Modern Home.
3. Light green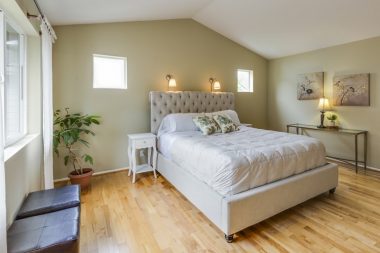 Photo by Francesca Tosolini on Unsplash cc0
This elegant color is sure to make your love life more exciting. This light green has a certain smartness about it that is very hard to ignore. Allow some natural light to make the room feel bright.
Traditional vs Contemporary Bedroom: What's Your Style? Take a look at our guide!
4. Grey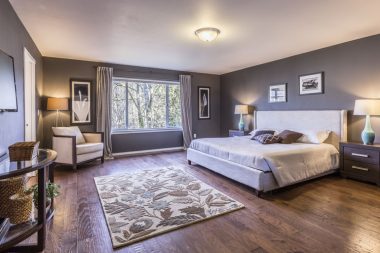 Photo by Francesca Tosolini on Unsplash CC0
If you are planning to decorate your bedroom with attractive modern decor, try painting the wall grey. If you manage to choose the right furniture, the end result will look amazing. However, this color may make the room look dark. Hence, make sure you have sufficient lights installed. Grey is a great choice of color to paint your bedroom walls.
How To Decorate A Bedroom For Ultimate Relaxation? Let's see these tips!
5. Light brown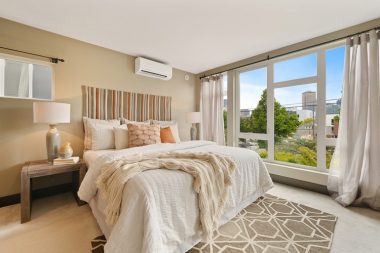 Photo by Im3rd Media on Unsplash CC0
This color is perfect for a classic setting and a bedroom that gets plenty of sunlight. Use wooden furniture to make the most out of this soothing color. You may also choose to hang paintings to make the walls look more attractive.
6. Blue
What is the first thought that comes to your mind when you see this? Freshness, right? Blue has a unique sense of freshness and calmness that is sure to brighten up the mood of your bedroom. Place some natural flowers in a vase next to your bed for the perfect decorating idea. 
Read more: Calming colors for a bedroom
7. Black
Black is a dark color that is not normally associated with bedroom walls. But if you look at this picture, very few bedrooms can look as smart as this. The trick is to use it in combination with white along with the right furniture and decor. This makes for a very modern bedroom setting.
8. Dark blue
This shade of blue is an extremely elegant color that has a very deep feel about it. Couple the dark blue walls with a deep blue bed cover for a magical effect. You will fall in love with your bedroom once you apply this breathtaking color on the walls.
Read more: Guest bedroom design by architect
9. Light pink
Light pink is traditionally a feminine color and goes best for the bedroom walls of your darling princess. This color has a very free-spirited feel about it that is very difficult to not notice. Use some nice paintings to amplify the beauty of the walls.
10. Olive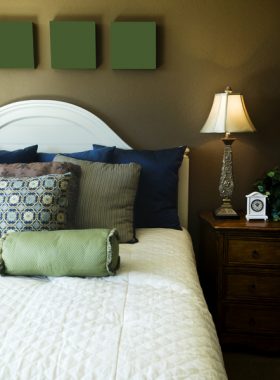 Photo by Pxhere CC0
Olive can give your bedroom a very rustic beauty that can be an artist's dream. The challenge is to pick the right interior decor to make the most of this splendid color.
11. Yellow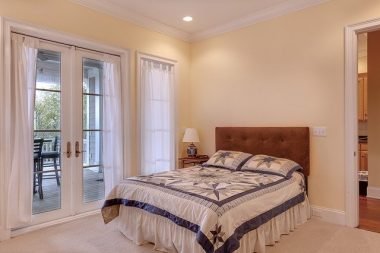 This is a very classic bedroom set with beautiful yellow colored walls. The best part about yellow is that apart from being a very bright color, it also goes well with most home decors. If you manage to get the right kind of light, the yellow walls of your bedroom will always keep your spirits high.
A new color on the old walls can give you the feel of a new home. Now that you have checked the top 11 colors, pick the best color for bedroom walls today! Once you have finalized the color, get in touch with a professional for a home renovation quote. Happy new home to you!
Want some nice kid's bedroom ideas? Click here.
A Guide on the Best Color for Bedroom Walls
was last modified:
January 3rd, 2023
by
Recommended