Planning a shower replacement because it's outdated, damaged, or moldy? Or, are you simply bored looking at the same shower for years? We understand.
After all, a shower system is a cornerstone of your daily routine. This is where you start your mornings and unwind after a long day.
The good news is, you can have the bathroom of your dreams quickly and affordably if you keep certain shower-related points in mind.
In this article, we'll simplify shower replacement for you by explaining the things that you need to consider before taking a step towards this home improvement. Keep in mind that your shower should be durable, stylish, and easy to maintain.
Let's begin by demystifying the cost of a shower replacement for a first-time homeowner.
Let's see the Pros And Cons Of Doorless Walk-In Showers
How much does it cost to replace a shower?
Shower replacement typically will cost you anywhere between $1,500 to $5,000. The average cost to replace a shower is approximately $3,000.
This amount depends upon a lot of factors, including the complexity of the remodeling, plumbing upgrades, luxury features, number of bathroom fitments, zip code, and the local labor costs.
Instantly estimate the cost of your remodel...
...or take your time to personalize dozens of choices to transform your house into your dream home.
Important questions to ask regarding shower replacement
The first step when contemplating a shower replacement is to ask yourself a couple of questions. The answers to these will shape the route of your remodeling.
How extensive will your bathroom remodel be in terms of work?

What's the budget for your shower replacement?

Do you want to hire a professional or make your shower remodel a DIY project?

How many and what kinds of fixtures do you want?

Do you want to change the square footage of your shower or just replace its materials for a new look?

Is it important for you that the bathroom remodel improves the resale value of your house?
Once you've answered the above questions, you'll get more focus regarding the extensive work involved. You'll then be better equipped to plan your shower replacement with the help of a remodeling contractor.
Topmost considerations for a seamless shower replacement
Read on to learn more about all the planning that goes into a shower replacement. We have listed out certain considerations and tips for a seamless shower replacement. And, we hope these help you remodel your bathroom in a way that's in line with your personal style, budget, and dream design.
Planning a home remodeling? Use our free home renovation estimator to have a fair idea of the total expenditure of your project.
Deciding between a professional job or DIY
Deciding whether to do the work yourself or hire a professional is the first step towards getting the project started. We recommend working with a professional team when it comes to upgrading your outdated shower with a stylish replacement.
A DIY project can be tricky. If the end product looks amateurish, it may not get you the return on investment you imagined. Also, a poorly finished job will surely take away all your pleasure.
How about tile? take a look at our guide on How to Choose the Right Grout Color for Your Tile
Setting a remodeling budget
Whether you do the work yourself or hire a professional, setting a realistic budget is very important. Consider adding at least 15% to your total budget to cover incidentals, including water damage caused by a leaky shower pan or plumbing issues.
The costs of shower remodeling fall into three categories: basic, mid-range, and high-end. Check the table below to get an idea about your renovation cost.
Type of shower remodeling
Cost range
Some of the work entailed
Basic
$450 to $2,000

Installing acrylic shower kits ($150 to $250)
Installing new fixtures
Laying basic ceramic tiles ($1.30 per square foot)
Getting simple glass shower doors ($100 to $300)
Installing single shower heads (starting at $40)

Mid-range
$3,000 to $5,000

Replacing tub or shower floor ($500 to $2,000)
Installing rain showerheads ($200)
Adding a glass mosaic tile ($32 to $49 per finished square foot) for an accent wall or a border around the perimeter

High-end
$6,000 to $10,000+

Expanding shower stalls
Updating plumbing
Customizing tilework
Integrating benches and shelves
Getting dual showerheads
Installing steam showers ($2,500 to $6,200)
Getting frameless doors ($5,000)
Using natural stone, marble, or glass tile (starting at $25 per square foot)
Installing a jetted tub ($10,000)
Read more: Shower Installation Costs
Taking care of your plumbing
Most residential plumbing requires 1½-inch pipes for the drains. Needless to say, the larger the drain, the less likely it is to clog. Therefore, you might want to upgrade to a 2-inch drain to prevent problems in the future. The cost difference is almost negligible.
Also, if you live in an area where temperatures drop below freezing in winters, you need to ensure that your water supply lines don't get routed through an exterior wall.
Keeping water efficiency in mind
Fortunately for us, the latest showerheads, toilets, and faucets have become more water-efficient thanks to the WaterSense program of the Environmental Protection Agency. It clearly lists out products that are 20 percent more efficient than federal standards.
Choose showerheads and faucets that are low-flow. They'll offer a satisfying pulse while giving you a flow rate of 2.5 gallons per minute. If you keep your water usage in check, it will save you money by reducing your utility bills. Also, you needn't upgrade your bathroom's existing drain and plumbing lines if there's nothing wrong with them.
Brightening up the shower area with proper lighting
Consider investing in recessed light fixtures throughout your bathroom ceiling. Install one or two in the shower area with proper shower trim. These lights will brighten up your bathroom space instantly.
Install a dimmer switch for the perfect spa bathroom. You can always adjust the lighting to suit your mood and requirement.
Another way to light up your bathroom is to use a large mirror that will reflect your accent lighting. Whether you're applying make-up or shaving — a bright bathroom adds functionality along with aesthetics.
Making the necessary design changes
You need to plan out the structural design if you're looking for a facelift for your bathroom. A window in the shower, that opens for fresh air, is a boon. Period. Make sure the handles are rust-proof. You can choose plastic ones instead of metallic handles.
You might also consider getting a frosted-glass panel for privacy. Adding a skylight can also help open things up without taking up much space.
Furthermore, ensure that the bathroom sill has the correct sloping angle for proper drainage. Select a material that is solid, such as stone or quartz.
There are tons of bathroom remodeling ideas and design trends. You can research the most popular ones on the net.
Installing the right shower floor and tiles
Replacing the tile on your shower floor gives the area a fresh look and feel. Here are a few popular choices for your tiles:
| Types of bathroom tiles | The average cost per square foot |
| --- | --- |
| Ceramic tile | $0.50 to $12 |
| Porcelain tile | $2 to $7 |
| Marble tile | $6+ |
| Slate tile | $3.80 |
| Limestone tile | $5 |
| Granite tile | $3.50 to $7 |
| Travertine tile | $2.80 |
| Polished stone tile | $10 to $12 |

Opt for smaller tiles, textured or otherwise. They offer more traction. Larger tiles, on the other hand, are more difficult to slope properly and are slippery as the grout lines are further apart.
Also, you can happily avoid the boring prefabricated shower bases. Go for modern, clean bases made out of acrylic or porcelain.
Choosing the right fixtures and custom elements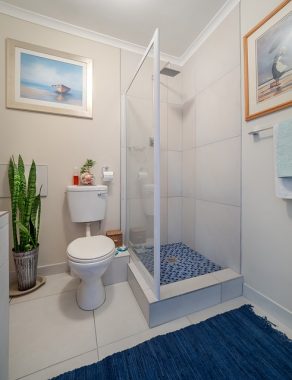 Installing a walk-in shower ($6,000) is a wise decision as it offers easy access. It's especially a boon for older people or homeowners with limited mobility. You can opt for sill-less showers with graded floors for drainage.
If you choose to install a corner shower stall ($400 to $1,000), know that it offers maximum space efficiency. Consider adding attractive finishes and extra features. For instance, a folding seat or a smart bench. Of course, glass enclosures, alcove shower kits, and professional installation will increase the price.
FYI: When it's time to replace your shower stall, the expense will be as little as $400.
In case you want to convert your stall-only shower into a tub and shower combination, you can expect to pay $200 to $5,000.
Planning to sell your home in the near future? Keep in mind that prospective home buyers prefer at least one tub in the house.
If you have a large budget, you may even think about installing steam showers or built-in sound systems. When it comes to bathroom fixtures, the sky's the limit.
Some useful tips for a seamless shower replacement
Get inspiration from the world around to design the shower of your dreams.

Convey your preferred style clearly to your contractor.

Have a good understanding of what you want before your bathroom remodeling begins.

Research your options for the best materials.

Choose your color palette carefully. DO NOT select a particular color scheme just to keep up with trends.

Splurge on bathroom features that matter to you the most.

Make sure you use water-efficient fixtures.

Water-proof your bathroom.
Conclusion
A well-planned shower replacement can completely change the look and feel of your bathroom. And, the right shower can transform your humble bathroom into the most relaxing getaway.
When upgrading your bathroom with a freshly remodeled shower, you will not just create a wonderful bathing experience, but also enhance your enjoyment manifold.
8 Most Important Considerations for a Shower Replacement / Remodeling Project
was last modified:
June 9th, 2023
by
Recommended