The outside area of your house is as important as the inside. It effectively enhances your curb appeal and adds immense value to your home. So, the next time you're thinking of a home remodeling, give a good amount of thought to your outdoor patio flooring too.
With the right kind of design and choice of material, you can make your patio as beautiful and appealing as you want. Besides that, it also needs to be functional and resistant to wear and tear. Therefore, a patio needs to be durable, safe, and worthy of creating a great lasting impression on your neighbors and guests.
To help you in your quest for the perfect patio design, we have put together 12 practical and stylish outdoor patio flooring ideas to draw inspiration from.
1. Brick paver patio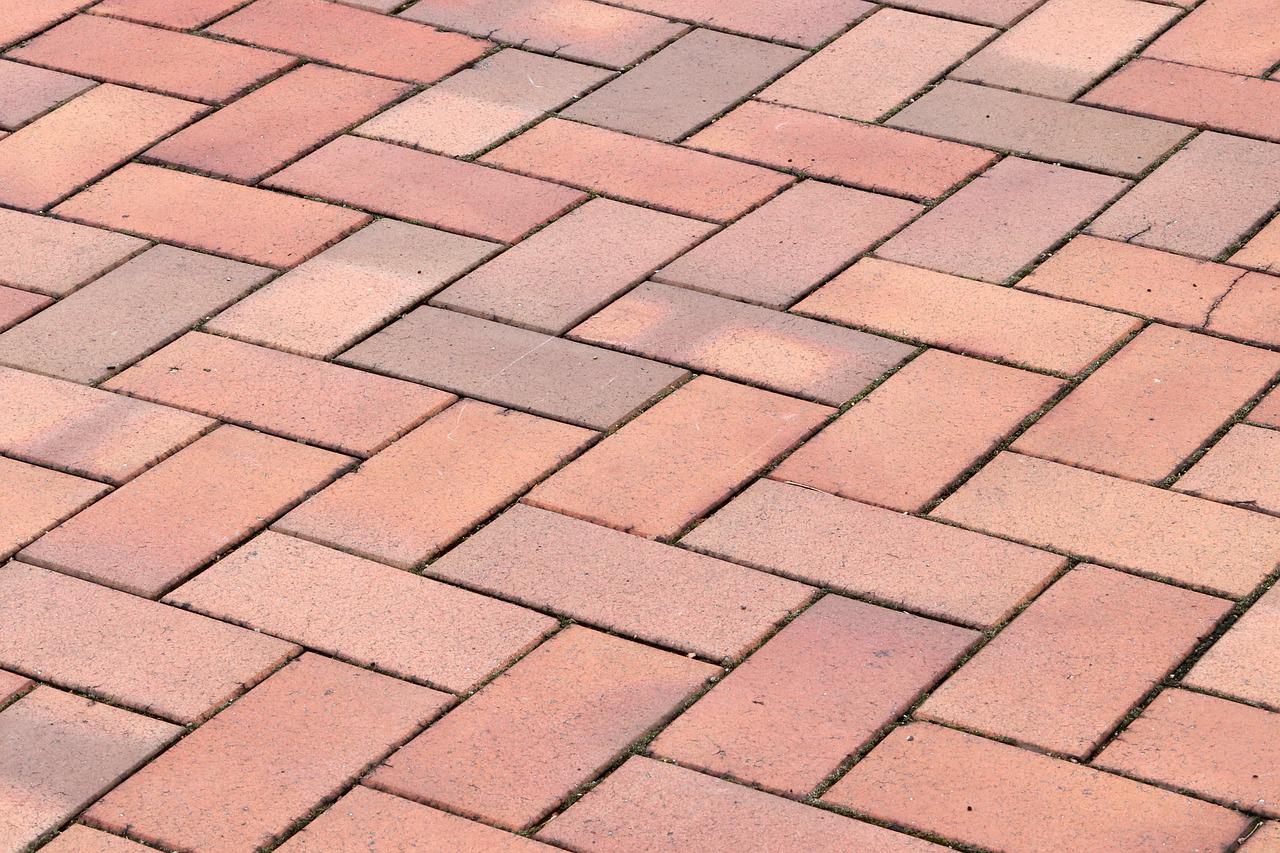 Brick pavers aka block pavers are one of the most popular outdoor patio flooring options. Because they are available in various colors and random patterns, the hardstanding floor they create looks quite interesting.
This kind of floor is perfect for a patio that perhaps houses an outdoor fire pit with a cozy seating area around it. The best part is that it is easy to install and can be a DIY project to dress up your yard.

Get the best estimate for your floor replacement with our estimator tool.
Just install the brick patio with the sand set method. The ground is prepared with a layer of compacted gravel that's topped by landscape fabric and a smooth layer of sand.
The bricks are then laid on the ground. The final step is to sweep sand into the cracks between the pavers to lock them in place. That said, you can always look for professional flooring experts for the project.
Cost factor: A brick patio may cost you around $14 to $30 per square foot. For a standard-size patio, the total cost will be between $1,400 and $2,800, depending on the type of brick.
On average, brick pavers may cost 50 cents to $5 more per brick. That translates to between $3 to $15 per square foot. If you want odd sizes, expect to pay higher prices.
2. Victorian pavers
A mid-century take on brick paver patios is the usage of Victorian pavers. These wire cut red brick pavers are made with a unique blend of clay. The result is a precisely machine-pressed Victorian brick whose rounded edges create the timeless appeal of European cobblestones.
3. Interlocking concrete pavers/Stamped concrete
Typically, these cement or concrete blocks or pavers tend to simulate the effects of cobblestone patios. These interlocking pavers connect together through the use of sand — fitting together like puzzle pieces. For this reason, they don't even require grout or mortar.
And, if you're wondering if such flooring would make a bright-enough outdoor space, do not worry. Gone are the days when pavers were only available in boring gray or off-pink hues. Today, you can find pavers of different sizes, colors, and textures. They can look like brick, cobblestones, or cut stone.
If you want a highly customized patio, you may even opt for stamped concrete instead of pavers. Here, poured concrete is tinted and then stamped with the texture and design of your choice.
Cost factor: If you take the average, the cost to install a concrete patio is approximately $2,700, with most homeowners spending between $1,500 and $4,000. This amount includes professional labor cost that's around $2.50 to $8 per square foot.
Read more: When to remove concrete patio slabs
4. Slate pavers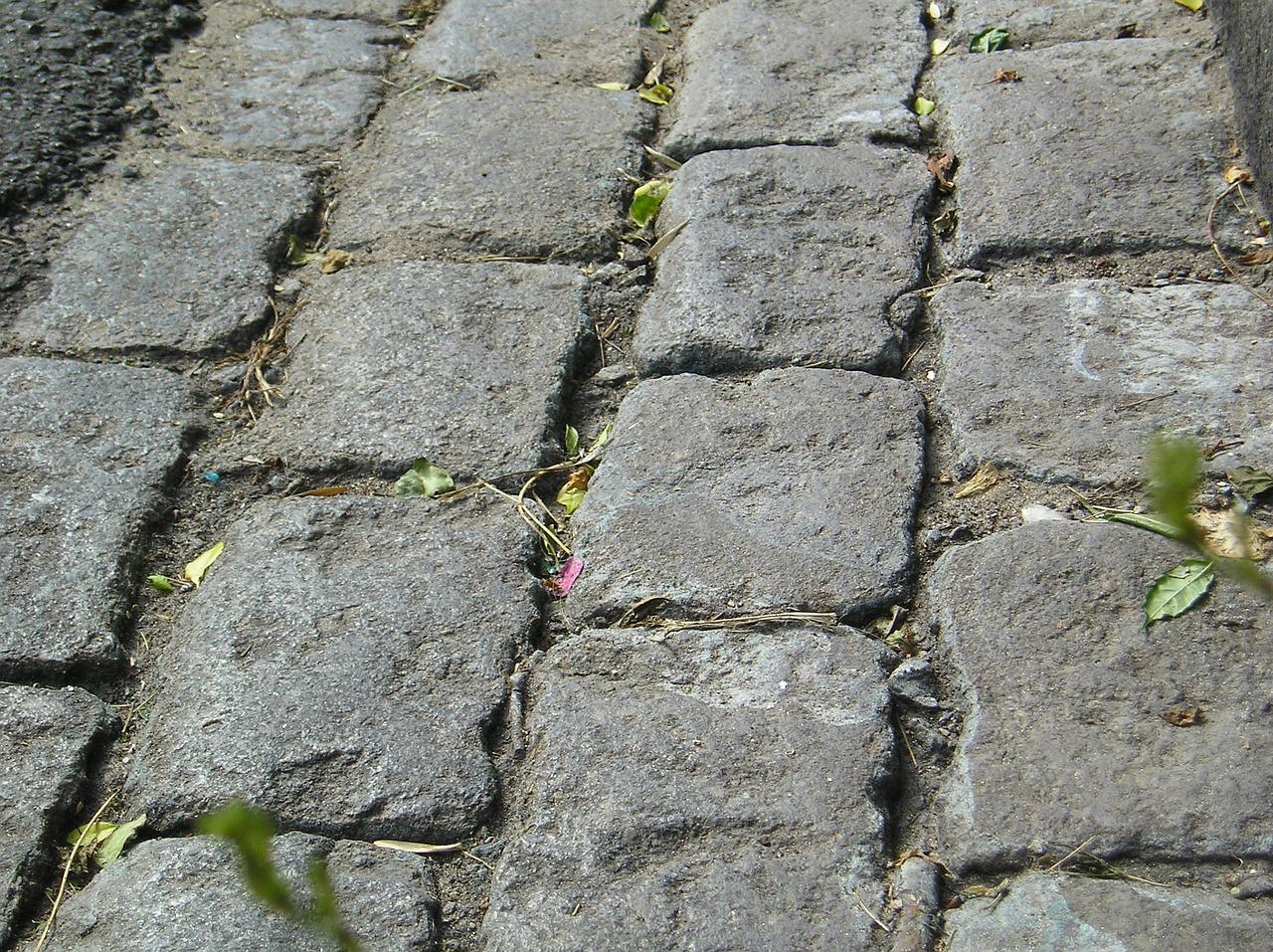 Natural slate makes for a good outdoor patio flooring option as it's beautiful with strong colors as well as incredibly tough. The best part is, slate paving needs no maintenance and its low water absorption makes it resistant to frost damage.
However, a slate floor needs to be installed properly on a durable surface such as concrete or mounted plywood. And, it's very important to seal it. This must be done before you apply the grout otherwise the grout will infiltrate the unsealed tiles and cause stains. Use a silicone-based sealer to give the slate higher resistance against moisture.
Cost factor: Slate slabs provide a cheap patio floor idea as they are not expensive. You can expect a standard slate patio installation to cost you between $1,300 and$1,850. This amount includes material as well as labor costs.
Read more: 5 Great Outdoor Makeover Ideas For Your Home
5. Flagstone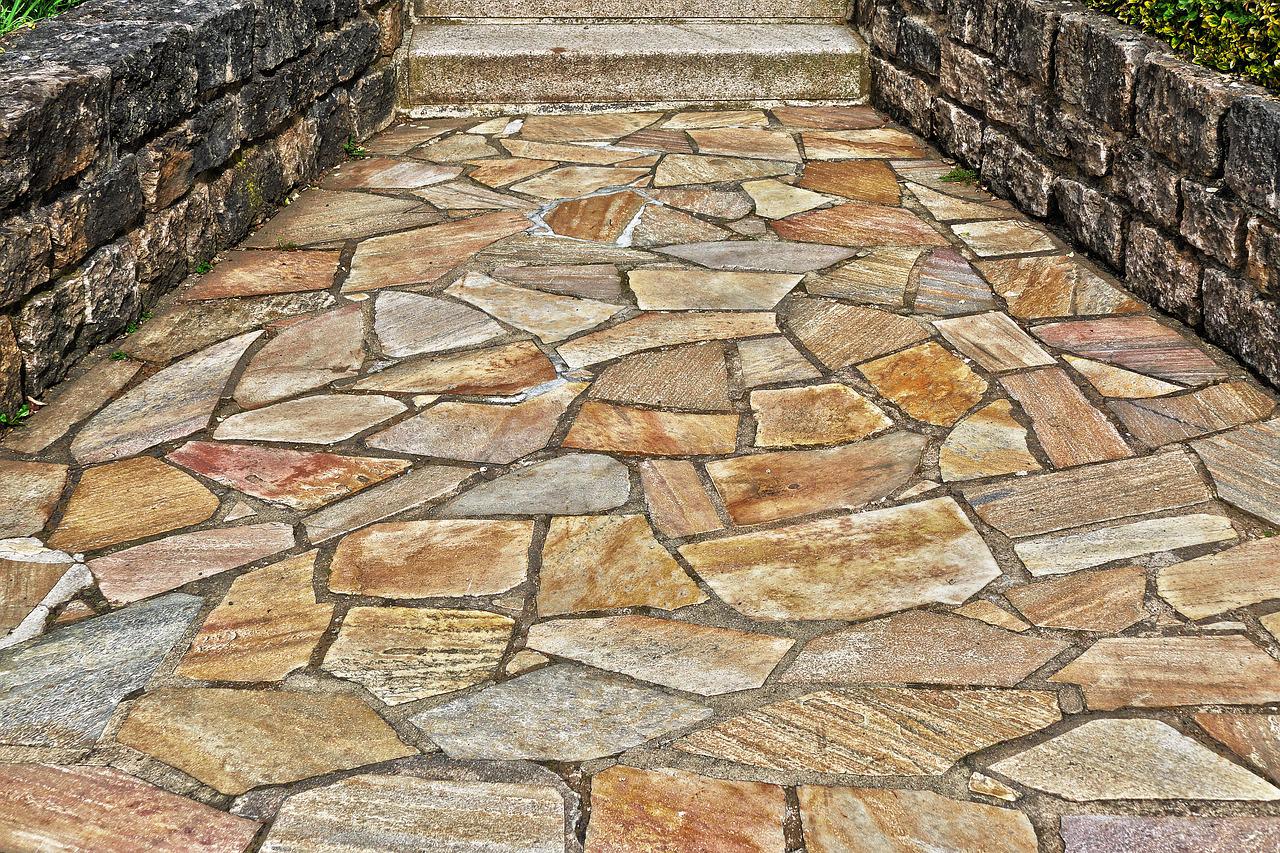 Flagstone is a great choice for patios as it's available in various colors and stones. The large, flat slabs of stone are usually 1 to 3 inches thick and are easily identified because of their irregular shapes and sizes.
The good thing is that because of their slightly roughened surface, they provide good traction, especially when wet. Ideally, flagstones should be at least 1 1/2 inches thick and laid directly on soil or a bed of sand. You can find various kinds of flagstones: quartzite, sandstone, limestone, and bluestone. All of them make for beautiful patios.
Cost factor: Because flagstone is more expensive than other outdoor patio flooring options, you can expect to spend around $15 to $30 dollars per square foot.
6. Fieldstone
Similar to flagstone, fieldstone too is a type of rock that's popular for natural-looking patios and landscapes. The most prominent difference between flagstone and fieldstone is that while the former is quarried from beneath the ground, the latter is found on top of the ground.
Designed well, a fieldstone patio can be the perfect relaxing place to spend time with family and friends. Additionally, it improves the curb appeal of any home.
Cost factor: For a patio of this kind of flooring, most homeowners will have to shell out anything between $9.70 to $20.30 per square foot. Think between $1,100 and $1,600 (or $2,000 if you go for a fancy installation) — including cost of materials and labor costs.
7. Travertine
This is one of the best patio flooring options due to its durability and aesthetics. It's available in colors and sizes — ranging from reddish-orange, beige, to white. To say that its look is exquisite is an understatement. It has a smooth surface with small pores and dimples that give it an old-world charm. Interestingly, it's sometimes mistaken for marble flooring!
Also, it holds up quite well in extreme climates that experience freezing and thawing. What's more, it offers an elegant contrast to robust lawns and plantings.
Cost factor: Travertine pavers cost around $4 to $6 per square foot, not including installation. Total labor costs may range from $50 to $70 per hour for project installation.
8. Wood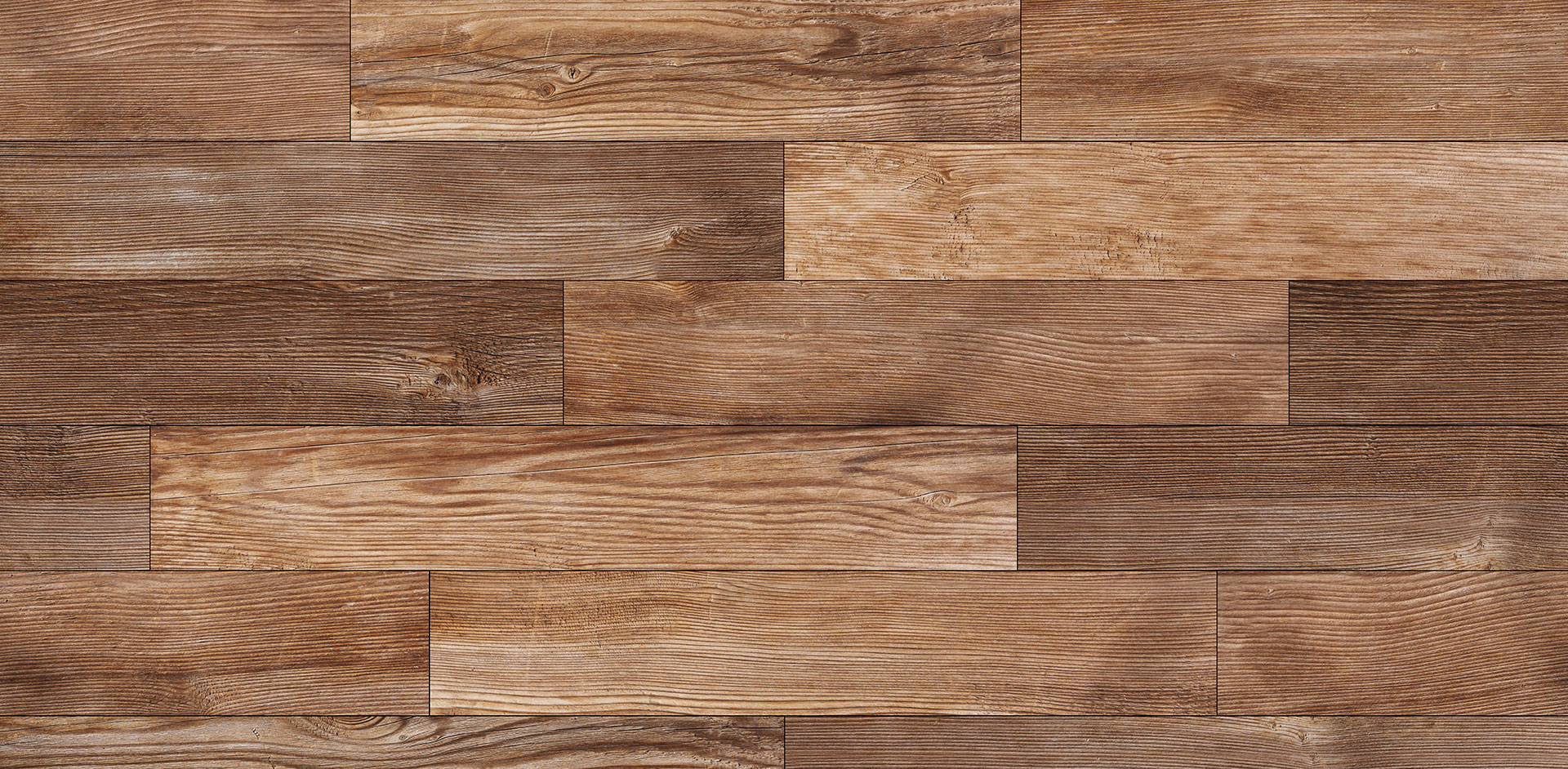 Wood provides the most versatile outdoor patio flooring ideas in terms of appearance and quality. Nothing gives your patio flooring a more rustic, stylish, and homey feel than real wood.
The truth is, wood never goes out of style. Wood decking and patios are gorgeous with a polished, modern look. The best part is, it can fit almost any style.
Cost factor: Real wood flooring will cost a minimum of $15 per square foot with an additional cost of installation at approximately $9 per square foot and yearly sealing at $3 per square foot.
9. Composite wood
This flooring material gives you the best of both worlds. You get a gorgeous, realistic wood look without the high cost and challenges of traditional wood.
Interestingly, most new-age homeowners are embracing composite wood as the outdoor flooring of the future. There are fewer maintenance hassles than real wood. However, do know that it retains heat more than traditional wood and therefore tends to get warmer under the sun.
Cost factor: At $17 per square foot plus installation at $9 per square foot, the initial prices may be high. But, there is no major treatment needed after installation.
10. Graniflex
Flooring with Graniflex flakes are decorative, high-strength concrete resurfacing materials that are great for patios. They make a surface attractive and high performing with moisture control. No wonder, this fast-setting flexible floor is becoming increasingly popular.
What's more, this kind of seamless flooring is slip-resistant as well as crack resistant.
Apart from patios, they are perfect for pool decks, driveways, porches, and even living areas.
Cost factor: The cost of this material ranges between $7 to $10 per sq ft.
11. Synthetic grass
As more and more homeowners realize the hassles of maintaining a beautiful lawn, they are gravitating towards artificial turf grass. With a realistic look and feel of grass — this soft flooring is becoming a much sought-after option for patios.
The best part is that after the initial installation, there is absolutely no maintenance required. No more mowing the lawn or setting up sprinklers. And, if you buy a high-quality turf, chances are, no one will know it's not grass!
Also, this patio flooring is great for kids and pets and has zero allergy problems.
Cost factor: Artificial grass might come with a high upfront cost ranging from $5 to $20 per square foot, but will not cost you anything for the next 15 to 20 years.
12. Tiles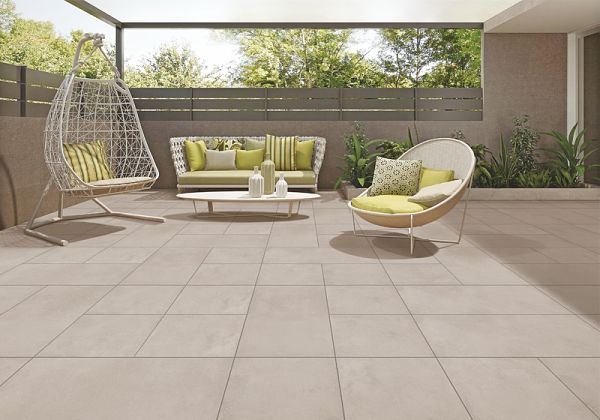 When it comes to patio flooring ideas, tile is a good option. However, it's best to use an unglazed ceramic tile for a patio floor. You may use glazed (read smooth and slippery) decorative tiles, but only for edges or accents.
A homeowner can choose between three kinds of unglazed tiles for patios:
Porcelain and ceramic tiles

: These stain-resistant, tough tiles are fired at a high temperature for long-lasting durability. The major difference between the two is that porcelain tiles are denser than ceramic tiles — making them harder and more impervious to moisture.

Terracotta tiles: These rustic looking, but porous, tiles are perfect for places with mild climates.

Quarry tiles: The beautiful, textured tiles offer traction without too much unevenness.
Whichever you choose for your patio flooring, be sure to use sealers or enhancers to protect the outdoor tile floor from stains, wear, and moisture.
Cost factor: On average, ceramic tile installation may cost around $5 a square foot to install while porcelain tile generally comes in at a comparable $5-$6 per square foot. The cost may be a bit more for terracotta and quarry tiles.
Do note that professional tilers may charge between $40 to $60 an hour.

Our estimator tool will determine how much your tile floor replacement will cost.
Last words
The patio is an extension of your house — adding immensely to the natural beauty of your yard. This space is used for relaxing and entertaining and therefore must be functional as well as stylish.
We hope the outdoor patio flooring ideas we listed out for you will help you choose the best option for your home.
Read more: Can you paint a concrete patio?
12 Practical and Stylish Outdoor Patio Flooring Ideas
was last modified:
September 19th, 2023
by
Recommended