Steps to create a stunning whole house paint scheme
A whole house paint scheme sets the backdrop for your home. Moreover, once you know which color palette to choose, it makes your home decorating choices easier. You can then create a beautiful, cohesive look effortlessly.
With a great whole house paint scheme in place, you'll know exactly which shade of furniture, window treatment, and furnishing to use. Or vice versa! So, that throw pillow you love or that wooden coffee table will look right at home.
We understand that repainting the entire house or selecting the paint colors for a new home can be a daunting task. How do you know which colors will go together? Which paint colors will suit your personal style and how many colors are too many?
And, a trip to the paint section of your local hardware store doesn't help one bit with its countless colors and shades. So, how do you choose a whole house color palette — without pulling out your hair under stress?
Well, we have your back. We'll help you with the process of selecting a whole house paint scheme. By the end of this article, you'll know exactly which paint color scheme you'll want. No more scratching your head, we promise. But first, let's begin by answering some basic questions regarding a whole house paint scheme.
Whole house paint scheme
Should your house have the same color scheme?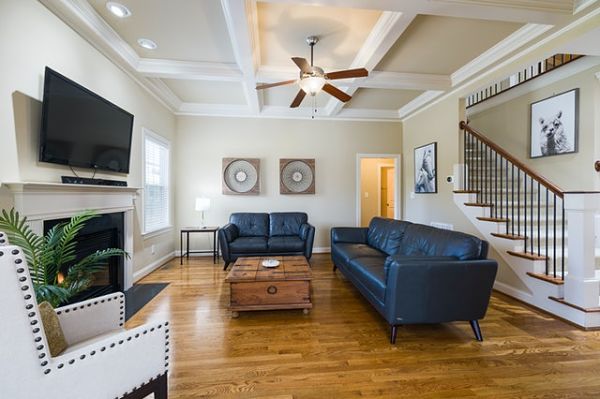 A whole house paint scheme is a good idea for homeowners who want to:
Create a cohesive look in their home — flowing from room to room.
Choose a neutral color palette and not think of deciding a new paint color anytime soon.
Feel confident in choosing a wall color that will go with all the other colors in the house.
Read more: Interior painting tips: How to paint a room flawlessly
Here are some essential steps to understand your house's color scheme and create the most stunning wall colors.
1. Keep your fixed elements in mind
The colors of the fixed elements of your home, including the trim, cabinetry, room flooring, wall tiles, and bathroom or kitchen countertops, are a part of your whole house color palette. It's important that you keep their color undertones in mind before choosing your wall colors.
Make a list of all your fixed elements and their undertones. Notice if they follow a particular trend — if all of them are warm colors with a red, orange, or yellow undertone or cool colors with purple, blues, and greens.
Once you understand their undertones, you can either match them with your wall colors or go absolutely against the undertones for a lovely contrast. The latter option provides balance — preventing your home from being too warm or too cold.
2. Begin choosing a whole house paint scheme
Good research comes in handy when you begin the initial exercise of selecting a color scheme. After all, that color will stay with you for a long time to come. Also, remember that the same paint color used in different rooms could look totally different depending on the natural light in that particular space. Once you're confident to begin the color picking process, here's what you need to do:
Search for interesting paint ideas on Google and Pinterest. Apart from getting your inspiration, you'll also get to know the specific paint color names. However, keep in mind that how they look on your screen may be quite different from how they look on your walls.
Seek inspiration from nature, your interior design, fashion magazines, and fabrics used in your home to help you decide your palette.
Create a vision for each space with your color palette in mind.
Visit your local paint store and check the paint swatches in person on sample paper strips.
Read more: How room paint colors can affect your mood
3. Understand basic color theory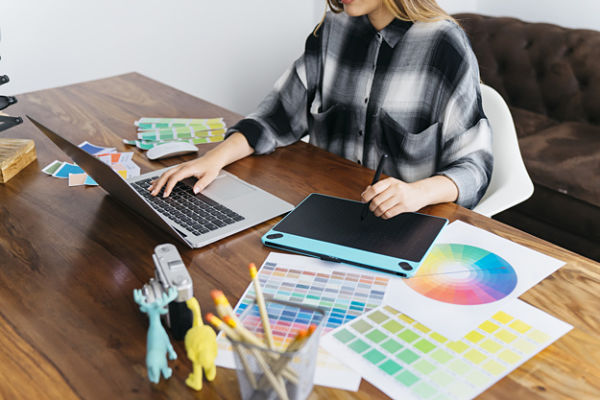 There should be a logic behind your chosen color scheme. Here's when you can take advantage of the color wheel.
Colors, next to each other on the color wheel, are known as analogous colors. For example, blue, green, and yellow are neighboring colors and so are purple, red, and orange. These colors create a harmonious, casual, and relaxing atmosphere. For example, you can incorporate a lot of blues and greens to create a calming vibe. Most interior designers agree that these are perfect for your bedroom. Especially the master bedroom.
Colors that are opposite to each other on the wheel are complementary colors. For example, blue/orange, yellow/purple, and red/ green. Such an energetic and lively color scheme helps create a dramatic, colorful atmosphere. But remember that such contrasts look fabulous only in small doses. So, if you want your favorite pink with blue/green colors, go ahead. But, be judicious.
If you want to incorporate a monochromatic color palette in your home, that's fine too. That means that you can take your favorite color and use its various shades, tints, and tones all around the house. Using the same color lessens any kind of contrast and creates more of a neutral space.
4. Choose your neutrals well
Neutrals are an important part of any color scheme. When deciding on the whole house paint palette, you need to choose a white and dominant neutral color.
Make sure the white you select has either the same undertone as your trim, cabinets, furniture, and ceilings or a complementary undertone. It's a good idea to test samples of several whites and check the undertones. An example of how you can go about it is if your undertones are warm, select a white that has a slight yellow undertone throughout your home.
Now it's time to choose your neutral for all the connected areas of your home, including the open spaces, hallways and entryways. The neutral will also look great for your closets, lofts, and bathrooms.
When selecting your default neutral, you have three choices:
Warm neutrals: White (with a yellow or pink undertone), beige or brown. Simply White by Benjamin Moore is a good example.
Cool neutrals: White with a blue or green undertone.
Greige colors (mix of grey and beige). Works well with warm or cool colors, or for complementary wall color palettes.
Read more: Secrets unlocked: Best type of paint for bathrooms
5. Opt for one bold hue for a pop of color
To add an element of interest to your whole house paint scheme, you need to incorporate a bold color. It could either be the darkest or the most saturated color.
So, what color should you choose? We say a version of your favorite color that either matches or complements your fixed elements. The reason is that if you love the color, and find it comfortable to the eye, chances are you won't tire of it anytime soon. Keep in mind that this color will be the boldest in your palette. Of course, the intensity of the color you choose is up to you.
If you simply hate the idea of bold colors, you could opt for colors that act as neutrals. For example, the Fundamentally Neutrals in the Sherwin Williams paint deck. Such shades go with any and every color.
6. Select your second color
The second color you choose should go with your bold color.
For a monochromatic or complementary wall color palette, choose a tint (lighter version) of your bold hue.
For an analogous wall color palette, choose a color next to your bold color on the color wheel. For example, if purple is your bold color, then choose a red or blue as a second color.
7. Pick your accent color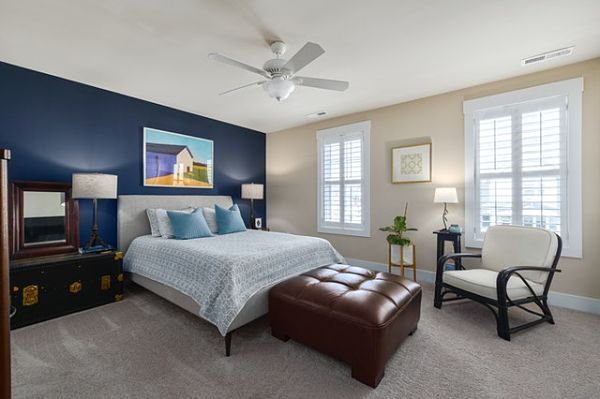 This accent wall color will be used sparingly in your home, mostly to create a dramatic impact. For example, an accent wall in the living room or the color of the doors. Keep in mind that the color will leave a lasting impression on your friends and family.
Below are some guidelines you can follow:
For a monochromatic palette, choose a tint (lighter) or a shade (darker) of your bold color.
If you're creating an analogous wall color palette, it's best to choose either a tint of your second color or an analogous color on the color wheel. Let's say purple is your bold color and blue is your second color. Your third color could either be a lighter shade of blue or green (next on the color wheel).
For a complementary color palette, your accent color should be a complementary color to either your bold color or your second color. Let's say blue is your bold color and green is your second color, your complimentary accent could be orange or red.
Read more: Decorate bedroom with blue carpet
8. Pull the whole house paint scheme together
Once you've zeroed in on all your colors, paint your short-listed sample colors on a couple of white foam boards and tape them on different room walls of your home. Look at the colors in different lighting and time of day. This will help you see all the colors together and give you a clear idea if you've chosen well.
These steps will result in a 5-color palette — a white, a neutral, and three different colors. If you're looking for a cohesive color palette, it's a good rule of thumb to not use more than five distinct colors throughout your house.
Which color goes where?
Here is a general guideline on how to use the five colors in your palette:
White: Perfect for your trim, bathroom or kitchen cabinets, furniture, ceilings, or even the interior walls.
Neutral: Great for all open, connected spaces of your home. Works especially well for closets, lofts, front doors, and small bathrooms.
Bold color: Makes a statement; great for an accent wall in the dining room or as a room color for a baby's nursery.
Second color: Great for any separate room or as a subtle accent wall.
Accent color: To be used sparingly on walls or to create a certain feeling and mood in a room. For example on the accent wall behind the bed.
Last thoughts
If you're one of those homeowners who're struggling with how to create a whole house paint scheme, we hope the above steps and guidelines will help you.
These steps will help demystify the process of choosing house paint colors and finishes by creating a cohesive look for your home. Trust us, the resulting whole house color scheme will act as a money- and time-saving blueprint for your decorating choices in the future too.
Steps to create a stunning whole house paint scheme
was last modified:
July 29th, 2022
by
Recommended