A garage is a space that can be so much more than just a parking space for your cars. With a little bit of elbow grease and smart planning, you can convert it into the perfect home workshop. Irrespective of whether you want a woodworking bench, a space for tinkering with electronics, or for secretly hot rodding your old car, here are tips on how to build an organized and efficient garage workshop so you can enjoy working on your DIY projects.
If you're planning a home improvement, now would probably be the best time for you to factor in the cost of remodeling your garage as well. We're going to take you through what the 'must-haves' are for every garage workshop. Have these seven essentials in place, and you can then look at customizing your workshop based on specific needs.
Click here to hire professional contractors to handle your home remodeling project.
Get easy to clean flooring
Your garage workshop will need a floor that can handle spills of all sorts; be it engine oil, varnish, or paints. Your standard concrete floor is not equipped to handle that kind of beating. Fortunately, there are easy solutions that will help you deal with such situations.
A layer of epoxy on your concrete floor is a great way to give it a clean and shiny look. Not only will your garage floor look great, but the epoxy layer will also make it easy to wipe off any spillage.
Another easier solution is to simply get easy to clean floor mats for your work area in the garage. You can take them off and clean them when they're not in use, and your garage floor will remain protected.
Invest in heating and cooling
Your garage may not share the HVAC facilities of your home, especially if it is detached from the main structure. This will mean you will need to make alternate arrangements for keeping it cool while you work in the summers and warm in the winters.
Install an air conditioner to take care of your cooling needs during the warmer months. As for your heating needs, you have a few options to choose from.
Convection heaters that use heat transfer oil to radiate heat are a popular choice for home garage workshops thanks to their ability to warm a large surface area.
If you want to heat only for the area where you're working, consider getting a radiant heater, that uses infrared rays to heat only the area they're being pointed at.
You could also opt for one of the different types of fan-forced heaters available in the market.
Make sure you have natural light
Natural light is great to work with during the day, so consider installing windows in your garage. Working using natural light is known to improve productivity as well as state of mind.
Operable windows not only give you the benefit of natural light but will also give you the freshness of clean air and cross-ventilation if you're going to spend long hours working in your garage.
Make sure you choose the right kind of windows for your garage. You will want windows that are energy efficient and can protect from natural elements all year long. This automatically eliminates wood or aluminum windows, considering they aren't the most energy-efficient or durable options.
Vinyl windows are an ideal choice, with their foam-insulated frames that create an airtight seal, effectively blocking any drafts from bothering you.
Buy double-paned glass filled with argon gas while choosing panes. Argon's higher density in comparison to normal air makes it a great insulating agent.
Garage doors with windows are another possibility for you to explore.
Choose the right kind of artificial lighting
Choose the right kind of artificial lighting as well. It is important for you to be able to see clearly while handling tools so you don't hurt yourself.
Task lighting over your work table is important. Choose from desk lamps to pendant lights, among other light fixtures, for task lights depending on the area you need to be lit up. The rule of thumb used is 130 top 150 lumens per square foot of workspace that needs to be illuminated.
You will want to buy bright lights for your garage workshop floor as well. Fluorescent lights are a great choice for general lighting. While choosing bulbs, remember that CFL and LED lights last a lot longer and are more energy-efficient than incandescent bulbs.
Insulate your garage door
The last thing you need is for your workshop equipment, especially your power tools, to be exposed to the elements. So what do you do to protect them? Insulate your first line of defense again the rain, wind, and snow: your garage door.
Buy a steel garage door with a built-in foam core for proper insulation. These doors will be efficient in keeping your garage draft-free.
An energy-efficient and insulated garage door will not only keep your equipment safe, but you will also be a lot more comfortable while working.
Plan for ample storage space
Can you imagine how disorganized a kitchen would be enough kitchen cabinets to stow things away? That's exactly how your workshop will be if you do not plan for garage storage space. Here are some storage ideas to help you organize your garage
To start with, depending on how many tools you own, buy either a portable toolbox or a large organizer with multiple drawers so you can carefully label and store your tools in an orderly manner.
Get a pegboard on your wall for you to hang the tools you use most often on, so you can have easy access to them.
Invest in overhead storage systems for you to safely put away your larger tools as well as those that you do not use very often.
Remember, an uncluttered workspace is easier to be productive in and maintain.
Read more: Budget friendly makerspace at home
Don't forget the humble workbench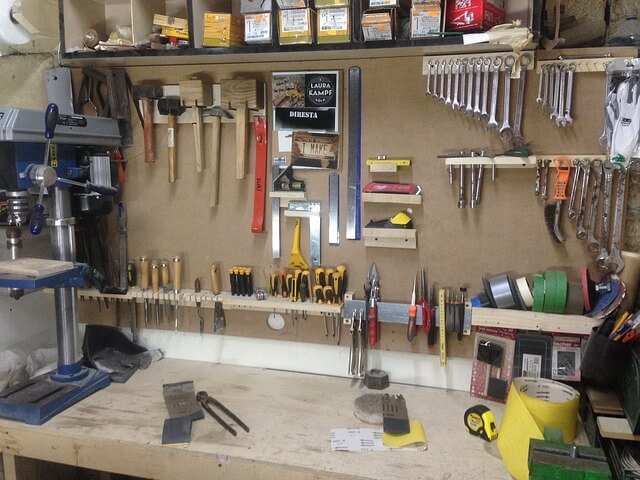 While this may be the last on our list, it is among the most important things that every workshop must-have. The ideal size of your work surface depends on two things: what you're going to use it for and the size of your garage.
So if you need a small workbench for minor repair work, buy one from your local hardware store. Want a larger, custom bench? Why don't you build yourself one in your garage?
Essential safety guidelines
Here are some essential safety precautions for you to follow in your garage workshop.
Keep hazardous materials locked up and out of the reach of children. This includes your power tools.
Keep all sharp tools out of reach as well.
Clean up after you're done every day. You don't want others to have an accident because you forgot to wipe off that engine oil.
Keep a clean and decluttered garage at all times. It makes it safer for everyone.
Make sure your doors and windows are always in working condition.
Always dispose of hazardous materials like paints, varnishes, and synthetic oils as soon as you're done with them.
Now that you've got these great garage workshop ideas to use as a base, get started on building your own space for you to tinker with your tools.
How to Build an Organized and Efficient Garage Workshop
was last modified:
August 18th, 2022
by
Recommended