4 Interior Design Makeovers that Reflect Your Personality
Top notch Interior design is hands down magical. It's refreshing to the soul. Your home is where you spend a huge chunk of your lifetime. So, beautifying it in a way that directly reflects your innermost traits and desires is a good idea. Imagine living in an awesome space where everything exudes your self- expression.
Sounds awesome, right?
Obviously, your house is your sanctuary. But the countless interior design tips and tricks sprawled out all over the web can be overwhelming. Therefore, to ease your ride through, try these 4 interior design makeover styles that reflect your personality.
Have a scoop:
1. Natural Twist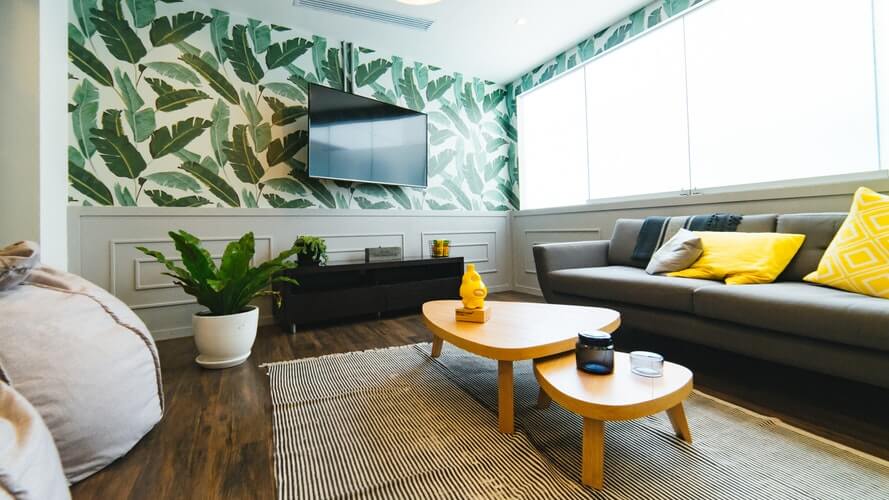 Go natural with this exemplary design. Certainly, this fresh, artsy twist is a one-of-a-kind stunt. The palm print wallpaper perfectly blends with the green flowers to form a natural, alluring concoction. Not forgetting, the leafy spirals all across the walls provide a forest-like environment. Above the grey sofas, yellow pillows come in handy to inspire brightness. You'll feel tucked into the heart of nature. This room is a perfect fit for relaxation after a long, stressful day.
Personality: Creative Soul
You're a creative soul with a deep taste for the unknown. You immensely enjoy the art of bringing ideas to life. Too often, you disconnect to tap into your blissful world. The world appreciates your innate ability to flash unique ideas. You appreciate slow, steady strategies. The pace-setter spirit is inextricably hooked to your DNA. You're a wild reader with a generous spirit. The mystery is your logo.
Read more: Practical Tips For A Worthy Home Makeover
2. Dazzling Glint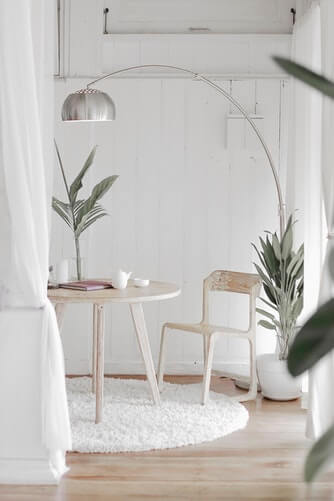 Design your room with this bright, glinting design. The stainless white wooden coffee table mounted on the circular carpet illuminate a clear crystal world. Also, half-open windows create an alluring pathway for the morning sun rays-directing them past the green flowers and through the wide curtains.
The room height makes it look appealingly spacious. You can wind down to your favorite magazine or think about your blissful future while sipping your favorite juice.
Personality: Bright and Simplistic
You're a bright, yet simplistic person. You enjoy people's company and don't mind letting some things off your chest. Your indescribable charisma magnetically attracts people towards you. Guests regularly pop into your house to check in on you. Your assertive nature is dominant.
Boldness and action define you. You're not afraid of displaying your real self to the world. A rejuvenating night out with cool friends suits you best. You enjoy listening to other people's experiences. Your taste for high ear-soothing, danceable music is unquenchable. Your life is an interesting, fun-filled journey.
Read more: Things You Should Know Before You Hire an Interior Designer
3. Dimmish Stunt
Opt for the darkish, calm design. The color palettes are somewhat dull and neutral, with the purple streak-paints brightening things up a little. Well-designed chandeliers radiate dim lights that infuse a titillating feel of calmness and peace. Room furnishings are finished works of silk and velvet.
The dark screen aligns with black pillows, and the beautifully carved out artistic wall painting to bring out an eye-appealing pattern. White fluffy sofas and dazzling bright cabinets curl up to neutralize the darkish atmosphere. After straining your energies the whole day, you're free to flop down on your favorite sofa and tune into your favorite show.
Read more: Room Divider Ideas to Turn One Room into Two
Personality: Calm and Steady
Generally, you're a cool person. You appreciate calm, quiet moments. Meditation is deeply embedded in your lifestyle. Your roaring curiosity constantly pushes you into rejuvenating odysseys. You're into deep, authentic relationships. Soft, cool music is your recipe for a memorable weekend. You keep things to yourself and only share it with a few, heart bound friends or relatives. You adore personal space but sometimes go wild and a little jumpy. Uniqueness is an integral part of your personality.
Read more: Pet friendly interior tips
4. Color Splash
Spice up your room's appearance with the color splash design. The purple, yellowish, pink and light green pillows morph into the nature-inspired artificial flower to form a sizzling combination. Radiant, eye-catching sun rays brighten up the snow-white silky sofa. Needless to say, the green plants hanging at the top right corner pave way for a natural feel. Turns out, the seemingly disorganized structure is a one-in-a-million design.
Personality: Classy and Unique
You have an amazing taste for classy things. You can't just go wrong with colors. The eye-appealing color cocktails bring out your wild, yet pleasant personality. You have a knack for bringing together disorganized things to form a mind-blowing design.
Your techniques are always ahead of the curve. Seizing irresistible trends is your done-to-death hobby. Self-improvement is your mantra. Your idealistic and value-driven attitude makes you attractive.
Bottom line
With the roundup interior design makeover ideas, you're obviously aware of your tastes and preferences. Today, unlike four decades ago, the interior design world is slowly shifting from trendy techniques to personal-oriented styles. Nothing is as refreshing as bringing forth your highest, truest self-expression through interior design. Don't be shy to try things out your way. You'll marvel all through.
4 Interior Design Makeovers that Reflect Your Personality
was last modified:
June 9th, 2023
by
Recommended