Fences are perhaps the most underrated feature of your property. They don't just secure your outdoor space by marking its boundaries and keep the animals as well as intruders out but also enhance your curb appeal, provide a beautiful edging to frame your garden, and highlight your landscape design. No wonder, choosing the best backyard fence ideas is vital.
Fencing is essential, especially in the backyard area. A fence may not add as much value to your house as compared to say material and construction costs, but it does enhance the value of your property if there's a need for this type of outdoor structure.
The average fence installation cost ranges between $13 and $25 per linear foot. Most homeowners spend between $1,600 and $3,500 for the installation project. Of course, this amount depends on the type of fencing materials used. Keep in mind that materials alone make up about 70% of the total fence installation price. So, if you're on a tight budget, you could install wire fencing which is the cheapest fence at $2 per foot on average.
Planning a renovation for your house? Try our free home remodel cost estimator; it's easy and convenient to use!
New homeowners are often perplexed about the laws associated with building of fences. Fence laws and regulation are indeed complex as they're mostly handled on a local level. Needless to say, you should study your local fence laws and permits before installing a new fence.
Generally, a fence building permit is required for boundary fences — especially those that have a height of 2m or higher. If your fence is near a street intersection (within 9m), it must not be higher than 1m in height. However, a fence around a swimming pool (safety pool barrier) will always require a building permit — regardless of its height.
Once you get the permits in place, installing a yard fence is easy enough. Just keep in mind that the yard fence design should match the style of your house and its surroundings while providing ideal solutions for all your fencing needs.
Here's a collection of backyard fence ideas so that you can choose a fence style that's perfect for your home.
Read more: 13 Backyard Fence Ideas to Protect Your Garden in Style
1. Quaint lattice fence
This wooden fence with tiny square lattice design is perfect for setting up your backyard boundaries without totally shutting out the views. The ornate fence looks good on any type of setting. For a stronger and long-lasting option, you can use a patterned wrought iron, aluminum, or steel fence instead.
Take a look at these Garden Maintenance Tips Every Gardener Must Know
2. Clean-cut composite wood fence
If you're looking for a backyard fence idea that offers a sleek wooden fortification, this design is for you. The horizontal wood slats create an unpretentious wall that's practical, functional, and neat-looking. This modern fence has an attractive minimalist style that most homeowners will find irresistible.
Take a look at our guide on what to get for keeping your garden alive
3. Stained pallet fence with gate
A solid wall of naturally gorgeous, stained pallets (with a bonus fence gate!) is timeless. While the wooden coverage below offers you a good amount of privacy, the top lattice part of the fence provides lovely aesthetics. Just a fencing tip: use a wood polish to protect the wood from the elements — making it last longer.
Buying the Right Gate? Take a look at these few important considerations
4. Earthy bamboo fence
There's something very dramatic about bamboo fencing. The organic fence exudes oriental charm and stability. This bamboo frame fence goes well with any setting and outdoor landscaping. The best part is, it's easy to build and provides ample coverage.
5. Chain link fence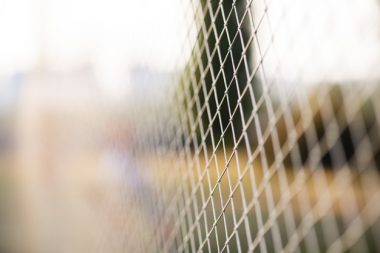 Photo by Freepik
You can keep your backyard contained with a no-fuss chain link fence. The mesh-like fixture looks simple with clean lines. What's more, the design aligns beautifully with today's modern minimalism.
6. Slatted wood fence
Do not be fooled by the delicate look of this unique timber fence; it's tough enough for a backyard fence. And, it's ideal for those who want to keep the outsiders out and yet don't want to hide their beautiful yard. The graded design provides a beautiful and captivating look. 
Read more: What does a purple fence mean
7. Concrete and metal fence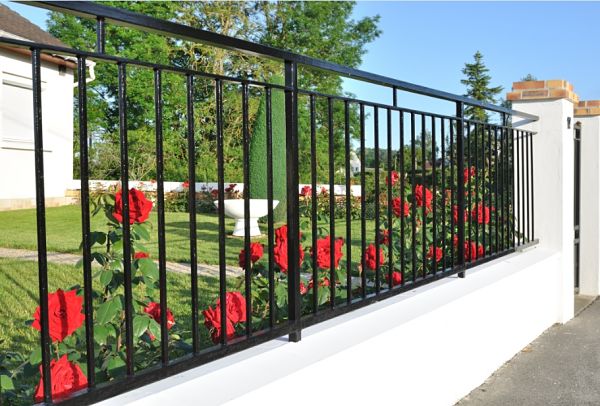 Photo by Freepik
This sturdy combination of concrete and metal bars looks elegant, minimalist, and beautiful! Moreover, the black and white combo is easy-to-maintain. We love the clean lines and the solid black paint.
8. Vinyl picket fence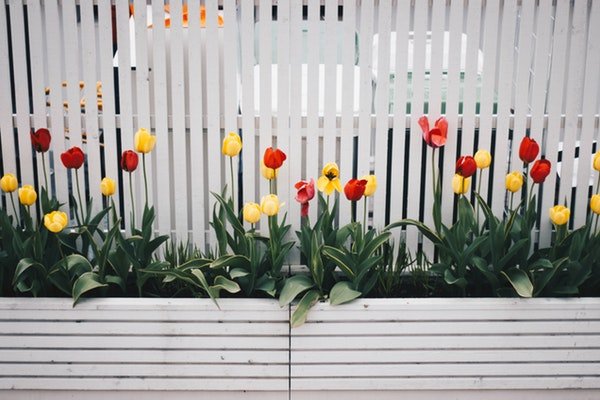 The classy sophistication of this simple vinyl fence is matchless. The white picket fence is durable and easy to maintain too. Most homeowners agree that white still remains the best color to paint a backyard fence. Instead of vinyl, you can also opt for a wood-textured composite or real wood to get this stunning look.
Read more: Vinyl fence cost guide
9. Barn-style raw wooden planks
Want to add a country-style vibe to your backyard? This barn wood fence is simple and functional. As rustic fence designs are gaining popularity, this type of fence with horizontal wood slats in a warm cedar tone, looks real smart.
10. Solid picket fence
This solid white fence is one of the most evergreen fence ideas and designs. The fence has a modern style with minimalist construction. It's the perfect choice when you want to portray beautiful traditions and tasteful style. Great choice for a garden fence!
Read more: Fence financing for good & bad credit
11. Split rail fence against a solid backdrop
A split rail fence has been integrated with a solid wooden sheet to offer more privacy. This type of fence is easy to build, affordable, and utilitarian. And, because of the two-tired fencing, is secure too. You can always customize the look with different fence paint colors. We love the natural, rustic look of wood though.
Read more: How to protect garden from animals
12. Gabion stone wall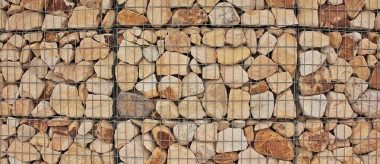 A gabion wall for your backyard is the ultimate solution for a tough fencing option. Get a professional landscaping contractor to carefully stack the stones and align them into precise lines and shapes. The rough-looking stone wall can be made more interesting with colored stones and unique patterns.
Read more: Popular Types of Fences for Residences and Their Costs
13. Brick wall
A basic brick wall as a fencing option is back in style. Keep the construction raw and rustic for an old-world charm. If you want to make it fit in with the other modern elements of your yard, try a white or bright red paint. Your wall will look eye-catching and make your property stand out.
Read more: Rooftop garden tips and tricks
13 Backyard Fence Ideas to Protect Your Garden in Style
was last modified:
October 14th, 2022
by
Recommended