20 Easy Ways to Boost Your Home's Curb Appeal
Your house's curb appeal easily translates to boosting its value — resale value if you're planning to sell your property in the near future. The fact is, your home's exterior is like the cover of a book; it sets the stage for what's inside.
In a layman's term, curb appeal refers to the level of attractiveness of your property and its surroundings when viewed from the street.
While accent walls and decorative fixtures can certainly help, you want to start where prospective buyers begin: the front of the home. After all, first impressions are incredibly important in the home buying process, and can help to sell your house at a better price.
According to Consumer Reports, if you're selling your home, your curb appeal can increase your home value by 3% to 5%. In fact, according to a study by Michigan State University, a home with good curb appeal can increase its value by as high as 5 to 11%! Not to forget that curb appeal can help sell a home faster too.
So, here are 20 easy projects to help improve your curb appeal, help your home make a better first impression, and get you the desired moola!
1. Paint your house's exterior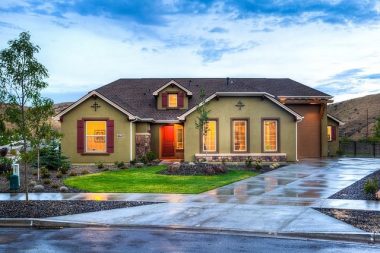 A quick, easy, and sure-shot way to increase the value of your house is to paint it. A fresh coat of paint can make your abode look as good as new. However, don't get too wild when choosing paint colors.
It's best to stick to neutral shades as they appeal to potential buyers more. While we're giving you paint advice, here's one more: steer away from dark colors that make your house look dingy and boring. Homebuyers generally don't care for dark hues.
2. Refresh your front door
A bright and happy front door can do wonders for your home's overall appeal. It can welcome your potential buyers and how! If you have a good budget, you can spring for a total door replacement, otherwise a good paint job will also add new life into your front door. Just for your info: a brand-new steel door costs up to $2,000. And, you can recover up to 75% of the cost if and when you sell your home. Isn't it incredible?
Planning a renovation for your house? Try our free home remodel cost estimator; it's easy and convenient to use!
Read more: Red Door Ideas To Make Your House The Belle Of The Block.
3. Add new door hardware
If you're tight on the budget and cannot afford a new door, think of replacing your front door's existing hardware. A trendy door knocker, for instance, will make for a quick and noticeable upgrade.
Choose a color that contrasts with your door's paint color. Think black hardware on a white door or brass hardware on a black door.
4. Upgrade your landscaping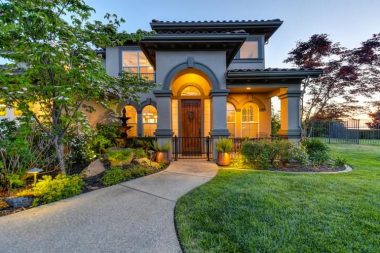 Photo by Stephen Leonardi on Unsplash CC0
Your landscape is one of the first things any potential homebuyer will see. According to a study by landscape economists, attractive landscaping can add up to 28% to your home's overall value!
If you're hesitant about sprucing up your landscaping due to the high cost, don't be. A small upgrade doesn't have to break the bank. There's no need for you to hire a pricey landscaping company just for the heck of it.
The first step is to clear out all the weeds and brown shrubbery. Next, buy drought-tolerant plants (less water and maintenance) that are native to your region and place them strategically around your home. Keep in mind that edged gardens, window boxes, and flowerbeds have a finished look to them that many home buyers find appealing.
5. Plant flowers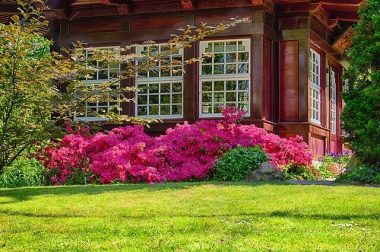 Any outdoor landscaping is incomplete without fresh flowers. Especially so if you're selling your home during spring or summer. Bright and eye-catching flowers are going to be your best friend. The splash of color as you walk up to the home will make your house feel inviting, cheerful, and homey.
The colors will put your buyers in a good mood, and they may even feel more positive about your home, even if you are asking a little more than they would like.
6. Maintain your lawn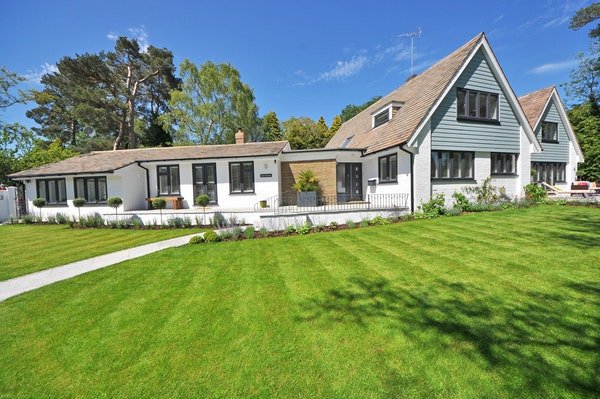 If you have a lawn, you must maintain it. Simple. There's no doubt that lawn maintenance will reap great results. Almost 75% of all house realtors agree that sellers must take care of lawn care before putting their homes on the market. A poorly maintained lawn can easily miff house buyers.
For your info: the cost of maintaining your lawn runs only about $330 while it will help you recover a value of 303% according to a report by National Association of Realtors.
7. Lay a paver path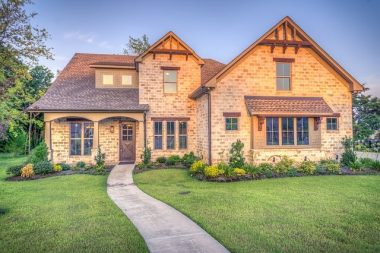 If you can afford it, a cute walking path through some of your new landscaping will make your house like a beautiful oasis. Trust us, your buyer's heart will start racing as they enter your living area.
Pavers are small, inexpensive bricks that can be used to easily lay a beautiful garden path. Even just a short one winding through your new flower bed can add character and appeal to the house.
The prettier and easier to maintain your front yard is, the more appreciative your prospective buyers will be. A well-kept, landscaped yard says you care about your house and how it looks. It's a sign that the inside has probably been well-cared for as well.
8. Jazz up your outdoor lighting
Your home's value goes up significantly when you spend a little cash on outdoor lighting. Let's just say, a well-lit house sparkles like a jewel in your neighborhood and in everyone's heart. Apart from being an essential feature (according to the National Association of Home Builders), good lighting also helps deter thieves.
So, it's a good idea to invest in great looking and pocket-friendly light fixtures. By the way, solar garden lights are simply amazing.
9. Add a border to your driveway
Whichever type of driveway you have, chances are it'll be bland and boring with nothing around it. Such an addition won't do much to add to your home's exterior. One way to make it stand out is to add a border. Line it with bricks, stones, or pavers all the way to the street.
Keep in mind that the cost for this home improvement project will vary depending on the border material you select and the total length of your driveway.
10. Add eye-catching, symmetrical front porch decor
Think lovely wreaths, porch swing, potted plants, decorative elements that add an exceptional dose of beauty to your front porch. For year-round appeal, look for wreaths with dried or preserved greens, faux plants and florals. Avoid seasonal elements that can put an expiry date on the decoration. Instead, go with a simple yet elegant display.
Here's a tip: embrace symmetry in your decor and design. Symmetrical patterns create pleasing focal points and make your home look well-put-together. You can invest in matching wall lanterns or plants on either side of your front or garage door.
11. Give your mailbox a makeover

Do not underestimate the power of a mailbox! When potential buyers pull into your driveway, the mailbox will be one of the first things they'll see. If it's ugly, old, or sitting atop a rotting post, they'll notice immediately.
Replace your dated mailbox with something more stylish. Such a simple project will bring about a noticeable difference in your home's curb appeal. Depending on whether you have a standing mailbox or one that's attached to the wall, the cost to replace it will be about $50 to $200.
Read more: Mailbox post replacement
12. Update your house number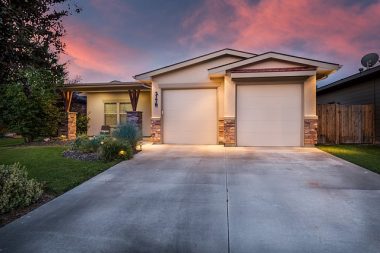 Want to give your home a personality boost? Update your home address number. No run-of-the-mill brass numbers sold by your local home improvement store. Think different with handmade numbers attached to a real wood plank, iron, or ceramic tiles.
The best part about unique handmade house numbers is that they aren't as expensive as you might think. The prices start from $30.
13. Utilize your outdoor furniture smartly
You need to find a good balance between too much outdoor furniture or too little. You don't want lack of good furniture pieces to make your house look scarce or neglected. Always, always have clean furniture, and in good condition. Ceramic stools for seating are great for small yards while wood or wrought-iron chairs and tables will look beautiful in a large yard.
14. Power wash your house from outside

Power washing dirt and grime off your house's exterior surfaces, including siding, porch, garage door, walkway, and driveway, can be satisfying as well as rewarding. And, you don't even have to buy a power washer. Just rent one from a big box hardware store. It will cost you approximately $30 to $40 per day.
And, it'll be worth it. The pressure washing will make your home look sparkling clean and bright.
15. Stain your garage door
If getting a new garage door is an expensive proposition for you, get the appearance of a new garage door in less. Simply stain it a new color. Begin by cleaning the surface completely and then paint the stain on your garage door in your favorite hue.
16. Build a picket or shrub fence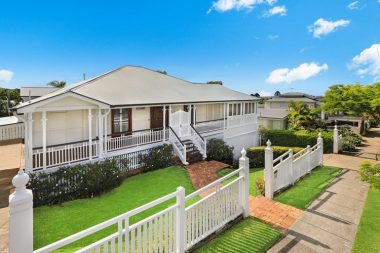 Photo by Digital Marketing Agency NTWRK on Unsplash CC0
Another relatively inexpensive way to improve your curb appeal is to build a fence around your property. If a white picket fence is not on your immediate to-do list, use bushes and shrubs for the same effect.
Just ensure the plants grow well and look well-groomed. They should look part of your yard – not something added as an afterthought. Most importantly, make sure the hedge doesn't interfere with the adequate amount of sunshine or any power lines.
17. Clean and repair your roof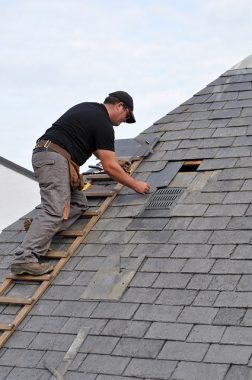 Your roof, its type, and condition are important to potential buyers. A solid and sturdy structure to protect you and your house from the elements is something no one will compromise on. If you have a dirty, leaky roof, buyers are going to look elsewhere.
A roof in poor condition may lead to more serious problems including wood rot, mold and mildew, or infestation of organisms that slowly eat through the organic material on your roof shingles.
By the way, your home insurer might even cancel your home insurance policy if you have a visibly dirty roof. It's best to hire a professional roof cleaner or home inspector to look into your roof repair.
18. Clean your rain gutters

The same level of cleanliness applies to your gutters too. Clean your rain gutters both inside and out. Remove any debris and scrub them clean until they look as good as new. You can use elbow grease to do the dirt work for you.
19. Hide your trash
If you're one of those homeowners who store their trash bins on the side of the house, don't! This can be unsightly, especially to potential buyers. Keep your dirty stack as well as outdoor air conditioning units hidden from view.
20. Fix it up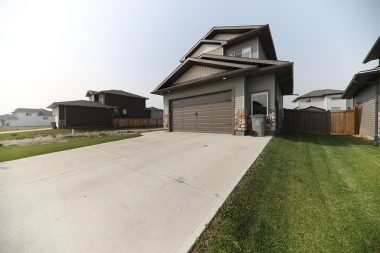 Last but certainly not the least important is repair work. Take care of any ripped screens, burned out bulbs, or chipped paint. Keep in mind that every tiny flaw will stand out in the eyes of a potential home buyer.
Fix all your house problems as soon as possible. The best way to detect issues is to walk around the outside of your house and note anything that requires a quick fix. Get your handy tools out and get to work.
Last words
Whether you're interested in selling your property or just want to make home improvements for your own peace of mind and convenience, increasing curb appeal is an easy way to make your house look beautiful and boost its value.
20 Easy Ways to Boost Your Home's Curb Appeal
was last modified:
July 29th, 2022
by
Recommended