A bathroom is an indispensable part of your home. And, the more the merrier! Adding an extra bathroom can do wonders for sprucing up your home. And, you don't have to share your bathroom with your housemates, of course! So, if you're planning on adding a bathroom, whether it's a new construction or you're remodeling an older home, you would want to know the total bathroom addition cost, right?
There are plenty of reasons to add or renovate your bathroom. The most important one is that it's a room that's perhaps frequented the most. Secondly, everyone loves a luxurious bathroom to relax in.
An additional bathroom in your home can make your life a lot easier. It provides a choice to the house's occupants while accommodating their needs. From tiny half baths to large, spa-like master bathrooms — you can choose any shape or size for the bathroom of your dreams.
Does adding a bathroom add value to your home?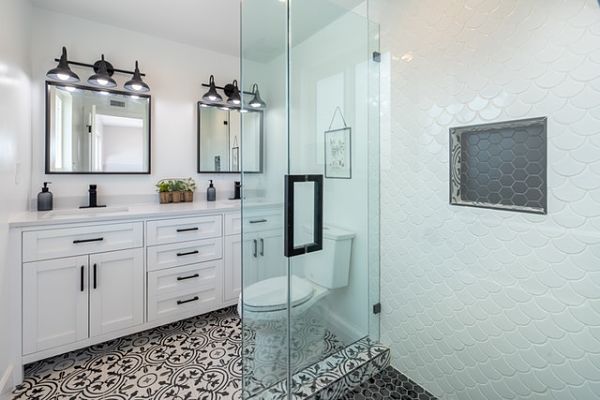 Adding a bathroom is totally worth it and will always increase the value of your home. Of course, how much it will increase will depend on your location, size of the bathroom, and the materials or fixtures used.
Read more: Home steam room guide
Instantly estimate the cost of your remodel...
...or take your time to personalize dozens of choices to transform your house into your dream home.
Can you add a bathroom anywhere in your house?
Yes, you can install a bathroom almost anywhere in the house provided you can accommodate a plumbing and electrical setup.
A small bathroom can be squeezed in anywhere. For instance, an area of 3 feet by 5 feet can handle a bathroom sink and toilet. And, if you have an area of 3 feet by 8 feet, you can even accommodate a walk-in shower or a compact shower enclosure. That's a great solution if you want a second or third bathroom added.
But, before you go about creating extra room for a new bathroom, keep in mind that it pays to know the average bathroom renovation cost in your area.
Bathroom addition cost
The average bathroom addition cost runs to $15,000, with homeowners spending between $5,000 and $35,000. High-end bathroom additions, including a luxury master bath, can cost between $75,000 and $90,000.
Remember that if you're using an existing space, the bathroom remodeling cost would be 40% to 60% lesser than adding a bathroom in a new location. There's a reason why working in an existing space is the cheapest way to add a bathroom. The area already has electrical, HVAC and plumbing installed. No wonder adding a bathroom in a laundry room is easy on the budget.
If you're trying to work on an existing space with a simple bathroom retouch, the average cost will run between $3,000 to 5,000. This bathroom renovation cost includes a wallpaper, painting the bathroom wall colors, bathroom flooring, and a shower or tub.
Bathroom addition cost factors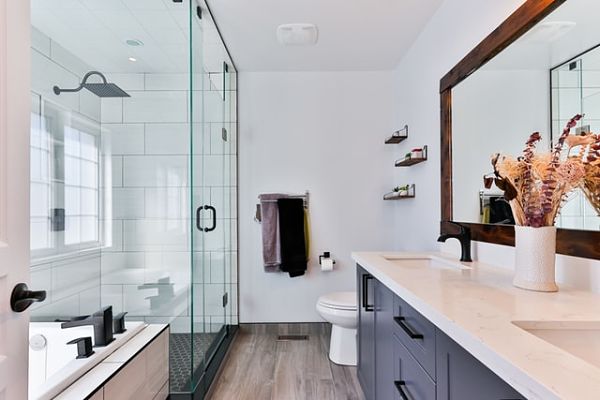 The bottom line is, your bathroom addition cost will depend on the kind of remodeling you're planning and your bathroom design. Here are some of the variables that affect how much your bathroom addition costs in total.
Size and scale of the bathroom
Your bathroom addition cost will be depending on the size and scale of your bathroom. Needless to say, the larger your bathroom, the more intricate will be its electrical or plumbing work. Not to forget the increasing number of bathroom fixtures. Ask yourself this: Will the new bathroom be a practical one with basic amenities or a luxury addition to the master bedroom?
Another factor that will affect your plumbing cost will be the age of your home. The more improvements needed, the more will be the bathroom addition cost. Updating the old plumbing or electrical work or clearing the mold in the walls, pests or a water leak will cost you more effort and money.
Type of bathroom
The type of bathroom you want to install will largely determine the costs of your bathroom addition. It goes without saying that a small half bathroom will cost less than building a full bath. Look at the table below to get a clear idea of what your bathroom design will cost.
Type of bathroom
Features
Approximate bathroom area
Bathroom addition cost
Half bathroom or powder room
Small area
Toilet, sink, and mirror
May include a bathroom cabinet for storage
12 sq.ft.
$12,000
¾ bathroom
Medium space
Toilet, sink, stall shower, and mirror
May include storage
More utilitarian than a half bath
36 sq.ft.
$35,000
Full bathroom

Medium to large area
Toilet, sink, mirror, tub/shower (combination or separate)
May include a linen closet and shelving for storage
48 sq.ft.
$47,000
Read more: Great 3/4 bathroom floor plan ideas by an architect
Bathroom installation costs
| Bathroom installations/tasks | Requirement | Cost to install |
| --- | --- | --- |
| Pipe installation | Two or more sources of water plus waste pipes | $13,600 (for pipes and fixtures) |
| Electricity installation | Wiring, at least one GFCI outlet or a panel upgrade | Electricians charge $65 – $85 per hour |
| Shower/tub installation | Stall shower or a stand-alone tub or an alcove tub | $2,500 (alcove tub), $930 to $2,000 (shower stall), $800 (shower door) |
| Toilet installation | Floor-mounted or wall-hung, different float and flush systems | $350 (excluding supplies and plumbing) |
| Bathroom sink/faucet | Wall-hung, freestanding, part of a console system, or on a vanity | $400 (sink), $200 (faucet) |
| Bathroom floor installation | Slip-resistant and water-resistant bathroom flooring | $900 depending on the flooring material |
| Bathroom cabinets | Vanity, linen closet or a linen tower | $200 – $2000 |
Labor costs
A bathroom addition would need the services of several professionals. Hiring a carpenter would cost you $70 per hour, a plumber would charge $45-$65 per hour, an electrician would charge $65-$85 per hour, and a tile installer would work for $4 per square foot. You may also need to engage a general contractor at $125 per square foot. A bathroom designer would cost you an additional $50 to $200 per hour depending on the bathroom renovation process.
Location of the bathroom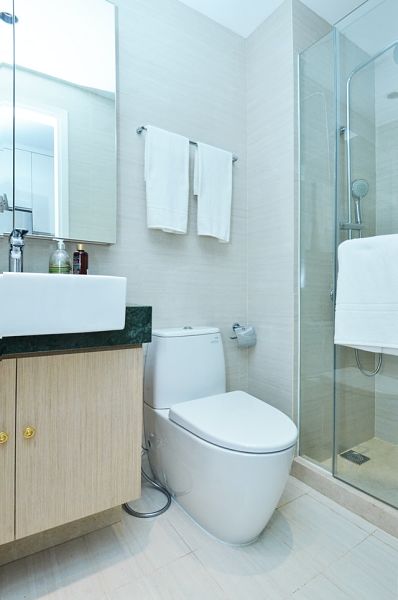 As already mentioned, if your new bathroom is next to existing plumbing, it will cost you a lot less than if you need to bring in new plumbing, vents, and waste lines for the bathroom addition. A completely new bathroom setup can be quite time consuming and heavy on the budget.
Here are some areas of your home that you can consider for your new bathroom:
| Potential bathroom space | Average cost of bathroom addition |
| --- | --- |
| Walk-in closet | $3,000 |
| Hallway/Entryway | $3,000 to 5,000 |
| Bedroom | $3,000 (with existing plumbing) |
| Garage | $3,000 to 5,000 |
| Basement | $5,000 to 15,000 |
| Under the staircase | $3,000 |
Other enhancement and bathroom improvement costs
Bathroom mirror – $120 to $150
Bathroom fan – $350 to $400
Radiant heat flooring – $6,000 to $14,000
Steam shower/sauna – $6,000
Towel warmers – $2,000
Whirlpool tub – $2,000 to $20,000
Permit costs
A bathroom addition will in all probability require a construction permit. It's important for you to consult your nearest authority on the matter.
Since permitting requirements vary from place to place, it's best to check with your local code enforcement office.
A permit is required if you:
Alter the existing floor plan
Make structural changes
Install new ductwork
Install or relocate new electrical or plumbing fixtures
The permit cost for a bathroom addition comes to anywhere between $50 to $2,000 depending on your location and the bathroom remodeling project.
Last words
If you have a large family, you'll know the pain of sharing a bathroom. Adding an extra one is sometimes the only solution. Of course, the bathroom addition cost won't be cheap, but it will definitely make your life easier and more organized.

Read more: How to Design a Bathroom
How Much Does a Bathroom Addition Cost?
was last modified:
October 27th, 2021
by
Recommended