When you decide to buy a bathtub for your home, there are multiple factors that affect its final price — one of the most important being the bathtub material. It shall determine the tub's durability, cost, and cleanability. Hence, before purchasing a tub for a remodeled bath or a new one, consider the different types of bathtub materials and their pros and cons. Choose one according to your specifications, usability, and total budget set aside as per your estimated bathroom renovation cost.
1. Acrylic bathtub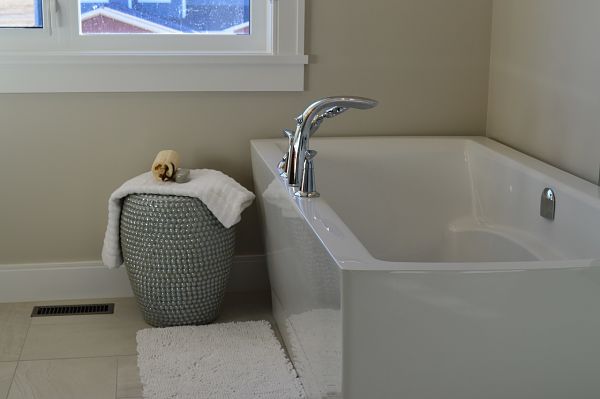 Acrylic is made up of a solid material sheet that is completely waterproof and can be molded into any shape as per your style requirements. Usually, designers reinforce it with fiberglass to give it more strength.
The Pros
Acrylic is entirely water-resistant. Hence, it will not absorb water.
It is also energy-efficient since it does not retain heat from your bath.
The material is durable and retains its gloss even after extensive cleaning and frequent use.
You can easily install and repair it when required.
There are no threats of mildew or color sensitivity.
It's available in a wide variety of styles and designs.
The Cons
The cost of an acrylic bathtub falls in the moderate range.
Additionally, the material flexes slightly. Therefore, you might feel a bit unstable when you are standing on it.
How Much Does a Bathtub Replacement Cost? Let's find out together!
2. Fiberglass bathtub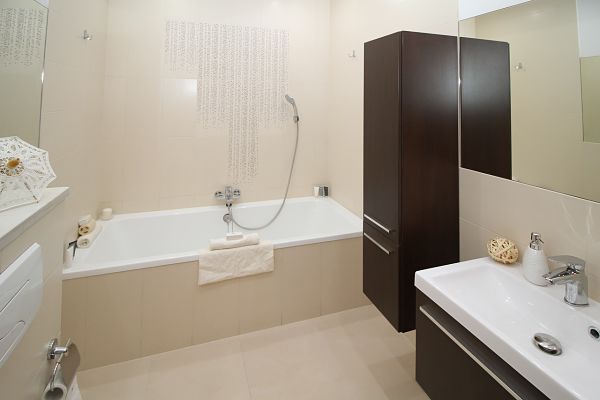 Fiberglass is a type of resin which is sprayed into the shape of a tub. Usually, manufacturers mold layers of fiberglass into the desired structure and then coat it with gel coat resin.
The Pros
Fiberglass bathtubs are the least expensive among all types.
It is comparatively easier to repair.
Light and flexible, this material is easy to install.
The Cons
Fiberglass is porous in nature. Hence, it is prone to absorbing water.
Moreover, it is quite a brittle bathtub material. Hence, tubs made from fiberglass may crack over time.
With prolonged and repetitive cleaning, fiberglass tubs may become dull and change color.
It flexes slightly, which might render it slightly unstable.
3. Enameled Steel Bathtub
Enameled steel consists of porcelain laid on top of real steel. The tub is stamped from a thin steel sheet, which is then finished with a layer of porcelain enamel.
The Pros
Enameled steel bathtubs are extremely strong and durable.
It is easy to clean.
The finish is resistant to most common chemicals and retains its gloss for a long time.
The Cons
When compared to other bathtub materials, enameled steel is fairly expensive.
Since the tubs made from this material are quite heavy, they can take time to install.
Steel is prone to rusting and chipping.
Moreover, the designs available in this material are extremely limited.
4. Cast Iron Bathtub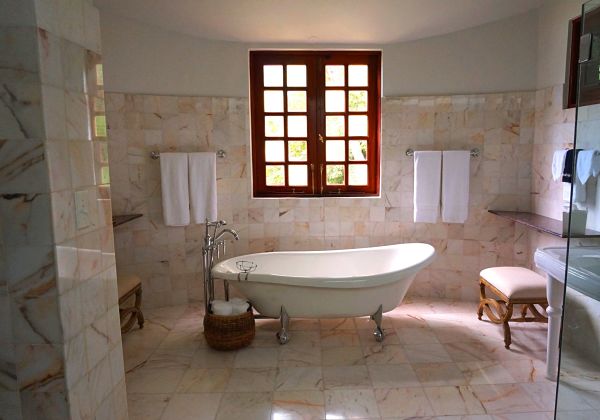 Cast iron bathtubs are made when molten iron is poured directly into a structure and then molded into the required shape. Manufacturers then smooth out the structure and cover it with a thick enamel layer.
The Pros
Cast iron tubs are extremely strong and long-lasting.
They are resistant to all types of scratches and chips.
Cast iron tubs arrive in a wide variety of colors and styles.
The Cons
This type of bathtub material retains water heat, making it less energy efficient.
Since they are extremely heavy, it means that the installation process is difficult, elaborate, and costly.
Moreover, you might need to equip your bathroom with additional supports to hold the extra weight.
Cast iron tubs also fall under the most expensive category of bathtub materials.
5. Solid Surface Bathtub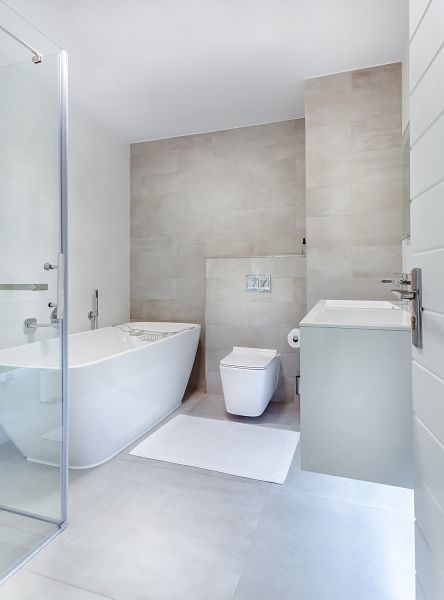 Solid surface bathtub materials are the latest arrivals in the market. This synthetic compound is made from various types of polymers.
The Pros
Solid surface tubs come in a variety of shapes, sizes, and natural colors.
Additionally, this material is quite strong and you can easily repair its finishing layer.
The Cons
This material is quite heavy.
It is relatively costly when compared to other bathtub materials.
6. Cultured Marble Bathtub
Cultured marble is a mixture of crushed limestone and resin, covered with a layer of Gelcoat.
The Pros
Marble bathtubs come in numerous size, color, and style options.
Additionally, it is slightly more long-lasting than fiberglass.
The Cons
Cultured marble is expensive compared to other bathtub materials.
It is also less commonly available in the market.
Read more: How to clean glass shower doors
7. Ceramic Tile Bathtub
Ceramic tile tubs can be customized according to the size and shape you desire. These tubs comprise multiple numbers of ceramic tiles.
The Pros
Ceramic tiles offer you more design options than any other bathtub material. It has, by far, the maximum choices for size, shape, and style.
You can select tiles according to quality and price tags.
The Cons
Ceramic tiles demand frequent maintenance on account of grout accumulation.
It has an irregular interior surface and you might find it difficult to relax in this type of tub for a long time.
Read more: 11 Bathroom Wall Decor Ideas That Are Just Stunning
8. Stone Bathtub
Stone bathtubs are made from naturally occurring stones such as granite, onyx, sandstone, travertine, basalt, and marble.
The Pros
This material allows you to keep the natural color of the stone used in its construction.
Stone bathtubs are quite strong and sturdy.
The Cons
Tubs made from stone are extremely heavy and hence, require extra supports to be installed.
You will need to follow a regular maintenance schedule in order to keep its natural sheen and appeal.
Now that you know about the various types of bathtub materials, their major attributes, and pros and cons, we hope, you will be able to make an informed decision. The final choice will obviously depend on the perfect combination of looks, comfort, ease of maintenance, and, of course, cost.
Read more: Standard Bathtub Dimensions: Choose The Ideal Configuration
Common Types Of Bathtub Materials: A Comparison Guide
was last modified:
October 12th, 2022
by
Recommended