It's interesting to see how an ordinary space can become a stylish one with updated cabinets and countertops. If you too are thinking of adding new cabinets and countertops to your kitchen or bathroom — here are some do's and don'ts that you must follow in order to choose the best ones.
Keep in mind that choosing bathroom or kitchen cabinets and countertops is a big decision. And, that's why it's important to whittle down your alternatives according to your priorities for a kitchen or bathroom remodel.
Let's begin with the don't first in order to streamline your home renovation.
DON'T buy cabinets and countertops without trying out the samples
Never, ever purchase a particular type or style of cabinets or countertops without holding the samples together in your home. What looks great in a showroom might not look so good in your home. Or, vice versa. For instance, the lights and the layout of your kitchen or bathroom can add to or subtract from the new cabinetry and counters you choose. It's best to hold the samples of both side by side to ensure that they pair well together.
Home Renovation Cost Estimator
Sorry, we currently don't have that project at our disposal.
---
You can take a look at our most popular ones:
Water Heater Installation
Exterior Door Replacement
Install Recessed Lighting
Exterior Door Installation
Interior Door Installation
Interior Door Replacement
DON'T choose an option because it's trending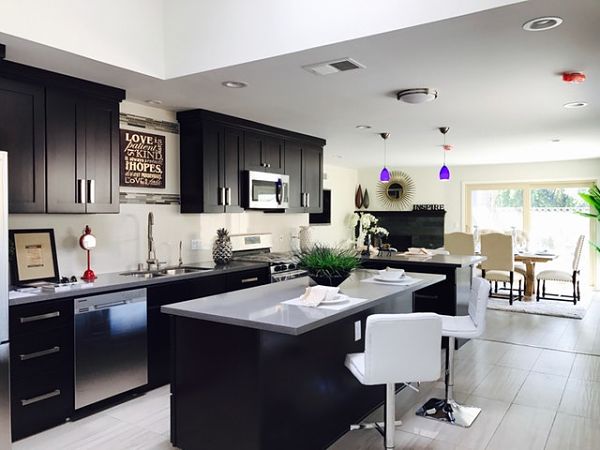 It's important that you opt for a style that best suits your personal preferences and utility. As a rule, avoid picking a countertop or cabinet simply because it's currently trendy. Remember that trends come and go but your cabinet or countertop should be useful, relevant, and beautiful for a long time to come. A "trendy" kitchen or bathroom today may become dated and unattractive just a few years down the road. That's why we recommend modern and simple silhouettes that will never go out of style. A renovation costs big money and you'd want yours to be timeless.
A new cabinet will cost you $100 to $300 per cabinet while a new countertop will cost you anywhere between $1,000 and $7,000 — depending on the size and material used.
DON'T pair bold cabinets with equally bold countertops
We know that you'd want to make a statement with your colored countertops or cabinets, but going all bold is not such a hot idea. While it's important to have coordinating cabinets, countertops, and even flooring to create a cohesive overall look, you cannot go overboard with a particular color.
Never mix a bold cabinet with an equally vivid countertop. If you have one bold option, ensure that the other one is neutral — to keep a good balance. Make sure that you choose a color scheme that complements your kitchen or bathroom.
DO consider your remodeling budget
When choosing cabinets and countertops, it's best to set a budget for the renovation and work out your choices accordingly. There's no point in selecting an obscenely expensive option, only to realize later that you don't have enough money left for the rest of the bathroom or kitchen remodeling.
Creating a budget will narrow down your choices, help you feel less overwhelmed, and make your home improvement project more organized.
Planning a kitchen renovation? Try our free remodel cost estimator; it's easy and reliable!
DO opt for quality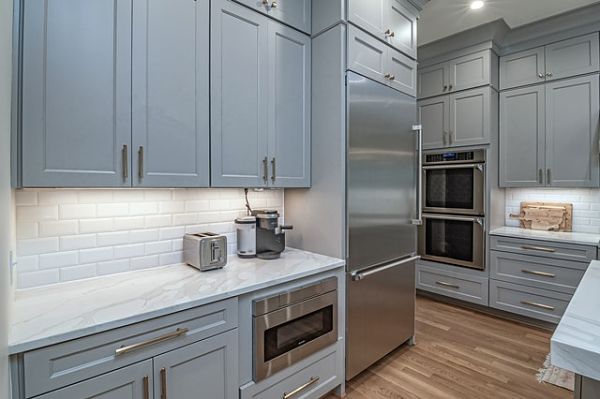 Remember that quality countertops and cabinets can increase the value of your home. If you build these with high-quality materials and properly maintain them, your cabinets and countertops can last for decades.
Conversely, a low-quality addition will have you replacing or refacing your cabinets or countertops after only 5 or 10 years.
Talking specifically about cabinets, keep in mind that while stock cabinets from big box stores are generally cheaper, they sometimes lack the quality of semi-custom or custom cabinets.
For counters, you'll want to look at the pros and cons of the different countertop materials first. Whatever you choose, it's important that you get quality stuff. A good material will go a long way, even if you choose the most economical or cost-effective cabinet or counter.
DO choose the right material for your cabinets and countertops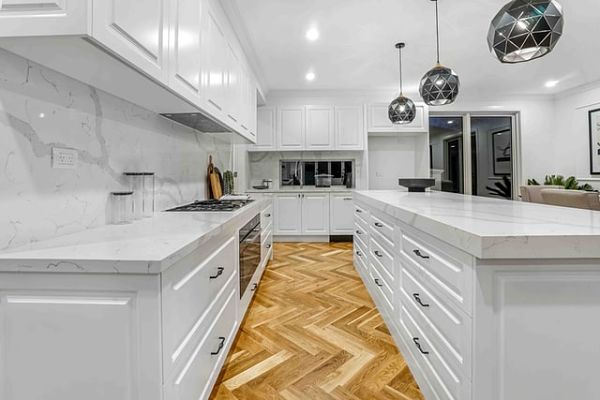 There are different types of countertop materials on the market. You need to weigh each surface type according to your purpose and personal preference. Here are some options for you. Remember that the same material can have different finishes such as semi-gloss, gloss, or matte.
Average cost: $3,000 to $4,000
Average cost: $4,000 to $7,000
Quartz countertop (Silestone or Caesarstone): stylish, durable, but difficult to install. Goes well with wood cabinets.
Average cost: $5,900 to $14,000
Butcher block countertop: strong and durable, but high-maintenance.
Average cost: $1,700 to $3,100
Solid surface countertop: non-porous, easy to clean, but may deform under high temperature.
Average cost: $2,200 to $5,000
Stainless steel countertop: antibacterial and stain-resistant, but may dent easily. Looks especially beautiful with stainless steel cabinets.
Average cost: $2,000 to $7,000
Granite countertop: adds value, durable, but needs regular maintenance.
Average cost: $2,000 to $4,500
When it comes to cabinet materials, try to avoid exotic or heavy design-oriented cabinets. Instead, opt for a good mix of functionality and good looks. Keep in mind that the most beautiful cabinet won't feel too great if you're struggling to maintain it! Apart from wooden cabinets, you can choose from high-pressure laminate or thermofoil — both materials are gaining immense popularity these days.
DO give priority to functionality and practicality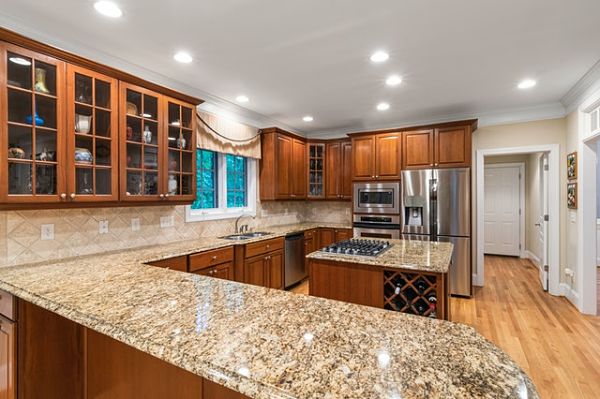 Remember that counters and cabinets are a long-term investment. Choose the ones that add to the functionality and practicality of your home while being within your budget. New counters and cabinets can increase your kitchen's functionality manifold — even in older homes. Of course, the additions need to be installed in a good way. One rule that will always hold you in good stride is to avoid choosing looks over practicality.
Tips to choose practical cabinets and countertops:
Don't go for deep cabinets; they are difficult to organize and reach into. 
Choose countertops that cannot be easily scratched or scuffed with heat.
Know that framed cabinets go well with traditional kitchen styles while frameless cabinets suit more contemporary designs.
Ensure that the cabinet hinges and cabinet doors are durable and adjustable.
Keep in mind that floating panels should be floating in the cabinet's frame, not glued.
Remember that side-mounted drawers are always stronger than a single, bottom-mounted slide. 
DO maximize your storage space
Whether you're an empty nester or a busy householder with small kids, storage space is necessary. The first step is to know how much storage you need for your bathroom or kitchen design. And, then, plan your cabinets and countertops so that they provide you with sufficient storage solutions.
Last words
Choosing the right counters and cabinets for your home is easier if you follow these "Do's" and "Don'ts". Knowing what you should avoid and must have will make your home renovation journey easier. Remember that good-quality, well-maintained cabinets, and countertops will actually increase the value of your home. Not to forget, they help make your home more attractive, functional, and practical.
The Do's and Don'ts of Choosing Cabinets and Countertops
was last modified:
November 15th, 2022
by
Recommended