Good storage solutions are important not just for a dining room, but for the entire house. By enhancing dining room storage, you are not only making your space feel neat and tidy, but you are also making more room for the extra kitchen equipment.
Planning a home remodel? Use our free home renovation cost estimator to have a fair idea about your budget.
If you have a separate dining room, you can make this space clutter-free by using smart storage ideas and room furniture. We have 12 intelligent dining room storage ideas for your home.
1. Small standalone storage cabinet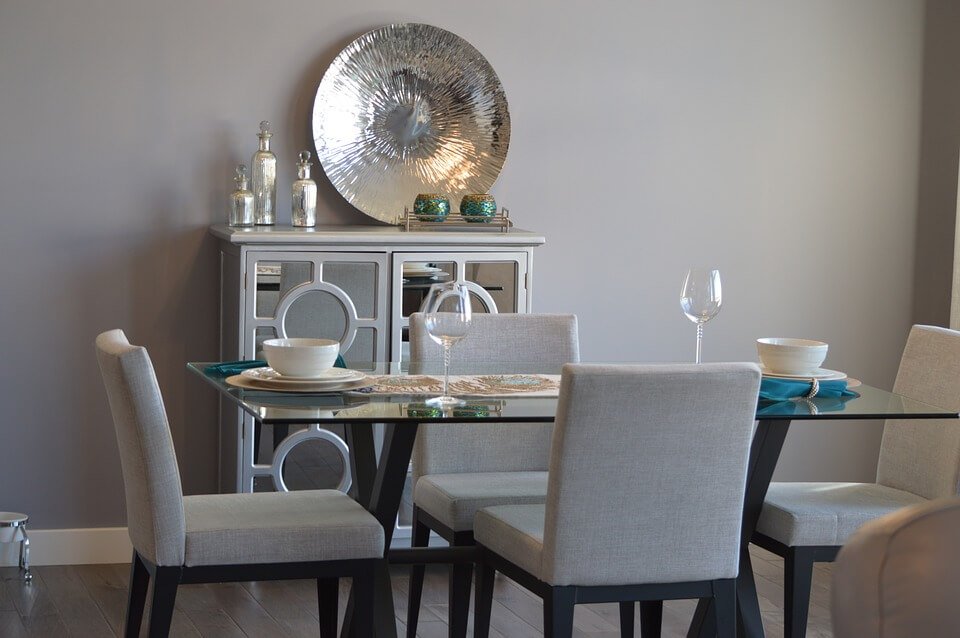 Consider incorporating a small but useful standalone China cabinet. Freestanding storage is way more practical than built-in storage because you can easily move it around when you want to reorganize the dining area.
Opt for a tonal color palette that follows the rest of the dining room's scheme to maintain the balance. You can place your utility items inside and decorative accessories such as vintage China set, ornaments, lighting, and photo frames on top.
Take a look at our guide on How to Make Your Dining Room Look Bigger and Better
2. Floating shelves
When you have a shortage of square footage, you should go vertical for your storage needs. Open floating shelves on your unused dining room wall is a great solution in terms of aesthetics and functionality.
The wall-mounted shelves take up zero floor space and look neat — while still providing you with extra storage. An ideal place to show off your decoratives, candles, or those lovely mason jars.
3. Multifunctional seating
This is a great idea for those with a small dining room. Interestingly, the bench used as seating around the table has built-in storage! Use the multifunctional piece of furniture smartly and we promise, your dining room will never be cluttered.
Let's review these Wainscoting Ideas for Your Dining Room
4. Floor-to-ceiling buffet
Take advantage of all the available space by incorporating floor-to-ceiling shelving. You can soften the look with a decorative armoire with a glass display for all your glassware.
5. Dining room table with storage
Modern interior designing is all about multifunctional items, a kitchen island that can double as a bar, or a customized dining table with drawers that can also serve as a storage unit. This way, you will be using the space effectively while keeping everything stylish – especially if the room is small.
And when it comes to the right material, wood is your safest bet for this creative and practical dining room storage solution. Wood adds a touch of warmth while being practical.
Check out these 15 Clever Dining Room Designs for Small Spaces
6. Bookcase shelving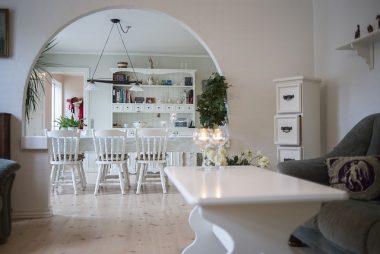 When it comes to your dining room storage design — you mustn't shy away from moving from the ordinary. Invest in a sturdy bookshelf for all your knick-knacks. If this is where your family and friends meet often, you need not have a regular-looking crockery rack. This kind of storage, with drawers, can be a useful feature to store your favorite recipe books, photo frames, and even your radio!
7. Sliding cabinet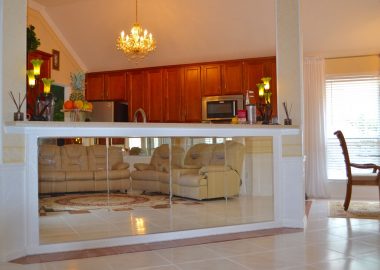 Photo by pxhere.com CC0
Sliding cabinets are great for those who live in smaller apartments. The doors do not open outward, thereby saving your space. You can even jazz them a little bit by placing a mirror on them. This way, you will also create an illusion of a much larger area than it is.
8. High-legged wooden sideboard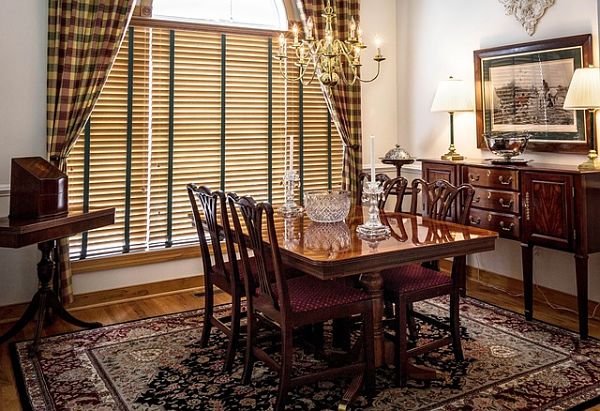 A sideboard, especially one that takes minimal floor space, looks good and makes your dining room clutter-free. We love the antique wooden sideboard that beautifully complements the rest of the living space while storing essential items such as plates, glasses, and cutlery.
A lovely pair of lamps atop the cabinet adds a beautiful touch to this elegant room.
How to Get the Perfect Dining Room Rug Size? Let's find out!
9. Built-in dining room storage cabinet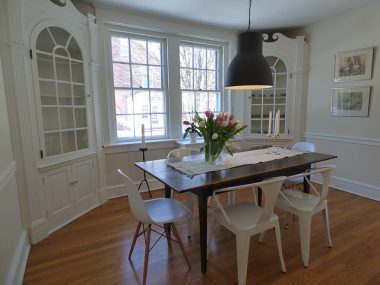 If you own a house and plan to stay there permanently, a built-in dining room storage will also suit your needs. Make sure it goes well with the other furniture pieces in your dining area — in terms of color, texture, and style. You can build one in the most convenient corner of your dining room. It will give your room an elegant touch — while giving you easy access to your crockery and cutlery.
10. Classic half-covered-half-glass kitchen hutch
An immaculate dining room needs a perfect hutch. We love the elegant-looking cabinet that easily becomes the focal point of the dining area. Apart from displaying your crockery on the glass shelves, you can keep your cutlery in the closed drawers below.
The key is to proudly show off items that are worth showing and hide items that aren't so much display-worthy.
How to Choose the Right Dining Room Wallpaper? Let's check the basics!
11. Minimal console
If you like to keep things simple and yet crave some storage in your dining area, you can opt for a minimal console. Choose a style that matches with the rest of your home decor. We love this all-white-furniture home. It's tastefully done up with sufficient storage. 
12. Corner storage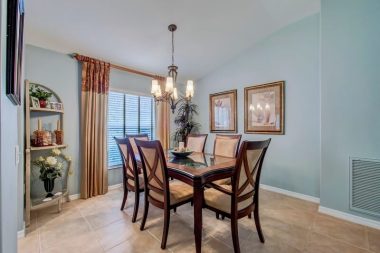 Photo by Pxhere CC0
Have a smallish dining area that can't accommodate a full-fledged kitchen cabinet? Don't worry. A corner open rack will work just as well. Plus, it will utilize your unused corner in the most practical and beautiful way. Showcase your favorite flowers and candles — and make the dining space feel homey.
Read more: Effective corner kitchen cabinet ideas
Last words
Your dining room is the heart of your home. More often than not, this area serves as a multi-purpose room. This is where you sit and bond with your family and friends over a sumptuous meal.
Therefore, it's important to keep this space open and free from clutter. You need to invest in good dining room storage furniture items to help you in this endeavor. Apart from storage accessories, add in some accent chairs, great-looking lamps — and your dining area will look dreamy.
We hope these tips and ideas help you to turn your dining room into a storage paradise.
Read more: Top Small Dining Room Ideas For You to Choose From
12 Dining Room Storage Ideas to Keep Your Space Clutter-Free
was last modified:
June 9th, 2023
by
Recommended